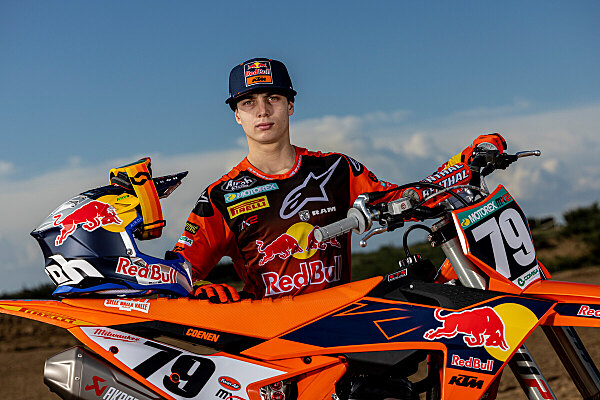 The fast and fearless teenager (who turned 17 years old on November 9th) will continue his professional development under the watchful gaze of former world champion Joel Smets, Team Co-Ordinator Harry Norton and the rest of the Red Bull KTM factory crew; a squad that have won seven of the last eight MX2 titles.
2024 will be the Belgian's second term in the FIM MX2 Motocross World Championship. 2023 was his debut season and he achieved ten top ten moto results with a best overall classification of 6th at the Swedish Grand Prix. '23 was a classic learning experience for the rookie with impressive speed and excellent starts often countered by small slips and several disruptive injuries. Coenen completed his education through his longest competitive year to-date and with a vast array of tracks, terrain and conditions to master as part of the MX2 elite.
For 2024 Coenen will form part of a strong Red Bull KTM roster. 2023 MX2 World Champion Andrea Adamo and 4th placed finisher Liam Everts will also contest the MX2 division with the KTM 250 SX-F while Jeffrey Herlings will steer the KTM 450 SX-F in the MXGP category. The '24 FIM Motocross World Championship begins with the Grand Prix of Argentina at Neuquen on March 10th.
Sacha Coenen: "I'm really looking forward to next year already as well as the future seasons. This year was a big learning experience for me but great for building a relationship with the team and the guys. It was difficult at times and I couldn't always deliver the results I wanted but we had some good races, I tried hard and had some nice starts as well. I want to have a good winter, working more with my Dad and brother, and look for more consistency next season. Then we'll see what we can do on the track."
Robert Jonas, Vice President Offroad Racing: "Confirming Sacha and the Coenen family again to be part of our factory racing program was an important step in the first phase of this off-season. It means both the team and Sacha can plan ahead and work on progress and goals. 2023 was encouraging and also tough for him but that's part of the process for succeeding in MXGP. Of course, we think he has enormous potential and is still so young. Our MX2 team had another exceptional year and we know all three riders will only be faster and better in 2024 with that race mileage in the pocket."