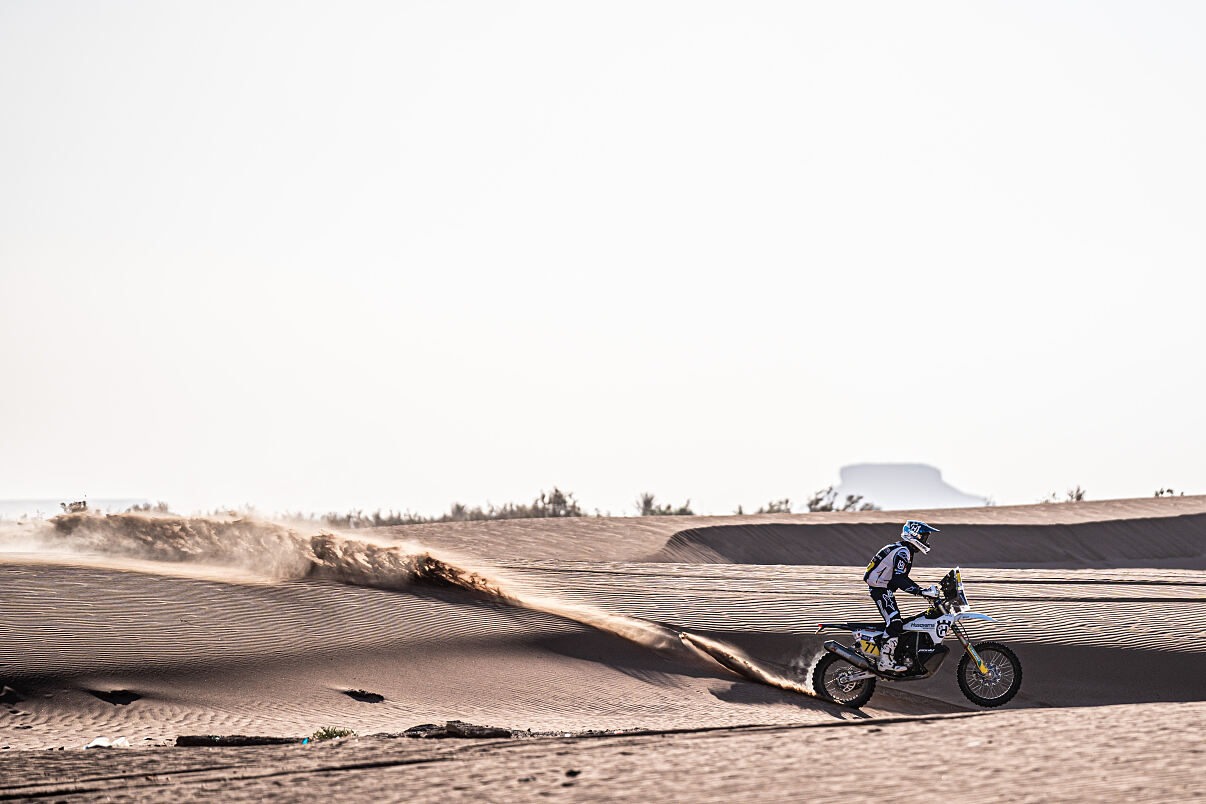 Husqvarna Factory Racing's Luciano Benavides has delivered a strong ride on stage three of the Rallye du Maroc. Continuing his consistent performance throughout the event, the Argentinian now moves up to fourth overall in the standings with two stages left to race.
The timed special on stage three of the Rallye du Maroc demanded maximum attention, covering 336 kilometres and comprising primarily of fast, rocky tracks. Fourth into the stage, Benavides pushed hard for the whole special but with times tight, and the front three benefitting from the bonus time deducted for opening the stage, Luciano had to ultimately settle for sixth place at the finish.
However, after consistently delivering solid performances in each stage, Benavides now ranks fourth in the provisional overall standings, trailing the leader by just under eight minutes. With two challenging stages to go as the rally works its way north toward Merzouga and its iconic dunes, the FR 450 Rally rider has plenty of opportunities to make up that time and challenge for the overall podium.
Luciano Benavides:
"It was a tough stage today – really, really fast with not too much navigation. I felt good today, but it wasn't the best day for me in terms of the results. I didn't make too many mistakes with the navigation, and I know I gave 100 percent as always. I've moved up to fourth overall now, but it's really tight in the results and my position means I'll be starting a little way behind tomorrow, so I have to really push to make up time. We have two stages to go, so I'll keep on giving my all."
2023 Rallye du Maroc – Stage 3 Provisional Classification
1. Tosha Schareina (Honda) 3:03:35
2. Toby Price (KTM) 3:06:41
3. Jose Ignacio Cornejo (Honda) 3:07:21
4. Pablo Quintanilla (Honda) 3:10:33
5. Ross Branch (Hero) 3:11:33
6. Luciano Benavides (Husqvarna) 3:11:46
2023 Rallye du Maroc – Provisional Overall Classification [After Stage 3]
1. Toby Price (KTM) 10:26:00
2. Ross Branch (Hero) 10:29:48
3. Pablo Quintanilla (Honda) 10:31:09
4. Luciano Benavides (Husqvarna) 10:33:50
5. Tosha Schareina (Honda) 10:33:54
6. Lorenzo Santolino (Sherco) 10:36:51