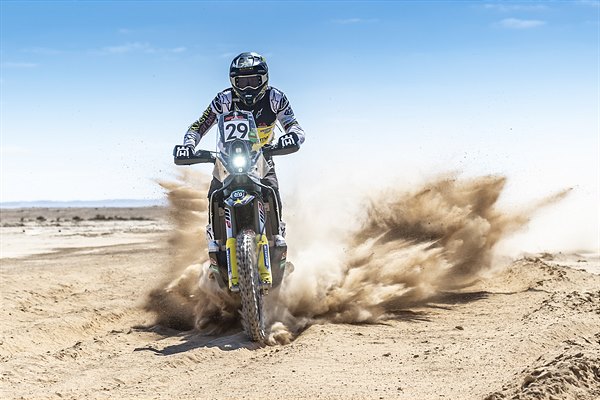 ROCKSTAR ENERGY HUSQVARNA FACTORY RACING RIDER LIES SIXTH OVERALL AFTER STRONG PERFORMANCE ON SECOND DAY IN CHILE
Rockstar Energy Husqvarna Factory Racing's Andrew Short has ridden to an excellent fifth place finish on the technically demanding stage two of the 2019 Atacama Rally. Short's teammate Pablo Quintanilla finished one place behind in sixth having opened the entire 294-kilometre stage.
Racing was delayed by almost an hour on Wednesday morning as fog made it impossible for the medical helicopter to fly. rallyBut as the skies cleared riders soon entered the stage with day one winner Quintanilla leading the way.
Following his ninth place on the opening stage, Andrew Short had the task of chasing down the eight riders ahead of him. Becoming increasingly comfortable with the high average speeds of the Chilean stages, the American was able to narrow the gap to the leaders and post the fifth fastest time. Reaching the finish just under five minutes down on the provisional winner following over three hours of racing, Short moves up to sixth in the overall standings.
Although the Atacama marks Pablo Quintanilla's return to international rally competition, his first event since the Dakar Rally in January, the Chilean seems comfortable on home soil and put in another solid ride to place sixth on stage two. Pablo's consistency on the fast, rocky pistes is paying off with the former FIM Cross-Country Rallies World Champion lying second overall, just 37 seconds down on the rally leader. With three stages left to race, Quintanilla is feeling confident of a strong result.
Thursday's stage three of the 2019 Atacama Rally – the first half of the marathon stage – takes riders from Copiapó towards the western coast of Chile. Riders will stay in a temporary bivouac close to the city of Chanaral where they can receive no assistance from their teams before heading back to Copiapó on Friday's stage four
Andrew Short: "Stage two today followed a very similar route to last year and it's certainly not my favourite because of the fast average speeds and big rocks. I feel like I have improved a lot since last year though – I can handle the more technical sections better. I just need to work on my focus and angles on the faster tracks. Coming from motocross, it still feels a little unnatural to go so fast – it feels a little like road racing. As a positive, my speed is building and hopefully I can finish the rally strong."
Pablo Quintanilla: "Today was a very different day to yesterday – it was very fast with lots of hard-pack and river beds. I felt good though – I was in front for the whole day and it was a really nice feeling to take the lead and open the road book. I'm still building my confidence on this type of terrain, but overall I feel really happy with how the rally is going and hope to improve even further tomorrow."
2019 Atacama Rally – Stage 2 Provisional Classification
1. Kevin Benavides (Honda) 3:03:10
2. Joan Barreda (Honda) 3:04:06
3. Sam Sunderland (KTM) 3:05:52
4. Toby Price (KTM) 3:05:57
5. Andrew Short (Husqvarna) 3:07:52
6. Pablo Quintanilla (Husqvarna) 3:08:29
2019 Atacama Rally – Provisional Overall Classification [After Stage 2]
1. Kevin Benavides (Honda) 5:41:09
2. Pablo Quintanilla (Husqvarna) 5:41:46
3. Sam Sunderland (KTM) 5:42:06
4. Joan Barreda (Honda) 5:44:51
5. Toby Price (KTM) 5:46:33
6. Andrew Short (Husqvarna) 5:49:55