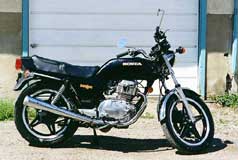 "Jasmine"
HONDA CB400T
1978-81, 395cc OHC twin,
43hp, 110mph, 50mpg, 390lbs
"For riders on tight budgets there are very few machines that can offer so many advantages to the rider – and a SuperDream also makes a good choice as a 'second bike' for more affluent riders." – Classic Honda
My bike, a Honda Hawk CB400T was purchased for $700CDN on Thursday, June 19th, 2001 at 12:20pm. I know because buying a bike in Calgary, Alberta, Canada isn't easy since there are never enough used below 500cc bikes for sale and especially a standard riding one. I called the owner of the bike as soon as the Bargain Finder came out (if you don't call when they come out, you might as well forget it for that week) at 9am, and they already had 3 calls to see it that day!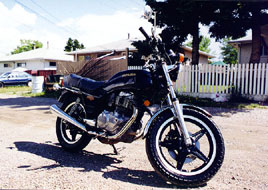 Here is the original ad (minus phone number of course):
80 Honda Hawk 400, low kms, new paint, runs great, $800 obo
After talking with the owner on the phone I also found out that the bike has a new rebuilt engine in it with less than 10,000 km they put in last year and they also had about 75lbs in extra parts too included in the deal as well.
So I knew I had to act fast and with some help I got there to see it first. It was under cover outside and I remember when the owner took the cover off it looked great! After checking out the bike as best I could and found it to be in like new condition! I didn't test ride it since I didn't have a helmet and not enough experience yet so they rode it passed me so I could hear it and it sounded fine.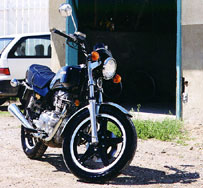 Since the bike had $800obo I thought I would push my luck, I already knew I wanted it and even IF it cost me $800CDN I'd be getting a great deal. So I asked if they would take an offer, they said $750, and I said how about $700 and the deal was done!
I owned another bike before but very briefly years ago. While it was a great bike (1983 Honda Magna V30) and looked great too it was not right for me at the time. So years later I'm handing over $700 to purchase another bike! WOW.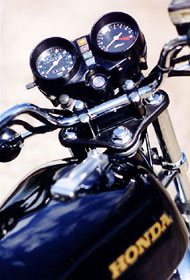 I asked if they wouldn't mind riding it back to my garage and they didn't. I paid them for doing it and drove them back too. Them because she brought her 6 year old daughter with her on the ride, they are such great folks!
The photos below are before I got my insurance and license plate for it ($120CDN a year for insurance!). I also just finished washing, scrubbing, turtle waxing and chrome polishing the bike all up. Quite a beauty eh? I wanted a name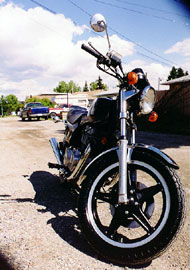 for her right away and with the help of my girl friend Andrea, my bike's name is Jazmine. (With a Z rather than a S because my lic. plate is JZ962).
I have REALLY enjoyed riding my bike since I got it and I treat her with lots of respect. Jazmine does everything I ask of her and she treats me with respect too.
In this site you will be able to read more about the Honda Hawk CB400T and other CB models as well of different sizes and different years. There isn't much on the Internet (yet) about the Honda CB's and I'm glad to contribute what I can about this wonderful bike. Enjoy!
Honda Produced many different CB Models all around the world since 1964 to today (2001) with engine sizes of 125cc all the way up to 1000cc. Since there are many different CB models out there this site will concentrate mostly on the CBxxxT Hawk / Superdream / Dream Series (such as the CB400T) but will also include as many CBxxxX series models as well (such as the CB400N) and upto the 2001 Super Hawk VTR1000F.
Here are the models I could find and their years they were produced. If the model has a link on it I have added a photo of the bike for reference.
1978 Honda CB400A
1979-1981 Honda CB400N
1981 Honda CB400C
1978-1979 Honda CB400T Type I Hawk / Dream
1978-1979 Honda CB400T Type II Hawk / Dream (1978-79, 395cc OHC twin, 43hp, 110mph, 50mpg, 390lbs)
1980-1983 Honda CB400T Hawk / Dream
1982 Honda CB450T Hawk / Dream
1982-1983 Honda CB450SC Nighthawk
1985-1986 Honda CB450SC Nighthawk
———————————————————————————–
UPDATE November 2003
———————————————————————————–
Wow, looks like I forgot to post some photos here (ops!), hope no one was waiting over 2 years for them! Argh! Well, if you were, here they are for ya:
1980 Honda Hawk CB400T


Left Side Shot

1980 Honda Hawk CB400T


Right Side Shot

This is what happens when:

A) When you miss a highway curve
B) When you are not paying attention
C) When you took it too fast
D) When you fall into a group riding mentality

Correct Answer: E) All of the above
———————————————————————————–
UPDATE September 2001
———————————————————————————–
It is with the up most sadness to report the demise of this wonderful motorcycle, Jazmine on September 2001 on a highway corner near Canmore, AB. Let it state that this bike took care of me and I "walked" away with only a sprained wrist and no other injuries. I would recommend the CB400T to anyone starting out it is easy to learn on and control. A+ bike.
———————————————————————————–
ACCIDENT REPORT
———————————————————————————–
I write this for you the reader to learn from my mistakes and hopefully by this it won't happen to you out there.

On a sunny afternoon after riding 600km so far heading back home (100km to go) I crashed. It was my fault and luckily I was the only one involved.

Traveling in 3rd spot a group of 5 (including me) going at 80km/h on a secondary highway. Quickly I found myself left behind by the first two bigger more powerful bikes ahead of me. Since I was new to the riding group (and 5,000km under my belt) I didn't know what was happening (they were much more experienced riders and want to hit the curves hard). So I made the BIG mistake of not wanting to be left behind and tried to catch up not realizing I was being caught up in a group mentality.

Because I was riding an older 400cc sportbike/standard I was worrying about safely passing other cars and road conditions while going as fast as I could without braking the speed limit. Never been on this road before and it has a lot of tight curves, blind curves and no shoulder. Somewhere along the way after taking several curves I looked down and saw the yellow line curve under my bike, knowing it was a blind curve I didn't see soon enough. The few seconds goes SLOW. I lean into the curve HARD, close the throttle and brake HARD. Leaning over as far as I can I still see I'm not going to make it (brain calculation = too much speed, not enough turning room) so I get a feeling it would be OK to ride it off. Straightening the bike up I fly off the corner at approx. 70km/h.

All I have time to say is "Oh Shit" and I'm doing superman though the air, the bike falls out from below me as I fly. Hitting the ground straight on my chest and chin (full face helmet thank god) knocks the air out of me, breaks my visor, dirt comes in and I see blue sky. I think to myself "thank god that's over that hurt, now I can relax". Unfortunately, without knowing it I've bounced and I'm in flying through the air and hit again. I laugh and think how funny it is that I'm still flying without knowing it! I hit again and slide seeing an ants eye view of grass go by at 30km/h. Coming to a rest I stop and wiggle toes/fingers do the whole check over. I feel 100% fine, in fact, what a rush! I think I want to get up and walk around, but feel it would be better to make sure I'm OK so I lay there until the other bikers come down to see me. Looking up at them I say "sorry about holding you up and the delay I'm causing you". Funny when you think about it, but that's just like me to say something like that. haha.

I remember my bike and ask, I get a "don't ask" response. Looking 180o over my shoulder I see a handlebar in the weeds. Humm, maybe it is OK? The police show up and do a report asking me questions on the ground, I'm honest and tell them everything and that it was my fault for trying to catch up and no I wasn't speeding, I just didn't see the curve.

They are happy I'm OK Turns out many bikes go off this corner and not everyone was OK They call the Ambulance even though I protest I'm OK and can get up. Doesn't matter the Ambulance arrives. I decline assistance because I still feel fine (my wrist is starting to hurt now though) and they want to help. I tell them to go and help someone else that needs it more. . haha. They don't seem to get the point though. They want to cut up my new Joe Rocket ballistic jacket (no %#@ way I say). So we take it off and save it in return for me getting in the Ambulance with a neck brace on a back board.

You even been in a neck brace strapped to a back board?! Well, let me tell you honestly, it was more PAINFUL than the whole accident!! The paramedics say that when they got the call they knew about that corner and feared the worse. It seems to be a popular crash spot of many motorbikes and last week in the same spot there was a fatality. I said I never seen a curve sign or warning etc. Maybe the government didn't want to put one up due to cash flow?

After being checked into Emergency and then into the Trauma Ward I'm fine and only have a sprained wrist and minute internal bleeding. The bleeding stops after a few hours and the wrist takes some time.

I got the bike the next day and was it ever destroyed. Seems there was a 5 foot ditch that I flew over and the bike didn't. Did several 360o over enders. Wish I could have the video, would be on Real TV I'm sure, not that I would ever do that again. The bike did acrobatics like a Olympian and landed 25′ away from the curve. Me on the other hand must of been like superman and I flew and landed 75′ away! I measured what 75′ was one day, that is REALLY FAR to be thrown.

Lessons learned:

– Slow down on unfamiliar roads.
– Never fall into group mentality.
– Always ride how you want to ride.
– Don't ever worry about being left behind, they will wait for you up the road. That few minutes of waiting is better than waiting for an Ambulance or Hurst to arrive.
Honda Links (CB400T)

Classic Hondas – CB400T & CB250T
A 1980 CB400T
A German 1981 CB400T
A 1978 CB400T Specifications
The Honda Bike Gallery
Honda Motorcycles Canada Website
Honda Motorcycles USA website
Yahoo Honda CB Forum
Information
Bikez.com '80 CB400 Info Home Page
Japanese Honda Bikes Information Guide – '77 CB400, '78 CB400 In Japanese
Restoring a 1979 CB400T
Vintage Japanese Motorcycle World – Photos, Classifieds, Workshop..
The Vintage Japanese Motorcycle Club –
Parts
Progressive Suspension USA Home Page Application Chart
AZ Motorsports CB400T Parts Specifications
Late Evening Reads