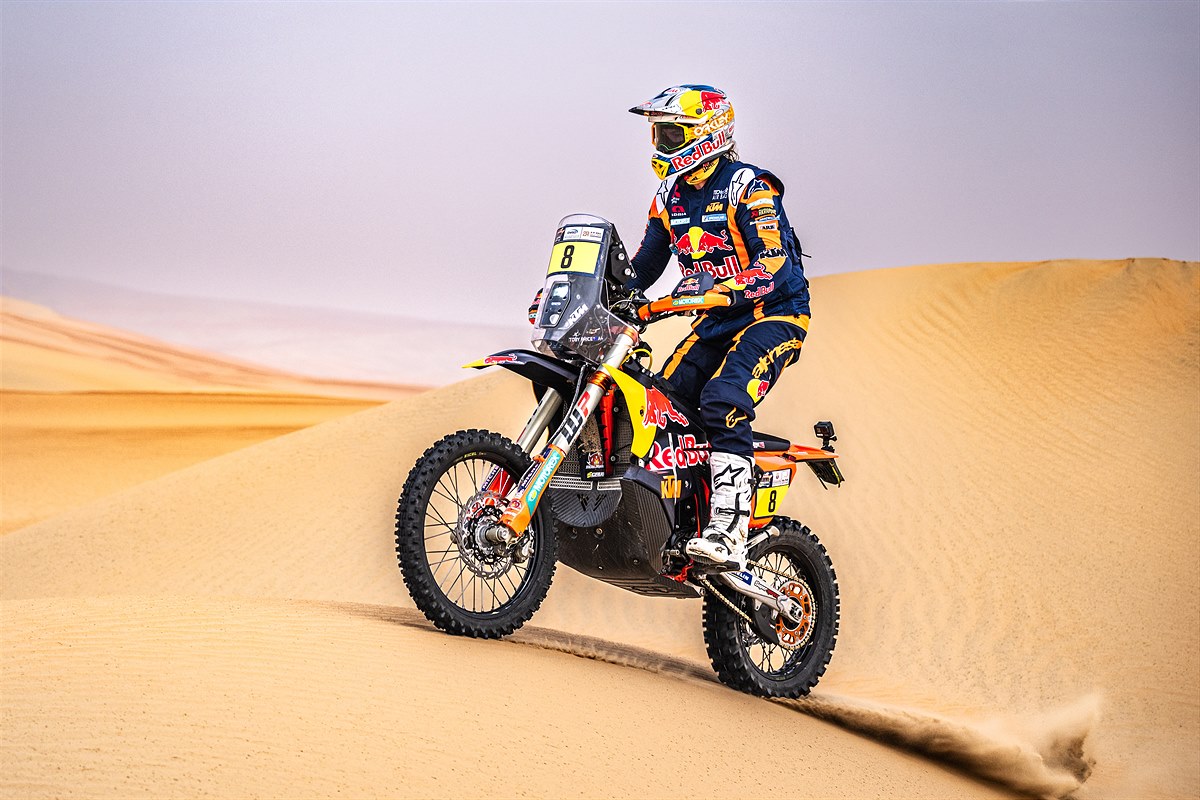 Red Bull KTM Factory Racing's Toby Price endured a challenging day in the desert today, opening the long, 308-kilometer timed special on stage four of the Abu Dhabi Desert Challenge. However, despite battling through a difficult day, he remained focused and gave his all to secure a solid seventh place result. Price now lies sixth overall in the provisional rally standings.
After riders were forced to wait for two hours this morning while the early morning fog lifted, they were then faced with hot temperatures and tricky to navigate conditions throughout the grueling special stage.
Following on from his stage three win, Toby Price was the first to encounter the tricky visibility and unpredictable terrain as he opened the stage from the front. Using his skill and experience to ensure a fast but safe passage through the special, Price delivered a strong pace without any major navigational errors.
However, with the sand damp due to the morning's fog, Toby's rivals behind had clear tracks to follow – a huge advantage for the chasing pack. Completing the stage without incident, Price accumulated close to six minutes in bonus time, which earned him an excellent seventh-place result for the stage. Now lying in sixth overall, the Australian will make the best use of his later start position for tomorrow's fifth and final stage as he aims to gain the maximum amount of time on those ahead.
Toby Price: "Not the best day for me today, unfortunately. We had a delay at the start of around two hours while we waited for the fog to lift, then when we finally got going, the sun was a lot higher in the sky, making it really difficult to see while opening the stage. I did my best and didn't make any big mistakes anywhere, but with conditions like that, on the longest stage of the race, it was tough to lead out. Pablo (Quintanilla) caught me around 80 kilometers in and took the lead for a while and it was so much easier to follow someone else's tracks. I brought it home safely, which is the main thing, and now there's the fifth and final stage left to go, where I'll give my all as usual."
Provisional Results – Stage 4 Abu Dhabi Desert Challenge 2023

1. Luciano Benavides (ARG), Husqvarna, 3:47:08
2. Adrien Van Beveren (FRA), Honda, 3:50:30 +3:22
3. Ross Branch (BWA), Hero, 3:51:14 +4:06
4. Ricky Brabec (USA), Honda, 3:51:25 +4:17
5. Skyler Howes (USA), Husqvarna, 3:52:41 5:33
Other KTM
7. Toby Price (AUS), KTM, 3:56:09 +9:01
8. Mason Klein (USA), KTM, 3:57:00 9:52
Provisional Standings – Abu Dhabi Desert Challenge 2023 after 4 of 5 stages

1. Adrien Van Beveren (FRA), Honda, 14:45:32
2. Luciano Benavides (ARG), Husqvarna, 14:48:30 +2:58
3. Ignacio Cornejo (CHI), Honda, 14:51:46 +6:14
4. Ross Branch (BWA), Hero, 14:52:10 +6:38
5. Skyler Howes (USA), Husqvarna, 14:52:48 +7:16
Other KTM
6. Toby Price (AUS), KTM, 14:54:07 +8:35
8. Mason Klein (USA), KTM, 15:08:01 22:29