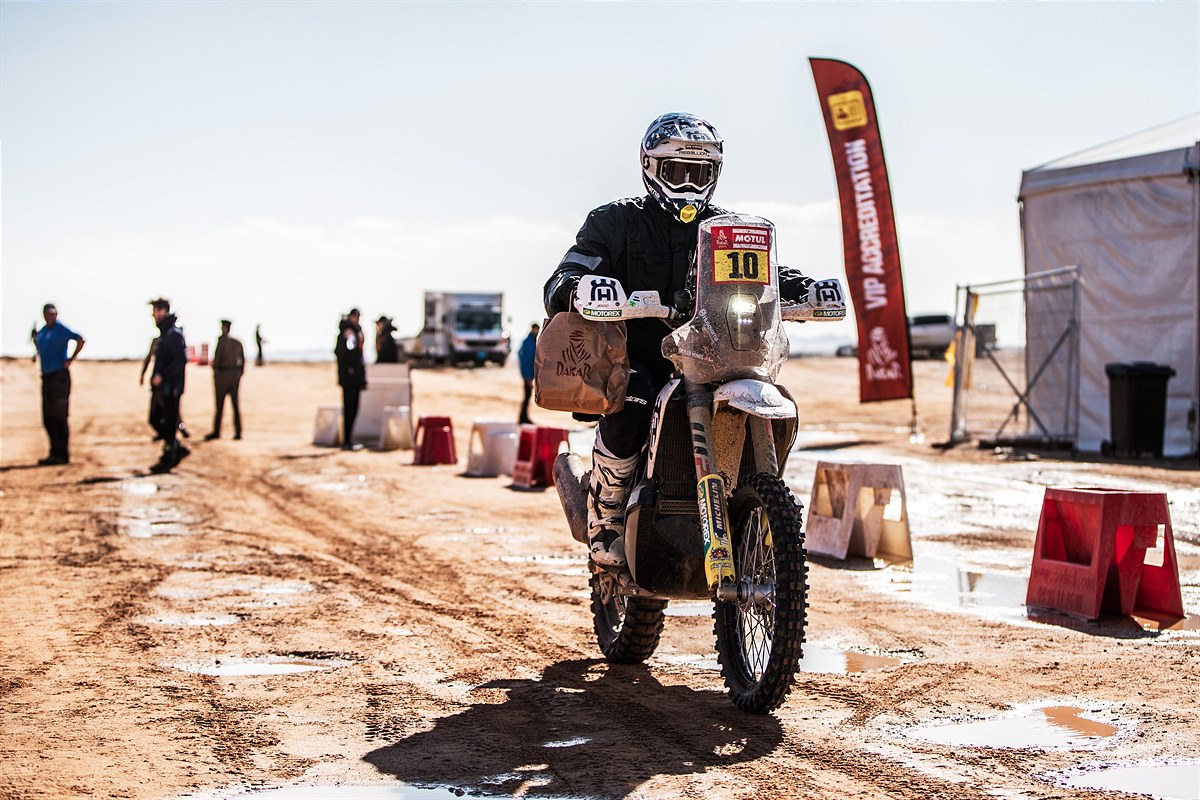 Skyler Howes has put in another strong performance at the Dakar Rally, fighting his way through a physically demanding stage five to claim fifth position on the day and move himself into the provisional lead of the race. Luciano Benavides brought his FR 450 Rally home in 12th place and lies 10th in the overall standings.
The riders knew stage five would be a real test of physical endurance and navigational skill. Third into the special, Skyler Howes maintained his top-three position right up until kilometre 190. Failing to find a waypoint, Skyler and the small group he was riding with were forced to retrace their tracks before carrying on.
In the second half of the special, while still riding within a group, one of Howes' rivals crashed and required assistance. After spending some time helping the fallen rider, the group then continued onwards to the finish. Despite completing the challenging stage in a provisional fifth place, five and a half minutes down on the eventual winner, Skyler's time was good enough to elevate him into the lead of the overall rally standings.
Although times are close at the top of the general rankings, Howes will have the advantage of a sixth-place start position for tomorrow's long stage six. Totalling 877 kilometres and including a timed special of 467 kilometres, day six is the longest of the event and will lead competitors from Ha'il to Al Duwadimi.
Luciano Benavides powered his FR 450 Rally through stage five to finish as 12th quickest. Falling foul of the same navigational error that caught out the front runners, Benavides spent several minutes trying to find one particular waypoint. Correcting his mistake successfully, the Argentinian racer then focused on the remainder of the stage.
Despite losing several minutes to his teammate, Luciano still lies inside the top 10 overall and is in a strong position to maximise the advantage granted by his start position on Friday's gruelling stage six.
Skyler Howes: "Tough day today. It's been really physical as for most of the day we were up on the pegs picking our way through the camel grass. I caught up to the lead group quite early on, but it was really difficult to see the tracks today. We made a mistake and chose the wrong way, ended up getting lost, and then had to make a few circles to find the one waypoint we'd missed. Shortly before the finish Joan (Barreda) had a big crash and got caught up with Toby (Price), and so we stopped for a few minutes to make sure they were alright before carrying on. I know I lost a little time today, but I'm happy to reach the finish safely and I'm in good shape to push hard again tomorrow."
Luciano Benavides: "It was another day alone for me. I was doing really well up to around kilometre 190 where I got lost a little and found it tough to get back on track. I think the riders ahead of me had got lost too, so there were so many tracks on the ground in all directions. I knew I was offline, so I tried to judge it right to find one waypoint, but it took a lot of circling to find it. After losing around 10 minutes there I really tried to push for the rest of the stage. Racing over the sandy tracks covered in camel grass is so demanding though, I had to ease my pace a little to make sure I didn't make any mistakes. Overall, not a bad day, I'm still in the top 10 overall and looking forward to getting some rest now before giving my best again tomorrow."
2023 Dakar Rally – Stage 5 Provisional Classification
1. Adrien Van Beveren (Honda) 4:27:28
2. Jose Ignacio Cornejo (Honda) 4:27:41
3. Toby Price (KTM) 4:31:24
4. Mason Klein (KTM) 4:32:41
5. Skyler Howes (Husqvarna) 4:33:01
6. Matthias Walkner (KTM) 4:34:58
…
12. Luciano Benavides (Husqvarna) 4:40:21
2023 Dakar – Provisional Overall Classification [After Stage 5]
1. Skyler Howes (Husqvarna) 23:16:37
2. Toby Price (KTM) 23:18:44
3. Kevin Benavides (KTM) 23:21:53
4. Mason Klein (KTM) 23:22:49
5. Adrien Van Beveren (Honda) 23:25:31
6. Joan Barreda (Honda) 23:26:01
…
10. Luciano Benavides (Husqvarna) 23:41:40