Back to the Model History Timeline Review Page
---

2005 Yamaha R6/YZF-R6: Inspired by the racetrack
Page 5 of 8
<< Page Back – Page Forward >>
Yamaha R6/YZF-R6 series model history timelines
2005 Yamaha R6/YZF-R6

We started out to give the 2005 R6 more horsepower and a new fork, and wound up engineering a nearly new motorcycle.
Staying out front in the Supersport wars takes power:
New camshafts
Bigger throttle bodies
Improved fuel injection
Revised intake funnels
… and more, result in a smoother, fatter powerband with three more horsepower at 13,000 rpm.
To channel that power, a new, fully-adjustable inverted fork with 41mm tubes was added for the most precise handling possible.
It was too good a place to resist mounting powerful new 310mm front disc brakes, radial calipers and a radial master cylinder to even further exploit the R6's amazing front-end feel.
The added rigidity of the new fork led to a redesign of the main frame to accommodate new rear suspension linkage.
Light weight, razor-sharp handling, unsurpassed overall balance – elevated to the next level.
That's why the R6 was the winner of Motorcycle-USA's Supersport Shootout for 2003 and 2004.
Anybody up for a track day?

With back to back Canadian Pro 600 Sport Bike championships to its credit, the 2005 Yamaha R6 is poised for even greater success with a host of important improvements for the 2005 model year. At first glance, the outward appearance of the new R6 may look similar, but looks are deceiving. The improvements have a dramatic effect on engine performance, braking power, handling and stability. The sharp handling and brilliant responsiveness of the R6 have been further enhanced by an all new 41mm inverted front fork and new 70 series front tire, while larger radially mounted brakes will have a significant effect on stopping power. New 40mm throttle bodies and revised fuel injection mapping and ECU settings have increased engine output by 3 horsepower. The upgrades are extremely significant and will become very obvious when the bike is ridden.
Yamaha is pleased to announce that the new 2005 – R6 will come standard with an immobilizer ignition system that significantly reduces the possibility of theft. Yamaha is proud to take the lead role in addressing our customers concerns regarding insurance rates and availability.

Features & Benefits
New for 2005
Engine upgrades in the form of 40mm throttle bodies, revised fuel injection and ignition mapping, new camshafts and intake funnels, etc., all result in a 3-horsepower increase at the same rpm as before with more power across the board.
New, fully adjustable inverted fork with 41mm tubes further reinforces R6's main strength: precise handling. New, cast top triple clamp and forged lower clamp also increase rigidity, and work with revised handlebar positioning.
To complement the new fork, the rear section of the Deltabox III main frame was revised internally to work with revised swingarm linkage and mounts for improved handling.
Lighter, 310mm front brake discs replace 298mm units. New radial-mount four-piston calipers and radial master cylinder provide greater braking power and feel.
120/70-ZR17 front tire replaces previous 120/60-ZR17 for improved handling.
Twin, ring-type radiator fans are now used to ensure optimal engine cooling.
Revised headlight lens and revised under-cowl for even better style delivery and reduced frictional power loss. Sleeveless design also reduces weight.
Engine:
· Lightweight forged pistons feature carburized connecting rods for superb strength and reduced reciprocating mass. The result is incredible engine response.
· Hollow side-driven camshafts with specially designed valve lifters and computer-perfected timing helps create a very narrow engine width.
· Revised competition-bred suction-piston throttle body fuel injection with new, larger 40mm throttle bodies (body diameter is up by 2mm over the 2004 model), features short intake ports and a special vacuum-controlled intake system to ensure instant seamless throttle response all the way up to the incredible 15,500-rpm redline.
· The pressure regulator setting has been increased to accommodate the larger throttle body diameter and the resulting increase in fuel flow.
· New air funnel diameters (39.6 to 41.6mm) to accommodate the larger throttle bodies and revised funnel lengths on cylinders 2 and 3.
· New larger intake manifold to accommodate the larger throttle bodies.
· Ram Air Induction System delivers cool, high-pressure air "force-fed" into the intake tract for optimal combustion and greater horsepower at higher speeds.
· Close-ratio 6-speed transmission delivers seamless power delivery and maximum acceleration. Gear widths, splines and engagement dogs are optimized for smoother shifting under power.
· "Tri-Axis" or stacked transmission design creates a more compact engine front to back that allows for optimum engine placement in the frame for optimized balanced weight distribution and incredible handling.
· Heavy-duty, large-capacity clutch ensures consistent, fade-free performance.
· Revised cooling system features a curved radiator with new dual ring-type fans for excellent engine cooling efficiency. The ring-type fan offers more airflow than a conventional non-ring type fan.
· Large-capacity internal water pump and separate liquid-cooled oil cooler ensures consistent engine temperatures for maximum performance.
· Direct ignition coils, iridium spark plugs and high-output magneto deliver reliable firing. With this system, the ignition coils are integrated into the plug caps, significantly reducing weight.
· 4-into-2-into-1 exhaust optimizes engine performance, and features a mix of stainless steel, titanium and aluminum to reduce overall weight.
· Revised ECU (electronic control unit) map accommodates the new larger throttle bodies for improved engine performance as well as the new immobilizer ignition system.

Chassis/Suspension:
· Radical, lightweight aluminum Deltabox IlI frame offers the perfect rigidity balance. The result is incredible handling response. The engine is a fully stressed chassis member allowing for a super-light frame design.
· Chassis geometry has been revised for 2005 including; wheelbase (1380 to 1385mm), caster angle (24 to 24.5 degrees) and trail (86 to 95mm) have been changed for 2005.
· Yamaha's exclusive Controlled Filling Die Casting (CF casting) is used to produce an incredibly sleek new swingarm that is remarkably strong and light by pinpointing exactly where material needs to be. Pivot position and swingarm length (576mm) are optimized for even greater traction.
· Removable aluminum rear subframe uses CF casting technology to provide lighter weight and fewer welds as well.
· All new, fully adjustable 41mm Kayaba inverted front fork offers 120mm (4.7") of wheel travel. The new inverted forks offer incredible suspension performance with ultra-precise feedback. Adjustments include; 8 positions of spring preload, 13-way compression damping and 10-way rebound damping. The inverted design not only reduces unsprung weight but also increases the rigidity of the fork assembly.
· Revised fully adjustable Monocross link rear suspension utilizes a piggyback-style shock providing 120mm (4.7") of wheel travel. The shock settings have been revised to maintain the "suspension balance" with the new inverted fork. Adjustments include: 8 positions of spring preload, 20-way compression damping and 16-way rebound damping.
· The relay arms of the rear link-type suspension have been modified to match the new fork and to enhance suspension performance. The seat height of the new 2005 R6 has been increased by 10mm (0.4") due to the changes in the suspension.
· All new radial mount, 4-piston calipers squeeze new larger 310mm dual front disc brakes. The new mounting system helps to reduce caliper distortion for improved braking performance with excellent control and lever feedback. The larger 310mm discs are 4.5mm thick thereby reducing overall disc weight by 7%.
· Brembo radial pump master cylinder is a direct GP race innovation. The radial design allows for more powerful braking and improved lever feedback. The new shorter lever is adjustable for various hand sizes.
· 220mm rear disc brake with single-piston caliper
· Lightweight five-spoke 17" wheels reduce unsprung weight by making hub and spokes a single structural unit. A special casting technique makes the rim section substantially lighter and stronger.
· All new 120/70ZR17 Dunlop D218 front tire. The change in tire profile provides improved handling performance. The 2004 model used a 60 series profile front tire.
· All new immobilizer ignition system is designed to reduce the possibility of theft. This new system must recognize the "coded ignition key" in order for the unit to start. If the immobilizer ignition does not recognize the key (or a theft's screwdriver or other type of "jimmy tool") the bike will not start even if the ignition is turned or forced into the on position. If the system does not recognize the correct coded ignition key, it will not allow the unit to start.
· Ultra-sleek "new edge form" bodywork features a sharp front profile with centrally located Ram Air duct, engine-revealing side cowlings and ultra-sleek tail section.
· Narrow 17-litre fuel tank provides excellent rider ergonomics and aggressive seating position.
· Dual Gatling beam 60/55-watt multi-reflector headlights cast a wide beam of light and feature a sleek profile for superb aerodynamics and visibility. The lens has been revised above the Ram-Air intake area for improved appearance.
· Twin LED taillights reduce both weight and size while providing excellent visibility.
· Multi-function digital and analog instrumentation with adjustable LED illumination features: digital speedometer, dual tripmeters, fuel tripmeter, clock and analog tach. There is also a programmable shift light too!
Details:

· Durable, lightweight, aluminum clip-on bars provide optimal vibration damping
· Premium Dunlop D208 radial tires
· 5-position adjustable front brake lever
· O-ring chain
· Steering lock
· Under seat helmet holder
· Fold-out bungee cord straps under seat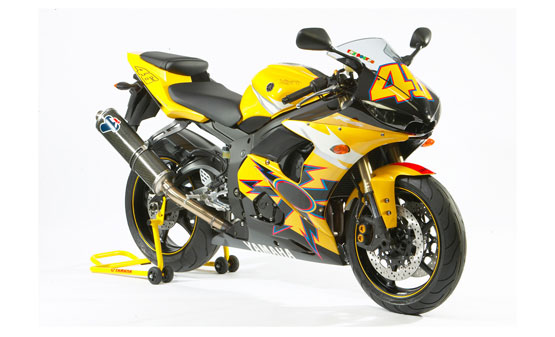 2005 Yamaha R6/YZF-R6 (R6 R46 Version)
2005 Yamaha R6/YZF-R6 Specifications
Engine
Engine type Liquid cooled, 4-stroke, forward inclined, parallel 4-cylinder, 16-valves, DOHC
Displacement 600 cc
Bore x stroke 65.5 x 44.5 mm
Compression ratio 12.4 : 1
Maximum power 92.7 kW (126 HP) @ 13,000 rpm with direct air induction / 88.2 kW (120 HP) @ 13,000 rpm without direct air induction
Maximum torque 68.5 Nm (6.99 kg-m) @ 12,000 rpm with direct air induction / 66.4 Nm (6.78 kg-m) @ 12,000 rpm without direct air induction
Lubrication system Wet sump
Fuel System Suction piston type electronic fuel injection
Clutch type Wet, multiple disc
Ignition system DC-CDI
Starter system Electric
Transmission system Constant mesh, 6-speed
Primary reduction ratio 1.955
Secundary reduction ratio 3
Final transmission Chain
Ratios gearbox 1st 2.846
Ratios gearbox 2nd 1.947
Ratios gearbox 3rd 1.556
Ratios gearbox 4th 1.333
Ratios gearbox 5th 1.19
Ratios gearbox 6th 1.083

Chassis
Chassis Aluminium die-cast Deltabox III
Front suspension system Up-side-down telescopic forks, Ø 41 mm
Front wheel travel 120 mm
Rear suspension system Swingarm (link suspension)
Rear wheel travel 120 mm
Caster angle 24.5°
Trail 95 mm
Front brake Dual discs, Ø 310 mm
Rear brake Single disc, Ø 220 mm
Front tyre 120/70 ZR17M/C (58W)
Rear tyre 180/55 ZR17M/C (73W)

Dimensions
Overall length 2,045 mm
Overall width 690 mm
Overall height 1,105 mm
Seat height 830 mm
Wheelbase 1,385 mm
Minimum ground clearance 145 mm
Dry weight 163 kg
Fuel tank capacity (reserve) 17 L (3.5 L)
Engine oil tank capacity 3.4 L

Specifications and appearance of Yamaha products shown here are subject to change without notice and may vary according to requirements and conditions. For further details please consult your Yamaha dealer.
---
---