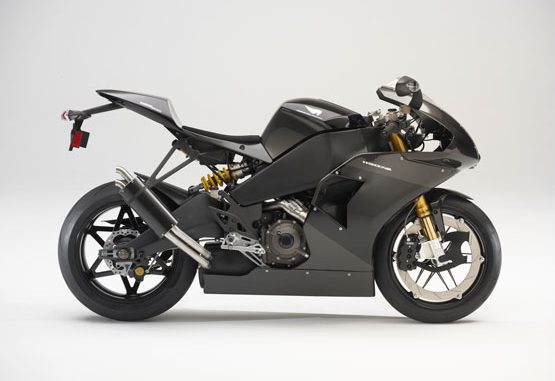 Click photos to enlarge.
They make great desktop images.
– 2012 EBR 1190RS

2012 EBR 1190RS Review
We asked ourselves what kind of bike would make a great first impression. Our Answer, the 2012 EBR 1190RS.
Meet the 2012 EBR 1190RS. Our flagship. Our price and joy. Made with allt he engineering and performance traits we admire in a sport motorcycle. It's the culmination of years of learning, victories, setbacks along with an unrelenting passion to build a motorcycle on our own terms. We're happy to share it with the world but honestly… we're just happy we get to ride it.
Quite frankly, this turned out better than we expected.

We knew from the beginning we could build this bike. But we expected any number of roadblocks to knock us off track. After all, starting a company in this economic climate with no other goal than to produce high performance motorcycles takes either a fair amount of ignorance or a brass set. But things kept falling into place. And today, the reward is 389lbs. of meticulously designed sport motorcycle propelled by a powerful 175hp motor. Must be fate.

2012 EBR 1190RS Features and Benefits
Land of the free, home of the brave. Incubator of pioneering technology.
Producting an American motorcycle today means understanding what kind of engineering and componentry will make the bike its absolute best – no matter where it comes from. So, with our global partnerships in full effect, we're designing and building motorcycles like the 2012 Erik Bull Racing 1190RS that will make the world sit up and pay attention to red, white and blue output.
AT 100, IT'S JUST GETTING STARTED.

The 1190RS will shock even the most experienced sport bike rider with its performance, styling and handling. Problem is, we're only making 100 of them. Including a handful with the Carbon Edition Package. Own a piece of motorcycle history.
About EBR – Erik Buell Racing
The Governor is off.
Building motorcycles without compromise. It's been Erik Buell's dream for more than 30 years. It's no longer a dream.

Introducing Erik Buell Racing.

EBR is the very definition of the American spirit. Motorcycles designed and manufactured in East Troy, Wisconsin embodying superb technology from around the world. Whether it's Austrian four-stroke, liquid-cooled power plants or Swedish suspension components, EBR engineers global performance integration into every model.

We're starting slowly, building only 100 of our inaugural 1190RS models. After that, we'll ramp up with more production and other models.

Perhaps you'd like to be a part of motorcycle history by owning one of the first EBRs to roll off the line. Maybe you're just curious to see what we can do with nobody looking over our shoulder. Whatever your interest level, we can promise the ballsiest American sport motorcycles ever built .

Upright and roaring
Before he was a successful engineer/motorcycle designer/motorcycle manufacturer, Erik Buell was a motorcycle racer. And like any good racer, when you get knocked down, you get right back up.

Well Erik is not only back up, he and the rest of us are running hard and fast.

We think like racers, making decisive, aggressive and calculated decisions. But we also think like passionate riders. We make bikes that we want to ride. Most of all, we feed off Erik and his fire-in-the-gut passion to build fast, magnificently engineered motorcycles.

---
2012 EBR 1190RS – International Specifications
MSRP $39,999 USD.
Engine
Type Liquid cooled V twin
Bore X Stroke 4.17 x 2.66 (106 x 67.5 mm)
Displacement 72.6 cu 1190 CC
Compression Ratio 13.6 :1
Fuel Delivery Dual 61mm throttle bodies
Exhaust Primary + Secondary
Peak Torque 97 ft-lbs @ 9400 rpm
Peak Horsepower 175 hp @ 9750 rpm

Drivetrain
Primary Drive Gear, 36/65
Final Drive 520 Chain, 16/41
Clutch Wet multi-plate, slipper
Transmission Ratios:
1st 2.46
2nd 1.75
3rd 1.38
4th 1.17
5th 1.04
6th 0.96

Dimensions
Seat Height 30.5″ (775 mm)
Rake 22″
Trail 3.4″ (86 mm)
Lean Angle 55
Front Tire 120/70R- 17
Rear Tire 190/55R-17
Fuel Capacity 4.5 gal (17.1 L)
Wet Weight (No Fuel) 389 lbs (176 kg)

Chassis
Frame Aluminum frame with integral fuel reservoir
Swingarm Optimized stiffness aluminum
Front Suspension 43 mm Öhlins inverted fork, adjustable compression damping, rebound damping adjustable spring preload
Rear Suspension Öhlins fully adjustable TTX coil over monoshock with remote reservoir
Front Wheel 3.5″ x 17″ magnesium
Rear Wheel 6.0″ x 17″ magnesium
Front Brake ISO finned rotor, 8 piston caliper with cooling duct

Price
2012 1190RS
MSRP $39,999
Carbon Package Add $4,000

Colors
Abraxas Inferno and Burnt Armor
Boreas Frost and Burnt Armor
Carbon and Pitch Black

---
2012 EBR 1190RS – Press Release

Buell launches first production bike – 175bhp EBR 1190RS
Buell has announced its return to motorcycle production with the launch of its first production model as an independent manufacturer.
A year after being cut-off by parent company Harley-Davidson, Erik Buell Racing has launched the 175bhp EBR 1190RS.
Powered by a liquid-cooled V-Twin 1190cc engine, the Buell is fully cloaked in carbon fibre to provide significant weight reductions and provide a stealthy black finish.
The bike features Ohlins USD forks that are completely adjustable and in order to maximize grip while cornering and provide plenty of feel, the 1190RS is fitted with Ohlins' TTX coil over monoshock.
Unfortunately, the sporting pedigree of the first Erik Buell Racing model does come at a price, with the bike going on sale for around $40,000 (£24,775). The carbon fibre package adds a further $4,000 to that price tag.