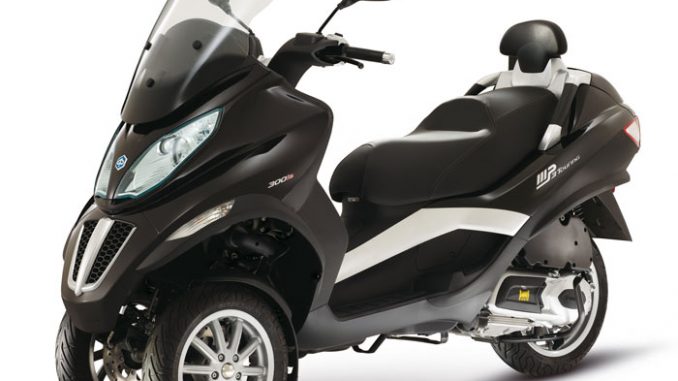 Click photos to enlarge. They make great desktop wallpaper.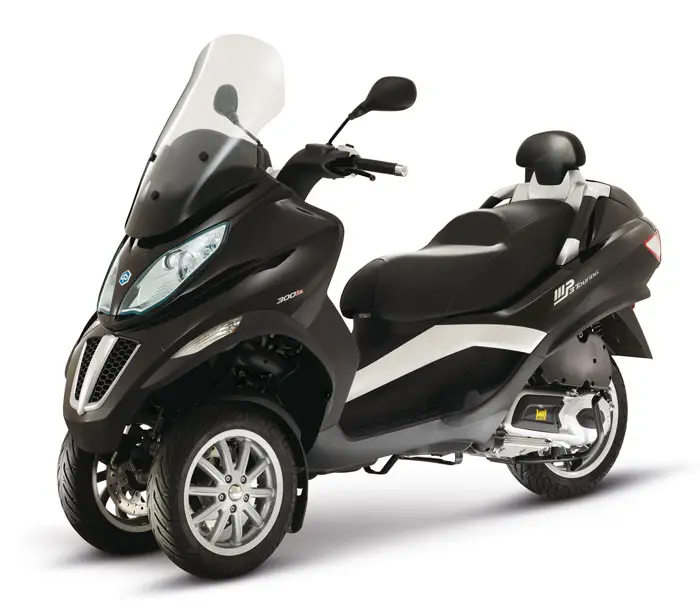 2012 Piaggio Mp3 Touring 300 I.E.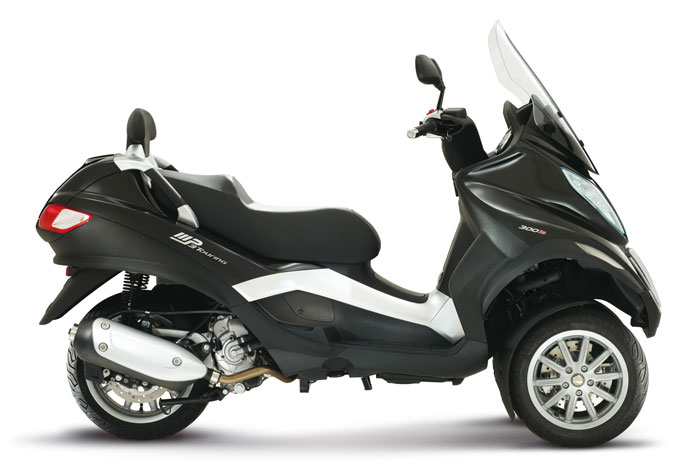 2012 Piaggio Mp3 Touring 300 I.E.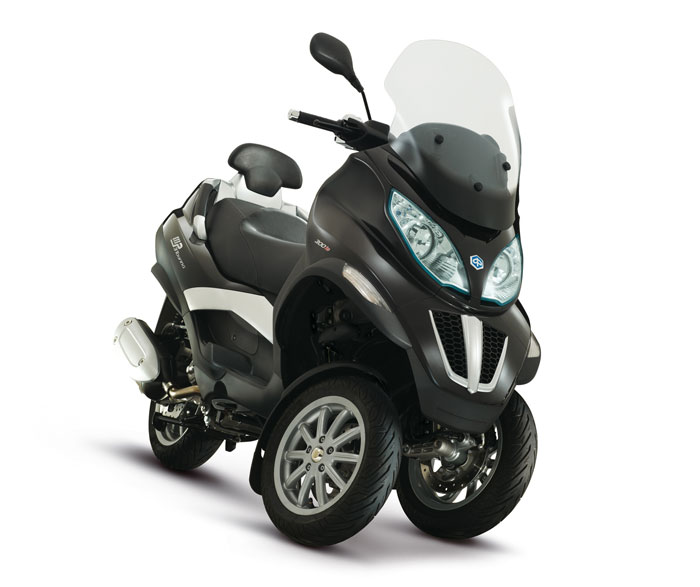 2012 Piaggio Mp3 Touring 300 I.E.

2012 Piaggio Mp3 Touring 300 I.E. Review

2012 Piaggio Mp3 Touring 300 I.E.
Levels of safety and roadholding that would be impossible with a two-wheeler, matched with power and verve delivering pure fun and maximum riding enjoyment: these are the unbeatable characteristics that have made the Mp3 such a brilliant success.
The technically revolutionary three-wheel layout with two front wheels is the basis of the extraordinary success of the Mp3, a scooter unlike anything else in the world which, with its innovative design with two independently sprung and tilting wheels redefined the very concept of dynamic stability.

This winning formula – as proven by over 100,000 Mp3 scooters sold worldwide – has, over the years, spawned a multitude of different versions and spec levels to cater for the needs of every possible user. These include the Mp3 Hybrid, the world's first scooter with parallel hybrid drive and plug-in technology, and the Mp3 Yourban, which offers the exceptional stability and safety of the Mp3 in a vehicle conceived for urban use and simplicity.
The Mp3 Touring brings completely revised looks and functionality to the most "classic" version of Mp3 while retaining the exceptional comfort, space and load capacity that have made the scooter a firm favourite for thousands of users all over the world.
There is also a new and more extensive choice of engines: the new Mp3 Touring is available with the classic 125, 300 and 400 engine sizes, which are now joined by an all-new 500cc version offered in "Sport" and "Business" spec levels.
2012 Piaggio Mp3 Touring 300 I.E. Model Highlights

Design
The evolved styling of the new Mp3 Touring is immediately evident at first glance. While retaining a distinct resemblance with the rest of the Mp3 family, the new Touring boasts a new honeycomb front grille and a satin-finish centre moulding in the front shield.

The design of the windscreen is also completely new and offers even more protection than before. The new windscreen is adjustable, with three different settings: the gap between the top fairing and the windscreen splits the air flow into two parts, directed over and under the windscreen itself to eliminate turbulence at mid and high speeds.

The new design of the top fairing has also freed up space for a practical storage pocket with three compartments under the windscreen.

Other new features are the hand grips, with improved grip and ergonomics, the silver colour finish of the wheels, and the saddle, which is now upholstered with new materials and enhanced with relief stitching. The Touring retains the same class-beating features of the Mp3 in terms of comfort and functionality, such as the large, ergonomic rear grab handle with integrated backrest, and the luggage compartment, accessible from under the saddle and from the rear hatch, with a record-breaking 65 litres of load capacity and the ability to accommodate objects up to 1 metre in length!
Engines
Piaggio Mp3 Touring is offered with a comprehensive range (125, 300, 400 and 500 cc) of 4-stroke, liquid cooled engines with electronic injection.

The 300 cc engine with electronic fuel injection delivers 22.5 hp at 7,500 rpm, and produces a maximum torque of 23.2 Nm at 6,500 rpm: these figures translate to superlative responsiveness and even sparkling performance, making the Touring 300 ie capable of long range commuting in complete comfort.
The 125 and 300 versions introduce a groundbreaking technological first for their classes: state of the art Ride by Wire technology, which electronically controls the throttle valve in the intake duct to regulate the fuel air mixture with absolute precision. The result of electronic throttle control is an optimised air/fuel mixture, which translates to smoother power delivery and, therefore enhanced riding comfort.

Technology
Riding the Piaggio MP3 is an experience that revolutionises the very concept of mobility, with the dual wheeled front suspension system ensuring levels of stability in curves far superior to any normal scooter. At speed, and even when riding behind other vehicles, the Piaggio MP3 Touring stays glued to the road and always delivers maximum performance in total safety. The benefits of the three wheel revolution can be felt particularly on wet roads and in other riding conditions that are critical for conventional two-wheelers.
On city and urban streets, Piaggio MP3 is unrivalled in terms of safety: cobblestones, poor surfaces, tramlines and manhole covers are dispatched with previously unattainable ease and stability.

Measuring no more than a maxi scooter and boasting incredible agility, the Piaggio MP3 Touring is completely at home in the city centre. It is also remarkably easy to park, as the electrohydraulic front suspension hold system keeps the vehicle upright without using the stand.

The revolutionary Piaggio MP3 boasts incredibly short braking distances unmatched by anything else in the scooter world: the powerful triple disc brake system and the incredible grip of the front end ensure stopping distances 20% shorter than the best performing scooter in critical grip conditions.

When the road leaves the town behind, the Piaggio MP3 really shows what it is made of. Road holding, cornering safety and lean angle unattainable for conventional scooters guarantee immense riding satisfaction on fast country roads.

Colours
The 125, 300 and 400 versions of the new Piaggio Mp3 Touring are available in four metallic colours – Cosmo Black, Orione Grey, Midnight Blue and Antares Red.


---
2012 Piaggio Mp3 Touring 300 I.E. – International Specifications/Technical Details
MSRP Price: TBA
Engine 4-stroke 4-valve single cylinder engine
Engine capacity 278 cc
Bore x stroke 75 mm / 63 mm
Power 22.5 hp at 7,500 rpm
Torque 23.2 Nm at 6,500 rpm
Valve timing system Single overhead camshaft (SOHC) – 4 valves
Fuel system: Electronic fuel injection (with Ride By Wire control)
Cooling Liquid
Lubrication Wet sump
Starter Electric
Transmission CVT with torque server
Clutch Automatic, centrifugal dry clutch
Frame Double cradle in high strength tubular steel
Front Suspension Articulated quadrilateral consisting of four aluminium arms sustaining two steering tubes, and pull rod suspension geometry with offset wheel axle – Wheel travel: 85 mm
Rear suspension Double dual action hydraulic shock absorber with adjustable spring preload – Stroke: 110 mm
Front brake Two 240 mm discs
Rear brake 240 mm Ø disc
Front wheel rim Aluminium alloy 12″ x 3.00
Rear wheel rim Aluminium alloy 14″ x 3.75
Front tyre Tubeless 120/70-12″
Rear tyre Tubeless 140/60-14"
Length/Width 2,130 mm / 745 mm
Wheelbase 1,490 mm
Seat height 780 mm
Fuel tank capacity 12 litres
Emissions compliance Euro 3




---
2012 Piaggio Mp3 Touring 300 I.E. – US Specifications/Technical Details
USA MSRP Price: $TBA USD
See international specifications listed above.
---
2012 Piaggio Mp3 Touring 300 I.E. – Canada Specifications/Technical Details
Canadian MSRP Price: $TBA CDN
See international specifications listed above.