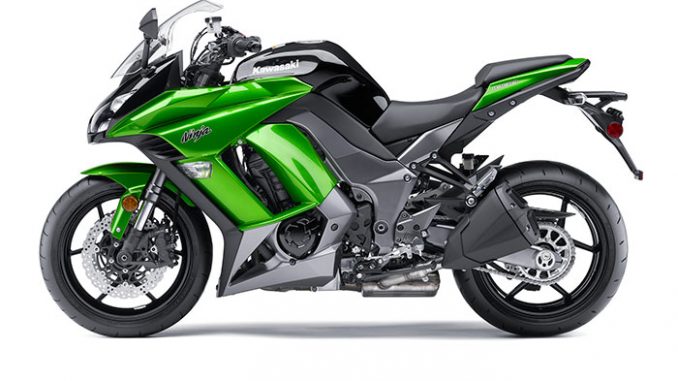 Click photos to enlarge. Our big, clean bike pics make great desktop wallpaper.
2013 Kawasaki Ninja 1000 Review

2013 Kawasaki Ninja 1000
2013 Ninja 1000 – SUPERSPORT SEDUCTION WITH EVERYDAY VERSATILITY.
An Unbeatable Combination of Power, Style and Practicality

With a distinctive look and a growl to match, the Kawasaki Ninja® 1000 sportbike delivers a mix of power, handling, looks, technology and rideability that is nearly impossible to beat. The brilliant combination adds up to all-around performance that will have you grinning inside your helmet for miles. This is one impressive motorcycle, a bike that is equally at home carving through a twisty backroad with the best of the sportbikes, or stretching its legs on the freeway or during a long commute.
The Ninja is blessed with ample rideability – an incredible blend of ability on the street and extreme ease of operation. The source of all this two-wheeled goodness is Kawasaki's own – and now legendary – Z1000 super standard, the engine and chassis platform upon which the Ninja 1000 is based. The Z1000 has earned some of motorcycling's highest accolades, including the prestigious Motorcycle of the Year "MOTY" award from Motorcyclist magazine and consecutive slots in Cycle World's annual Ten Best lineup as the "Best Standard". With roots like that, it's easy to see where the big Ninja's impressive chops come from.
The Ninja 1000 throws an aesthetic uppercut the instant you lay eyes on it – and then follows up the punch with brilliant all-around performance you'll quickly learn to love. And for those who want the ultimate in braking technology and performance, Kawasaki offers an ABS version. This system offers confidence-inspiring braking action on all types of surfaces.

With the Z1000's impressive engine and chassis package as a starting point, Kawasaki engineers added beautifully swooping bodywork and a handful of brilliant features (including optional ABS this year), all of which combine to make the 2013 Ninja 1000 an amazingly capable all-around sporting machine.
Power comes by way of a highly advanced inline-four – a 1,043cc, DOHC, liquid-cooled, 16-valve engine featuring a long-stroke design for instantaneous power, a smooth-shifting six-speed gearbox with ideal ratios, and no-fuss electronic fuel injection for absolutely seamless throttle response – warm or cold. There's plenty of power from just off idle all the way through redline; the Ninja 1000 delivers more than enough everyday performance to embarrass lesser machines.
But this engine's magic is more about flexible and easy-to-use oomph than simply peak horsepower numbers. This dead-reliable inline-four produces the sort of power that launches you out of corners and away from stops in a way that'll keep you entertained – and your riding buddies impressed – for years to come. At seemingly every rpm level, the Ninja 1000 engine produces smooth, instant-on thrust many hardcore sportbikes simply can't match.
Kawasaki's perfectly calibrated electronic fuel injection helps make this so. The four 38mm Keihin downdraft throttle bodies inject a perfect mix of fuel and air into each combustion chamber with help from an advanced ECU, oval sub-throttles and a cool air intake system that routes fresh air to the airbox via ducts at the front of the bike. A balance shaft driven off the crankshaft keeps the solidly mounted engine operating smoothly, while a beautifully styled 4-into-2-into-2 catalyzer-equipped exhaust system offers a pleasing growl without being overly loud. It's a perfect engine for a road-going sportbike – smooth, powerful, flexible and blessed with the legendary reliability Kawasaki sportbikes are known for.
Like the superb-handling Z1000, the Ninja 1000 features an advanced aluminum frame similar in design to the Ninja ZX™-10R's. The lightweight assembly curves over the engine, cradling it from above and bolting solidly to it in three places, with a rubber-backed fourth mount provided for added vibration isolation and torsional rigidity. This design allowed engineers to keep the bike's waist narrow for superb rider interface and maximum comfort and control. The main frame and swingarm pivot pieces are cast as a single unit, with welds eliminated wherever possible for seamless aesthetics.
The wheels, brakes and suspension bits that allow the Ninja to move so gracefully and swiftly are truly state-of-the-art. Suspension is handled by a fully adjustable 41mm inverted fork up front and a preload- and rebound-adjustable single-shock system in back, the ideal scenario for dialing in the perfect settings for your weight and riding style. The single-shock system features a damper mounted nearly horizontally above the swingarm for optimal mass centralization and heat resistance. The gas/oil shock offers superb wheel control whether you're hammering along some deserted backroad or bopping along a pothole-infested city street. On the Ninja 1000, you'll always know what's happening at the contact patches.
Stopping power is provided by race-spec brakes – 300mm petal-type rotors up front squeezed by ultra-rigid radially mounted calipers fed hydraulic pressure by an equally race-spec radial pump master cylinder. In back is another tech-savvy disc. Braking power and feel at both ends is amazing, giving rookies, pros and everyone in between a feeling of supreme confidence. The Ninja 1000 is also available with an optional anti-lock brake system (ABS) for additional rider confidence when riding in slippery situations.
The wheels working with those brakes – lightweight six-spoke supersport-style units – are also the latest in lightweight production technology. They not only reduce unsprung weight, which allows the suspension to function optimally, but carry the latest in radial tire technology. The result is superb grip, precise handling and reasonably long tread life.
But easily the most stunning aspect of the Ninja 1000 is its sleek, wraparound bodywork. Designed with an eye on Kawasaki's race-ready ZX-6R and ZX-10R, the Ninja offers a thoroughly radical look, but one that's unique and memorable. Despite the edgy, rakish look, the bodywork carves a surprisingly large hole in the atmosphere, giving riders a quiet cocoon in which to work. A manually adjustable, 3-position windscreen helps, allowing riders to pick just the right setting for their height and riding style. Faired-in front turn signals, a ZX-6R-spec front fender, a stylish tail-section and a full-featured instrument panel right off the Ninja ZX-6R (with custom graphics, of course) complete the look.

And despite its radical look, the Ninja 1000 offers surprisingly comfortable ergonomics. The handlebars are mounted higher than on race-oriented machines, the pegs a touch lower, all of which makes the Ninja 1000 a capable short-haul tourer, and certainly a sportbike you can spend the day aboard without undue strain. To sweeten the day- or weekend-trekking deal even more, Kawasaki offers a line of optional touring-oriented accessories, including hard-case saddlebags and top trunk, heated grips and more.
It's rare to find such all-around functionality in a sporting motorcycle today. But the 2013 Ninja 1000 is a different beast – one with wide-ranging talent in sport, sport-touring and commuting roles. As Motorcyclist magazine wrote recently: "In the real world we ride through every day, it doesn't get much better than the Ninja 1000."

Add a number of convenience features and the result is a unique package more than able to satisfy a rider's every desire. Whether looking to move on from a supersport or super-naked ride, or step up from a mid-size sport model, the Ninja 1000 offers the performance and versatility for a fuller bike life than ever experienced.

SEDUCTIVE SUPERSPORT STYLING

The Ninja 1000's well-integrated full-fairing styling offers a good indication of its sporty character. Featuring a "personal jet fighter" motif, the sensuous styling is both audacious and subtle at the same time.

The aggressive design gives the Ninja 1000 its own distinct appearance, yet is instantly recognisable as a Kawasaki.


2013 Kawasaki Ninja 1000 Key Features
Supersport-style full-fairing

Supersport-style full-fairing bodywork gives the Ninja 1000 a distinct, head-turning look of its own.

The sleek styling also offers a good measure of wind protection, facilitating short touring runs.

The leading edges of the fairings feature a slat-style design that directs the wind around the bike, enabling the fairings to be slimmer in the middle.

Sporty instrument panel

Sporty instrument panel features a large analogue tachometer and multi-function LCD screen.

The design is based on that of the Ninja ZX-6R, but features original font and colouring.

Functions include: speedometer, tachometer, fuel gauge, odometer, clock, dual trip meters, and warning lamps.

Original-design front turn signals

Original-design front turn signals mount directly to the fairings.

Turn signal units are attached to the inside of the fairing using rubber mounts to minimise fairing damage should the bike fall over.
2013 Kawasaki Ninja 1000 Features and Benefits
RIDING EXCITEMENT: ENGINE

Riding excitement is about more than just performance figures. Riding impact comes from the sensations the rider feels. Twisting the throttle results in a strong response from all rpm, the engine pulling strongly right to redline. Superb throttle response, power delivery with a mid-range hit make accelerating an exhilarating experience.


High-Torque Engine

Tuned to deliver abundant low-and mid-range torque, with a distinctive power kick around 7,000 rpm.
A low crankshaft and five-degree downward engine tilt help the engine to maintain its compact size and a secondary engine balancer is gear-driven off the crankshaft and helps reduce engine vibration, which allows a stiffer chassis for improved handling.

To decrease engine weight and improve heat transfer, the cylinders have linerless, chrome composite plated aluminium bores.


Cool Air System

With the airbox nestled between the frame beams, intake air can be affected by engine heat. The Cool Air system routes cool air to the airbox from ducts at the front of the side fairings, minimising performance loss due to heated intake air. This should not be confused with Ram Air, where force-fed air becomes pressurised in the airbox. A resonator inside the airbox reduces noise at low rpm, and enhances intake sound at high rpm.


Exhaust System

The exhaust system features a 4-into-2-pre-chamber-into-2 layout. Silencer end-caps create a quad-style image. Thanks to the under-engine pre-chamber, silencer volume could be kept to 3 litres each and silencer weight to 3500 g each, greatly contributing to mass centralisation and a lower centre of gravity.


RIDING EXCITEMENT: CHASSIS

To ensure maximum riding excitement, the Ninja 1000 offers a quick-steering and light-handling package. A highly rigid aluminium frame with high mass centralisation balances sharp turning and firm handling. Supersport-style front brakes add to the high level of control.


Aluminium Twin-tube Frame

Aluminium twin-tube frame design features frame beams that go over engine, allowing a narrow construction that is easy to grip with the knees. Lightweight and highly rigid, the frame uses the engine as a stressed member. The frame contributes to handling, offering a firm, planted feeling, good stability and light, nimble turning.


Horizontal Back-link Rear Suspension

Rear suspension positions the shock unit and linkage above the swingarm. This arrangement contributes to mass centralisation. The suspension is located far enough from the exhaust that operation is not affected by heat. Visible from the outside, the Horizontal Back-link rear suspension contributes to the appearance of the Ninja 1000. The rear shock features rebound and preload adjustability. A cam-style preload adjuster facilitates making adjustments to suit 2-up riding or luggage.


ABS Front and Rear Brakes

Instead of mounting the four-piston callipers with threaded tabs cast near the top of the calliper, the radial design utilises integrated mounting points at both the top and bottom of the calliper, with the mounting bolts inserted through the rear of the calliper instead of the side/front. This makes the calliper more rigid, which improves brake feel over a wider range of operation. For added braking reassurance, ABS brakes are fitted standard and the radial pump front brake master cylinder improves brake performance and feel at the lever.


EVERYDAY VERSATILITY

With a relaxed riding position that can accommodate everything from city riding to touring to sport riding, and numerous bike-life-enhancing features, the Ninja 1000 complements its street riding excitement with a depth not available on Super-Naked or supersport models.


Relaxed Riding Position

Relatively upright position offers both control and comfort. The rider triangle is essentially the same as that of the Z1000, with grips moved about 10 mm inward. Separate, raised handlebars contribute to the sporty, comfortable riding position. The handlebar stays are mounted to the fork tube tops, which extend above the upper triple clamp.


Adjustable Windscreen

Windscreen has three available positions spanning approximately 20o and ranging from sporty to maximum wind protection. Adjustment can be done by hand (no tools required) by depressing the release button below the instrument panel. (Windscreen adjustment should be done with the bike stopped.)


Large-volume Fuel Tank

19 litre fuel tank offers a substantial touring range. Dynamic fuel tank design with tall upper surface features supersport-style flared edges with a trim shape at the rear, a shape that is easy to grip with the knees. Steel construction facilitates the use of a magnetic tank bag. The use of a slim-type fuel pump features a unitised fuel gauge and the fuel tank design and slim-type fuel pump minimise dead volume inside the tank.

Colours

Candy Lime Green / Ebony

Pearl Stardust White

---
2013 Kawasaki Ninja 1000 – USA Specifications/Technical Details
US MSRP Price: $11,399 USD
Engine Four-stroke, liquid-cooled, DOHC, four valves per cylinder, inline-four

Displacement 1,043cc

Bore x Stroke 77.0 x 56.0 mm

Compression Ratio 11.8:1

Fuel System DFI® with four 38mm Keihin throttle bodies, oval sub-throttles

Ignition TCBI with digital advance

Transmission Six-speed

Final Drive X-ring Chain

Rake/Trail 24.5 deg / 4.0 in.

Frame Type Aluminum Backbone

Front Tire Size 120/70 ZR17

Rear Tire Size 190/50 ZR17

Wheelbase 56.9 in.

Front Suspension / wheel travel 41 mm inverted cartridge fork with stepless compression and rebound damping, adjustable spring preload / 4.7 in.

Rear Suspension / wheel travel Horizontal monoshock with stepless rebound damping, adjustable spring preload / 5.4 in.

Front brakes Dual 300mm petal-type rotors with radial-mount four-piston calipers, optional ABS

Rear brakes Single 250mm petal-type rotor with single-piston caliper, optional ABS

Fuel Capacity 5.0 gal.

Seat Height 32.3 in.

Curb Weight 509.4 lbs.

Overall length 82.9 in.

Overall width 31.1 in.

Overall height 48.4 in.

Color(s) Pearl Stardust White/Metallic Spark Black, Candy Lime Green/Metallic Spark Black

Warranty 12 Months

Good Times™ Protection Plan 12, 24, 36, 48 months



---
2013 Kawasaki Ninja 1000 – Canadian Specifications/Technical Details
Canada MSRP Price: $NA CDN
See Ninja 1000 ABS version
---
2013 Kawasaki Ninja 1000 – United Kingdom Specifications/Technical Details
UK MSRP Price: £9,599 (Prices are recommended and inclusive of VAT @ 20% and delivery)
Engine:
Type Liquid-cooled, 4-stroke In-Line Four
Displacement 1,043 cm³
Bore and Stroke 77.0 x 56.0 mm
Compression ratio 11.8:1
Valve system DOHC, 16 valves
Fuel system Fuel injection: ø38 mm x 4 (Keihin) with oval sub-throttles
Ignition Digital
Starting Electric
Lubrication Forced lubrication, wet sump
Drivetrain:
Transmission 6-speed, return
Final drive Sealed Chain
Primary reduction ratio 1.627 (83/51)
1st 2.600 (39/15)
2nd 1.950 (39/20)
3rd 1.600 (24/15)
4th 1.389 (25/18)
5th 1.238 (26/21)
6th 1.136 (25/22)
Final reduction ratio 2.733 (41/15)
Clutch Wet multi-disc, manual
Frame:
Type Aluminium twin-tube
Wheel travel:
Front 120 mm
Rear 138 mm
Tyre:
Front 120/70ZR17M/C (58W)
Rear 190/50ZR17M/C (73W)
Caster (rake) 24.5°
Trail 102 mm
Steering angle (left/right) 31° / 31°
Suspension:
Front 41 mm inverted fork with stepless compression and rebound damping and spring preload adjustability
Rear Horizontal Back-link, gas-charged, with stepless rebound damping and spring preload adjustability
Brakes:
Front: Dual semi-floating 300 mm petal discs
Caliper Dual radial-mount, opposed 4-piston with ABS
Rear: Single 250 mm petal disc
Caliper Single-piston with ABS
Dimensions:
Overall length 2,105 mm
Overall width 790 mm
Overall height 1,170 mm / 1,230 mm
Wheelbase 1,445 mm
Ground clearance 135 mm
Seat height 820 mm
Curb mass 231 kg (includes full fuel tank and all fluids at correct levels)
Fuel capacity 19 L
Performance:
Maximum power 101.5 kW @ 9,600 rpm
Maximum torque 110 N-m @ 7,800 rpm

Colours:


Candy Lime Green / Ebony Pearl Stardust White
---
2013 Kawasaki Ninja 1000 – Australia Specifications/Technical Details
Australia MSRP Price: NA
See Ninja 1000 ABS version