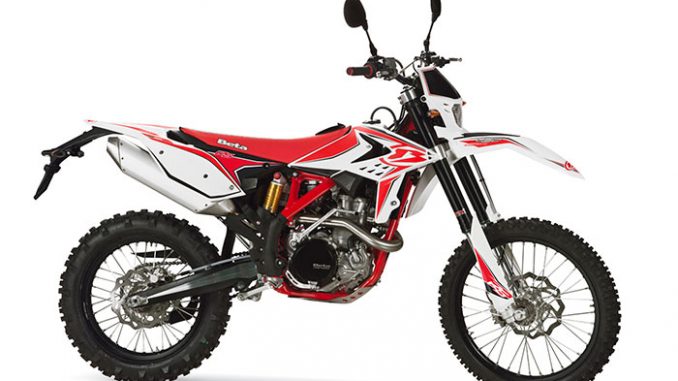 Click photos to enlarge. Our big, clean bike pics make great desktop wallpaper.
2014 Beta 520RS Review

2014 Beta 520RS on Totalmotorcycle.com
Dual Sport Revolution…
The Dual Sport revolution continues with further development of Beta's RS line up. Available in 400, 450, and 520 versions for 2014, each with their own unique power deliver to fit every rider. Features include an industry-first Trial Tech Voyager GPS unit as stock equipment. This multipurpose GPS has many features including downloadable maps, hours, clock, trip meters, engine temperature, and much more. Other features for 2014 include our 48mm Sachs front fork adopted from our RR models featuring off-road valving and SKF low friction seals. The rear shock also comes from the RR models with an all-aluminum body. Rear linkage is standard equipment along with an aluminum skid plate. Lastly, a new "easy start" electric start system, backup kick starter, and a cooling fan to insure you are riding the coolest Dual Sport around.
2014 Beta 520RS Totalmotorcycle.com Features and Benefits
2014 RS Models are ALL NEW !
Returning for 2014 with three engine displacements 400cc, 450cc and 520cc, the all new RS Dual Sports have been developed focusing on weight reduction, improved ergonomics and ease of handling. The engines have been improved by a series of local details aimed to improve the already excellent reputation for reliability and performance.
The final result is a bike that is one of the lightest in its class, offering the finest Dual Sport features in the industry, in addition to being the best off road performing Dual Sport on the planet.
ALL NEW FOR 2014
Details of the Changes:

Engine:
• Updated silencer/spark arrestor, provides a softer exhaust note while still retaining performance.
• On the 400cc engine primary drive has been shortened to further improve engine power and torque delivery.
• New decompression system for easy start of the engine in any condition.
• Air filter newly designed to improve the power delivery of the engine especially at lower RPM.
• New filter cage with improved fit to offer a more secure mounting of the air filter.
• Air filter mounting bracket changed to make the locking of the filter even more secure.
• Cooling fan kit as standard equipment for reducing engine temps in the extreme conditions.
Chassis:
• New frame reinforced at the points of greatest stress and lightened where possible, designed to be stronger and at the same time provide a consistent weight reduction. Same frame used on the RR models.
• All new wheels including brake discs with a different profile, more rigid with 6 mounting points to the hub, made of high quality steel, they provide extremely strong braking action as well as excellent feel.
• New hubs, lighter and more rigid at the same time.
• Rims with a new profile, more resistant to stress and very light at the same time.
• All new spokes
• The above leads to a weight reduction of 1.5 kg (3.2 lbs) total between the two wheels which provides a tremendous benefit in terms of ease in changing direction, greater acceleration and more effective braking.
• New swingarm with a new shape and revised thicknesses to provide a greater rigidity, better weight distribution and reduction of the masses of 250 grams (.5 lb)
• 48mm Sachs front fork internal parts completely renovated and .48 kg spring. This allows a better control of the hydraulic system which results in further performance on both low and high speed conditions. In addition, the rebound setting is now managed by a knob for easy adjustment without tool.
• Rear shock absorber with improved settings, 5.4 Kg spring and a larger reservoir to provide a better control of the shock's action, improved cooling and therefore better performance. In addition, the body of the shock absorber is now made of aluminum allowing a saving of weight of 300 grams (.6 lbs).
• Completely new fuel tank, redesigned to offer a better centering of gravity and allow quicker changes of direction. The area around the cap is now lower for better ergonomics and it has a capacity of 8 liters. Moreover its design improves the air flow from the radiators to help lower engine temperatures.
• New fuel tank cap with an external thread for easier opening and closing as well as to prevent dirt from falling into the tank.
• Seat with a new side profile and a different design. It allows greater ease of movement thanks to a narrow upper part, in addition to being lighter.
• Modified seat mounting system, improved design in the front and new fixing pins in the rear. Still a quick-release design but now a more solid fit.
• New side radiator shrouds with a design that allows for better flow and increased air circulation in the area around engine head. Their shape provides a very slim feel for an improved riding position while also allows better airflow to the engine.
• Radiator grids with an optimized shape for directing a greater air flow towards the radiators, while providing the engine improved cooling under extreme conditions of use.
• New instrumentation with an industry-first Trail Tech Voyager GPS unit as standard equipment! Features include:
GPS Speed, Distance, Compass, Altitude, Temperature, Maps
View, Organize, Edit and Share Entire Trail Systems in 3D
Designed Specifically to Meet the Needs of Off-Road Riders.

• Stiffened rear subframe in the back area for better supporting the plate support, lightened and modified to facilitate the replacement of the rear shock.
• Plate support stiffened by ribs, to enable the use of bulky and heavy license plates too.
• Air filter box modified to match the new style of the bike.
• New final gearing ratio of 15/48 to ease gear changes more suitable for off road use.
• DID o'ring chain for extreme smoothness and best quality.
• New seat cover with an added pouch for a cell phone or other route sheets.
• New RS graphics package for a stunning look.

---
2014 Beta 520RS – Totalmotorcycle.com International Specifications/Technical Details
US MSRP Price: $9,799 USD
Canada MSRP Price: $9,799 CDN
UK/European MSRP Price: £ See dealer for pricing in GBP / EUR

Engine
Type: Beta-Built single cylinder, 4-valve, 4-stroke liquid cooled, electric start with back up kick starter and cooling fan kit.
Bore: 100mm
Stroke: 63.4mm
Displacement: 497.4cc
Compression Ratio: 12.1:1
Ignition: DC-CDI with variable ignition timing, Kokusan.
Spark Plug: NGK LKAR8A-9
Lubrication: Twin oil pumps with cartridge oil filter. Separate oil for engine and clutch .8 liter each
Carburetor: Keihin FCR-39mm
Clutch: Wet multi-disc
Primary Ratio: 31:73
Transmission: 6-speed
Final Drive: O-ring chain, DID
Chassis
Frame: Lighter Molybdenum steel with double cradle split above exhaust port. Quick Air filter access from the side.
Wheelbase: 58.1"
Seat Height: 36.6"
Ground Clearance: 12.6"
Footrest Height: 16.25"
Dry Weight: 246 lbs. dry
Electrical: Trail Tech Voyager GPS unit.
Fuel Tank Capacity: 2 US gallons
Front Suspension: All New 48 mm Sachs USD fork, adjustable compression and rebound, TFX technology.
Rear Suspension: New Aluminum Body Sachs shock w/adjustable rebound and hi/low speed compression
Front Wheel Travel: 11.4"
Rear Wheel Travel: 11.4"
Final Gearing: 15t front, 48t rear
Front Brake: 260mm rotor
Rear Brake: 240mm rotor
Front/Rear Rim: 21" (Front) 18" (Rear)
Front/Rear Tire: Michelin Enduro, DOT approved
Warranty: 12 month Limited Warranty



Specifications, features and prices to change by manufacturer without notice. All information correct as of posted date.