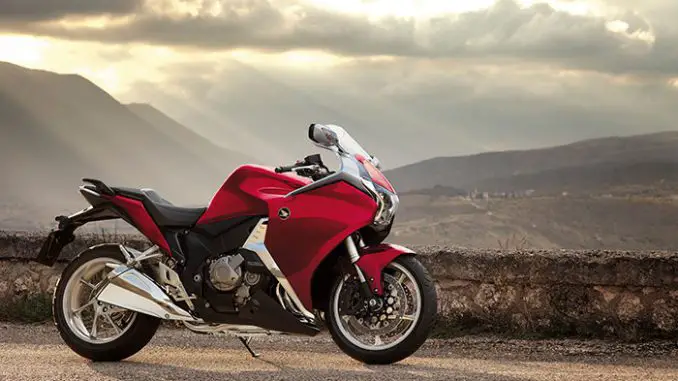 Click photos to enlarge. Our big, clean bike pics make great desktop wallpaper.
2014 Honda VFR1200FA DCT Review

2014 Honda VFR1200FA DCT on Totalmotorcycle.com
VFR1200FA DCT – best of the best…
Honda has always been known as a technology leader, and it's evident in the VFR1200FA DCT. This technological tour-de-force bristles with innovations that represent the latest thinking in motorcycle engineering and design. At the heart of the VFR1200FA DCT is a V4 engine with a sound and feel unlike anything else in the industry, in fact, the uneven beat that it produces at idle has even been compared to the thump of a human heart. Remarkably small, the compact motor is fitted low and forward in an equally advanced chassis that is designed to strike the perfect balance between touring comfort and sporting performance. Even the paint is applied using a new process that creates a shine so deep and rich that you may get lost in it. But the VFR1200FA DCT is not just beautiful and soul stirring, it's smart too, with a host of innovative electronics keeping this impressive machine running at top performance – so nothing interferes with the riding experience. Saving the best for last, the VFR1200FA DCT features a dual-clutch automatic-shifting, manual transmission inspired by those used in Formula 1 and MotoGP competitions.
The VFR1200FD features dual clutch transmission, the world's first fully automatic dual clutch transmission for large-displacement motorcycles. This new transmission offers riders the enjoyment of full sports riding capabilities along with effortless and seamless operation, applied in a powerful, large-displacement machine. At the same time, this transmission's superior efficiency can deliver fuel efficiency equal to or better than a conventional manual transmission. To respond to rider demands through a broad range of conditions and situations, the transmission offers three operating modes: two full-auto modes (D-mode for relaxed, fuel efficient operation and S-mode for sports riding), and a six-speed gear-select mode for full rider control via electronic trigger-shift controls that deliver the same shifting response as a manual transmission.
2014 Honda VFR1200FA DCT Totalmotorcycle.com Key Features

Stronger torque
The V4's already impressive torque has been made stronger still, with increased drive between 2000rpm and 4000rpm.
Traction Control System
The VFR1200F also benefits from Honda's Traction Control System , which helps ensure the power is put down optimally, safely and securely, even on surfaces with limited grip.
Dual Clutch Transmission (optional)
The VFR1200F was the first motorcycle to feature Honda's innovative Dual Clutch Transmission, which has been significantly developed for the 2012 model. Honda's Dual Clutch Transmission ensures even smoother and seamless gear changes in any of its three riding modes. Using two electronically controlled clutches, the system offers the choice of manual gear shifting and two fully automatic modes, one for general use (D-mode) and another for high performance riding (S-mode). The VF1200F's Dual Clutch Transmission also features new software logic with added functionality.
2014 Honda VFR1200FA DCT Totalmotorcycle.com Features and Benefits
The VFR1200FA DCT's Traction Control system carefully monitors a range of different parameters, looking for unusual fluctuations that could suggest an imminent loss of traction at the rear tire. If the system believes wheelspin is imminent, engine power is momentarily reduced, thereby maintaining traction..
Light and compact 1,237 cc liquid-cooled 76-degree V-4 engine pumps out amazing levels of power with a distinctive feel and sound..
By combining many of Honda's most advanced technologies, engineers managed to create a remarkably compact engine..
Unique cylinder layout locates the rear cylinders side by side but close together, and the front cylinders more widely spaced. This layout allows for a slim, compact "waist" that fits comfortably between the rider's legs. It also improves mass centralization, thereby contributing to the bike's balanced feel and ease of control..
The engine also incorporates a special high-strength Symmetrically Coupled Phase-shift Crankshaft that features a 28-degree crankpin offset that works in concert with the 76-degree V angle to essentially negate primary engine vibration for smooth running. And because the powerplant therefore has perfect primary balance, the need for a balance shaft is eliminated, which allows for a more compact engine and also yields a weight savings of nearly 1.4 kg (3 lb)..
Lightweight and compact Unicam® valve train allows for significantly shorter and smaller cylinder heads with no loss in efficiency. It's the same technology used in Honda's potent CRF motocross bikes..
Also borrowed from the CRF range and the RC211V MotoGP bike is the sealed crankcase system that reduces the pumping loss created through piston movement, marking the first time this system has been used on a street motorcycle..
The engine's performance is delivered where it's most useful and most enjoyable. Its linear torque curve is focused in the low-end and midrange, making it possible for the rider to simply roll on and off the throttle while powering through bends. This effortless control makes the VFR1200FA DCT great fun to ride – this is a sportbike with real-world-usable power..
Asymmetrical exhaust lengths between front and rear cylinders further improve power output and add to the VFR1200FA DCT's unique sound and feel..
Engineered to provide excellent cornering clearance and minimal intrusion to the feet of the rider and passenger, the high-volume, twin-outlet muffler produces an unobtrusive but fantastically stirring note. At low revs the sound is almost like a human heartbeat. Further up the rev range, once the internal servo-operated exhaust valve is opened, the sound changes to a truly inspiring, hard-edged V-4 howl..
The Dual Clutch Transmission (DCT) includes two automatic modes and a Manual mode with paddle-style shifters, and is similar to systems found on high-end sports cars. Its mechanical efficiency matches that of a manual gearbox, meaning you get to enjoy the convenience of an automatic with the unbridled performance of a manual..
A throttle-by-wire system replaces the throttle cable with sophisticated electronics. It provides light, precise fuel metering at all engine rpm, the system's accuracy gives the rider increased levels of control..
The next-generation shaft-drive system routes the shaft below the swingarm pivot point to eliminate the squat and lift of conventional shaft drives without resorting to complex and heavy countermeasures as found on some competing models. Special dampers eliminate any excessive slack or jerkiness in the system, resulting in smooth on- and off-throttle transitions..
Chassis/Suspension
The patented layered fairing design creates a uniquely beautiful shape and, at the same time, optimal airflow and heat management. The fairing incorporates two layers. Air entering between the layers and through two oval-shaped spaces in the front of the fairing is channeled in exactly the directions needed to enhance the bike's stability at higher speeds. Plus, by channeling air through smaller apertures before it reaches the radiators and thereby increasing its velocity, engine cooling is optimized and the hot, exhausted air is carried quickly away from the rider and passenger for a cooler, more comfortable ride. The heat generated by the engine is also channeled away to keep hot air away from the rider..
Honda Pro-Arm single-side swingarm with single gas-charged shock features a handy remote spring-preload adjuster, rebound damping adjustability, and 130 mm (5.1 inches) of travel. At the front the VFR1200FA DCT boasts a stout, sport-oriented 43 mm inverted cartridge fork with spring preload adjustability and 108 mm (4.3 inches) of travel..
The VFR1200FA DCT is equipped with a sophisticated braking system that's ideal for all-round sportbike use. Powerful new six-piston calipers for the front and a dual-piston caliper at the rear act on large full-floating discs (320 mm front; 276 mm rear). Honda's Combined Braking System creates the optimal balance of front and rear braking forces, while the compact and lightweight Anti-lock Braking System (ABS) lets you brake with confidence on even difficult surfaces..
Additional Features
Large 19-litre fuel tank means more kilometres of fun between gas stops..
New-technology seat construction permits a higher level of seat shaping and forming detail for excellent rider and passenger comfort and a sleek look..
Integral saddlebag mounts come standard..
New painting technologies, specially developed at Honda's new high-tech Kumamoto factory, result in a level of finish far above normal production standards..
The handlebar and the layout of the controls are the result of careful study of ergonomics and rider needs. The designers looked at the time required to reach controls comfortably and the ease of operation— particularly during cornering..

---
2014 Honda VFR1200FA DCT – Totalmotorcycle.com USA Specifications/Technical Details
US MSRP Price: $NA USD

Model Not Available.
---
2014 Honda VFR1200FA DCT – Totalmotorcycle.com Canada Specifications/Technical Details
Canadian MSRP Price: $18,999 CDN

Engine Type
Liquid-cooled 76-degree V-4 with asymmetrical front/rear cylinder layout
Displacement
1,237 cc
Bore & Stroke
81 mm x 60 mm
Compression Ratio
12:1
Valve Train
Chain-driven SOHC Unicam®, 4 valves per cylinder
Fuel Delivery
PGM-FI electronic fuel injection
Transmission
Dual Clutch Transmission with two automatic shift modes and a manual shift mode via paddle-style shifters
Final Drive
Shaft
Front Suspension
43 mm cartridge fork with spring preload adjustability; 108 mm (4.3 in.) travel
Rear Suspension
Pro Arm single-side swingarm with Pro-Link single gas-charged shock with remote spring preload adjustability 130 mm (5.1 in.) travel
Tires
120/70ZR – 17 radial front; 190/55ZR – 17 radial rear
Brakes
Front dual 320 mm discs with six-piston calipers; rear 276 mm disc with two-piston caliper. Combined Braking System with ABS (Anti-lock Braking System)
Seat Height
810 mm (31.9 in.)
Wheelbase
1,545 mm (60.8 in.)
Curb Weight
278 kg (613 lb) including required fluids and full tank of gas – ready to ride
Fuel Capacity
19 litres
Colour
Metallic Titanium
Warranty
12 months, unlimited mileage, freely transferable warranty; extended coverage available with Honda Plus

---
2014 Honda VFR1200FA DCT – Totalmotorcycle.com UK/European Specifications/Technical Details
European MSRP Price: Standard £13,599 GBP

Engine

Ignition
Computer-controlled digital transistorised with electronic advance
Max. Power Output
127kW/10,000min-1 (95/1/EC)
Max. Torque
129Nm/8,750min-1 (95/1/EC)
Engine Type
Liquid-cooled 4-stroke UNICAM 76° V-4
Carburation
PGM-FI electronic fuel injection
Bore & Stroke
81 x 60mm
Compression Ratio
12: 1
Starter
Electric
Engine Displacement
1,237cm3

Transmission

Final Drive
Shaft
Gearbox
Electronic Dual Clutch – 6 speed

Dimensions and Weight

Ground Clearance
125mm
Length x Width x Height
2,250 x 740 x 1,220mm
Fuel Capacity
18.5litres
Seat Height
815mm
Weight
Kerb Weight 277kg
Wheelbase
1,545mm

Wheels, Suspension and Brakes

Suspension Rear
Pro-Link with gas-charged damper, 25-step (*stepless remote-controlled hydraulic) preload and stepless rebound damping adjustment, 130mm axle travel
Tyres Front
120/70-ZR17M/C (58W)
Wheels Rear
7-spoke gravity die cast aluminium
Brakes Front
320mm dual floating hydraulic disc with two 6-piston callipers, C-ABS and sintered metal pads
Brakes Rear
276mm hydraulic disc with 2-piston calliper, C-ABS and sintered metal pads
Wheels Front
5-spoke hollow gravity die cast aluminium
Suspension Front
43mm cartridge-type telescopic fork with stepless preload adjustment, 120mm axle travel
Tyres Rear
190/55-ZR17M/C (75W)

Specifications, features and prices to change by manufacturer without notice. All information correct as of posted date.