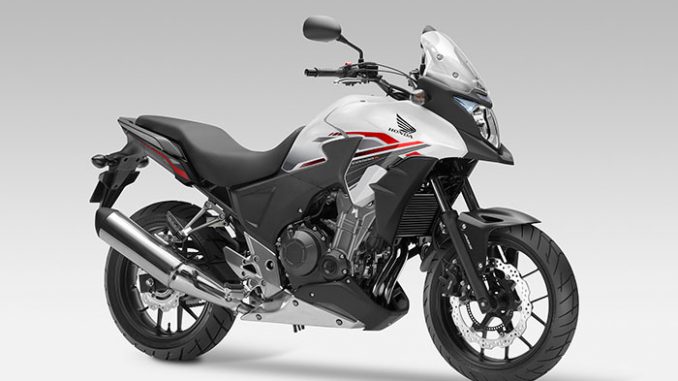 Click photos to enlarge. Our big, clean bike pics make great desktop wallpaper.
2015 Honda CB500X ABS Review

2015 Honda CB500X ABS on www.Totalmotorcycle.com
All-Round Ability…
An accessible, easy to ride adventure sports style twin – member of a new family of motorcycles from Honda ­­ – big on fun, all-round ability, economy and practicality. Design cues from the 1200cc Crosstourer and a 35kW engine perfect for A2 license holders.
For any rider making the move from a 125, or holding an A2 licence the twin-cylinder CB500X, part of a new family of motorcycles from Honda that includes the fully faired CBR500R and naked CB500F, offers adventure sports style and substance in an agile, accessible package.
Sharing a common frame and engine, each machine features a riding position and a distinct design that is tailored to, and will appeal to, a wide variety of riders with performance parameters that cover a range of uses from commuting and sports, to touring.
While the CB500X, CB500F and CBR500R are focused in different directions they are all physically easy to manage, and deliver practical usability matched to excellent efficiency. As true middleweights, blessed with lightweight agility and an engaging power delivery, above all, they are enjoyable to ride in every scenario.
With an all-round ability that few motorcycles possess, matched to excellent build quality, affordable price point and low running costs, the CB500X is a great place to begin a lifelong motorcycling adventure. It's also an attractive alternative for experienced riders looking for an extremely practical and affordable big bike that is ideal for commuting as well as fun for weekend adventures.
The CB500X, with its relaxed, upright riding position and wide handlebars will give anyone looking for their first adventure sports bike an exhilarating experience on a twisty, winding road. Its lightweight manoeuvrability and excellent visibility also ensure it works equally well in urban environments and it's a motorcycle designed to be ridden – and thoroughly enjoyed – by a variety of people of all shapes and sizes.
Physically taller, with longer travel suspension and a slightly longer wheelbase than its siblings, the CB500X has styling derived from the 1200cc V4 Crosstourer. It also has all-day riding potential and carries 1.6L more fuel, for extended tank range. Its DOHC twin-cylinder fuel-injected engine produces 35kW (making it ideal for A2 licence holders moving up) and returns an impressive 80.2mpg (Honda WMTC figure).
Its steel diamond frame and high quality suspension – 41mm telescopic front forks matched to Pro-Link rear monoshock – provide confident, precise handling as do 17-inch cast aluminium wheels and wide 120 front, 160 rear radial tyres. Powerful wave-pattern disc brakes are assisted by standard-fitment ABS.
2015 Honda CB500X ABS www.Totalmotorcycle.com Key Features

Model updates: New colour version
2015 Honda CB500X ABS www.Totalmotorcycle.com Features and Benefits
Chassis
The CB500X's 35mm diameter steel diamond-tube mainframe is light and strong, and has a tuned degree of yield that gives plenty of feedback to the rider as road surfaces change. The shape and position of the engine mounts, and the frame's rigidity balance, have also been carefully balanced to reduce vibration.
Wheelbase is 1421mm and rake and trail are set at 26.5°/108mm giving nimble, yet reassuring steering. Mass centralisation, with the engine in very close proximity to the swingarm pivot point, delivers turning agility and optimum front/rear weight distribution ensures stability. Kerb weight is 195kg. A seat height of 810mm makes the CB500X very easy to manage, and its relaxed riding position and high, wide handlebars offers plenty of room and comfort for longer journeys.
Overall dimensions are 2095mm x 830mm x 1290mm, with 170mm ground clearance. The fuel tank holds 17.3L, including reserve, and combined with the engine's excellent fuel economy gives great range of 467km (over 290 miles).
The 41mm telescopic front fork, with 140mm stroke, delivers a compliant yet controlled ride and gives a great connection to the front tyre. Pro-Link monoshock rear suspension features optimised leverage ratios and 9-stage preload adjustment for the rear shock. It works with a rigid 564mm long swingarm, constructed from 70mm x 30mm box-section steel. Final drive is via 520 sealed chain.
Lightweight, 17-inch cast aluminium wheels employ hollow cross-section Y-shaped spokes. Front wheel width is 3.5inch with a 120/70-ZR17 tyre, the rear 4.5inch and 160/60-ZR17 tyre. A single front 320mm wavy disc and two-piston brake caliper is matched to a 240mm rear disc and single-piston caliper. ABS is fitted as standard.
The comprehensive dash features a digital speedometer, digital bar graph tachometer, odometer, dual trip meters, clock, plus digital fuel level gauge and fuel consumption. HISS (Honda Intelligent Security System) is built in to the ignition, and the single headlight features a 60/55W H4 Halogen bulb and multi-reflectors. There is space under the seat to store a U-lock, and a bash-plate is fitted to protect the engine's underside and exhaust pipe on rough, loose surfaces.
The CB500X will be available in three colour options:
Matt Summit White
Matt Gunpowder Black Metallic
Millennium Red
Engine
The CB500X's engine is a next generation power unit, looking to the future in both performance and environmental terms. The DOHC, 8-valve liquid-cooled parallel twin layout was chosen because of its light weight, all-round ability and flexible usability.
Bore and stroke is set at 67mm x 66.8mm; the crankshaft pins are phased at 180° and a primary couple-balancer sits behind the cylinders, close to the bike's centre of gravity. The primary and balancer gears use scissor gears, reducing noise. The crank counterweight is specifically shaped for couple-balance and its light weight allows the engine to spin freely, with reduced inertia. PGM-FI fuel injection provides superb throttle response and peak power of 35kW arrives at 8,500rpm, with 43Nm torque delivered at 7,000rpm.
The 'triangle' proportion of crankshaft, main shaft and countershaft is very similar to that of Honda's four-cylinder RR engines, making for a very compact unit. The six-speed gearbox also mirrors that of its RR cousins, allowing for a shorter engine and uses the same gear change arm structure and link mechanism. A deep sump reduces oil movement under hard cornering and braking; oil capacity is 3.2L. Flow analysis of the cooling system through CAE (Computer Aided Engineering) maximised efficiency and allowed use of a physically smaller, and lighter, water pump.
The DOHC cylinder head uses compact roller rocker arms; shim-type valve adjustment allows them to be light, which means lower valve-spring load and reduced friction. A silent (SV Chain) cam chain has the surface of its pins treated with Vanadium, reducing friction with increased protection against dust. Inlet valve diameter is 26.0mm, exhaust valve diameter 21.5mm. CFD (Computational Fluid Dynamic) was used to maximise gas flow efficiency – the route from airbox to exhaust pipe was made as straight as possible, and a plate in the airbox separates the air flow to each cylinder.
Bore size of 67mm is identical to that of the CBR600RR. CAE was used to ensure the pistons had the optimum balance between weight, strength and rigidity. The shape of the piston itself was based upon those used in the CBR1000RR; as peak rpm was going to relatively high piston noise could have been a problem. Friction is reduced by the addition of striations on the piston skirt (a finish that increases surface area, introducing gaps in which oil can flow for better lubrication). As with the CBR600RR and CBR1000RR, an AB1 salt bath process, used after isonite nitriding, forms a protective oxidisation membrane.
The crankcase uses centrifugally-cast thin-walled sleeves, and the same bore interval as the CBR600RR helps them be as compact and light as possible. Careful attention has been paid to their internal design to reduce the pumping losses that can occur with a 180° phased firing order. Using the same internal relief structure as that of the CBR1000RR, the oil pump features improved aeration performance, with reduced friction and allows use of a simplified oil pan.
The engine itself acts as a stressed member, reinforcing the frame's rigidity with four frame hangers on the cylinder head and the Iron Nail Silver finish on the crankcase and cylinders adds depth, complementing its taut overall styling.
A secondary air injection (AI) system is built into the cylinder heads, while an oxygen sensor and catalyser inside the 2-1 exhaust ensures the CB500X's emissions are extremely low.
Accessories
The following genuine accessories will be available for the CB500X:
Panniers (with moving system)
Rear carrier
Top box
Inner bag
Deflector kit
Fog lights
Knuckle guards
Radiator shroud
High windscreen
Seat cowl
Under cowl
Meter visor
Chain case
U-lock
Tank pad
Heated grips (12A)
Cover
---
2015 Honda CB500X ABS – www.Totalmotorcycle.com USA Specifications/Technical Details
US MSRP Price: $ USD


---
2015 Honda CB500X ABS – www.Totalmotorcycle.com Canadian Specifications/Technical Details
Canada MSRP Price: $ CDN
---
2015 Honda CB500X ABS – www.Totalmotorcycle.com European/UK Specifications/Technical Details
UK/European MSRP Price: £ GBP (On The Road).
ENGINE
Type Liquid-Cooled, parallel twin
Displacement 471cc
Bore ´ Stroke 67mm x 66.8mm
Compression Ratio 10.7 : 1
Max. Power Output 35kW @ 8500rpm
Max. Torque 43Nm @ 7000rpm
Oil Capacity 3.2L
FUEL SYSTEM
Carburation PGM FI
Fuel Tank Capacity 17.3L (inc reserve)
Fuel Consumption 80.2mpg (WMTC)
ELECTRICAL SYSTEM
Starter Motor
Battery Capacity 12V 8.6AH
ACG Output 23.4A/2000rpm
DRIVETRAIN
Clutch Type Wet multiplate
Transmission Type 6 speed
Final Drive Chain
FRAME
Type Steel, Diamond
CHASSIS
Dimensions (L´W´H) 2095mm x 830mm x 1290mm
Wheelbase 1421mm
Caster Angle 26.5 degrees
Trail 108mm
Seat Height 810mm
Ground Clearance 170mm
Kerb Weight 196kg
SUSPENSION
Type Front Conventional Telescopic, 41mm
Type Rear Prolink mono with 9 stage Preload adjuster, steel square pipe swingarm
WHEELS
Type Front Multi-Spoke Aluminium Cast
Type Rear Multi-Spoke Aluminium Cast
Rim Size Front 17 X MT3.5
Rim Size Rear 17 X MT4.5
Tyres Front 120/70ZR – 17M/C (On-Off Pattern)
Tyres Rear 160/60ZR – 17M/C (On-Off Pattern)
BRAKES
ABS System Type 2-Channel
Type Front Single Wavy Disk, 320mm, 2 POT caliper
Type Rear Single Wavy Disk, 240mm, 1 POT caliper
INSTRUMENTS & ELECTRICS
Instruments Digital Speedometer, Digital Bar Graph Tachometer, Dual Trip Meters, Digital Fuel Level Gauge & Fuel Consumption Gauge, Digital Clock
Security System HISS (Honda Intelligent Security System)
Headlight 60/55W x 1 light

All specifications are provisional and subject to change without notice.

# Please note that the figures provided are results obtained by Honda under standardised testing conditions prescribed by WMTC. Tests are conducted on a rolling road using a standard version of the vehicle with only one rider and no additional optional equipment. Actual fuel consumption may vary depending on how you ride, how you maintain your vehicle, weather, road conditions, tire pressure, installation of accessories, cargo, rider and passenger weight, and other factors.