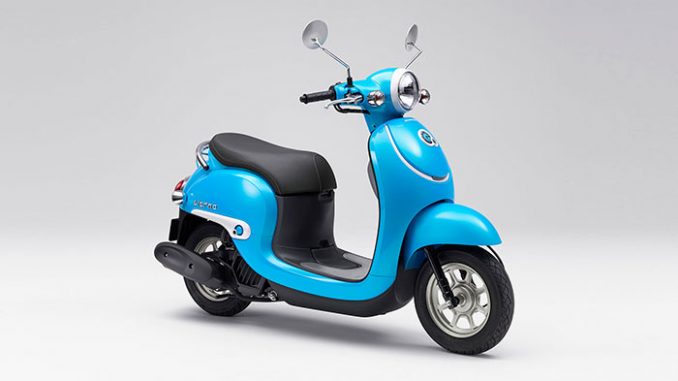 2016 Honda Giorno
2016 Honda Giorno Review

2016 Honda Giorno on www.Totalmotorcycle.com
Live Life, Abundantly…
Has there ever been a scooter that's as cool and as much fun as the Honda Giorno? This little two-wheeled wonder has been a favorite for years. So stylish and smart, everybody who sees one instantly falls in love with it. And now, for 2016, the Giorno is better than ever. First, there's the fresh, new style—that you can see for yourself. But what you can't see is a beauty that's more than skin deep—the Giorno's new liquid-cooled four-stroke Honda engine. It offers the kind of Honda reliability no other scooter in the class can touch. But we kept the best parts of the Giorno too: the practical under-seat storage area, the no-shift automatic transmission, and the fun and freedom that have always been standard equipment on this little two-wheel wonder.

Sharp New Styling
From front to back, the new Giorno gets a major makeover. Check out the new handlebar-mounted headlight and instruments, as well as the curvy new bodywork.

New Honda Engine
Big news this year: The Giorno gets a 49cc liquid-cooled four-stroke engine with fuel injection. Smooth, powerful, super reliable and environmentally conscious.

Practical, Too
The Giorno is one of the best urban errand-runners ever. There's a convenience hook that holds totes and grocery bags, an inner rack that catches your water bottle or other small items, and a full 22 liters of secure under-seat storage that holds a helmet and more.
2016 Honda Giorno www.Totalmotorcycle.com Key Features
Fashion, Meet Function.
Sure, the Giorno looks sexy, but under those cute curves it also has a Ph.D. in practicality. In fact, when it comes to getting from Point A to Point B, the Giorno can do it with a minimum amount of gas, no parking hassle, and a maximum amount of fun.
2016 Honda Giorno www.Totalmotorcycle.com Features and Benefits
Engine & Drivetrain

Reduced emissions
Reduced Emissions Exhaust catalyzer reduces emissions. Feel good, while you're looking good. *Fuel economy estimates are based on EPA exhaust emission measurement test procedures and are intended for comparison purposes only. Your actual mileage will vary depending on how you ride, how you maintain your vehicle, weather, road conditions, tire pressure, installation of accessories, cargo, rider and passenger weight, and other factors.
The economy looks great
Fully automatic transmission offers gas and go simplicity but sometimes you may want to linger and just stare at the Giorno's beautiful lines.
Excellent fuel economy
An advanced fuel injection system not only provides instant starts but sips fuel at a ridiculously low rate – up to 50+km/liter*. No doubt you'll start having kilometer per thimble discussions with other Giorno riders via your blogs.
Smooth & nimble
The smooth 4-stroke engine normally purrs almost inaudibly beneath you, but the torquey, fuel-injected single can move surprisingly quickly when you need it to. No need to worry when you're first in line at the intersection.

Chassis & Suspension

Easy manoeuverability
An 81 kg all-up weight makes the Giorno incredibly easy to ride, park and manoeuvre, the Giorno is never clumsy.
Combined braking system
You may never want to stop riding the Giorno but it's nice to know that its Combined Braking System automatically adds some front brake when you activate the rear brake to help you stop when you need to.
Strong & lightweight
A rigid aluminum sub-frame reduces weight and allows for a completely flat, uncluttered floor to rest your stylish shoes on.
Secure
Lockable centerstand means no one will casually stroll away with your Giorno, no matter how badly they want to.

Additional Features
Cool storage accessories
Proving that there's no end to the thoughtful touches on the Giorno, there's even a clever hook on the bodywork between your knees that you can hang shopping bags on to stop from scattering your groceries.
Easy access storage
A handy receptacle in front of your knees provides additional storage for things you need quick access to when you stop. You know, essential accessories like hairbrush, cell phone, tablet, sunglasses or even a bottle of water.
Ample storage
Under the comfortable seat you'll find a huge storage area to stash your stuff. Regulation basketball to shoot hoops with your friends? No problem.
Stylish
The number one feature of the Giorno is the incredible style but pictures don't do it justice, you have to see it in person to truly appreciate all the subtle style elements. Go see it.
---
2016 Honda Giorno – www.Totalmotorcycle.com USA Specifications/Technical Details
US MSRP Price: $ See Dealer USD

See 2016 Honda Metropolitan
---
2016 Honda Giorno – www.Totalmotorcycle.com Canadian Specifications/Technical Details
Canada MSRP Price: $2699 CDN

Engine & Drivetrain

Engine Type
Air-cooled single-cylinder four-stroke

Displacement
49 cc

Bore & Stroke
37.8 mm x 44 mm

Compression Ratio
10.1:1

Valve Train
SOHC, two-valve

Fuel Delivery
PGM-FI electronic fuel injection

Transmission
Automatic V-Matic

Final Drive
Belt

Chassis & Suspension

Front Suspension
Twin-downtube fork; 54 mm (2.1 in.) travel

Rear Suspension
Single shock; 58 mm (2.3 in.) travel

Additional Information

Tires
80/100 – 10 front; 80/100 – 10 rear

Brakes
Front drum; rear drum. Combined Braking System

Seat Height
719 mm (28.3 in.)

Wheelbase
1,181 mm (46.5 in.)

Curb Weight
81 kg (178 lbs.) including required fluids and full tank of gas – ready to ride

Fuel Capacity
4.5 litres

Colour
Pearl Blue, Black Metallic

Warranty
1 year, unlimited mileage, freely transferable warranty; extended coverage available with Honda Plus
---
2016 Honda Giorno – www.Totalmotorcycle.com European Specifications/Technical Details
Europe/UK MSRP Price: £ GBP (On The Road inc 20% Vat)
NA
Specifications, features, illustrations and equipment shown are believed to be correct – however, accuracy cannot be guaranteed. Honda Inc. reserves the right to make changes at any time, without notice or obligation, in colours, specifications, accessories, materials and models. Some vehicles are shown with optional equipment. Some vehicles shown are U.S., European and/or Canadian models.
Manufacturer Specifications and appearance are subject to change without prior notice on Total Motorcycle (TMW).