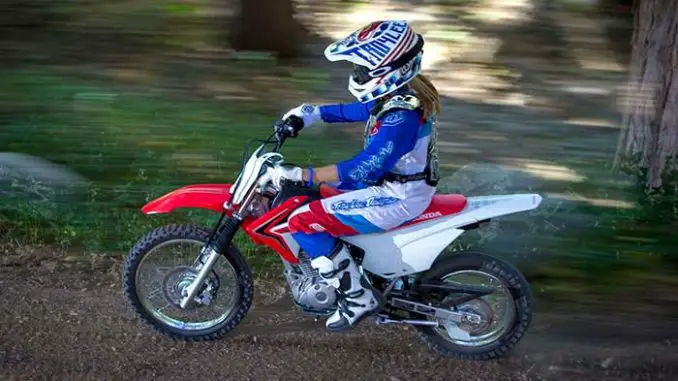 You have come to the right spot. Total Motorcycle – Built by Riders, For Riders; Enjoy the ride…
2017 Honda CRF125F Review

2017 Honda CRF125F on www.Totalmotorcycle.com
It's Time For Some Fun…
Honda offers a wide range of off-road motorcycles, with varying rider sizes and skill levels in mind, the CRF125F being a perfect example. Its air-cooled 124.9cc engine has electric start and a four-speed transmission and is famous for its durability and reliability. Best of all, the bike is available in the standard version with 17- and 14-inch front and rear wheels and a 28.9-inch seat height, and the CRF125FB "Big Wheel" with 19- and 16-inch wheels and a 30.9-inch seat height.
Ready when you are
Everyone knows that Honda makes awesome dirt bikes. Our CRF motocrossers have won countless championships, and our off-road machines conquer Baja and the Grand National Cross Country races. But here's the best news yet—that Honda quality and engineering trickles down to our smaller bikes too, and the CRF125F is a perfect example.
The next size up from our CRF110F, it's the perfect choice for both young riders and smaller adults. Loaded with features designed to make trail riding a relaxing, no-hassle experience, it's also pure Honda when it comes to reliability and durability.
And when it comes to looks, the CRF125F takes its styling cues right from our full-on motocross bikes like our CRF450R and CRF250R. An electric starter makes it easy to get underway, while a four-speed transmission gives you all the control of a full-sized bike.
Looking for something just a little bigger? There's even a big-wheel version for taller riders.
Be A Responsible Rider: All parents need to consider their youngsters' age, size, ability and maturity before allowing them to ride. Obtain a copy of "Off-Road Safety Tips" from your local Honda Dealer.
Electric starter.
Turn a key, push a button—that's all it takes to get the CRF125F started. Add in a generous dose of Honda reliability and you'll find the CRF125F is super easy to own.

Sized right for fun.
With its 125cc air-cooled, single-overhead-cam engine and four-speed transmission, the CRF125F will fit a wide range of riders. It has enough power for teens and small adults without being intimidating for younger riders.

Stopping power.
Just because it's a small bike doesn't mean we scrimped on the details—just the opposite, in fact: The CRF125F's front disc brake is a perfect example. It's a big-bike feature that's pure Honda.
Honda's family of fun, entry-level off-road bikes includes two versions of the CRF125F, their different wheel-sizes and seat-heights allowing consumers more choices in this market segment. Both feature an electric-start 124.9cc single-cylinder OHC four-stroke engine tuned for loads of low-end grunt plus plenty of pull throughout the powerband, as well as a four-speed gearbox. Add styling like Honda's CRF motocross bikes, and you have a great option for all riders—young to old, beginner to expert.
Time to think big.
We've got some big guns in our CRF–MX line up and the new CRF125F is proud to stand next to them. The perfect entry bike for young guns aged 10, or over, who are looking for fun and a bike to feed their dirt track passion.
Better bike, better rider.It will light the fuse for any kid who wants to progress to bigger fire power.
It may be small, but it shares the same styling and some of the features of its big brother, the awesome CRF450R. Hit the electric start and the air-cooled SOHC engine is eager to go, tuned specifically for smooth bottom end torque, perfect for junior riders. The new diamond spar steel frame, the 31mm diameter fork with 140mm of travel and Honda Pro-Link rear suspension system provide a tough chassis to bash on through the rough stuff.
Happier landingsWith the CRF125F, young riders can progress to more adventurous riding, safely.
With a suspension system built around a beefy 31mm telescopic fork and heavy weight springs, the bike is perfect for soaking up the forces from a jump.
Taking more of the shock
A new rear shock has a 32mm diameter piston damper with separate air/oil/gas pressure chambers to reduce emulsification and maintenance.
Room to growGetting to grips with off road riding.
The learnings from early years are invaluable to help novices grow into accomplished off road riders.
Braking power
A 220mm front disc brake is hydraulically operated with an adjustable span lever. Complemented by the 95mm rear drum brake, both provide a good even balance of braking power.
---
2017 Honda CRF125F www.Totalmotorcycle.com Key Features
Engine/Drivetrain
•The 124.9cc SOHC engine is tuned for strong bottom-end torque that builds in a linear fashion through the midrange up to the top end.
•The four-speed gearbox is well matched to the broad power spread.
•Electric starter makes getting going a breeze.
Chassis/Suspension
•The CRF125F has a seat height of 28.9 inches, while the CRF125F Big Wheel has a 30.9-inch seat height.
•31mm fork provides plush front suspension action.
•Pro-Link® single-shock rear suspension features a sophisticated shock for consistent action.
•Hydraulic front disc brake with 220mm rotor and 95mm rear drum brake provide strong stopping power.
•Front brake lever is adjustable to suit the rider's hand size.
•Styling follows that of the race-winning CRF250R and CRF450R.
2017 Honda CRF125F www.Totalmotorcycle.com Features and Benefits
Ideal for beginners
Durable, simple, low-maintenance, 124.9 cc air-cooled single-cylinder 4-stroke engine develops the smooth, tractable power that's ideal for beginners.
Simplified maintenance
Ultra-reliable electronic ignition simplifies maintenance.
Light throttle action
20 mm carb with light throttle action
No engine oil contamination
Closed crankcase vent system safeguards against engine oil contamination.
Easy starts in any gear
Primary kickstarting for easy starts in any gear.
Designed to compete
Lightweight, upswept, competition-type exhaust system utilizes a quiet muffler/spark arrester.
Smooth-shifting transmission
Durable, smooth-shifting four-speed transmission.
Smooth from stand-still to start
Heavy-duty manual clutch with light, smooth, progressive engagement.
Smooth from stand-still to start
Heavy-duty manual clutch with light, smooth, progressive engagement.
Easy to start
Convenient electric starter makes starting a breeze.
Ridgid & durable for off-roading
Lightweight, high-tensile steel frame is rigid, durable and offers ideal geometry for recreational off-road riding.
Compliant suspension travel
31 mm leading-axle front fork offers 140 mm (5.5 in.) of compliant suspension travel.
Excellent wheel travel
Pro-Link, single-shock rear suspension with box-section swingarm offers 114 mm (4.5 in.) of wheel travel.
Excellent grip & longevity
Knobby tires fitted to 17-inch front and 14-inch rear rims offer excellent grip and long life.
Simplified maintenance
Lightweight, screw-type drive chain adjusters simplify maintenance.
Easy-to-modulate brakes
Powerful front disc and lightweight rear drum brakes are easy to modulate.
Inspired graphics
CRF-R-inspired graphics.
Durable body
Durable body components.
Extended range
Large-capacity fuel tank and thrifty 4-stroke engine for extended range.
Undercarriage protection
Generous ground clearance and rugged skidplate for undercarriage protection.
High-quality controls
High-quality controls feature comfortable grips, and adjustable front brake lever.
Safeguards the important parts
Fork boots help protect stanchion tubes and fork seals.
Durable
Durable steel sprockets.
---
2017 Honda CRF125F – www.Totalmotorcycle.com USA Specifications/Technical Details
US MSRP Price: $2899 USD
ENGINE
Engine Type 124.9cc air-cooled single-cylinder four-stroke
Bore And Stroke 52.4mm x 57.9mm
Compression Ratio 9.0:1
Valve Train SOHC; two-valve
Induction 20mm piston-valve carburetor
Ignition DC-CDI
DRIVE TRAIN
Transmission Four-speed
Final Drive 13T/46T
CHASSIS / SUSPENSION / BRAKES
Front Suspension 31mm telescopic fork; 5.5 inches of travel
Rear Suspension Pro-Link® single-shock; 4.5 inches of travel
Front Brake 220mm hydraulic disc
Rear Brake Drum
Front Tire 70/100-17
Rear Tire 90/100-14
DIMENSIONS
Rake 25°30′ (Caster Angle)
Trail 81mm (3.2 inches)
Wheelbase 48.0 inches
Seat Height 28.9 inches
Curb Weight 192 pounds (Includes all standard equipment, required fluids and full tank of fuel-ready to ride)
Fuel Capacity 1.1 gallons, including 0.2-gallon reserve
Ground Clearance 8.5 Inches
OTHER
Emissions Meets current California Air Resource Board (CARB) and EPA off-road emissions standards.
Available Colors Red
Model Id CRF125F
FACTORY WARRANTY INFORMATION
Duration Six Months transferable limited warranty; extended warranty available with a Honda Protection Plan.
---
2017 Honda CRF125F – www.Totalmotorcycle.com Canadian Specifications/Technical Details
Canada MSRP Price: $ CDN

Engine & Drivetrain
Engine Type
Air-cooled, single-cylinder, 4-stroke
Displacement
125 cc
Bore & Stroke
52.4 mm x 57.9 mm
Compression Ratio
9.0:1
Valve Train
SOHC; 2-valve
Fuel Delivery
20mm piston-valve carb
Transmission
Four-speed with manual clutch
Final Drive
#428 chain; 13T/46T
Chassis & Suspension
Front Suspension
31 mm leading-axle Showa fork; 124 mm (4.9 in.) travel
Rear Suspension
Pro-Link single shock; 114 mm (4.5 in.) travel
Dimensions & Additional Information
Tires
Front: 70/100-17, Rear: 90/100-14
Brakes
Front: 220 mm hydraulic disc, Rear: Drum
Ground Clearance
215 mm (8.5 in.)
Seat Height
735 mm (28.9 in.)
Wheelbase
1,220 mm (48 in.)
Curb Weight
87 kg (192 lbs.) including required fluids and full tank of gas – ready to ride
Fuel Capacity
4.3 litres, including 0.9-litre reserve
Colour
Extreme Red
---
2017 Honda CRF125F – www.Totalmotorcycle.com European Specifications/Technical Details
Europe/UK MSRP Price: £1999 GBP (On The Road inc 20% Vat)
Engine
Bore × Stroke (mm) 52.4 x 57.9
Carburation Carburetor
Compression Ratio 9.5:1
Engine Displacement (cm³) 124.9
Engine Type Air cooled 4-stroke SOHC single
Ignition System Capacitor Discharge (CDI)
Max. Power Output 6.6 kW / 7,000 rpm
Max. Torque 10.2 Nm / 4,500 rpm
Starter Kick
Wheels
Brakes Front 220mm Hydraulic Disc
Brakes Rear 95mm leading/trailing drum
Suspension Front 31mm telescopic fork
Suspension Rear Single shock, Pro-Link
Tyre Size Front 70/100-17
Tyre Size Rear 90/100-14
Wheels Front Wire spoke
Wheels Rear Wire spoke
Dimensions and Weights
Caster Angle 27°
Dimensions (L×W×H) (mm) 1,770 x 740 x 1,010
Frame type Diamond; steel
Fuel Capacity (Litres) 4.3 litres
Ground Clearance (mm) 219
Kerb Weight (kg) 88
Seat Height (mm) 735
Trail (mm) 81
Wheelbase (mm) 1220
Transmission
Clutch Wet, multiplate
Final Drive Chain
Gearbox 4-speed
Manufacturer Specifications and appearance are subject to change without prior notice on Total Motorcycle (TMW).