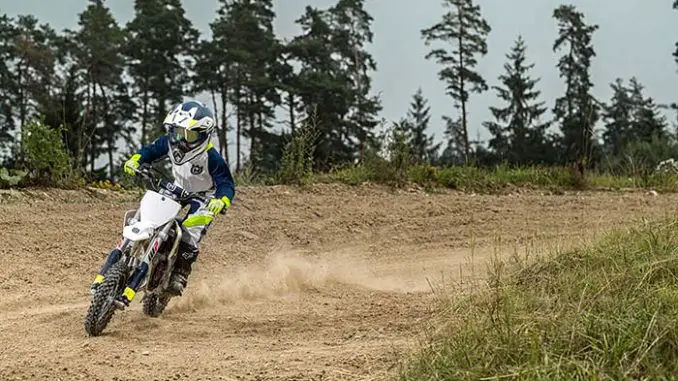 You are here: TMW — 2017 Motorcycle Models — Husqvarna — 2017 Husqvarna TC50 Review
You have come to the right spot. Total Motorcycle – Built by Riders, For Riders; Enjoy the ride…
2017 Husqvarna TC50 Review

2017 Husqvarna TC50 on www.Totalmotorcycle.com
Start Out in the Front of the Pack…
Featuring the same stylish look as Husqvarna's full size motocross bikes, the new TC 50 features a well-considered ergonomic package to perfectly suit the stars of tomorrow. Superior quality and attention to detail are incorporated into the TC 50 to make it a truly premium 50 cc motocross machine.
With mass centralisation a key design feature, the modern 2-stroke engine uses a 3-shaft design that brings the crankshaft near the centre of gravity. To make things even simpler for young riders, the engine is fitted with an automatic centrifugal clutch.
Specifically designed to match the performance characteristics of the TC 50 engine, the exhaust is made using a three-dimensional stamping process for added durability. Available from Husqvarna Accessories is a power reduction kit, which brings peak performance down to 5.5 hp for absolute beginners.
Fitted with the revolutionary WP AER 35 front forks and a fully adjustable WP monoshock, the TC 50 features the latest in suspension and chassis technology. Modelled after Husqvarna's full size motocross machines, the bodywork of the TC 50 offers the same contact points and ergonomic characteristics in a smaller scale.