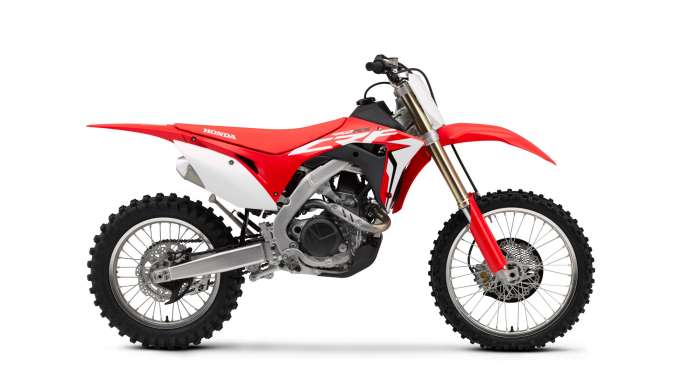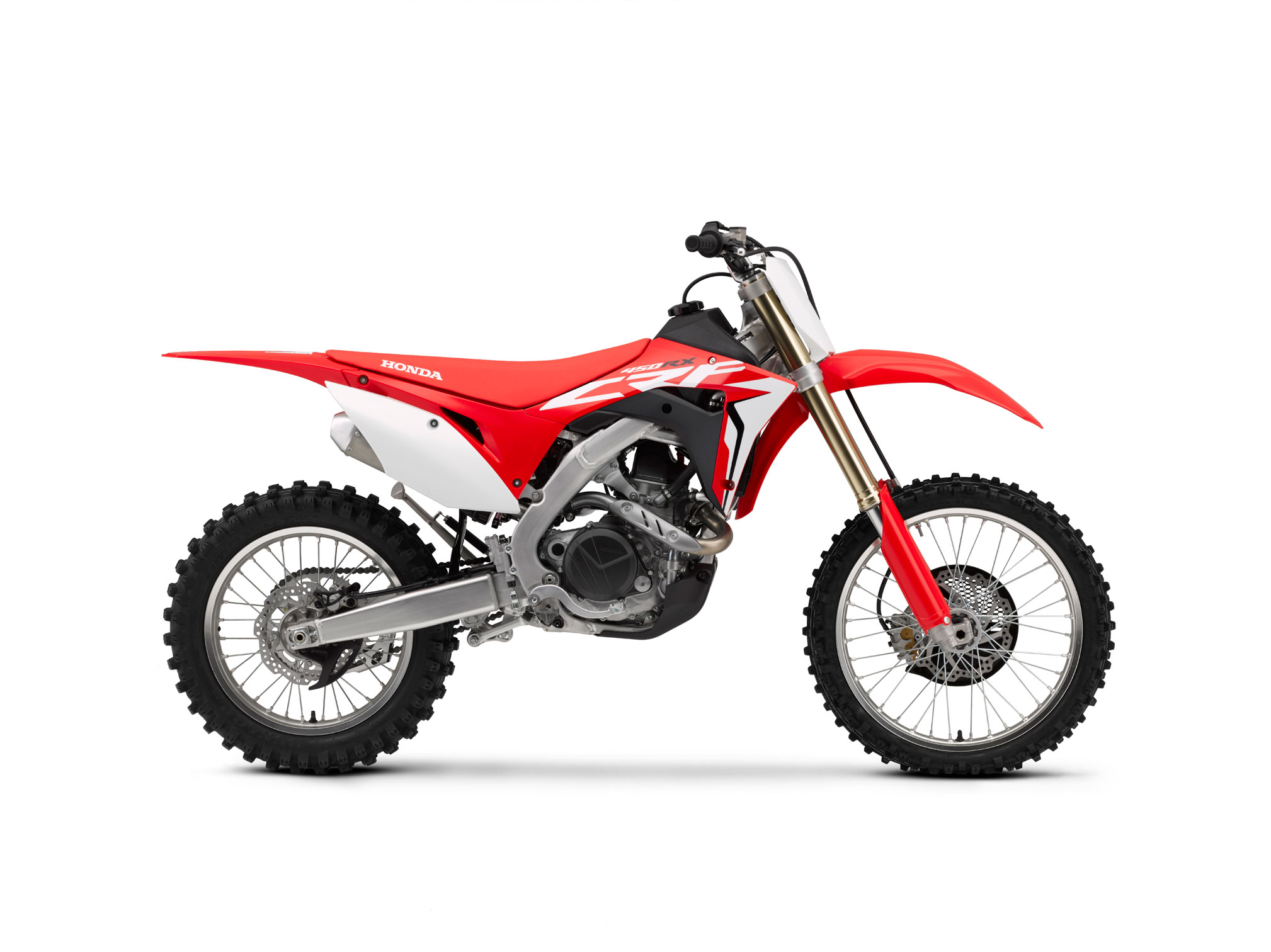 YOUR ULTIMATE OFF-ROAD ADVANTAGE.
When the Honda CRF450RX hit the scene last year, it blew everyone away. This was more than just a premier-class motocrosser with an electric starter. It's a serious off-road weapon fully optimized for trophy-class competition in enduros, hare scrambles, and GNCC racing. This year we've upgraded the battery to a lithium-ion unit for lighter weight and better performance, and removed the kickstarter to also save weight. If you're serious about winning and want the biggest advantage you can find, the 2018 Honda CRF450RX delivers.
2018 Honda CRF450RX Totalmotorcycle.com Key Features
Currently being campaigned in the GNCC series by JCR Honda's Trevor Bollinger, the CRF450RX already came with electric starting, but for 2018 the model gets a weight reduction with the removal of the kick-start lever and the switch to a lighter-weight lithium-ion battery. The model is based closely on the flagship CRF450R but with off-road-focused updates like a larger 2.2-gallon fuel tank, 18-inch rear wheel, side stand, optimized ECU and suspension settings, and more. When it comes to closed-course competition like GNCC, hare scrambles, and Grand Prix racing, the CRF450RX constitutes the ultimate off-road weapon.
Engine/Drivetrain
Smoother ignition map than CRF450R for better performance in low-traction situations.
Downdraft intake layout increases power by reducing resistance, improving air-charging efficiency.
Combustion chamber with high compression ratio, narrow valve angle for efficiency.
Use of finger rocker arm allows high valve lift while retaining compact Unicam layout.
Coils on valve springs have oval cross-sections to allow low engine height.
Port layout with straight flow for efficiency.
Diamond-like carbon (DLC) on piston pin, rocker arm minimizes friction, increases durability.
Dual muffler with gradual pipe bends for smooth exhaust flow.
Standard electric start, with lithium ion battery.
Chassis/Suspension
Compared to CRF450R, suspension settings are more appropriate for technical off-road conditions.
With a 2.25 gallon capacity, the plastic fuel tank is larger than that of the CRF450R for increased range off-road.
Forged-aluminum side stand is standard to allow trailside parking.
Off-road-focused, durable Dunlop Geomax AT81 tires.
One-tooth larger rear sprocket than CRF450R, for better performance in tight woods conditions.
Different cylinder hanger than CRF450R, for comfort in technical off-road conditions.
Chassis layout maximizes traction through concentration of mass, low center of gravity.
New, lighter sixth-generation aluminum twin-spar frame with revised geometry; allows improved cornering performance through reduction of torsional stiffness (lateral stiffness is unchanged).
Lightweight swingarm assembly is stiff vertically and laterally.
Rear-suspension location lowers center of gravity.
Lightweight aluminum rear subframe with extruded gussets.
Coil-spring 49mm Showa fork.
Plastic bodywork with smooth layout and film-insert graphics for appearance and durability.
Front fender shape allows efficient air path to radiator.
Consult owner's manual for optional racing parts
Meets current CARB and EPA emissions standards
Specifications subject to change
2018 Honda CRF450RX Totalmotorcycle.com Features and Benefits
Power to victory
The Unicam engine that powers both the CRF450RX and CRF450R was recently improved, with more horsepower, more torque, and a higher rev limit. The RX's engine has special ignition mapping to suit the unique demands of cross-country and endurocross competition.
Cylinder head design
The Unicam cylinder head design uses our latest finger rocker arms, oval cross-section valve springs and large intake valves to boost horsepower and allow a high rev limit.
Improved combustion efficiency
By straightening the intake path, reducing valve angle, and revising both combustion chamber and piston shape, engineers were able to improve flow and increase compression ratio for an even bigger power boost
Better lubrication
A new scavenge pump system with no separate oil tank improves engine lubrication, reduces friction, and requires less oil for reduced overall engine weight.
Engine Mode Select button
The CRF450RX's Engine Mode Select (EMS) system lets you modify fuel-injection and ignition mapping with the simple push of a handlebar-mounted button. Choose between Standard, Smooth and Aggressive to dial in the best power curve for better starts, better drive out of corners, better traction, or simply to better suit your riding style. Mode selection is easily accomplished without changing your hand position or shutting down the engine (as long as the engine is idling).
Twin to win
The CRF450RX's twin-muffler exhaust system not only contributes to the engine's exceptional power characteristics, it's also positioned tightly to the frame's centre to take weight off the rear end and optimize mass centralization for improved handling.
Easy starting
Standard electric start gets you going quickly and effortlessly with the push of a button.
Special gearing
Transmission ratios and final gearing are unique to the CRF450RX for optimum performance on cross-country and endurocross courses. Extra-strong transmission gears enhance durability while delivering smooth, sure shifts.
Programmed for power
The CRF450RX's Programmed Fuel Injection (PGM-FI) settings contribute to the engine's strong low-end torque, remarkable top-end power and generous over-rev capability.
Scavenge pump system
A special scavenge pump system improves engine lubrication, reduces friction and requires less oil, to help reduce overall engine weight.
Light and responsive frame
The CRF450RX's twin-spar aluminum frame is shared with the CRF450R. It's light, and its torsional stiffness improves turn-in and corner-exit performance, without giving up high-speed stability.
Latest Showa fork
Easily tuned to match changing track conditions or your riding style, the CRF450RX's new Showa coil-spring fork was developed to work in conjunction with the advanced chassis for enhanced traction, agility and stability. Settings for both the fork and the shock are unique to the CRF450RX.
Keeping cool
The front fender and tank shrouds are designed to optimize airflow to the radiators, keeping the engine running at peak efficacy from start to checkered flag.
Excellent traction
Dunlop AT81 tires—the rear on an 18-inch wheel—offer excellent traction in a wide variety of conditions.
Precise handling
The CRF450RX boasts a CRF450R-spec chassis with a lower overall centre of gravity and a shorter wheelbase thanks to the swingarm location and the centralized rear shock, contributing to the type of precise handling that carries you to the front and keeps you there.
Larger fuel tank
The CRF450RX's 8.5-litre plastic fuel tank is larger than the CRF450R's, providing extra capacity for longer enduro riding.
Enhanced mobility
Smooth CRF450R-spec bodywork allows you move freely in the saddle of the CRF450RX, while durable plastic components and graphics keeps your CRF looking new ride after ride.
Convenient sidestand
Need to make a quick on-course pitstop? The standard sidestand means you don't need to find a nearby tree to keep your CRF450RX upright.
Easy to adjust
Quick-adjust clutch perch simplifies cable adjustment.
Reduced rider fatigue
Aluminum handlebar is rubber-mounted to reduce rider fatigue and improve comfort.
Preventative indicator
The engine stop switch with integrated LED indicator lets you know if the PGM-FI system is working properly.
2018 Honda CRF450RX – Totalmotorcycle.com USA Specifications/Technical Details
US MSRP Price: $9249 USD
  ENGINE
Engine Type
449cc liquid-cooled single-cylinder four-stroke
Bore And Stroke
96mm x 62.1mm
Compression Ratio
13.5:1
Valve Train
Unicam® four-valve; 38mm intake, titanium; 31mm exhaust, Steel
Induction
Programmed Fuel Injection (PGM-FI), 46mm downdraft throttle body
Ignition
Full transistorized with electronic advance
  DRIVE TRAIN
Transmission
Close-ratio five-speed
Final Drive
#520 Chain; 13T/50T
  CHASSIS / SUSPENSION / BRAKES
Front Suspension
49mm inverted Showa fork with rebound and compression damping adjustability; 12.0 inches of travel
Rear Suspension
Pro-Link® Showa single shock with adjustable spring preload, rebound and compression damping adjustability; 12.28 inches of travel
Front Brake
Single 260mm disc with twin-piston caliper
Rear Brake
Single 240mm disc
Front Tire
Dunlop Geomax AT81 90/90-21
Rear Tire
Dunlop Geomax AT81 120/90-18
  DIMENSIONS
Wheelbase
58.1 inches
Rake
27° 22′ (Caster Angle)
Trail
116mm (4.6 inches)
Seat Height
37.8 inches
Ground Clearance
12.9 inches
Fuel Capacity
2.2 gallons
Curb Weight
257 lbs (Includes all standard equipment, required fluids and full tank of fuel—ready to ride.)
  OTHER
Available Colors
Red
Model ID
CRF450RX
2018 Honda CRF450RX – Totalmotorcycle.com Canadian Specifications/Technical Details
Canada MSRP Price: $ CDN
Engine & Drivetrain
Engine Type
Liquid-cooled single-cylinder 4-stroke
Displacement
449.7 cc
Bore & Stroke
96 mm x 62.1 mm
Compression Ratio
13.5:1
Valve Train
Unicam, 4 valves
Fuel Delivery
PGM-FI electronic fuel injection with 46 mm throttle body
Transmission
Close-ratio, five speed
Final Drive
#520 T-ring-sealed chain; 13T/50T
Chassis & Suspension
Front Suspension
Showa telescopic inverted coil spring. 305 mm (12 in.) travel.
Rear Suspension
Pro-Link® KYB single shock with adjustable spring preload, rebound damping adjustability, and compression damping adjustment separated into low-speed and high-speed; 312 mm (12.3 in.) travel
Dimensions & Additional Information
Tires
Front: 90/90-21 Rear: 120/90-18
Brakes
Front: 260 mm disc with dual-piston caliper Rear: 240 mm disc
Ground Clearance
328 mm (12.9 in.)
Seat Height
959 mm (37.8 in.)
Wheelbase
1,477 mm (58.1 in.)
Curb Weight
118.2 kg (260.6 lbs.) including required fluids and full tank of gas—ready to ride
Fuel Capacity
8.5 L
Colour
Extreme Red
Warranty
No warrranty
2018 Honda CRF450RX – Totalmotorcycle.com European Specifications/Technical Details
Europe/UK MSRP Price: £ GBP (On The Road inc 20% Vat)
Engine
Bore × Stroke (mm) 96.0 x 62.1
Carburation Fuel injection
Compression Ratio 13.5:1
Engine Displacement (cc) 449.7
Engine Type (cm³) Liquid-cooled 4-stroke single cylinder uni-cam
Starter Kick & Electric
Wheels
Brakes Front 260mm hydraulic wave disc
Brakes Rear 240mm hydraulic wave disc
Suspension Front Showa 49mm coil spring fork (305mm stroke)
Suspension Rear Showa monoshock using Honda Pro-Link system (133 stroke, 312.5mm axle travel)
Tyres Front 90/90-21 Dunlop GeoMax AT81
Tyres Rear 120/90-18 Dunlop GeoMax AT81
Wheels Front Aluminium spoke
Wheels Rear Aluminium spoke
Dimensions and Weights
Caster Angle 27° 26′
Dimensions (L×W×H) (mm) 2,175 x 827 x 1,274
Frame type Aluminium twin tube
Fuel Tank Capacity (Litres) 8.5 litres
Ground Clearance (mm) 328
Kerb Weight (kg) 118
Seat Height (mm) 959mm
Trail (mm) 116
Wheelbase (mm) 1477
Transmission
Clutch Wet multiplate
Final Drive Chain
Transmission Type Constant mesh
Instruments and Electrics
Ignition System Digital CDI
Manufacturer Specifications and appearance are subject to change without prior notice on Total Motorcycle (TMW).