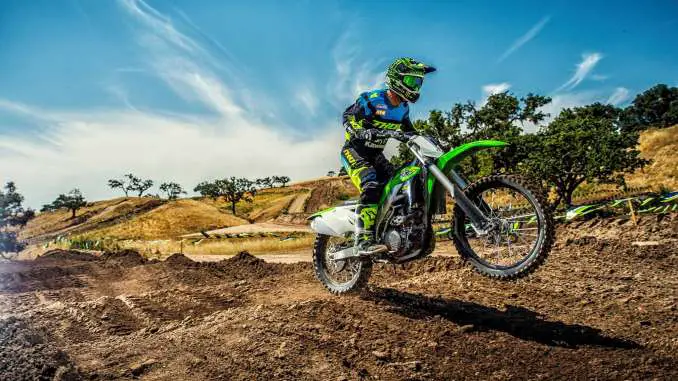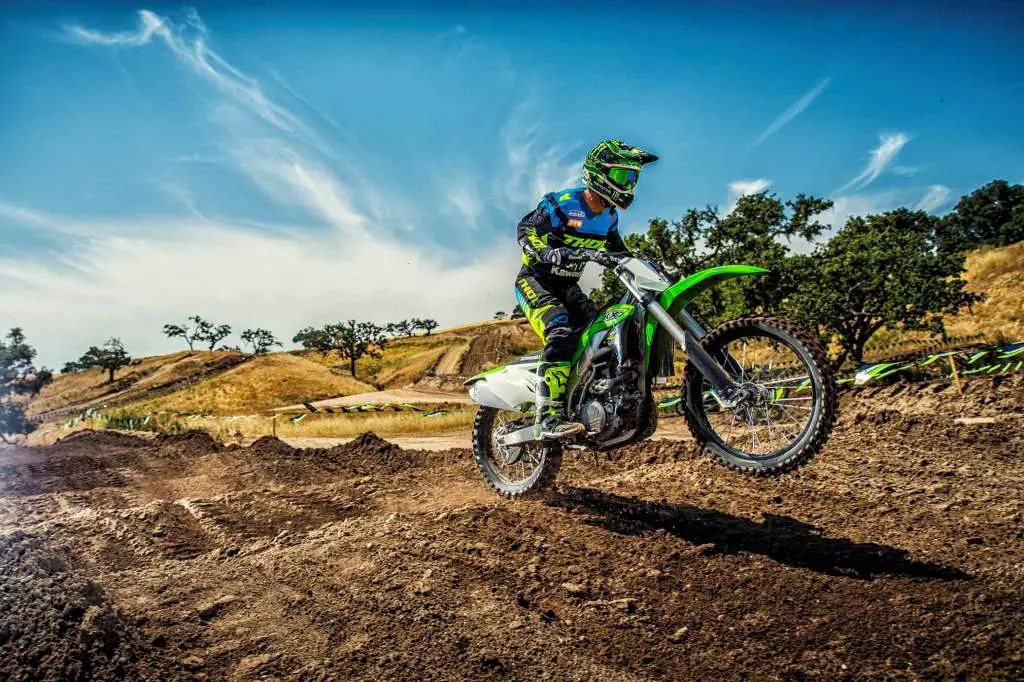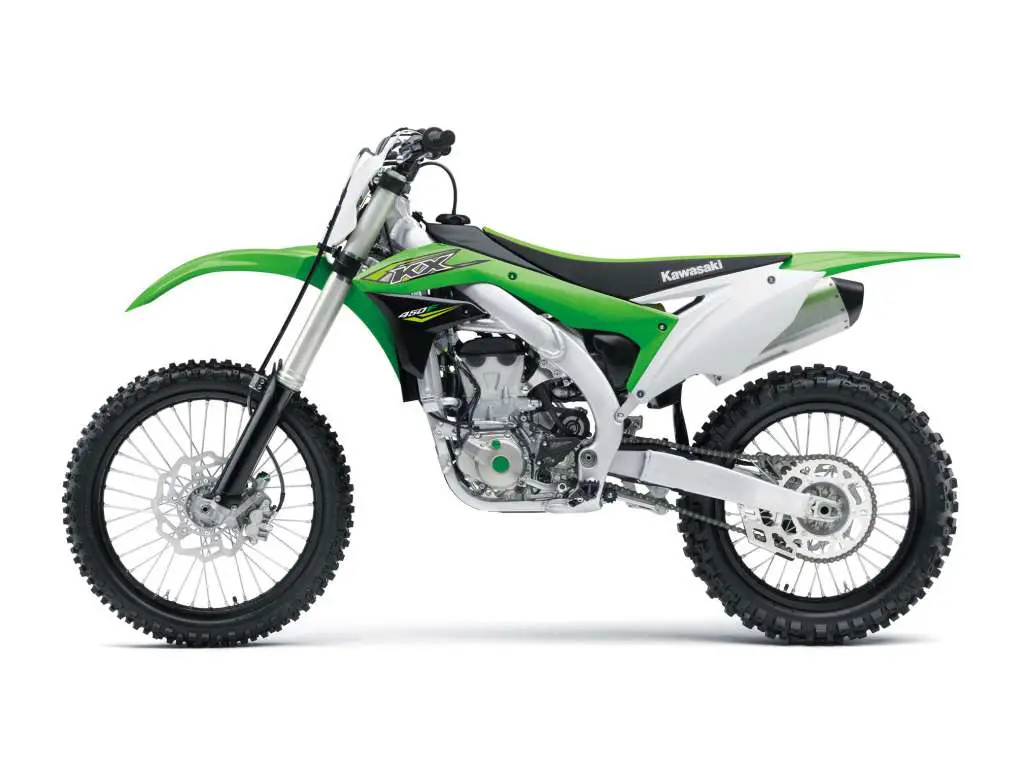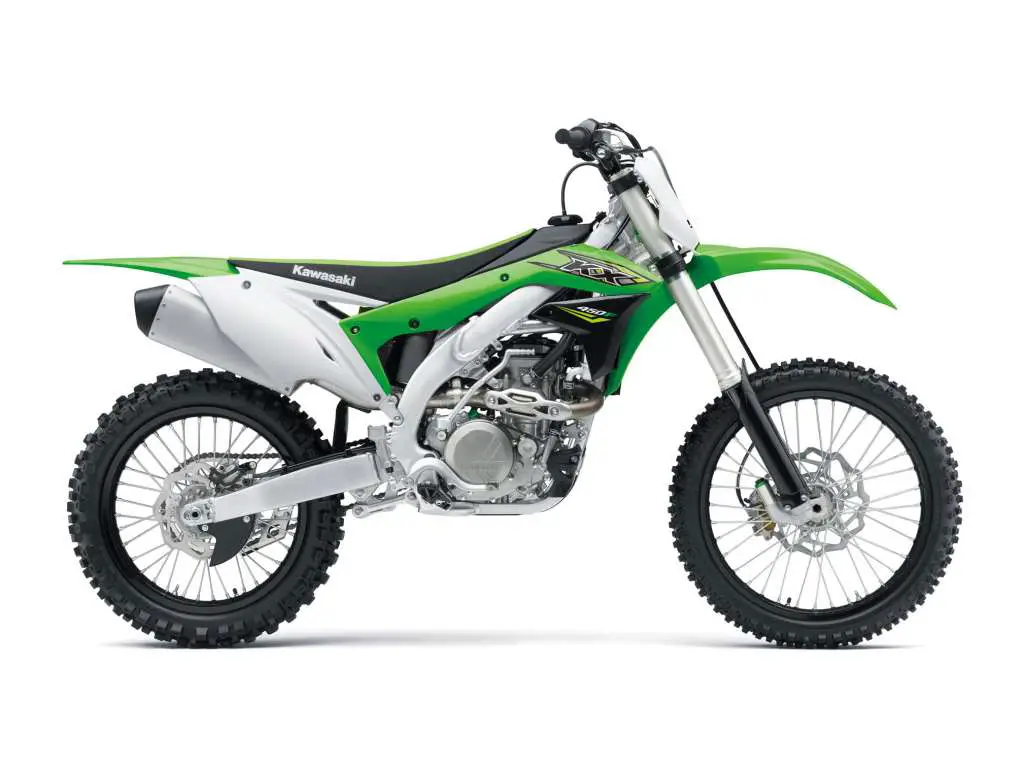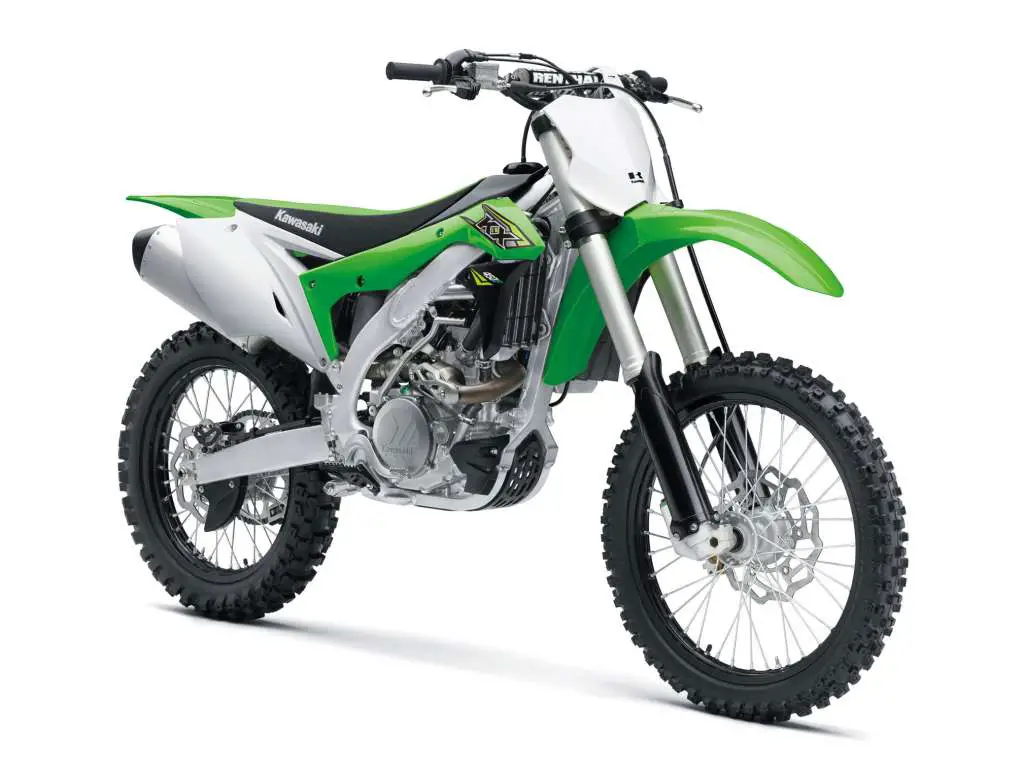 THE KX450F RETURNS FOR THE FASTEST PATH TO THE PODIUM.
The Kawasaki KX™ lineup has had a rich history of success and played a vital role in the dominance asserted by the motocross heroes of today, while continuing to serve as the ultimate tool for the future stars of tomorrow. The KX family is the most successful motocross and supercross brand of motorcycles available today, led by its flagship model the KX™450F, which boasts a powerful, nimble, and technologically advanced heritage. Built with inspiration from Kawasaki's factory race team, the KX450F motorcycle is simply race-ready. Kawasaki mounted racers also receive the benefit of the industry-leading Team Green™ support network that can be found trackside at events across the nation. The Kawasaki KX450F is notorious for producing champions around the world.
he new KX450F will unleash your potential with our strongest engine and chassis package ever.
At its KX core, a simple philosophy – more power with more control… and yet more podiums!  Adjustable ergonomic fit, ultra-slim chassis plus suspension and engine upgrades deliver both the Power and the Glory.  This bike is for off-road and competition use.
2018 Kawasaki KX450F Totalmotorcycle.com Key Features
Absolutely nobody can exceed the championship legacy of Kawasaki and the KX™ motorcycle. KX owns more combined professional 250cc and 450cc AMA National Motocross and Supercross titles than any other manufacturer. Explore the tabs below to experience what KX is all about.
THIS IS OUR PROOF
The KX™450F motorcycle is the most powerful, lightweight, and agile KX450F ever. Developed from the highest levels of racing, this championship bike has advanced technology sourced straight from the world's premier race team—another reason why the KX450F is The Bike That Builds Champions.
X design philosophy is simple: put mid-level to expert riders on the top step of the podium – and that is what the KX450F does best. Engine and chassis performance delivers what riders need to win. And complimenting this dominant performance, the KX450F is loaded with advanced technology with industry firsts that give riders an even greater edge.
2018 Kawasaki KX450F Totalmotorcycle.com Features and Benefits
ENGINE
Kawasaki's powerful race-winning motocross bike is equipped with a potent, lightweight engine package that is derived from its factory race team efforts. The 4-stroke, single cylinder, DOHC, water-cooled 449cc engine has been designed for instantaneous response at the crack of the throttle and continues through to its strong top-end pull for peak performance.
The cylinder is offset 8.5mm forward to reduce mechanical loss through friction from the piston movement, thus enabling more efficient power generation. A special coating used on the intake port cores during the casting process make ports ultra-smooth, which increases efficiency and performance at all RPM.
36mm titanium intake valves, similar to those found in Kawasaki Ninja® sportbikes, have a slim throat angle and reduced recess to increase high-RPM performance. Intake cam settings maximize low-RPM performance, while a lightweight camshaft aids in throttle response and extends over-rev. A bridged-box piston design, which features a 12:8:1 compression ratio, is similar to those seen on the Monster Energy® Kawasaki race team's factory race bikes and matches the intake valve shape. The piston has optimum rigidity for maximum high-RPM power and durability.
A resonator chamber has been fitted to the exhaust system header, which assists in low-RPM power and helps to reduce the decibel sound level. The sleek air box design has eliminated the use of any steel parts, resulting in weight savings. Intakes and air box shape underneath the seat help ensure clean-consistent airflow, maximizing engine response and reducing intake noise.
In the transmission, lightweight gears and shafts reduce weight and retain their overall strength while contributing to the motorcycle's winning performance. The engine cases, which feature a scavenger pump on the right case, have been constructed of the lightest materials and are designed to meet the highest standards of durability.
DFI® COUPLERS
Contributing to the race-winning engine characteristics, the digital fuel injection system of the KX450F features a coupler package that has set the industry standard. Each KX450F motorcycle comes standard with three different couplers, easily allowing riders to change fuel injection and ignition mapping to suit their riding style or track conditions. The four-pin DFI® couplers are designed for standard, hard or soft terrain settings. Changing the coupler is as simple as connecting the coupler cap of choice. For riders looking to fine tune their ECU the KX FI Calibration Kit (Handheld) is offered as part of a selection of Kawasaki Genuine Accessories, which allows access to the fully programmable ECU. The handheld device eliminates the need for a trackside laptop and gives riders the ability to create custom maps for precise adjustment of fuel and ignition settings. The user-friendly device can store up to seven preset maps and is PC-compatible.
LAUNCH CONTROL
The launch control system of the KX450F motorcycle is a favorite for riders of all skill levels  who are focused on getting to the first turn ahead of their competition. The push-button activation retards ignition timing in first and second gear, helping maximize traction and put the bike's potent power to the ground. Once the rider shifts into third gear, normal ignition mapping immediately resumes and full power is restored.
CHASSIS
Kawasaki's engineers have sacrificed countless hours working alongside the factory racing team to develop the ultimate aluminum perimeter frame that is aimed towards providing precise cornering through front-end feel and maximum agility at high speeds. The perimeter spars have been designed to ultra-thin specifications for a narrow profile and comfortable feel. A lightweight, rigid swingarm is used to help rear-wheel traction and overall rider feel and handling performance. The alloy swingarm is constructed of a cast front section and twin tapered hydro-formed spars in a raw aluminum finish. Forged chain adjusters are also equipped with a self-locking rear axle nut. The axle nut holds 80lb-ft torque without the need of a cotter pin, simplifying maintenance at the track.
The upper and lower triple clamps are inspired by the factory race team bikes, and enable quick turn-in through the optimal rigidity and front-end feel, ultimately making the motorcycle a rider's dream when cornering.
SUSPENSION & BRAKES
For 2018, the KX450F motorcycle once again features industry-leading technology from the Showa SFF-AIR TAC (Separate Function Fork, Triple Air Chamber), which separates the damping and shock absorption duties into the individual fork legs. The left fork contains the damping assembly and the right fork contains the air spring. Instead of the steel coil springs found in conventional forks, the SFF-AIR TAC's right fork tube has three chambers filled with pressurized air that act as a "spring." With the elimination of steel coil springs, friction is reduced, and provides an extremely smooth action throughout the fork's stroke. This has the added benefit of weight reduction and allows a larger damper piston to be used, further smoothing the action. It is lightweight and rigid, contributing to superior riding performance and front-end feel. The low friction design, including a DLC coating to the outside of the lower fork tubes also contributes to the extremely smooth fork action. Incredibly precise settings can be adjusted by simply changing the air pressure and using the 22-position compression and 20-position rebound damping adjustments. Changing air pressure covers a range of settings offered by optional springs in a standard fork, including quick changes of ride height, without needing to disassemble the fork tubes.
On the rear suspension, Kawasaki's Uni-Trak® linkage system is designed to work in conjunction with the aluminum frame and swingarm. The linkage, which is mounted below the swingarm, allows for a longer rear suspension stroke and maintains a low seat height. Dual compression adjustability from the Showa shock allows high-speed and low-speed damping rates to be set separately. The shock reservoir has a friction-reducing internal Kashima coating for improved suspension action. The race-oriented rear suspension offers class-leading action and adjustability on par with the Showa SFF-AIR TAC fork. The fully adjustable shock allows for precise settings to help keep the rear wheel planted and the rider out front.
Kawasaki offers an optional rear suspension linkage tie rod for riders who are seeking an edge over their competition. It is 1mm longer than stock and can be used to reduce seat height by 4mm to give the rider adjustment options.
An oversized 270mm, petal-shaped front brake rotor from the renowned manufacturer, Braking®, is fitted to keep up with its powerful engine and help riders turn quicker lap times than the competition.  Its purpose is to provide powerful stopping, good lever feel, and consistency in all conditions. The rear is equipped with a 240mm petal-shaped Braking® rotor.
ADJUSTABILITY
Kawasaki continues its unmatched commitment towards success and provides riders with class-leading comfort thanks to its adjustable handlebar mounting system and footpegs to fit a variety of riders and riding styles. The handlebars feature 4-way adjustable mounts. The multi-position handlebars offer two mounting holes with 35mm of adjustability, and the 180-degree offset clamps boast four individual settings to suit different size riders. The wide 50mm footpegs feature dual-position mounting points, with a lower position that reduces the standard setting by an additional 5mm. The lower position effectively lowers the center of gravity when standing, and reduces knee angle when taller riders are seated.
The 2018 Kawasaki KX450F motorcycle can be made to suit a large range of riders thanks to its flat seat design, adjustable handlebar and footpegs and adjustable suspension components. This perfectly complements the wide range of damping settings as well as the DFI® couplers and optional handheld KX FI Calibration Kit, allowing the rider to find the ideal engine characteristics to suit a particular track or conditions. While the base settings on the KX450F motorcycle are based on extensive testing, including racing, the motorcycle provides a huge range of technology and adjustment to help ensure every rider can experience the incredible ability of this extremely capable motocross bike.
BODYWORK & SEAT
To go along with its race proven performance, the 2018 KX450F motorcycle features aggressive styling along with in-mold graphics on the radiator shrouds that retain the racy look necessary when finishing at the top of its class. The bodywork has been sculpted to match the narrow chassis design; the fuel tank has been designed to lower the overall center of gravity, increasing maneuverability. With performance in mind, the flat design easily allows for movement when changing riding position, while also allowing the rider to sit further forward.
Complementing the bike's eye-catching appearance are the green engine plugs, oil cap, and generator cover plugs, as well as green alumite suspension adjusters and black alumite wheels. The clutch cover features embossing that is designed to appear over time.
A large synthetic skidplate offers a level of protection for the bottom of the 2018 KX450F motorcycle's class-leading engine, with minimal weight, and features oval holes in order to facilitate mud removal.
2018 Kawasaki KX450F – Totalmotorcycle.com USA Specifications/Technical Details
US MSRP Price: $8849 USD
POWER
Engine
4-stroke, 1-cylinder, DOHC, water-cooled
Displacement
449cc
Bore x Stroke
96.0 x 62.1mm
Compression ratio
12.8:1
Fuel System
DFI® w/43mm Keihin throttle body
Ignition
Digital DC-CDI
Transmission
5-speed, return shift
Final Drive
Chain
PERFORMANCE
Front Suspension / Wheel Travel
Inverted Showa SFF-Air TAC fork with Triple Air Chamber, DLC coated sliders, 22-position compression and 20-position rebound damping adjustment/12.0 in
Rear Suspension / Wheel Travel
Uni-Trak® linkage system and Showa shock, 19-position low-speed and 4-turns high-speed compression damping, 22-position rebound damping and fully adjustable spring preload/12.0 in
Front Tire
80/100-21
Rear Tire
120/80-19
Front Brakes
Single semi-floating 270mm Braking® petal disc with dual-piston caliper
Rear Brakes
Single 240mm Braking® petal disc with single-piston caliper
DETAILS
Frame Type
Aluminum perimeter
Rake/Trail
28.2°/5.0 in
Overall Length
86.4 in
Overall Width
32.3 in
Overall Height
50.4 in
Ground Clearance
13.2 in
Seat Height
37.4 in
Curb Weight
239.8 lbs**
Fuel Capacity
1.66 gal
Wheelbase
58.9 in
Color Choices
Lime Green
Warranty
Not Available
Kawasaki Protection Plus™ (optional)
Not Available
2018 Kawasaki KX450F – Totalmotorcycle.com Canadian Specifications/Technical Details
Canada MSRP Price: $9799 CDN
Displacement    449cc
Type      4-stroke, Single
Bore and stroke 96.0 x 62.1 mm
Cooling Liquid
Compression ratio           12.8:1
Valve system     DOHC, 4 valves
Fuel system        Digital fuel injection with 43 mm Keihin throttle body
Ignition Digital DC-CDI
Lubrication          Forced lubrication (semi-dry sump)
Starting Primary Kick
BRAKES
Front: type         Single semi-floating 270 mm petal disk
Front: calipers   Dual-piston caliper
Rear: type           Single 240 mm petal disc
Rear: calipers     Single-piston caliper
DIMENSIONS
Overall length    2,195 mm
Overall width     820 mm (32.3 in.)
Overall height    1,290 mm
Wheelbase         1,495 mm
Ground clearance            345 mm
Seat height         960 mm
Curb mass**      108.7 kg
Fuel capacity      6.3 litres
DRIVETRAIN
Transmission      5-speed, constant mesh, return shift
Final drive           Chain
Primary reduction ratio  2.727 (60/22)
Gear ratio: 1st   1.750 (28/16)
Gear ratio: 2nd  1.412 (24/17)
Gear ratio: 3rd   1.188 (19/16)
Gear ratio: 4th   1.000 (19/19)
Gear ratio: 5th   0.875 (21/24)
Final reduction ratio        3.846 (50/13)
Clutch   Wet multi-disc, manual
FRAME
Type      Perimeter, Aluminum
Wheel travel: front          310 mm
Tire: front            80/100-21 51M
Wheel travel: rear            315 mm (12.4 in.)
Tire: rear              120/80-19 63M
Caster (rake)      28°
Trail        125mm
Steering angle (left/right)             42°/42°
SUSPENSION
Suspension, front            ø49 mm inverted telescopic Separate Function front Fork Air – Triple Air Chamber (SFF-Air TAC)
Suspension, rear              New Uni-Trak with adjustable dual-range (high/low speed) compression damping, adjustable rebound damping and ajustable preload
2018 Kawasaki KX450F – Totalmotorcycle.com European Specifications/Technical Details
Europe/UK MSRP Price: £6999 GBP (On The Road inc 20% Vat)
Engine
Engine type Liquid-cooled, 4-stroke Single
Displacement 449 cm³
Bore x stroke 96 x 62.1 mm
Compression ratio 12.8:1
Valve system DOHC, 4 valves
Fuel system Fuel injection: Ø 43 mm x 1 (Keihin)
Fuel system Fuel injection: Ø 43 mm x 1 (Keihin)
Ignition Digital DC-CDI
Starting System Primary Kick
Lubrication Forced lubrication, semi‑dry sump
Gear      Performance & Transmission
Transmission 5-speed
Final drive Chain
Primary Reduction Ratio 2.727 (60/22)
Gear Ratios 1st 1.750 (28/16)
Gear Ratios 2nd 1.412 (24/17)
Gear Ratios 3rd 1.188 (19/16)
Gear Ratios 4th 1.000 (19/19)
Gear Ratios 5th 0.875 (21/24)
Final reduction ratio 3.846 (50/13)
Clutch Wet multi-disc, manual
Suspensions       Brakes & Suspension
Brakes, front Single semi-floating 270 mm petal disc. Caliper: Dual-piston
Brakes, rear Single 240 mm petal disc. Caliper: Single-piston
Suspension, front 49 mm inverted Separate Function front Fork Air – Triple Air Chamber (SFF-Air TAC). Compression damping: 22-way. Rebound damping: 20-way
Suspension, rear Uni-Trak. Compression damping: 19-way (low-speed), 4-turns or more (high-speed). Rebound damping: 22-way. Spring preload: Fully adjustable
Dimensions        Frame & Dimensions
Frame type Perimeter, aluminium
Trail 126 mm
Trail 126 mm
Wheel travel front 305 mm
Wheel travel front 305 mm
Wheel travel rear 305 mm
Tyre, front 80/100-21 51M
Tyre, rear 120/80-19 63M
Steering angle, left / right 42° / 42°
L x W x H 2,195 x 820 x 1,280 mm
L x W x H 2,195 x 820 x 1,280 mm
Wheelbase 1,495 mm
Ground clearance 335 mm
Ground clearance 335 mm
Fuel capacity 6.3 litres
Fuel capacity 6.3 litres
Seat height 950 mm
Curb mass 108.8 kg
Manufacturer Specifications and appearance are subject to change without prior notice on Total Motorcycle (TMW).