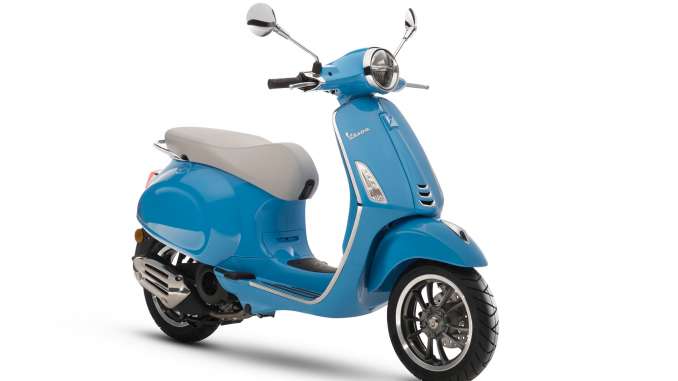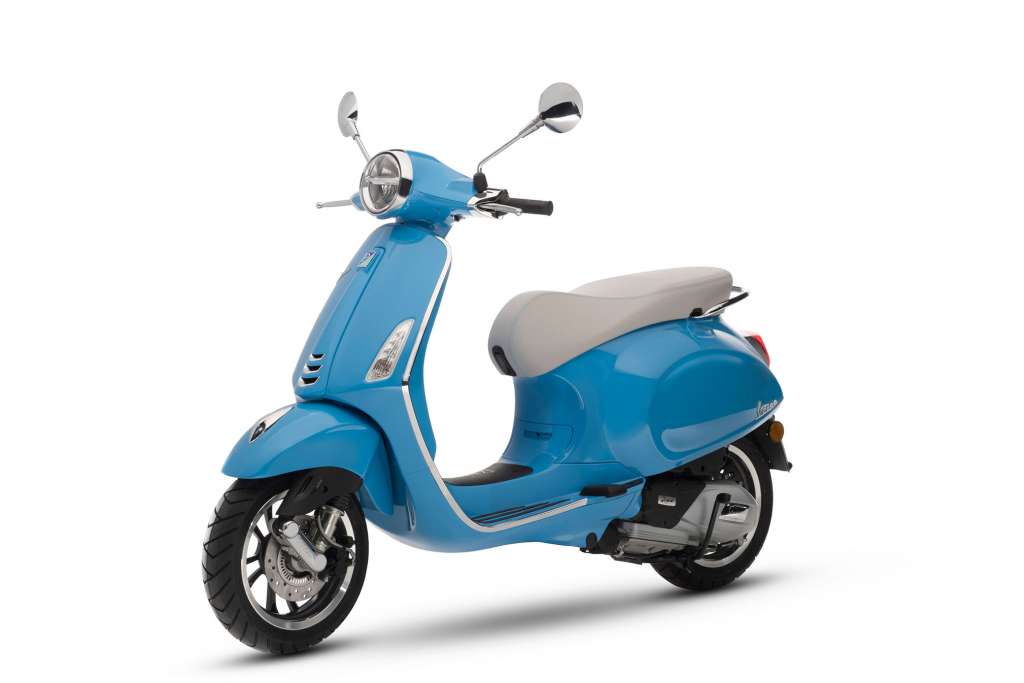 ELEGANT ITALIAN TOURING.
2018 Vespa Primavera 150 Touring Review on Total Motorcycle:
Vespa Primavera Touring is inspired by the vocation for travelling that Vespa has always embodied in its long history thanks to a special set up. The Touring version includes all the changes and upgrades of the Vespa Primavera starting with the 12″ twin wheels, and is enriched by chromed front luggage rack and rear luggage racks, as seen in the most classic Vespa iconography, which considerably increases the load capacity and readies the most loved scooter in the world for any adventurous journey.
The dedicated seat and elegant top fairing are also part of its Touring equipment.
PRIMAVERA, YOUTHFUL, LIGHT VESPA SPIRIT, WITH UPDATED STYLE AND TECHNOLOGICAL EQUIPMENT
THE NEW SPORTIER S PLUS SPORTS VERSION IS A SPECIAL SERIES CELEBRATING 50 YEARS OF A TRUE MYTH
Vespa Primavera celebrates its first fabulous 50 years at EICMA 2017. The first version of what would become a timeless classic first appeared at the Milan Motorcycle Show (EICMA) in 1967 and was a revolution: small, nimble, propelled by a perky engine, Primavera gave free flight to several generations and remained in continuous production until 1982. It became a legendary model, but also one of the most spectacular commercial successes in Vespa's history.
Today Vespa Primavera embodies all the values ​​that, half a century ago, made it successful. Young, innovative, technologically avant-garde, agile and dynamic, and environmentally friendly, Vespa Primavera is a modern bike, inheriting the freshness and joie de vivre of its progenitor.
The 2018 Vespa Primavera is a further improvement offering a series of updates that increase comfort, safety and renew the style.
The biggest change is the size of the wheel rims: 12″, made of aluminium alloy and with a new five-spoke design, they are the largest in Vespa's history. This provides greater stability, improved safety, and better holding on all surfaces and in all road conditions. The LED lighting technology, now adopted for both the front headlight and the rear light, boost active safety.
The Bike Finder and the seat remote control are standard.
Vespa Primavera also benefits from other changes to its line that distinguish it from previous versions. Indeed, the characteristic "tie" on the chrome front and the chrome ridge on the front mudguard are both new.
Vespa Primavera 50° Anniversario – Vespa Primavera made its debut at the 1967 Milan Motorcycle Show before going on sale in 1968. This was a year that made its mark on Western history and culture. From the University of California to the streets of Paris, a new social group, young people, became self-aware and claimed their place in a society that was changing tumultuously. It was the year when every structure was smashed, of a revolution that affected technology, architecture, design, culture and the arts with music providing a powerful soundtrack.
Vespa Primavera made its first appearance in that tumult of ideas and fervour, becoming the star by making two wheels and an engine available to the changing world: it became the heroine of an unforgettable season.
Nimble, innovative lines, sparkling performance, easy and fun to ride – Vespa Primavera was a breath of fresh air in a world hungry for change. A Vespa that, in continual evolution, has become an example of style and technology.
Vespa Primavera 50° Anniversario celebrates that extraordinary time by making its own all the technical and stylistic values ​​that made the first Primavera such a success and expressing them with all of Vespa's typical cutting edge technology.
Vespa Primavera 50° Anniversario, fitted with the 50cc 4T and 125 i-get engines, stands out for its new Light Blue and Brown colours with coordinated saddles, the sleek grey finish of the five-spoke wheels and of course the elegant logo on the back.
Note: 2018 Vespa Primavera Photo Shown
2018 Vespa Primavera 150 Touring Totalmotorcycle.com Key Features
The new Vespa Primavera, Primavera S and Primavera Touring are driven by modern one-cylinder four-stroke 125 and 150 cc engines, air-cooled and equipped with electronic injection and 3-valve distribution. Each detail from the exhaust to the inner structure of the transmission casing was designed to provide a smooth, quiet, and comfortable ride. The control unit now contains a barometric sensor, which ensures always optimum combustion under all conditions and at all altitudes. The engine power and torque delivered thus reach new levels of steadiness and reliability, also in city traffic, characterised by continuous "stop and go".
The engines are absolutely environmentally friendly and perform at the top of their category: the i-get 125 cc engine delivers power and torque of respectively 7.9 kW at 7,700 rpm and 10.4 Nm at 6,000 rpm, while the 150 cc reaches a maximum power of 9.5 kW at 7,750 rpm and a maximum torque of 12.8 Nm at 6,500 rpm. These values, together with the well known low weight typical of all Vespas, make the"small body" Vespas especially perky both under city traffic conditions and in open-road stretches. This brilliant performance comes together with extremely low fuel consumption: the special design of the engine and the solutions adopted for the various components make it possible to achieve a consumption of 44.2 km/l for the 125 and 40.3 km/l for the 150, as measured in the WMTC cycle. Its large 8-litre tank, gives Vespa Primavera a full riding range: on a full tank, it is possible to cover 364 km with the 125 cc version and 328 km with the 150 cc model.
2018 Vespa Primavera 150 Touring Totalmotorcycle.com Features and Benefits
Broad range of accessories
As always in the history of Vespa, the new Primavera offers a wide range of accessories to customise your vehicle and improve riding comfort.
The top box designed for Primavera is painted entirely in the same colour as the vehicle, is enhanced by the famous chromed Vespa logo in relief, and can hold a full-face helmet. . The top box can be finished with a backrest, covered in the same material as the seat. The chromed base on which the top box is mounted can also be used as a carrier.
Maximum protection is ensured by the anti-chip, high quality, methacrylate windscreen, customised with the Vespa logo, the support rods have a clear finish in line with the other aesthetic details.
Vespa Primavera can also be fitted with a top fairing – available in both transparent and tinted material – that elegantly completes the vehicle's design.
The chrome-plated front and rear luggage racks are also one of the most classic accessories of every Vespa and testify the great traveller spirit that every Vespa has always possessed. The new Vespa Primavera is no exception. The front side and rear chrome mudguards elegantly finish the vehicle and protect the bodywork.
The accessory line also includes an internal top box bag, a convenient side stand – in black painted steel (which makes easier to park), an outdoor vehicle cover, and an indoor cover, with a"big logo" and convenient openings to accommodate any accessories, and a rubber mat.
The electronic anti-theft device and the mechanical saddle – handlebar anti-theft device are also available for the Vespa Primavera, in addition to a line of other anti-theft devices. The essential mittens and leg covers are practical and fast to fit, made of thermal material offering excellent weather protection. The Vespa Primavera cover is characterised by the metal Vespa logo and ensures maximum stability even at high speed. The saddle cover and anti-theft device are integrated in the accessory. The top box bag, in natural or black leather and fully hand crafted, adds an additional precious touch to the Vespa Primavera. . The top box bag is able to hold a jet helmet with visor and can be mounted on the top box support of the luggage rack.
Genuine leather," made in Italy" saddles and"Elegance" graphics make the Vespa even more unique.
2018 Vespa Primavera 150 Touring – Totalmotorcycle.com USA Specifications/Technical Details
US MSRP Price: $ USD
2018 Vespa Primavera 150 Touring – Totalmotorcycle.com Canadian Specifications/Technical Details
Canada MSRP Price: $ CDN
2018 Vespa Primavera 150 Touring – Totalmotorcycle.com European Specifications/Technical Details
Europe/UK MSRP Price: £ GBP (On The Road inc 20% Vat)
Vespa Primavera
125 cc
150 cc
Engine
4 stroke single cylinder with electronic injection
Bore/stroke
52/58.6 mm
58/58.6 mm
Displacement
124.5 cc
154.8 cc
Max Power
7.9 kW at 7,700 rpm
9.5 kW at 7,750 rpm
Max Torque
10.4 Nm at 6,000 rpm
12.8 Nm at 6,500 rpm
Distribution
SOHC (single overhead cam), 3 valves per cylinder
Fuel system
New Electronic Injection PFI (Port Fuel Injection)
Cooling
Forced air
Lubrication
Wet sump
Starter
Electric
Clutch
Automatic dry centrifugal clutch with vibration dampers
Transmission
CVT with torque server
Load Bearing Structure
Sheet steel body with welded reinforcements
Front suspension
Single arm with coil spring and dual action monoshock absorber – axial stroke 78 mm
Rear suspension
Coil spring with adjustable preload (4 settings), and dual action hydraulic monoshock – axial stroke 70 mm
Front wheel rim
Die-cast aluminium alloy 3.00×12"
Rear wheel rim
Die-cast aluminium alloy 3.00×12"
Front tyre
Tubeless 110/70-12″
Rear tyre
Tubeless 120/70-12"
Front Brake
Hydraulically operated 200 mm ø stainless steel disc brake. Single channel ABS anti-lock system
Rear brake
Mechanically operated 140 mm ø drum brake
Length/Width
1860/735 mm
Saddle height
790 mm
Wheelbase
1,340 mm
Fuel tank capacity
8 litres (including 2 litre reserve)
Approval
Euro 4
Manufacturer Specifications and appearance are subject to change without prior notice on Total Motorcycle (TMW).