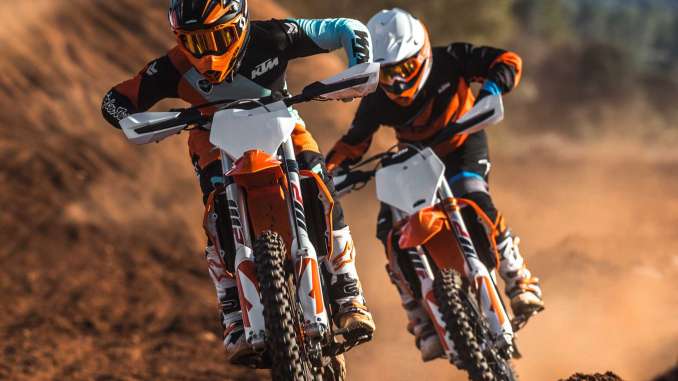 POWER SUPREMACY.
2019 KTM 450 SX-F:
The championship winning KTM 450 SX-F is a proven formula that is the industry benchmark. For 2019, this new machine takes the next step in efficient performance and easy handling. It is fitted with a newly designed, extremely compact, single overhead camshaft cylinder head, as well as the latest electronic fuel injection. Pushing out an unrivalled 63hp in the most effective way possible, this 450 cc is the fastest Motocross bike KTM has ever built.
A NEW GENERATION OF KTM SX IS HERE!
KTM is dominating the battle. In the championships around the world over the last 10 years the Austrian brand has been the consistent performer in the fight for competition supremacy. Tony Cairoli's ninth FIM Motocross World Championship title last season, as well as the first for the star of the show, the KTM 450 SX-F, was a true highlight. Pauls Jonass' MX2 World Championship continued the orange brand's dominance in the class with nine victories in 10 seasons for the KTM 250 SX-F, while the 2017 AMA 450 Supercross title was won in the hands of Ryan Dungey prior to his retirement. KTM has also enjoyed race wins in both the 250 SX and 450 SX classes this season.
To continue adding to these incredible achievements requires a strong motivation, a commitment to development for racing and investment in KTM's talent development programs. This creates the best platform for the KTM SX range, as these world-winning technologies are tested in the heat of the battle prior to being available on serial production machinery. The KTM 50 SX, KTM 65 SX and KTM 85 SX sportminicycles provide a strong basis for juniors to step up to the adult ranks where the KTM 125 SX, KTM 150 SX and KTM 250 SX 2-strokes, along with the KTM 250 SX-F, KTM 350 SX-F and KTM 450 SX-F 4-stroke machines provide the sharpest weapon in each class.
Chassis
For model year 2019 all adult models receive a generation changing update with KTM engineers targeting a further weight reduction that once again sets a clear benchmark in each class. In fact, in the higher capacity 450cc segment the KTM 450 SX-F is a lot lighter than its rivals. All SX models feature a re-worked frame for improved stiffness, handling and straight-line stability, a longer subframe, a revised rear axle slot and all-new bodywork for enhanced ergonomics with more freedom of movement. A brand-new appearance with new graphics compliment a newly shaped seat and new fuel tank. A new air filter box offers improved protection of the air filter and better air flow for both the 2-strokes and 4-strokes that contributes to a more efficient power delivery and improved performance.
New radiators offer efficient cooling with improved positioning for mass centralization, while a stronger lithium ion battery for the E-starter is harmonious with the reworked wiring harness for a compact electrical system. An updated triple clamp for improved handling compliments new suspension settings, while a newly developed, dual purpose, plug-in stand is yet another feature of the new range. All models continue to enjoy impressive serial components such as Brembo brakes, WP suspension, NEKEN handlebar, Dunlop tires, plus a map select switch with integrated traction control, launch control and map selection on the 4-stroke machines. This is no refinement model year, it's an evolution; around 60% of each bike's components are new.
Engine
All models in the KTM SX range have received major engine revisions over previous models. The KTM 250 SX-F and KTM 350 SX-F models enjoy a newly designed DS clutch, while all 4-strokes boast revised transmissions and a state-of-the-art Keihin engine management system with a reworked throttle body and improved electronics package. The KTM 125 SX, KTM 150 SX and KTM 250 SX all offer revised carburetor settings, with a new transmission and new clutch in each amongst other improvements. In addition to engine refinements on all models, the highlight KTM 450 SX-F model enjoys a newly developed SOHC cylinder head for reduced weight and improved mass centralization, a new camshaft with a shorter valve timing and improved surface along with a low-friction chain guide with a DLC coating.
2019 KTM 450 SX-F Totalmotorcycle.com Features and Benefits
Engine & Exhaust
The 450cc engine is the ultimate powerhouse when it comes to KTM's competitive motocross range. Significantly reworked for 2019, it features even more compact dimensions and reduced weight. It is fitted with a newly designed, extremely compact single overhead camshaft cylinder head and the latest electronic fuel injection. This enables the impressive 63hp to be distributed extremely efficiently throughout the rev range. Even with its super-beneficial electric starter this model is still the lightest 450 engine on the MX market.
Cooling
KTM's proven cooling system routes the coolant from the cylinder head through the frame triangle, directly to aluminum radiators made by WP. A new filler cap system and are stiffer alloy construction increase the durability and reliability of the cooling system. Due to flow optimized internal circulation and CFD-calculated air ventilation, the system is superbly efficient. In addition, well thought-out radiator guards integrated in the front part of the shrouds provide protection in a crash.
Exhaust
Competition noise limits are a real challenge for every manufacturer. Therefore, KTM has put a lot of effort into the development of their exhaust systems. All 4-strokes are fitted with headers that have a unique standard feature; an additional resonator system – a small chamber connected to the pipe. All 4-strokes are fitted with a short silencer, mounted as close to the engine as possible. You know what that means: extra mass centralization and better rideability. Its advanced internal design reduces the noise sufficiently in order to sit safely below the noise limit, while still raising the hairs on your neck.
Chassis
The KTM 450 SX delivers metal twisting torque and requires a strong frame to cope with its immense power. For 2019, a new lightweight, high-tech steel frame was developed to further improve the power-weight-ratio, without compromising strength and durability. It features refined flex characteristics that ensure the bike soaks up those big hits while also maintaining excellent agility and high-speed stability. The chassis also features additional innovative elements, like "no dirt" foot pegs and new brackets for mounting an optional composite skid plate. Overall, every element of the chassis contributes to an intuitive, high-performance ride like no other.
Framework
The high-tech, lightweight chrome-moly steel frame has a knack for easy handling, outlandish rideability, precise cornering and excellent stability. You can also count on high torsional rigidity and low longitudinal stiffness. This results in better absorption of the energy created from the front and rear suspension, sucking up jumps and bumps. In short: more comfort and less rider fatigue. Laterally attached, lightweight aluminum engine head stays (the connection between cylinder head and frame) contribute to more precise cornering and a reduced vibration level. The engineers were able to pull off all that, while making their frame 2.2 pounds lighter than that of the lightest competitor on the market. In addition, it is easier to maintain, easier to work on and supplies more space for the tank and other components. The bike also features an extra-light subframe made of aluminum, which tips the scales at less than 2 pounds.
Wheels & Suspension
Featuring lightweight, CNC machined hubs and high-end Excel rims, they guarantee maximum stability and minimal unsprung weight. The wheels are shod with the latest Dunlop Geomax MX 3S tires.
Brakes
You can't brake any harder, better, faster or stronger. These high-tech Brembo babies are combined with lightweight wave discs made by Galfer. For 2017, the rear brake features a 10mm longer brake pedal and you get new, less aggressive brake pads all round.
Fuel tank
A lightweight polyethylene tank with a capacity of 1.85 gallons. The fuel tank cap has an inside thread, which makes for easy and reliable closure.
Airbox
The airbox design offers maximum protection of the air filter while ensuring maximum airflow. The large twin-air filter is mounted in a stiff cage, which at the same time holds the system in place. This design is so simple, you could still pop a fresh one in with a face full of mud. Without tools. In seconds.
Ergonomics & Comfort
When it comes to the powerhouse of KTM's SX range, it is imperative that a rider is able to shift his weight quickly and easily to work in unison with the motorcycle. KTM places a great deal of emphasis on creating the optimal ergonomics for high-level performance, making sure the neutral riding position offers the best control. A rider's main interaction with the motorcycle comes through the bodywork, seat, footpegs and handlebars and these crucial contact points play a vital role in balance and control. There is no doubt that the KTM 450 SX-F packs a serious punch and by ensuring the very best high-performance ergonomics, a rider has the confidence and control to use it as it is meant to be.
Seat
All SX models have a newly shaped seat, designed to match the improved ergonomics. The seat cover features newly developed silicone strips that provide better feel and grip for the rider. The seat is conveniently fixed to the bike using one long, lateral screw, making it safe and easy to handle.
Handlebar
KTM engineers sure know how to handle handlebars. This tapered one, made of high-strength aluminum by NEKEN, is fixed in damped rubber mounts and has two different positions. From 2017 onwards, the lower handlebar clamps are separated, while on the upper side a new bridge-type clamp guarantees more torsional stiffness. It's also easier to replace the bar in case it gets twisted in a nasty crash. ODI lock-on grips make grip changes easy which does not require any wire or glue to be secured.
Footpegs
Sophisticated ´No Dirt´ footpegs prevent clogging of the footpeg pivot, even when digging in deep ruts. Looking for a higher riding position? Then just mount the footpegs of the 2018 EXC models, which are 6mm higher than the SX versions.
Bodywork & Graphics
Unloading a KTM 450 SX at the track is an immediate declaration of your race winning intentions. With the help of KTM factory riders, as well as KTM R&D and Kiska Design, they were able to further refine the bodywork of the entire SX range, achieving complete harmony between rider and bike, further enhancing this powerhouse's dominant appeal. Their main focus when designing the SX range was to provide contact points that allow maximum freedom of movement and improved overall handling. Brute strength at the lowest possible weight is what this bike is all about and can be seen in the intelligent I-beam design on the front and rear fenders, which guarantee maximum stability at no extra weight. The new aggressive-looking graphics were not only a necessary change, but were designed to send a clear message to the competition that this is not a bike that should be taken lightly.
Decals
A new, tailor-made kit and a Factory orange frame. Because in this sport, champs deserve to look the part regardless of the dirt.
Software & Electronics
With the KTM 450 SX-F producing a dirt ripping 63hp, every effort has been made to ensure the power is delivered in a controlled manner. Additional to the considerable mechanical effort to ensure usable delivery of the power is an electronics package with the ability to refine it to perfection. Activated by a multifunctional handlebar map switch, a rider has access to important features like traction control, launch control and even alternative power curves. Many hours were spent in development, creating mind-blowing power and torque. This made electronics a necessary innovation that ensures power gets to the ground in the most effective way. A proven electric starter gets this dirt-shredder fired up, ensuring the ultimate motocross experience starts with the simple push of a button.
Electrics
A strong new lithium ion battery breathes life into the engine and contributes to low vehicle weight. The lightweight battery and wiring harness are centralized in a compartment above the air filter box, allowing the mechanic to remove the subframe without moving the electronics. A happy mechanic is a good mechanic.
2019 KTM 450 SX-F – Totalmotorcycle.com International Specifications/Technical Details
US MSRP Price: $ See Dealer for Pricing in USD
Canada MSRP Price: $ See Dealer for Pricing in CDN
Europe/UK MSRP Price: £ See Dealer for Pricing in GBP (On The Road inc 20% Vat)
Australia MSRP Price: See Dealer for Pricing in AU
Engine

Design

1-cylinder, 4-stroke engine

Displacement

449.9 cm³

Bore

95 mm

Stroke

63.4 mm

Starter

Electric starter

Transmission

5-speed

Clutch

Wet, DDS multi-disc clutch, Brembo hydraulics

EMS

Keihin EMS

Chassis

Frame design

25CrMo4 steel central-tube frame

Front suspension

WP-USD, AER 48, Ø 48 mm

Rear suspension

WP shock absorber with linkage

Front brake

Disc brake

Rear brake

Disc brake

Front brake disc diameter

260 mm

Rear brake disc diameter

220 mm

Chain

5/8 x 1/4″

Steering head angle

63.9 °
Manufacturer Specifications and appearance are subject to change without prior notice on Total Motorcycle (TMW).