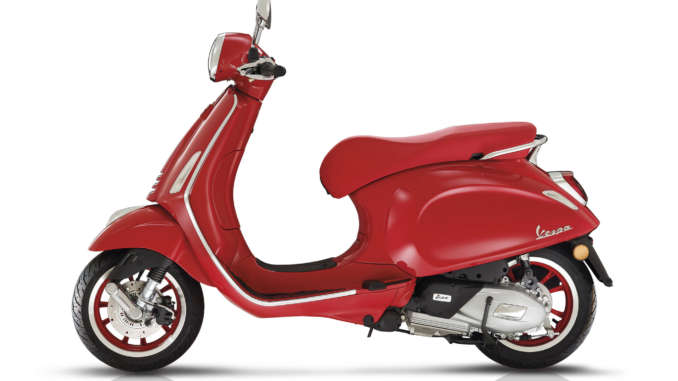 2020 Vespa Primavera 125 RED : Global Fund for the fight against AIDS.
Introducing the 2020 Vespa Primavera 125 RED.
THE PIAGGIO GROUP AND (RED) TOGETHER AGAIN

VESPA PRIMAVERA WEARS RED IN SUPPORT OF THE GLOBAL FUND
For the fourth consecutive year, the Piaggio Group renews its partnership with (RED) by presenting the new Vespa Primavera 125 (RED) project.
Millions of people and the world's most iconic brands come together with (RED) to participate in an enormous challenge, to definitively beat illnesses such as HIV/AIDS, tuberculosis and malaria. Since its foundation in 2006, the work of Bono and Bobby Shriver, (RED) has contributed more than 500 million USD to the Global Fund for the fight against AIDS. (RED) funds have already had an impact on more than 110 million people thanks to prevention and treatment activities and consultancy and support services, with a particular focus on countries where HIV is often passed from mother to child. Thanks to collaboration with the Vespa for Children programme, the Piaggio Group has also contributed to bringing (RED) and support for the Global Fund to India, one of the countries most affected by the problem.
This year, the star of this charity initiative, such an international success since its birth in 2016 thanks to the iconic status and popularity of the partners involved, is Vespa Primavera, a true style icon and a legendary name in the Vespa story.
Born in 1968, Vespa Primavera today embodies all those values ​​that made it so successful more than half a century ago. Young, innovative, technologically avant-garde, agile and dynamic, and environmentally friendly, today's Vespa Primavera is a star of its time, inheriting the freshness and joie de vivre of its progenitor.
Vespa Primavera (RED) is powered by a modern 125 cc four-stroke single cylinder i-get engine, air cooled and equipped with electronic injection and 3 valve distribution. A remarkably environmentally friendly engine capable of performance at the top of its category. Values that, combined with the proverbial light weight typical of all Vespas, make the Vespa "small body" particularly lively both in city traffic conditions and on the open road.
The Vespa Primavera 125 (RED) special has its entire steel chassis painted in the characteristic Red Dragon colour, which elegantly envelopes the livery as well as adorning the wheel rims, making for a truly unique and immediately recognisable model.
Further enhancing this version is the essential, iconic Vespa (RED) logo, that, flanking the Piaggio Group "shield" positioned on the unique Primavera tie, adorns the front shield with its contrasting white signature.
Attention goes beyond the pure aesthetics though, to focus on design details that are typically Made in Italy. The comfortable, ergonomic Vespa Primavera (RED) seat is created in nubuck leather, borrowed from the Vespa 946 – the model voted aesthetically and technologically perfect from which Vespa Primavera (RED) inherits its prized exclusivity.
VESPA
In 1946, Vespa made its début on the roads of a Europe devastated by the recent conflict but, equally, full of creativity and a desire for renewal. 73 years on, and having produced more than 18 million units, Vespa is a global benchmark for style, elegance and technology. A brand known and loved across the world that, with more than 1.5 million vehicles produced in the last decade, is experiencing one of the most successful and dynamic periods in its history.
2020 Vespa Primavera 125 RED Guide Totalmotorcycle.com Key Features
Fifty years and counting: since its debut, Vespa Primavera still going strong.
2020 Vespa Primavera 125 RED Guide Totalmotorcycle.com Features and Benefits
AGILE AND SUPER-TECHNOLOGICAL
The new 12-inch wheel rims with five-spoke design, the largest in Vespa history, provide stability and total safety on all road surfaces.
The single-cylinder four-stroke engine provides a smooth and quiet ride and reduces consumption with top-of-the-range performance.
Front and rear LED lighting, Bike Finder and remote controlled seat opening are standard on the 125.
Front wheel ABS only
2020 Vespa Primavera 125 RED Guide – Totalmotorcycle.com Specifications/Technical Details
US MSRP Price: $  USD
Canada MSRP Price: $ CDN
Europe/UK MSRP Price: £ GBP (On The Road inc 20% Vat)
Australia MSRP Price: See Dealer for Pricing in AU
122.01 MPG
Power
7.9 kW – 10.7 HP at 7,700 rpm
Environmental performance
61 g/km
Fuel tank capacity
8 litres
Width
735 mm
Length
1870 mm
Wheelbase
1340 mm
Seat height
790 mm
Manufacturer Specifications and appearance are subject to change without prior notice on Total Motorcycle (TMW).