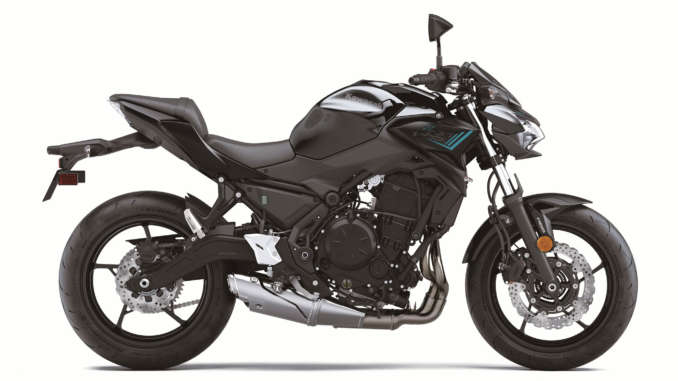 2021 Kawasaki Z650 : FOR DISCERNING RIDERS ONLY.
Introducing the new 2021 Kawasaki Z650…
Aggressive meets supernaked with this ideal blend of sporty performance and everyday versatility. Featuring next-level technology and a strong 649cc engine, the Z650 naked sportbike is a compact middleweight without equal. The 2021 Z650 features a parallel-twin 649cc engine, lightweight trellis frame, Sugomi™-inspired Z styling, LED Headlights, TFT color instrumentation, Smartphone Connectivity via RIDEOLOGY THE APP, Dunlop Sportmax Roadsport 2 tires, and increased passenger comfort. For 2021, the Z650 is available in Metallic Spark Black / Metallic Flat Spark Black with an MSRP of $7,249.
The Z650 is a light, nimble middleweight supernaked motorcycle for discerning riders.
• TWIN-CYLINDER ENGINE DELIVERS STONG, SMOOTH AND RESPONSIVE POWER
• ASSIST AND SLIPPER CLUTCH PROVIDES LIGHT FEEL, EASY OPERATION
• LIGHTWEIGHT TRELLIS FRAME
• HORIZONTAL BACK-LINK REAR SUSPENSION SYSTEM
• LED HEADLIGHT
• TFT COLOR INSTRUMENTATION
• SMARTPHONE CONNECTIVITY WITH RIDEOLOGY THE APP
2021 Kawasaki Z650 Totalmotorcycle.com Features and Benefits
ENGINE
Compact 649cc Twin-Cylinder, DOHC Engine
Tuned to deliver strong, smooth and responsive power, especially in the low-to-mid-range, for rider-friendly power characteristics that facilitate control and inspire confidence over a wide range of riding conditions.
Camshafts have short operating angle and valve overlap for optimum performance in the low-to-mid-range.
Optimized intake port shape also helps boost low and mid-range response and performance.
Slim airbox contributes to low and mid-range power feeling and contributes to the overall slim design of the bike.
Exhaust system has a short header to boost top-end power while the sleek muffler's internal construction enhances low-to-mid-range power delivery.
Muffler is mounted below the engine to help lower the center of gravity and aid weight centralization.
Kawasaki Air Management System(KP) (KAMS) radiator fan cover helps direct hot engine air down to the ground and away from the rider.
Compact parallel twin engine helps reduce the dimensions of the entire motorcycle to keep it small and nimble.
Triangular crank and transmission shaft layout makes the engine very short from front to back, a semi-dry sump(KP) oil system reduces overall engine height, while the narrow pitch of the chrome composite(KP) plated aluminum cylinders helps reduce engine width.
180-degree crankshaft plus balancer shaft for extremely smooth engine operation.
Oil jets in the connecting rod big ends spray oil on the undersides of the pistons to aid cooling.
Digital Fuel Injection(KP)
36mm Keihin throttle bodies contribute to the strong low-to-mid-range power and feature dual throttle valves(KP) for optimum performance and rideability. The sub throttles, located behind the main throttle valves, are controlled by the ECU so that the DFI® system has precise throttle response.
Precise fuel delivery through the fine atomizing injectors plus exhaust catalyzer significantly reduce emissions.
Automatic fast idle system makes starting and warm-up easy.
Assist & Slipper Clutch
Using the rotational forces of the clutch hub and pressure plate, the clutch is forced together during acceleration (Assist function) so that fewer and lighter clutch springs can be used for a lighter feel at the lever. During high back-torque, such as when too low of gear is selected, the Slipper function allows some clutch slippage to help prevent engine lock-up and stalling, and rear-wheel hop.
6-Speed Transmission
Cassette-style transmission puts the transmission shafts and shift drum into a compact layout which helps reduce overall engine size.
Positive Neutral Finder is a Kawasaki exclusive user-friendly feature that allows the rider to easily shift from first gear and only into neutral when the bike is at stop.
CHASSIS
Frame
High-tensile steel trellis frame has optimized dimensions and wall thicknesses to reduce frame weight and contribute to extremely light handling.
Frame components are arranged so that the lines of the frame are as straight as possible. When bends were necessary their angles were as small as possible, resulting in a design that disperses stress extremely well.
Three-point, rigidly mounted engine and footpeg stays are used as stressed members to further contribute to weight reduction.
Horizontal Back-link Rear Suspension
The linkage is placed atop the swingarm and helps make room for the under-engine muffler for better mass centralization.
Rear shock is further away from the exhaust so that its operation will not be affected by exhaust heat.
Gull-wing swingarm also allows clearance for the muffler while contributing to light, natural handling.
Triple Petal Design Brake Discs
Nissin brake calipers have a sporty image and contain front and rear brake specific pads; the front providing strong initial bite and the rear offering optimum control and high overall brake force.
Front brake calipers have large 27mm pistons for excellent brake feel.
Petal design offers improved cooling and warp resistance.
ERGONOMICS
Wheels and Tires
Sporty five-spoke wheel design helps provide a light, nimble appearance.
Dunlop Sportmax Roadsport 2 tires contribute to light handling.
Streetfighter Cockpit
Slightly-forward handlebar position provides sport riding potential.
Low, forward footpeg placement helps keep the rider's knees open for increased comfort and ease of operation.
The fuel tank is positioned relatively low on the chassis and its slim design helps riders to reach the ground and inspire confidence. A resin design fuel cap eliminates the presence of mounting bolts for a more stylish design.
The seat is slim at the front to further facilitate the rider's reach to the ground.
Rubber-mounted handlebar reduces vibration.
Five-way adjustable brake and clutch levers accommodate a variety of hand sizes for increased comfort.
Strong Sugomi Styling
A sharp, compact cowl and muscular looking radiator shrouds give the Z650 a strong sugomi presence. Sugomi describes the intense aura or energy given off by a person or object of greatness and felt by the viewer. Someone, or something, possessing sugomi inspires awe, leaves an indelible impression, is daunting in stature or ability, and commands respect.
A compact LED headlight is complemented by a centrally located LED position lamp. Sharp edges emphasize the design of the headlight.
Sharp, compact cowl has a distinct two-piece design that positions the colored pieces high to create a light appearance. The sharp chin spoiler, meter cover and forward-slanting lines of the cowl contribute to the sugomi design.
Wide radiator shrouds provide the impression of muscular shoulders, adding to the Z650's fierce appearance, while their functional design adds to the sharp looks.
Sharp front fender design and compact, upswept tail cowl contribute to the dynamic, sporty image.
LED taillight lights up in a Z shape.
TFT Color Instrumentation
All-digital 4.3-inch TFT (thin-film transistor) color instrumentation gives the cockpit a high-tech, high-grade appearance.
TFT delivers a high level of visibility. The screen's background color is selectable (black or white), and screen brightness adjusts automatically to suit available light.
Display functions include: digital speedometer, digital bar-style tachometer, gear position indicator, shift lamp, fuel gauge, odometer, dual trip meters, current and average fuel consumption, remaining range, average speed, total time, coolant temperature, clock, battery voltage, Kawasaki service reminder, oil change reminder and the Kawasaki Economical Riding Indicator.
Bluetooth chip allows connection to smartphone and RIDEOLOGY THE APP.
RIDEOLOGY THE APP Smartphone Connectivity†
† Do not operate smartphone while riding
A Bluetooth® chip built into the instrument panel enables riders to connect to their motorcycle wirelessly. Using the smartphone application "RIDEOLOGY THE APP," a number of instrument functions can be accessed, contributing to an enhanced motorcycling experience.
Available functions:
– Vehicle Info: information such as fuel level, mileage, maintenance schedule, etc can be viewed via the smartphone.
– Riding Log: GPS route information as well as vehicle running information can be logged and viewed via the smartphone.
– Telephone notices: when a call or mail is received by the smartphone, it is indicated on the instrument display.
– General Settings: general instrument display settings (such as preferred units, date, date format, etc) can be adjusted via the smartphone.
Once vehicle information has been downloaded to the app, it can be viewed on the smartphone. Available information includes: mileage, trip A, trip B, fuel level, remaining range, average gas mileage, average speed, max lean angle (right/left), battery voltage, Kawasaki service reminder, oil change reminder, etc.
Detailed riding logs including GPS information and vehicle running information can be recorded. While riding, the app tracks vehicle speed, rpm, gear position, throttle position, front brake fluid pressure, acceleration/deceleration, current mileage, and coolant temperature from moment to moment. Once the riding log has been paired, riders can review these items in a graphic-style display at any point along the route. The app can also display a ride summary, with information that may include: route travelled, total distance, total time, gas mileage (best/average), speed (best/average), max lean angle (right/left), etc. For either display mode, riders can select which items are displayed, and can arrange them in their preferred order.
When riding with the app ON the bike and smartphone are always connected. When the engine is turned off, the latest riding information stored by the app may be viewed on the smartphone. Any vehicle setting changes made via the app while the engine is off, or while out of range, will be uploaded when the ignition is turned on and the smartphone is in range with the app ON. General settings can only be updated via the app when the bike and smartphone are connected.
2021 Kawasaki Z650 – Totalmotorcycle.com USA Specifications/Technical Details
US MSRP Price: $7249 USD
Canada MSRP Price: $  CDN
Europe/UK MSRP Price: £  GBP (On The Road inc 20% Vat)
Engine Type 4-Stroke, Liquid-Cooled, DOHC, 4 Valve Cylinder Head, Parallel Twin
Displacement 649 cc
Bore & Stroke 83.0 x 60.0 mm
Maximum Torque 48.5 lb-ft @ 6,500 rpm
Compression Ratio 10.8:1
Fuel Injection DFI® with Keihin 36mm Throttle Bodies (2)
Transmission 6-Speed with Positive Neutral Finder
Final Drive Sealed Chain
Rake/Trail 24.0°/3.9 in.
Front Wheel Travel 4.9 in.
Rear Wheel Travel 5.1 in.
Front Tire Size 120/70-17
Rear Tire Size 160/60-17
Wheelbase 55.5 in.
Front Suspension 41mm Hydraulic Telescopic Fork
Rear Suspension Horizontal Back-Link with Adjustable Preload
Front Brake Type Dual 300mm Petal Disc with 2-Piston Caliper
Rear Brake Type Single 220mm Petal Disc
Fuel Tank Capacity 4.0 gal.
Seat Height 30.9 in.
Curb Weight= 406 / 410 (ABS) lb.
Warranty 12 months
Kawasaki Protection Plus™ 12, 24, 36 or 48 months
(Specifications subject to change without notice.)
= = Includes all necessary materials and fluids to operate correctly, full tank of fuel (more than 90% of capacity) and tool kit (if supplied).
When equipped, 50-state models with evaporative emissions equipment adds approximately 2.2 pounds.
Ask about the Riders of Kawasaki (ROK) Club and the Good Times™ Credit Plan.
(KP) = See Kaw-Pedia section for more details.* = Changes from previous model year.
2021 Kawasaki Z650 – Totalmotorcycle.com  Canadian Specifications/Technical Details
TBA
2021 Kawasaki Z650 – Totalmotorcycle.com European Specifications/Technical Details
TBA
Manufacturer Specifications and appearance are subject to change without prior notice on Total Motorcycle (TMW).