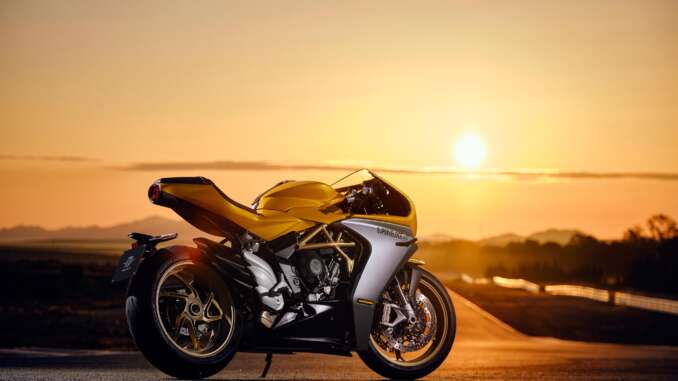 2021 MV Agusta Superveloce: LIKE FINE WINE ON TWO WHEELS.
Introducing the 2021 MV Agusta Superveloce…
The Superveloce is the modern classic by MV Agusta. The gateway to the line, inspired by history while already making history, boasts an updated engine and complete electronics suite, including the inertial platform, which now manages the traction control and cornering ABS more precisely.
ULTIMATE PASSION
Inspired by the brand's glorious racing legacy from the 70's, it features the most advanced technology underneath a compelling retro design.
Classic racer, modern soul
Obsessive attention to detail finds in the Superveloce 800 a defining example. Nothing escaped the designer's eye. Superveloce represents the perfect balance between modern forms and references to the past. The design could not ignore the spirit of a motorcycle inspired by the brand's racing tradition, and every element is stripped down to its essential function and committed to performance.
Feel the power of Sound
The in-line three-cylinder engine is directly derived from that of the F3. Compact in size, it excels in performance and elasticity. With 148 hp at 13000 rpm it guarantees to supply unforgettable riding emotions on any road, including, of course, track.
Total control
Sport, Race, Rain, Custom: four engine maps dedicated to the Superveloce 800. Four electronic "souls" capable of changing the bike's character to adapt it to the requirements of the rider, or those of the road. Three of the maps are pre-set, the fourth is fully customisable.
History in motion
The history of MV Agusta permeates every single detail of the Superveloce 800. But beyond its timeless design inspired by the glorious past, it reveals the most modern technology, concentrated in its 173 kg, as well as leading-edge electronics to satisfy the most demanding riders.
Top notch brake system
The brake system features radial four-piston callipers and large-diameter discs. The aim is to offer state-of-the-art brake power and, most of all, confidence-inspiring control, which is fundamental in all circumstances.
2021 MV Agusta Superveloce Totalmotorcycle.com Key Features
• LOW-FRICTION, EURO 5 COMPLIANT ENGINE
• HIGH-PRESSURE INJECTORS
• REDESIGNED EXHAUST
• NEW INERTIAL PLATFORM
• NEW STRATEGIES LC (LAUNCH CONTROL), FLC (FRONT LIFT CONTROL)
• CONTINENTAL ABS WITH CORNERING FUNCTION
• NEW FRAME PLATES
• NEW QUICK SHIFT SENSOR
• NEW FONT FORK SETTING
• NEW TWIN-FLOW OIL RADIATOR
Amazing in metallic white and with various technical updates; from the Euro 5 approval to the new cornering ABS and the special
IMU developed for MV Agusta. The seat is covered in fine Alcantara, with spoked wheels, elegant to the finest detail.
CYLINDERS CYLINDERS CAPACITY (cm³): 3 / 798cc
HORSEPOWER (hp): 147
MAXIMUM SPEED (km/h): 240
DRY WEIGHT (kg) 173
GUARANTEE: 3 YEARS
CHASSIS
• FRAME PLATES REDESIGNED TO INCREASE TORSIONAL AND LONGITUDINAL STIFFNESS
• NEW TWIN-FLOW OIL RADIATOR WITH MORE THAN 5% EFFICIENCY INCREASE
• NEW SEAT FOAM TO IMPROVE RIDING COMFORT
ADVANTAGES:
COMFORT, STABILITY, AGILITY AND SAFETY. FASTER AND SAFER
ENGINE
• COUNTER-ROTATING CRANKSHAFT
• NEW SINTERED VALVE GUIDES AND DLC COATED TAPPETS TO REDUCE FRICTION
• TITANIUM VALVES
• NEW CRANKSHAFT MAIN BEARINGS, PISTON ROD BEARINGS AND COUNTERSHAFT BEARINGS TO REDUCE FRICTION AND TO INCREASE RELIABILITY
• MODIFIED EXHAUST COLLECTOR TO IMPROVE ENGINE TUNING AND OPTIMISE POWER/TORQUE CURVES
• NEWLY DESIGNED EXHAUST SILENCER
• NEW CLUTCH BASKET OPTIMISED TO IMPROVE ENGAGEMENT
ADVANTAGES:
BETTER OPERATION AND RELIABILITY, IN FULL COMPLIANCE WITH EURO 5 REGULATIONS
ELECTRONICS
• NEW ABS MK100 CONTINENTAL MODULE WITH CORNERING FUNCTION FOR CONSTANT SAFETY EVEN IN CURVES
• NEW INERTIAL PLATFORM
• NEW COLOUR 5.5" TFT DASHBOARD
• MOBISAT TRACKER
• GPS AND BLUETOOTH
• MV RIDE APP
• NAVIGATOR INTEGRATED IN THE DASH-BOARD
• FRONT LIFT CONTROL
• NEW HANDLEBAR CONTROLS WITH LAUNCH CONTROL
• NEW EAS 3.0 ELECTRONIC GEAR SENSOR
• NEW ENGINE MANAGEMENT ALGORITHMS FOR A DIRECT CONNECTION BETWEEN THROTTLE AND REAR WHEEL
• CRUISE CONTROL
ADVANTAGES:
A BETTER FEELING RIDE. THE ADVANCED ELECTRONICS MAKES RIDING EASIER, MORE INTUITIVE AND SAFER
2021 MV Agusta Superveloce Totalmotorcycle.com Features and Benefits
MECHANICAL AND ELECTRONIC REVOLUTION
An instant classic, the MV Agusta Superveloce is a trendsetter. It combines a contemporary heart and structure with an authentic modern-classic look.
The only racing classic on the market, the Superveloce has quickly become a real milestone for the MV Agusta brand and the post-heritage world in general. MV Agusta has once again created a unique and inimitable blend with this bike. 2021 brings many new features to the Superveloce range, with updated content and a technological shift for an improved riding experience. To achieve this, MV Agusta worked on every aspect of the Superveloce: chassis, engine, gearbox and electronics.
CHASSIS: IN PURSUIT OF PERFECTION
The excellence of the chassis is now the crowning feature of all MV Agusta bikes. But even excellence needs to make constant progress. All the bikes in the Superveloce MY21 range have upgraded chassis architecture with redesigned frame plates that increase torsional and longitudinal stiffness.
EVEN MORE ADVANCED ENGINE
The three-cylinder engine was subject to relentless development. The basic technology remains unchanged, with the characteristic counter-rotating crankshaft (unique for this displacement).
Still with a maximum power of 147 HP (108 kW) at 13,000 rpm, the MV Agusta three-cylinder remains one of the most powerful in its class.
Meticulous fine-tuning work by the MV Agusta engineers for the 2021 version – Euro 5 compliant, of course – led to further reductions in internal friction with DLC treatment for the new tappets and new titanium valve guides. They redesigned the entire exhaust system, from the manifold to the silencer, for better control with even more generous torque and power curves at any engine speed. The injectors are also new, capable of handling an
additional 0.5 bar of injection pressure. The ECU firmware was also updated, as were the management logic and engine control algorithms, allowing even more precise and refined throttle management. The new twin-flow oil radiator boosts cooling efficiency by more than 5%.
QUICKER AND MORE PRECISE SHIFTING
The clutch also received a major upgrade, with a more robust clutch basket that makes the bike more manageable and quieter. The bi-directional Quick-Shift EAS 3.0 is now in its third generation, with smoother and more precise shifting.
ELECTRONICS: MORE COMPLETE THAN EVER
From the ABS to the controls and ECU firmware, the electronics on the new Superveloce models have seen a significant evolution, thanks in part to the arrival of the IMU inertial platform, an all-Italian project by Milan-based e-Novia, developed specifically for MV Agusta. It detects the bike's  position in space, allowing for extremely accurate management of all the controls based on lean angle.
SUPERVELOCE S – SUPERVELOCE
The ABS, now developed by Continental with specific mappings for MV Agusta, features the cornering function, while TC traction control kicks in more precisely, based on the bike's angle. The IMU also enables the revamped FLC (front lift control) to execute a controlled wheelie instead of preventing it entirely. Launch Control offers further assistance, intervening on both engine speed and torque. The future of technology before your eyes. All Superveloce models benefit from the 5.5" TFT dashboard, which communicates with the MV Ride App. You can use this to customise every aspect of the bike, including engine settings, and share trips on social media directly from your smartphone. The mirroring function allows for turn-by-turn navigation in addition to route recording and sharing. The handlebar controls have a new joystick for browsing through the various dashboard menus.
2021 MV Agusta Superveloce – Totalmotorcycle.com Specifications/Technical Details
US MSRP Price: $ See Dealer for Pricing in USD
Canada MSRP Price: $ See Dealer for Pricing in CDN
Europe/UK MSRP Price: € 20700 Euro
ENGINE
Type Three cylinder, 4 stroke, 12 valve
Timing system "D.O.H.C" with mechanical chain tensioner
and DLC tappet
Total displacement 798 cm3 (48.7 cu. in.)
Compression ratio 13.3:1
Starting Electric
Bore x stroke 79 mm x 54.3 mm (3.1 in. x 2.1 in.)
Max. power – r.p.m. (at the crankshaft) 108 kW (147 hp) at 13.000 r.p.m.
Max. torque – r.p.m. 88 Nm (8.98 kgm) at 10.100 r.p.m.
Cooling system Cooling with separated liquid and oil radiators
Engine management system Integrated ignition – injection system MVICS 2.1
(Motor & Vehicle Integrated Control System)
with six injectors Engine control unit Eldor
Nemo 2.1, throttle body full ride by wire
Mikuni, pencil-coil with ion-sensing technology,
control of detonation and misfire. Torque
control with four maps. Traction Control with
eight levels of intervention
Electronic quick shift MV EAS 3.0 (Electronically Assisted Shift
Up & Down)
Clutch Wet, multi-disc slipper clutch
Transmission Cassette style; six speed, constant mesh
Primary drive 22/41
Gear ratio
First gear: 13/37
Second gear: 16/34
Third gear: 18/32
Fourth gear: 19/30
Fifth gear: 21/30
Sixth gear: 22/29
Final drive ratio 17/43
ELECTRICAL EQUIPMENT
Voltage 12 V
Alternator 350 W at 5.000 r.p.m.
Battery 12 V – 8.6 Ah
DIMENSIONS AND WEIGHT
Wheelbase 1.380 mm (54.33 in.)
Overall length 2.015 mm (79.92 in.)
Overall width 760 mm (28.74 in.)
Saddle height 830 mm (32.68 in.)
Min. ground clearance 120 mm (4.72 in.)
Trail 99 mm (3.89 in.)
Dry weight 173 kg (381.4 lbs.)
Fuel tank capacity 16,5 l (4.36 U.S. gal.)
PERFORMANCE
Maximum speed* 240.0 km/h (149.1 mph)
FRAME
Type ALS Steel tubular trellis
Rear swing arm pivot plates material Aluminium alloy
FRONT SUSPENSION
Type Marzocchi "UPSIDE DOWN" telescopic
hydraulic fork with rebound-compression
damping and spring preload external and
separate adjustment
Fork dia. 43 mm (1.69 in.)
Fork travel 125 mm (4.92 in.)
REAR SUSPENSION
Type Progressive Sachs, single shock absorber
with rebound and compression damping and
spring preload adjustment
Single sided swing arm material Aluminium alloy
Wheel travel 130 mm (5.12 in.)
BRAKES
Front brake Double floating disc with Ø 320 mm (Ø 12.6 in.)
diameter, with steel braking disc and flange
Front brake caliper Brembo radial-type monobloc, with 4 pistons
Ø 34 mm (Ø 1.34 in.)
Rear brake Single steel disc with Ø 220 mm (Ø 8.66 in.) dia.
Rear brake caliper Brembo with 2 pistons – Ø 34 mm (Ø 1.34 in.)
ABS System Continental MK100 with RLM (Rear Wheel
Lift-up Mitigation) and with cornering function
WHEELS
Front: Material/size Alloy spoke wheel 3.50" x 17"
Rear: Material/size Alloy spoke wheel 5.50" x 17"
TYRES
Front 120/70 – ZR 17 M/C (58 W) Pirelli Diablo Rosso Corsa II
Rear 180/55 – ZR 17 M/C (73 W) Pirelli Diablo Rosso Corsa II
FAIRING
Material Thermoplastic
CONTENTS
Titanium components Intake and exhaust valves
Exclusive content Dashboard TFT 5.5"color display – Cruise control
Launch control – Bluetooth – GPS – MV Ride App
for navigation mirroring, app-controlled
engine, rider aids setup – Fuel Cap (with leather
strap) – Mobisat tracker
OPTIONAL
The full Special Parts range is available on the
MV Agusta website
EMISSIONI
Environmental Standard Euro 5
Combined fuel consumption 6.1 l/100 km
CO2 Emissions 139 g/km
Every country could have a price variation due to local import duties and taxes.
MV Agusta is committed to the constant improvement of our products. Therefore the information and technical characteristics of the vehicles are subject to change without notice.
Manufacturer Specifications and appearance are subject to change without prior notice on Total Motorcycle (TMW).