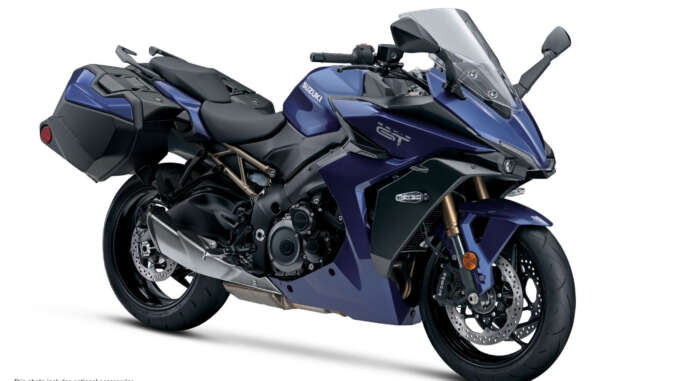 2022 Suzuki GSX-S1000GTA: THE SMART SPORTS TOURER.
Introducing the 2022 Suzuki GSX-S1000GTA…
Sharp lines. A radical new face featuring a low-slung nose. Fit and finish that exudes beauty and quality. Every aspect of the design visually expresses what you expect of a grand tourer, from superbike performance potential to the sophistication of aerodynamic efficiency, advanced control systems, and smartphone connectivity. Whether touring long distances fully loaded with a passenger on the back or popping out for an exciting solo ride, the GT is the ride you have been looking for. It's a true GT Tour de Force.
Now, exclusively from Suzuki Canada, equip your GSX-S1000GT model with quality-tested ultimate touring enhancements: a roomy side case set and wind buffering, aerodynamic windscreen.
PURE POWER AND RELIABILITY TO GO THE DISTANCE
The new GT is powered by a high-performance 999cm3 four-stroke DOHC liquid-cooled inline-four engine developed to realize the ideal a true grand touring riding experience. The engine underwent a thorough review and updates to increase power output and achieve an even better balance of overall performance, all while satisfying Euro 5 emissions standards.
The new version delivers superbike-level performance while minimizing vibration to make riding more exciting, more comfortable and less tiring, whether travelling long distances on the highway or enjoying a ride around town. Its broad, smooth torque curve featuring greater cumulative torque production consistently delivers abundant power throughout the engine's operating range and makes this grand tourer equally adept at street riding as it is at high-speed long-distance touring, even under load when carrying gear and a passenger on the back.
2022 Suzuki GSX-S1000GTA Totalmotorcycle.com Features and Benefits
A CHASSIS ENGINEERED FOR REAL-WORLD ENJOYMENT
The new GT delivers nimble handling and confidence-inspiring controllability, whether out touring long distances on the highway, negotiating twisty mountain roads, or simply enjoying its sporty performance on city streets. Every component of the chassis and running gear is engineered to bring you just the right balance of agility, stability and comfort for a true grand touring experience.
At the core is the compact, lightweight chassis design. The rigid twin-spar aluminum frame and ruggedly braced aluminum-alloy swingarm are key to great road holding ability that will go the distance, even when carrying a passenger and a full load of gear.
A SPORTY, YET PLUSH RIDE
Fully adjustable ø43mm KYB inverted front forks and link-type rear suspension combine agility and stability with a ride that is sporty yet plush. Carrying all this to the road surface in harmony with the suspension settings are six-spoke cast aluminum wheels fitted with new Dunlop SPORTMAX Roadsport 2 radial tires designed specifically for the GSX-S1000GT.
The tires adopt an updated internal construction with a carcass that is custom-engineered exclusively for the GT and tuned to deliver just the right level of rigidity to match its weight and the riding conditions under which it will be used. Also introducing a new compound and optimized tread pattern, these new tires enhance grip in wet conditions warm up faster and achieve better wear resistance.
INTELLIGENT CONTROL PERSONIFIED
The Suzuki Intelligent Ride System (S.I.R.S.) introduces a collection of advanced electronic systems that let you optimize performance characteristics to best suit your riding style or level of riding experience, enhance operation, and help free you to concentrate on the ride. S.I.R.S. brings greater confidence and pleasure by making the new GT more controllable, more predictable, and less tiring, whether touring for long distances or enjoying a ride on your local streets.
S.I.R.S. Controls include:
Ride-by-wire Electronic Throttle System
Suzuki Drive Model Selector (SDMS)
Suzuki Traction Control System (STCS)
Bi-directional Quick Shift System
Low RPM Assist
Suzuki Easy Start System
Suzuki Clutch Assist System (SCAS)
GSX-S1000GT_M2_Sensor_CruiseControl
CRUISE CONTROL SYSTEM
Cruise control is a convenient new system that lets you maintain a set speed without operating the throttle. This helps reduce fatigue when touring long distances, particularly when travelling at constant speed on highways. You can easily adjust the speed setting up or down using the (+/-) select switch on the left handlebar and confirm the current setting on the TFT LCD instrument screen by pressing the left handlebar switch's RES button. Cruise Control can be set at speeds between 30km/h to 180km/h while riding above 2,000rpm in second gear or higher.
COMFORTABLE UPRIGHT RIDING POSITION
Extended handlebar length and grips angled closer to your body gives you greater control over steering and makes the bars more comfortable to hold. The result is reduced fatigue when touring long distances or enjoying a sporty run. This combines with a new seat design and slightly longer distance between the seat and footrests to realize an upright riding position that offers relaxing comfort on those long rides.
MAXIMUM COMFORT FOR A SMOOTH, RELAXING RIDE
The GT features engineering to minimize vibration for an even smoother, more relaxing ride. No effort has been spared in designing the GT to isolate you and your passenger from vibration that might otherwise by transmitted from the engine or chassis. The GT adopts a new floating handlebar design that introduces rubber mounts in the top bridge and brackets to lessen the amount of vibration transmitted to your hands.
Special care went into designing the thickness, shape and size of the new rider and pillion seats, and both seats are covered in a new material that provides positive grip. New grab bars at the back of the pillion seat further contribute to passenger comfort.
One additional example is the vibration-absorbing rubber that covers the aluminum footrest pegs.
AERODYNAMICS AND WIND PROTECTION
The GT's new windscreen combines maximum wind protection and visibility with smart design sense. It has been subjected to rigorous wind tunnel and actual on-road testing and makes touring more enjoyable and comfortable.
The GT's new front cowl, windscreen and mirrors are all meticulously designed and extensively tested to achieve the level of aerodynamic efficiency and wind protection that is critically important to meeting the demands of high-speed touring, both in terms of dynamic performance and relaxing comfort.
Design priorities for the new windscreen focused keenly on maximizing wind protection, but also to keep the form as compact and attractive as possible. In addition to deflecting wind away from your head, folds introduced along the sides help protect your shoulders and knees.
BETTER VISIBILITY AND REDUCED FATIGUE
The attractive new cowl-mounted mirrors and mirror stays streamline the flow of air and soften the force of wind that strikes your knuckles and hands for greater comfort and protection on those long rides. The design also reduces the amount of required eye movement, so helps make touring even more relaxing and less tiring.
The comfort and reduced fatigue that results from protection against wind, rain and cold better enable you to concentrate on riding so you can fully enjoy the GT's outstanding performance on those long rides.
6.5-INCH FULL-COLOR MULTI-INFORMATION DISPLAY
Developed specifically as a large Multi-information display for use on motorcycles, the GT's new-generation TFT LCD panel features an anti-reflective coating for improved visibility in bright light and a scratch-resistant surface. Another standout feature is smartphone connectivity that lets you access a variety of apps and functions that bring greater convenience, functionality and fun to your riding experience.
In addition to day and night mode presentation schemes and adjustable brightness, the screen's custom display features butter-smooth tachometer movement and exclusive graphics. A brief custom animation that plays when the ignition key is turned on adds a unique playful touch.
SUZUKI MYSPIN
Simply install the free SUZUKI mySPIN app and connect your smartphone to transfer its display to the GT's large full-color TFT LCD screen where you can view the contents of your phone, contacts, calendar, music and map apps. You can also install a selection of supported third-party apps optimized for use by motorcycle riders and take advantage of additional services that bring greater convenience and fun to the touring experience. These include navigation, rider assistance, music streaming, tracking, route sharing, and weather information services. SUZUKI mySPIN is compatible with iOS and AndroidTM.
CONTACTS
The system can notify you who is calling on the TFT LCD screen by accessing the contacts on your smartphone. It can also use your contacts list to place calls.
PHONE
You can place or receive phone calls using a Bluetooth headset. Adding to the convenience, there is no need to pull over and stop to use the phone functions.
MAPS
Display your current location on the TFT LCD screen and zoom in or out using the switches on the left handlebar. You can also search for destinations and display simple routing suggestions.
MUSIC
You can listen to music from your smartphone's music library through a Bluetooth headset. You can select tracks and control audio (volume, play/pause, skip forward or skip backward) via switches on the GT's left handlebar. There is no need to directly access the phone. You can also add a level of fun to touring by sharing audio playback with your passenger.
CALENDAR
Display your calendar on the TFT LCD screen and check scheduled events and reminders.
*Headsets sold separately.
*Smartphone screen images in this document were prepared using iOS 13.5, so may differ visually when using a different OS or system version.
*App operation was confirmed under specific conditions. Depending on the OS and system version, some apps may not operate properly or functions may be limited to ensure safe operation.
LED HEADLIGHTS
A pair of new LED headlights clearly illuminates the road and shoulders ahead. Their distinctive hexagonal shape and horizontal layout combine with the sharp nose of the cowl to create a look of advanced styling and a new face for Suzuki motorcycles.
19L FUEL TANK
The increased capacity of the attractive new 19L fuel tank combines with the GT's excellent fuel efficiency to help extend riding range and reduce the number of refueling stops you will have to make.
LED TAILLIGHT AND TURN SIGNAL
The new rear LED combination light and turn signals feature high visibility and long life, and a design that emphasizes stylish lines of the compact tail section.
*European spec shown. Subject to change. See dealer for details.
SIDE CASE SET
Included only in the GSX-S1000GTA model, this set of side cases is custom-designed to help you further expand your horizons. While offering spacious storage capacity to carry the gear you need when touring, they feature a compact design that matches the GT's sharp, futuristic looks. Each is capable of accommodating a full-face helmet and features a quick-release key mechanism for easy mounting and removal. The side cases are thoroughly tested to be extremely rigid, durable and watertight.
2022 Suzuki GSX-S1000GTA – Totalmotorcycle.com USA Specifications/Technical Details
US MSRP Price: $ NA USD
Canada MSRP Price: $ 16999 CDN
Europe/UK MSRP Price: £ NA GBP (On The Road inc 20% Vat)
NA
2022 Suzuki GSX-S1000GTA – Totalmotorcycle.com Canada Specifications/Technical Details
ENGINE
Type 4-stroke, 4-cylinder, liquid-cooled, DOHC
Displacement 999 cm3 (61.0 cu. in.)
Bore x Stroke 73.4 mm x 59.0 mm (2.9 in. x 2.3 in.)
Compression Ratio 12.2 : 1
Fuel System Suzuki Fuel Injection
Starter Electric
Lubrication Wet sump
Ignition Electronic ignition (transistorized)
Oil Capacity 3.4 L (3.6 / 3.0 US/lmp qt)
DRIVE TRAIN
Transmission 6-speed constant mesh
CHASSIS
Length 2,140 mm (84.3 in.)
Width 825 mm (32.5 in.)
Height 1,215 mm (47.8 in.)
Wheelbase 1,460 mm (57.5 in.)
Seat Height 810 mm (31.9 in.)
Curb Mass 226 kg (498 lbs.)
Suspension Front Front Inverted telescopic, coil spring, oil damped
Suspension Rear Rear Link type, coil spring, oil damped
Brakes Front Front disc, twin
Brakes Rear Rear disc
Tires Front 120/70ZR17M/C (58W), tubeless
Tires Rear 190/50ZR17M/C (73W), tubeless
Fuel Tank 19.0 L (5.0 / 4.2 US/Imp gal)
WARRANTY
12 Month unlimited mileage limited warranty.
2022 Suzuki GSX-S1000GTA – Totalmotorcycle.com European Specifications/Technical Details
NA
Manufacturer Specifications and appearance are subject to change without prior notice on Total Motorcycle (TMW).