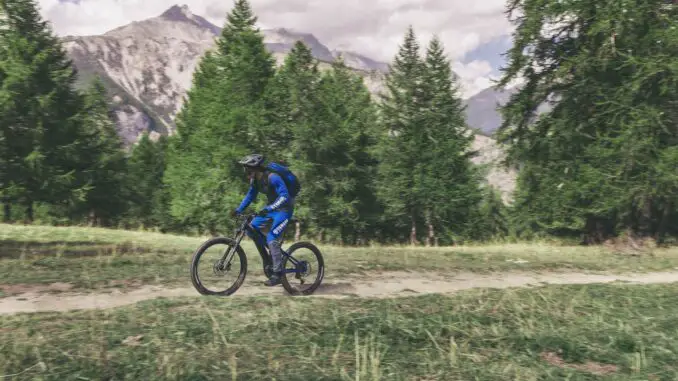 2023 Yamaha Moro07: THE BEYOND BEEF BURGER ON TWO WHEELS.
Introducing the new 2023 Yamaha Moro07…
Moro 07 is Yamaha's premium eMTB with a unique chassis design featuring a Dual Twin frame and high-torque PW-X3 drive unit that have been developed in unison to deliver smooth and powerful performance on the most challenging mountain single track.
The new MORO 07 is a different kind of eMTB that's ready to give you a very special ride whenever you go. And what makes it stand out is the way the chassis and drive unit have been developed as one to create a machine where every component works in harmony to provide you with the ultimate pure ride experience.
Pure Ride. No limits.
Developed using Yamaha's class-leading racing technology, the unique Dual Twin frame features twin top and down tubes for finely balanced rigidity that gives confident handling with plenty of surface feedback. And with premium components including full RockShox suspension, Magura MT5 brakes and Maxxis tyres, MORO 07 is built for fun without limits.
Featuring a best-in-class torque-to-weight ratio, Yamaha's latest PW-X3 drive unit delivers instant assistance as soon as you start to ride thanks to Zero Cadence technology – while pedalling over 25km/h is made easier with the special freewheel system. And the stem mounted Interface X enables smartphone connectivity for communications, navigation and more.
Engineered to handle the toughest mountain and single track terrain

 

Dynamic Yamaha DNA

 

Holistic development of drive unit and chassis

 

Yamaha 'Dual Twin' frame with dual top and down tubes

 

Compact and lightweight PW-X3 drive unit – only 2.75kg

 

Yamaha Zero Cadence technology

 

High power at high cadence

 

Quad Sensor technology

 

85Nm torque

 

Narrow Q-factor

 

Integrated speed sensor

 

Automatic Support Mode

 

Walk Assist feature

 

Direct coupler

 

23.9 kg at size M

 

Yamaha Lithium Ion 500Wh, 36V, 13.4Ah
Yamaha Interface X enables smartphone connectivity

 

RockShox LYRIK SELECT RC 160mm stroke 37mm offset

 

RockShox SUPER DELUXE SELECT+ RT 210X55 DEBONAIR YAMAHA tuning

 

Magura MT5 with 203mm Storm CL rotors. 4-Piston

 

Shimano M8100 XT 1×12 drivetrain

 

Front: Maxxis Minion DHF New EXO+ /3C MaxxTerra 27.5×2.6, Rear: Maxxis Rekon New EXO+/3C MaxxTerra 27.5×2.6
Three sizes available

 

Icon Blue

 

Raven/Silver
A new era in zero emission two-wheel personal mobility
As one of the leading brands in personal mobility on land, water and snow, Yamaha has forever changed the face of the motorcycle, scooter, marine and snowmobile worlds with some of the most revolutionary new designs and game-changing concepts.
Yamaha is committed to creating innovative new products that have the power to provide an exciting and inspirational 360-degree lifetime experience for thousands of customers all over the world. With an illustrious history going back almost 70 years, the brand has established a reputation for premium quality, remarkable performance and cutting edge design – and now Yamaha is fully prepared to move into an electric future with next generation designs that offer everyone a special new sense of freedom and joy.
Yamaha: eBike pioneer since 1993
It was nearly 30 years ago that Yamaha launched the world's first production eBike. Initially aimed at commuters and shoppers, the original Yamaha PAS was a revolutionary new concept that will go down in history as the spark that ignited the whole eBike movement. The PA26 experience set Yamaha on the path to becoming a major producer of eBikes for the Japanese market during the past three decades, as well as a key manufacturer of eBike System which are powering many of today's eBikes sold within the European market.
Embracing the age of the two-wheel Electric Vehicle
Announced in early 2022, Yamaha's Switch ON strategy confirmed the company's entry into the world of electric personal mobility and outlined its ambitions to become a leading brand in the two-wheel Electric Vehicle market. Designed to inspire a new generation of customers who are looking for zero emission personal transportation for sport, leisure and commuting, the forthcoming line up of Yamaha eBikes, scooters and pedelecs adds another dimension to personal mobility.
Zero emissions with carbon neutrality
Running parallel with the introduction of a full range of two-wheel EVs from eBikes through to scooters and pedelecs, Yamaha has also accelerated its drive to become a carbon zero manufacturer by 2035, underlining the fact that the brand is ready and able to rise to the challenge and fully embrace the new age of the Electric Vehicle that is reshaping urban mobility, and more.
MORO 07, WABASH RT and CROSSCORE RC: Three new Yamaha eBikes for 2023
One of the most exciting new chapters in Yamaha's history is about to be written with the launch of three eagerly awaited new eBikes for 2022 covering the MTB, gravel and urban sectors.
The company's experience in the production of eBikes and compact drive units is second to none, and the new Yamaha line up has been holistically developed with the PW Series drive units and is imbued with the company's dynamic DNA.
Aimed at a wide variety of riders from existing Yamaha motorcycle and scooter owners who appreciate the strong brand values through to customers looking for a good price/performance ratio combined with trusted technology, the Moro 07, Wabash RT and CrossCore RC will be available exclusively through Yamaha's network of Powered Two Wheel dealers.
2023 Yamaha Moro07 Totalmotorcycle.com Features and Benefits
Instant power
The new generation PW-X3 is Yamaha's smallest, lightest and most powerful drive unit weighing just 2.75kg and features an ultra-compact design that gives a narrow Q-Factor that enables the rider to achieve their best performance. A key feature of the PW-X3 is its Zero Cadence technology that gives instant power delivery at the slightest pedal input, giving its rider a real advantage in the tightest situations.
Developing 85Nm, this class-leading drive unit gives an outstanding torque to weight ratio and provides high power at high cadence for strong performance on steep hills and in sandy or muddy terrain.
A significant characteristic of the Moro 07 is the way that the PW-X3 drive unit delivers a lightweight feel at speeds over 25km/h, and this has been achieved by the fitment of newly developed gears and freewheels that reduce mechanical loss, giving a natural and responsive feeling when pedalling at higher speeds.
Unique Dual Twin frame
This quality eMTB is designed to provide excellent all round handling that enables its rider to enjoy new challenges on the toughest terrain from technical single track to fast fire roads. A key feature is the unique Dual Twin frame that features dual top tubes and down tubes that are designed to give a finely tuned rigidity balance that delivers a confident chassis handling character together with plenty of surface feedback and accurate feel.
Moro 07's Dual Twin chassis has been designed alongside the PW-X3 drive unit, making it the first holistically developed premium eMTB – and the drive unit's compact dimensions and low weight have enabled Yamaha's engineers to achieve idealised chassis dimensions, notably excellent ground clearance and a compact wheelbase for increased agility.
Premium equipment
The PW-X3's small physical size has also enabled the design of an innovative new 150 mm travel rear suspension system with RockShox Super Deluxe Select + mounted between the twin top tubes. RockShox LYRIK SELECT Charger forks offer 160mm travel for sure-footed front suspension action, and Maxxis 27.5 x 2.6-inch tyres give the traction and flex needed for effective riding together with a high degree of surface feel. Magura MT5 brakes deliver power with feel, and the gearset is a premium Shimano XT 1 x 12 for smooth shifting and effective drive.
Interface X with Smartphone connectivity
The stem-mounted Yamaha Interface X gives a tidy cockpit handlebar area and features ergonomic mode assist buttons as well as a colour-coded assist mode indicator and capacity indicator for the integrated Yamaha 500Wh battery. Bluetooth® Low Energy Technology enables smartphone connectivity via compatible apps, and Interface X is compatible with many cycle computer brands.
Colours and sizes
Moro 07 is offered in three sizes and is available in Icon Blue and Raven/Silver.
Reduce Your Screen Time
Whether you're challenging your physical endurance in ECO mode or discovering the place where ultimate control and performance meet the trail in EXPW mode, the super minimalist communication display of the Interface X is there for what you need and nothing you don't.
Luxury Feel with Engineered Purpose
This buttery smooth rear shock with 15 clicks of rebound adjustment, dual-level compression quick switch, and adjustable air pressure options result in a positively bespoke suspension experience.
One-Finger Stopping
Outstanding stopping performance with the absolute best possible modulation requires only one finger. Feel the ultimate braking power of one-piece construction in the 4-Piston front and rear calipers paired with radial design master cylinders.
Sightless Controls
Minimalist aesthetics require unquestionably exceptional design to meet functional performance requirements. The All-New Interface X meets those demands with intuitive movements to access power assist levels, walk assist, and automatic support modes in a bantam weight class.
Obsessed with Speed
Helping to deliver the most smooth and powerful assist available today, our PW-X3 Quad Sensor's rear hub speed sensor is high technology hidden in plain sight.
Parallel tubes for unparalleled control
Your frame is the most powerful structure of your bicycle. Yamaha's patented Dual Twin construct combines hydroforming and forging techniques to create a frame to protect components with uncompromised riding control.
More Gears!
Increased shifting precision with reduced derailleur travel and additional gears in the "sweet spot" for riders to find the best balance of power and cadence.
Lightning Fast, Feather Light
ALL-NEW PW-X3 mid drive motor is our smallest and lightest to date and ensures you the best power to weight ratio with jaw dropping responsiveness and smooth power delivery now with Garmin Edge 530, Edge 830, and Edge 1030 compatibility.
Centralized Mass and Low CG
A combination that creates a near-perfect weight distribution for ultimate control on the ground or in the air.
2023 Yamaha Moro07 – Totalmotorcycle.com USA Specifications/Technical Details
US MSRP Price: $6,399 USD
Canada MSRP Price: $ See Dealer CDN
Europe/UK MSRP Price: £4,749 GBP (On The Road inc 20% Vat)
SUGGESTED USE
All Mountain Class-1 Ebike Off-Road Trail
COLORS
Dual Blue

Raven Silver

SIZE
SMALL, MEDIUM, LARGE
MSRP
$6,399
TOTAL WEIGHT
51.3lb (M)
MOTOR
YAMAHA PW-X3 Class 1 Labeled
Centermount
ISIS Splined Crankarm Spindle
YAMAHA Quad Sensor with Automatic Support and Walk Assist Modes
Rate power: 250W (nominal), 500W (maximum)
Max torque: 85Nm
Max speed support: 20MPH
Support Modes: ECO, Standard, High, MTB, Extra-Power, Automatic, Walk Assist
CONTROL SWITCH AND MULTI-FUNCTION COMPUTER
YAMAHA Interface X  Control functions include: 3-color LED support-mode level light indicator, (5) Support-mode control switch, plus AUTOMATIC support mode (Aqua LED indicator) and Walk Assist mode (Purple LED indicator), Bluetooth™ connectivity, 3-color LED support-mode level light indicator, LED brightness adjustability, battery capacity (4-LED capacity indicators)
BATTERY
Yamaha 500Wh with Charge-life indicator and Self-diagnosis display
Anti-Vibration Mounting Plate
Weight: 6.61 lbs
500Wh 36V
Re-charge time: 1-hour 80%, 4-hour 100%
FRAME
YAMAHA Dual Twin Frame
Tapered Headtube
Internal cable/housing routing
2-bolt drive unit mount
12×148 rear axle spacing
Integrated YAMAHA speed sensor harness
FORK
ROCKSHOX LYRIK SELECT
160mm TRAVEL
35mm Stanchions
Charger RC damper with Low-speed Compression and Reboundadjust
Compatible with RockShox premium short fender
Upgradeable to new Pressure Relief Values via RockShox
REAR SHOCK
ROCKSHOX SUPER DELUXE SELECT +
Custom tuned for YAMAHA YDX-MORO 07
150mm travel
210X55mm DebonAir+ air spring with 15 clicks of rebound adjustment, 2-position compression adjustment
HEADSET
Integrated tapered 1 1/8" –  1 1/2" (30mm of spacers)
STEM
Alloy 4-both faceplate
35.0 diameter
40mm length
HANDLEBAR
Alloy
35.0 diameter
780mm width
30mm rise
GRIPS
VELO Single Ring Lock
SEATPOST/SADDLE CLAMP
RANZX dropper post 30.9 dia.
TRAVEL (S) 125mm (M) 150mm (L) 170m
SEATPOST COLLAR
Single-bolt 35.0mm
SADDLE
YAMAHA anti-slip finish with hand rail tail
AXLES
MAXLE 15MM X 110MM BOOST THRU AXLE
SHIFTERS
Shimano XT SL-M8100-R
FRONT DERAILLEUR
N/A
REAR DERAILLEUR
Shimano XT RD-M8100-SGS
CRANKARM
PRAXIS E-CRANK ARM 165mm LENGTH
CHAIN
KMC eTURBO EPT 122 links
CASSETTE
Shimano XT CS-M8100-12
12-spd (10-51T)
CHAINRINGS
PRAXIS 36T
BRAKES/ROTORS
MAGURA MT5 4-PISTON F/R 203MM CENTERLOCK ROTOR (F/R)
Single-Finger lever
RIMS
YAMAHA 27.5+ Alloy
Tubeless tape installed
Width: 46mm (outside) 40mm (inside)
SPOKES
14g alloy SUS304
HUBS
Anodized Alloy
Centerlock brake mount
15x110mm BOOST+ (front)
12x148mm MicroSpline freehub
Quick Release Thru Axle Type
TIRES/TUBES
MAXXIS 27.5X2.6
(F) MINION DHF (R) REKON
ACCESSORIES
Protective motor and battery covers
ISCG05 chainguuide Safety bell
VP Acrylic pedals
(No Keys)
WARRANTY
3-Year on Frame, Motor, Battery*
Component Manufacturer's warranty** is  supported by YAMAHA
2023 Yamaha Moro07 – Totalmotorcycle.com Canada Specifications/Technical Details
TBA
2023 Yamaha Moro07 – Totalmotorcycle.com European Specifications/Technical Details
Riding Type
All Mountain
Total Weight
24.3 kg
Wheel Size
27,5
E-Bike Class
Pedal Assist
Drive Unit
Yamaha PWSeries X3, 85Nm
Battery
Yamaha Lithium Ion 500Wh, 36V, 13.4Ah
Display/Remote
Interface X
Max Speed with Assist
25km/h
Technology
Patented twintube design
Fork
RockShox LYRIK SELECT RC 160mm stroke 37mm offset
Rear Shock
RockShox Super Deluxe Select+ RT 210×55 Debonair Yamaha tuning
Headset
Integrated tapered with 30 mm steerer spacers
Handlebar
Alloy 30mm rise, 35.0 dia., 780mm wide
Stem
Alloy 4-bolt faceplate, 35.0 dia., 40mm length.
Grips
Locking Dual Core
Saddle
Yamaha Off-Road Cro-Mo Rail
Seatpost
Alloy 30.9 dia. dropper post. (S/M) 125mm travel, (L) 150mm travel
Brakes
Magura MT5 with 203mm Storm CL rotors. 4-Piston
Shifters
Shimano SL-M8100-R, XT, 12-SPEED
Rear Derailleur
Shimano RD-M8100, XT, SGS 12-SPEED
Crankarm
Praxis AL6000 w/bolts 165mm
Chainrings
Praxis 36T
Chain
KMC e12 TURBO EPT 12speed
Cassette
Shimano CS-M8100-12,DEORE XT, 12-SPEED(HYPERGLIDE+), 10-12-14-16-18-21-24-28-33-39-45-51T
Wheels
27.5+ Alloy. Tubeless tape installed. 40mm inner rim width
Tires
Front: Minion DHF New EXO+ /3C MaxxTerra 27.5×2.6, Rear: Rekon New EXO+ /3C MaxxTerra 27.5×2.6
Manufacturer Specifications and appearance are subject to change without prior notice on Total Motorcycle (TMW).