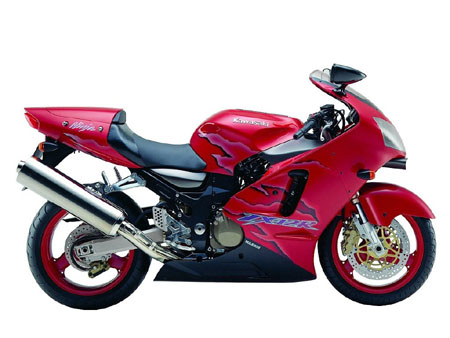 Back to 2001 Kawasaki Motorcycle Index Page
Click photo to enlarge.
It makes a great desktop image.


2001 Kawasaki Ninja ZX-12R


2001 Kawasaki Ninja ZX-12R


2001 Kawasaki Ninja Sportbikes

 
– 2001 Kawasaki Ninja ZX-12R
.
2001 KAWASAKI NINJA® ZX-12R
The Ultimate in Ninja Performance
As the flagship model in the legendary Kawasaki NINJA® motorcycle series, the NINJA ZX-12R is the most radical embodiment of race-proven technology that Kawasaki has ever built. This machine follows a long line of Kawasaki motorcycles that set standards others were forced to follow. From the legendary H1 to the Z1 and through various open-class NINJA models – such as the ZX-11 that carried the standard for nearly a decade – the ZX-12R stands ready to redefine performance in a production motorcycle.
Built to deliver the lightest weight and highest power-to-weight ratio of any machine in its class, the ZX-12R combines a compact engine in a radical aluminum monocoque chassis, wrapped in slippery aerodynamic bodywork. The result is exceptional stability and nimble handling in a performance machine that provides all-day riding comfort.
Using the same bore/stroke ratio that's at the heart of the class-standard setting NINJA ZX-9R and ZX-6R, the ZX-12R engine produces a wealth of horsepower from its 1,199cc displacement. Cast pistons ride in all-aluminum cylinders with electroplated bores. The pistons are heat treated to prevent heat distortion and have thin rings for quicker revs. Four valves per cylinder are directly actuated by dual overhead cams. A right-side cam drive allows narrow valve angles for a highly efficient combustion chamber shape. VX thin wire valve springs are lightweight yet strong and also help the engine rev quickly.
An added benefit of the right-side cam drive is increased torsional rigidity for the forged crankshaft, which has a special nitride treatment for extra strength and durability. A crank-mounted generator with rare-earth magnets significantly reduces weight and friction. There is also a gear-driven engine balance shaft to smooth vibration.
The high-compression engine gets its fuel mixture through a Nippondenso electronic fuel injection system. Within the four 46mm throttle bodies the injector tips have four holes aimed to spray fuel directly at the intake valves. Electronic sensors continuously feed the system a variety of engine and atmospheric data to independently control fuel injection and ignition for each cylinder. The result is exceptional throttle response and high output at all engine speeds.
The system breathes through a frame-integrated Ram Air system for high intake efficiency, especially at higher speeds. A large scoop projects a few millimeters from the front of the fairing to take advantage of the higher air pressure just ahead of the leading edge of the fairing, further increasing intake efficiency. The monocoque frame backbone creates an efficient airbox and a cartridge-type air filter easily slides into the frame.
Compact stick-style ignition coils help generate the electrical current to fire the twin-electrode, long-lasting platinum spark plugs. Burned gasses are expelled through a four-into-two-into-one exhaust system featuring stainless steel headpipes and a lightweight, all-titanium muffler. A catalyzer near the muffler helps eliminate unburned hydrocarbons for cleaner emissions.
Kawasaki was among the first to apply a massive, twin-spar aluminum perimeter frame to an open-class production sportbike, and once again it broke new ground with the aluminum monocoque frame on the ZX-12R. While the twin-spar perimeter frame provides exceptional rigidity, it also adds width to the motorcycle as it wraps around the engine. The ZX-12R's frame eliminates the spars and puts the backbone over the top of the engine. This design significantly reduces overall width for better aerodynamics, improved ergonomics and a radically streamlined look while retaining the required stiffness and rigidity.
The ZX-12R's aluminum frame consists of a cast steering head welded to pressed plates welded to a cast midsection that incorporates the battery case as a stressed member. A bolt-on aluminum sub-frame supports the seat and tail section.
Lightweight aluminum is also used throughout the UNI-TRAK® rear suspension. An extruded aluminum swingarm uses a linkage system to progressively increase the damping and spring rate as the suspension is compressed. The single shock features a piggyback reservoir, threaded spring preload and 20-way compression and rebound damping adjustment. Rear ride height can also be adjusted using shims.
Front suspension is supplied by a 43mm inverted cartridge fork with adjustable preload, compression and rebound damping. The upper fork crown is cast aluminum to reduce weight while the lower clamp is forged aluminum for strength.
Both ends of the ZX-12R have 17-inch wheels with hexagonal tri-spokes. The six-inch wide rear rim is fitted with an ultra-wide 200/50 tire for excellent traction. Braking is accomplished with opposed six-piston calipers gripping the large 320mm diameter dual disc front brakes while a lightweight 230mm single disc is mounted at the rear. A lightweight opposed piston caliper is held to the swingarm.
In order to make it as aerodynamic as possible, the ZX-12R spent more time in a wind tunnel during its development phase than any motorcycle in Kawasaki's history. Due to the monocoque chassis design, the ZX-12R is already narrower than any other machine in its class. The front cowl wraps in tighter ahead of the radiator to reduce frontal area and enhance airflow through the engine compartment. Small winglets on either side of the fairing may be mistaken for creating downforce when they actually separate airflow around the motorcycle, preventing turbulent air coming off the front wheel from disturbing the laminar airflow along the upper portion of the fairing. Separating the laminar flow and turbulence greatly enhances the fairing's coefficient of drag. To further reduce drag there are also small wind deflectors cast into the bottom of the forks that deflect the turbulent air coming off the fork and brakes out and around the lower part of the fairing, where resistance is low, instead of allowing this air to flow inward toward the engine, where resistance is high. Additionally, the ZX-12R has a passenger seat cover that easily attaches to provide a sleek and aerodynamic custom appearance for solo riders.
The NINJA ZX-12R delivers a radical interpretation of race-proven technology, setting the standard for sportbikes of the 21st century. With its high-performance, cutting-edge engine pumping out abundant horsepower, innovative monocoque frame and highly-developed aerodynamics, the ZX-12R extends the performance legacy of Kawasaki's world-dominating NINJA sportbike line-up.
2001 NINJA® ZX-12R FEATURES
4-Cylinder 1,199cc Engine
Compact and light weight
Aluminum cylinders with electroplated bores reduce weight, resist wear and offer superior heat dispersion
Balancer shaft for smooth running at all rpm
Four Valves per Cylinder
Better breathing for more power at high rpm
Compact combustion chamber for increased compression ratio and more power
Nippondenso Fuel Injection System
Four 46mm throttle bodies for quick throttle response and high output
Each injector has four orifices aimed to spray fuel directly on intake valves
Digital Ignition
Independent timing control for each cylinder based on data from several engine and atmospheric sensors
Stick-type ignition coils are compact and lightweight
4-into-2-into-1 Exhaust
Stainless steel header pipes leading to an emission-friendly catalyzer
All-titanium muffler
All-Aluminum Monocoque Frame
Lightweight and narrow with exceptional strength and rigidity
Serves as airbox and battery holder to save space
Ram Air Intake
Increases volumetric efficiency as speeds rise for more power
Designed for maximum pressurization
Aerodynamic Fairing
Separates turbulence and laminar airflow for decreased drag
Dual headlights for more aggressive look
Distinctive parking headlight for better visibility
43mm Inverted Front Fork
Fully adjustable spring preload, compression and rebound damping
Bottom-Link UNI-TRAK® Rear Suspension
Lowers the center of gravity for better handling
Progressive rate provides a smoother, more controlled ride
Lightweight aluminum components provide quick suspension response
Fully adjustable shock with piggyback reservoir
Rear Passenger Seat Cover
Installs easily to provide sleek, aerodynamic appearance
All Electric Instrumentation
Electric tachometer, speedometer are compact and lightweight
LCD clock, odometer, trip meter, and coolant temperature gauge with LED warning light
17-inch Wheels
Wide, modern 17-inch rims fit low-profile, high-performance tires
Adjustable Clutch and Front Brake Levers
Enhance rider comfort
2001 KAWASAKI NINJA® SPORTBIKES
Built to Deliver Performance
For years Kawasaki NINJA® motorcycles have defined the sportbike market and represented the company's long-standing performance heritage. The 2001 Kawasaki NINJA motorcycle line-up gives motorcyclists a variety of ways to experience Kawasaki's legendary performance, from the most powerful NINJA ever to entry-level models that can still deliver plenty of thrills to seasoned veterans.
The NINJA ZX-12R is the flagship model in the NINJA motorcycle line-up and is the most radical embodiment of race-proven technology that Kawasaki has ever produced. Quite simply, the ZX-12R was built to deliver the lightest weight and highest power-to-weight ratio of any machine in its class.
The very first NINJA was a 900cc machine, and the ZX-9R carries on the tradition of providing open-class power in a lightweight, nimble package. This is the model that became the first production motorcycle to break the nine-second barrier in the enthusiast magazines' quarter-mile testing.
In recent years Kawasaki has dominated the AMA/Prostar Motorcycle Drag Racing Series, with Kawasaki Drag Racing's Rickey Gadson winning three consecutive AMA/Prostar 750 Superbike National Championships, and teammate Marty Ladwig winning the 1999 600cc SuperSport title.
Kawasaki Road Racing uses the NINJA ZX-7R as the base for its AMA U.S. Superbike Championship assault and it has carried team rider Eric Bostrom to victory. Bostrom also won on the NINJA ZX-6R that kept him
near the top of the 2000 600cc SuperSport Series all season long. The ZX-6R has also been highly acclaimed in the enthusiast press, winning several 2000-model 600cc sportbike comparisons and being chosen "Best Middleweight Streetbike" in Cycle World magazine's annual Ten Best Bikes feature.
For those looking for NINJA performance at an economical price, Kawasaki has three models. The NINJA ZX-6 features SuperSport championship-winning performance in an extremely comfortable and user-friendly package, while the NINJA 500R and 250R models provide excellent entries to the NINJA motorcycle fold.
No matter which NINJA motorcycle it is, customers can always count on getting a motorcycle that performs.
Specifications:
Model
Ninja ZX1200A-2

Engine Type
4-stroke, liquid-cooled

Displacement
1,199 cc.

Bore x Stroke
83 x 55.4 mm.

Compression Ratio
12.2:1

Valve System
DOHC, 16 valves

Fuel System
Denso Electronic Fuel Injection

Ignition
Digital Ignition with K-TRIC

Starting
Electric

Transmission
6-speed

Frame type
Monocoque aluminum

Rake / Trail
23.5 degrees

Wheelbase
56.7″

Suspension, Front
43 mm. inverted cartridge

Suspension, Rear
Bottom-Link Uni-Trak with

Tire Front
120/70ZR17

Tire Rear
200/50ZR17

Brakes, Front
Semi-floating 320 mm. discs with dual six-piston calipers

Brakes, Rear
Disc with opposed-piston caliper

Seat Height
31.9″

Fuel Capacity
5.3 gallons

Dry Weight
463 pounds



Specifications are subject to change without notice, in accordance with national regulation and legislations.