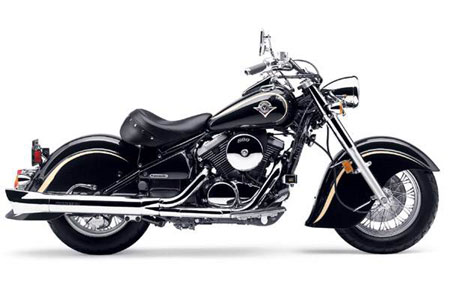 Back to 2002 Kawasaki Motorcycle Index Page
Click photo to enlarge.
It makes a great desktop image.


2002 Kawasaki Vulcan 800 Drifter

 
– 2002 Kawasaki Vulcan 800 Drifter
.
Following the successful debut of the Vulcan™ 800 Drifter™ retro cruiser two years ago, Kawasaki felt this mid-size cruiser was privy to a few nips and tucks. For example, it was refurbished for a more custom feel, thanks to a specially contoured solo saddle, a new chrome package and a lively Candy Cardinal Red paint scheme. So, for 2002, the "little brother" to the Vulcan™ 1500 Drifter™ model returns with all the style of its bigger sibling but in a more lightweight and affordable package.
At first glance, the Vulcan 800 Drifter's styling sets it apart from the competition. The sculpted fenders covering much of the spoked wheels and the single fishtail muffler jutting out the back immediately catch the eye. The generous use of chrome on the engine covers, bullet-shaped headlight shell, fork and shock covers, handlebar and clamp, rear fender rail, and license-plate bracket enhance the "custom" look.
Powering the Vulcan 800 Drifter is an 805cc V-twin engine with a single-pin crankshaft and gear-driven balancer to reduce vibration. Finned cylinders and four-valve heads are liquid cooled for optimum thermal control. Concealed automatic cam chain tensioners preserve the engine's clean lines and allow precise cam timing. Plus, a spin-on oil filter helps make maintenance a quick and easy job.
The 36mm carburetor features the Kawasaki Throttle Responsive Ignition Control (K-TRIC) throttle position sensor. Connected to the digitally mapped capacitor discharge ignition (CDI) system, K-TRIC varies ignition timing according to throttle position and engine rpm so that the ignition compensates for differing engine loads. The result is crisp throttle response and better fuel efficiency.
At the rear of the single backbone, double cradle frame is a sleek, triangulated steel swingarm and Kawasaki's UNI-TRAK® linkage rear suspension system, which provide a smooth ride while maintaining the look of a hard tail cruiser. Front and rear disc brakes provide plenty of stopping power.
For comfort, the Drifter's spacious saddle is nice and low, allowing the rider to put both feet on the ground at stops. At speed, wide floorboards allow for a relaxed sitting position. A heel-toe shifter makes changing gears in the five-speed transmission a snap, while self-canceling turn signals add to rider convenience.
Upon its introduction in 1999, the Kawasaki Vulcan Drifter motorcycle's styling was selected for the Chicago Athenaeum: Museum of Architecture and Design's permanent design collection. Placed on display at the museum's main building in downtown Chicago, it was declared a work of art that goes beyond transportation. With its neo-retro style and esoteric performance technology, the Drifter embodies the essence of form and function.'"
For those who want a modern, lightweight cruiser wrapped in nostalgic styling, the Vulcan 800 Drifter is the logical choice.
Kawasaki Vulcan® Cruisers

By introducing the KZ900 LTD in 1976, Kawasaki was an early metric leader in what has become today's cruiser movement. When the Vulcan® 750 cruiser debuted 10 years later, it was Kawasaki's first V-twin-powered cruiser and featured high-tech items such as liquid cooling, double overhead cams, shaft drive, dual disc front brakes and mag wheels. In 1995, Kawasaki unveiled the Vulcan™ 800, one of the industry's first V-twin metric cruisers to feature modern cruiser styling.
For 2002, the Kawasaki cruiser lineup is 10 models strong and ranges from the entry-level Eliminator® 125 to the brand-new Vulcan 1500 Mean Streak. The venerable Vulcan 500 LTD, Vulcan 750 and Vulcan 800 models retain the stylish characteristics that have made them popular, and are now available in new hues.
Also available this year are the Vulcan Classic and Drifter™ models. The Classics include the 800, 1500 and 1500 Fi, and provide a choice in both displacement and technological advancement without sacrificing style. Similarly, the Drifter 800 and Drifter 1500 provide a stylish retro appearance, but in both the mid- and heavyweight-cruiser genres.
In addition to the bikes, a key element to the cruiser lifestyle is customizing the motorcycle to fit individual design tastes and performance needs. Fortunately, Kawasaki offers its own extensive line of genuine Fire & Steel™ accessories. Motorcyclists can choose from literally hundreds of parts to customize their Kawasaki Vulcan motorcycles, and in doing so, make their own bold statement. Customers can find Fire & Steel accessories at their local Kawasaki dealer or shop online at buykawasaki.com.
Specifications:
Model
VN800-E2

Engine Type
4-stroke V-Twin

Displacement
805 cc.

Bore x Stroke
88 x 66.2 mm.

Compression Ratio
9.5:1

Valve System
SOHC, 8 valves

Carburetion
Keihin CVK36

Ignition
Kawasaki Throttle Responsive Ignition control (K-TRIC)

Starting
Electric

Transmission
5-speed

Rake 31.5 degrees

Wheelbase
63.6″

Suspension, Front
41 mm. hydraulic telescopic fork

Suspension, Rear
Bottom-Link Uni-Trak with 7-way preload adjustment

Tire Front
130/90-16

Tire Rear
140/90-16

Brakes, Front
Disc

Brakes, Rear
Disc

Seat Height
29.9″

Fuel Capacity
4.0 gallons

Dry Weight
547 pounds

Color
Black Pearl


Specifications are subject to change without notice, in accordance with national regulation and legislations.