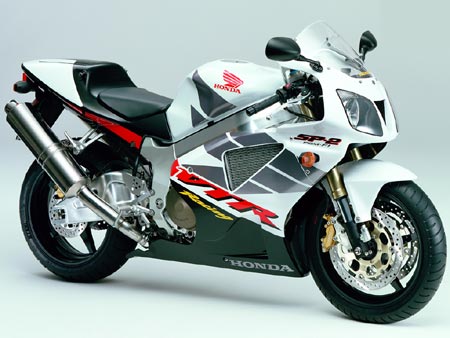 Back to 2003 Honda Motorcycle Index Page
Click on photos to enlarge.
It makes a great desktop image.

 
– 2003 Honda VTR1000SP RC51

Honda's RC51 won the 2002 AMA Superbike championship as well as dethroning Ducati as World Superbike champion. The 2003 RC51 offers incredible superbike performance for enthusiasts seeking the most powerful, best handling V-twin sport bike.



Unique Features
· Prodigious power is produced across a broad rpm band, peaking with 133 bhp at 10,000 rpm and 71 lb./ft.of torque at 8000 rpm in street-legal trim.
· Large 62mm fuel injection throttle bodies inspired by HRC's championship works racers.
· Two fuel injectors for each cylinder feature 12 laser-drilled jet holes in each injector tip for finer fuel atomization, resulting in more responsive throttle performance and faster, more efficient combustion for stronger power output.
· Twin side-mounted radiators each have electric cooling fans to improve engine cooling.
· Cone-shaped clutch spring plate quiets and smoothes clutch engagement. .
· HRC-designed press-forged aluminum swingarm.
· HRC-designed integrated remote rear shock reservoir is positioned for easy fitment of center-up high-performance competition exhaust.
· Five-spoke wheels feature aerodynamic forward-facing V-shaped spokes and next-generation Dunlop D208 tires.
· Windscreen shape is derived from Colin Edwards' championship World Superbike HRC racer.

Engine/Drivetrain
· 999cc DOHC eight-valve 90-degree V-twin engine is specially designed to withstand the rigors of superbike competition.
· Centrally-mounted ram-air intake duct routes cool, pressurized air directly through the frame's steering head structure to the 9.0-litre airbox, improving intake efficiency while slimming the aerodynamic profile. The ram-air duct doubles as a front cowl stay, shaving 0.34 kg. off of a conventional mounting system.
· Each cylinder head features large, 40mm intake and 34mm exhaust valves with a 24 degree included valve angle. This provides a short, direct path for the air/fuel charge entering the combustion chamber and results in high poweroutput.
· Gear-driven camshafts utilize three-axis drive gears to maintain accurate valve timing and durability at sustained high engine speeds.
· Innovative head gaskets minimize distortion caused by head bolt tightening, improving sealing performance and maintaining combustion pressure for consistent high poweroutput in competition conditions.
· Direct shim-under-bucket valve actuation system ensures high-rpm durability, and allows 25,600-km valve maintenance intervals.
· High-pressure programmed fuel injection (PGM-FI) delivers fuel at 50 psi to two injectors per cylinder, mounted opposite each other in huge 62mm throttle bodies. Fuel is delivered through 12 nozzle holes in each injector, producing a very fine spray and a highly combustible air/fuel charge for maximum combustion efficiency and poweroutput.
· Cast aluminum pistons are screen-printed with solid LUB-Coat finish to minimize friction between the piston and cylinder wall.
· Aluminum composite cylinder sleeves are high-pressure-formed from sintered aluminum powder impregnated with ceramic and graphite. The lightweight composite sleeves provide better wear resistance and superior heat dissipation compared to conventional sleeves.
· Nutless connecting rods feature bolts threaded directly into tapped holes in rods. Design is lighter than conventional bolt-and-nut combination. Carburized rods provide strength and durability under high loads.
· Crankshaft center lubrication system carries oil to main and connecting rod bearings through passages in the crankshaft as well as conventional journals, allowing lower main-gallery oil pressure and a smaller oil pump design, consuming less horsepower at high engine speeds.
· Electronic Control Unit (ECU) provides digital 3-D fuel injection and ignition maps for each cylinder, creating ideal fuel mixture and spark advance settings for maximum power and throttle response.
· Iridium-tip spark plugs require less voltage and maintain ignition performance in demanding conditions.
· At operating speed, side-mounted dual radiators utilize low pressure of airflow passing over outer surface of cowling to draw air through from the inside. Side positioning allows optimal placementof engine for a low center of gravity and superb handling and permits flow of air to reach cylinders and exhaust pipes for enhanced cooling efficiency.
· Aluminum water pump housing.
· Air-cooled aluminum oil cooler.
· Magnesium head cover, clutch cover and left-rear sprocket cover.
· All-stainless two-into-one-into-two exhaust system with two 5.3-litre canister-style mufflers with a buffed finish.
· Seven-plate clutch design is compact and tough, featuring durable friction plate material.
· Smooth-shifting close-ratio six-speed transmission features ratios carefully matched to the engine's powerband.

Chassis/Suspension
· Twin-spar extruded aluminum frame features a modified Pro Frame(r) design utilizing a swingarm pivot that incorporates both engine-crankcase- and frame-mounted pivot points. The frame sideplates extend underneath the swingarm and join to form a D-shape swingarm mounting enclosure. This combination provides an extremely rigid chassis whileoffering excellent road feel.
· Tapered and braced box-section swingarm provides exceptional lateral and torsional rigidity.
· 43mm inverted aluminum-slider Honda Multi-Action System(tm) (HMAS(tm)) cartridge fork with 130mm of travel features spring preload, rebound and compression damping adjustability, and offers precise action and superb rigidity.
· Pro-Link(r) rear suspension features 120mm of travel and a high-quality 40mm HMAS shock with integrally cast damper reservoir. Spring preload, rebound and compression damping adjustability produces superior rear wheel control.
· Braking system features 320mm front discs floating on seven stainless steel pins with four-piston calipers, and a 220mm rear disc with a single-piston caliper for exceptional stopping power.

Additional Features
· Distinctive bodywork features a dual-headlight design with a centrally located ram-air duct, a narrow-profile fuel tank and a single-piece tail section.
· Fuel tank designed with sculpted indents for knees, arms and handlebars.
· Unique bank-angle sensor shutsoff fuel supply to PGM-FI system if the motorcycle tips over, but is unaffected by bumps and vibration during normal operation.
· High-output, 335-watt AC generator.
· Electrically quiet regulator/rectifier eliminates interference with sophisticated PGM-FI and ignition circuitry.
· Dual headlights feature asymmetric low/high beam operation; computer-designed multi-reflectors and two 55W H7 bulbs behind clear plastic lenses provide a broad lighting pattern and superb illumination.
· Lightweight instrument display includes electronic LCD tachometer and speedometer, fuel indicator,odometer, tripmeter and temperature gauge.
· Convenient ignition switch/fork lock for added security.
· Lightweight, recyclable oil filter cartridge.
· Transferable one-year, unlimited-mileage limited warranty.
Specifications:
Engine
999cc liquid-cooled 90 degree V-twin

Bore and Stroke
100mm x 63.6mm

Compression Ratio
10.8:1

Valve Train
DOHC; four valves per cylinder

Carburetion
PGM-FI with two injectors per cylinder

Transmission
Close-ratio six-speed

Final Drive
#530 O-ring-sealed chain

Front Suspension
43mm inverted HMAS cartridge fork with spring preload, rebound and compression damping adjustability; 130mm travel

Rear Suspension
HMAS Pro-Link single shock with spring preload, rebound and compression damping adjustability; 120mm travel

Front Brakes
Dual full-floating 320mm discs with four-piston calipers

Rear Brake
Single 220mm disc with single-piston caliper

Front Tire
120/70ZR-17 radial

Rear Tire
190/50R-17 radial

Wheelbase
1420mm (55.9 in.)

Seat Height
818mm (32.3 in.)

Dry Weight
195 kg (430 lb.)

Fuel Capacity
18 litres (4.0 gal.)


Specifications are subject to change without notice, in accordance with national regulation and legislations.