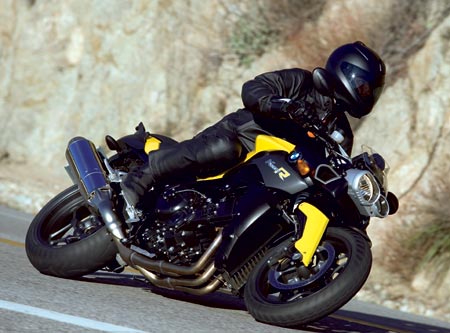 You are here: Home — 2006 Models — 2006 BMW Motorcycle Models
2006 BMW Motorcycles
Great looking, big and glossy photos! Less reading, more looking!
Introducing the new 2006 BMW Motorcycles.
More 2006 BMW Motorcycle Model Information
will be added as soon as it is known to the press.
This page is updated on a regular basis. Keep checking back.
Adventure
– 2006 BMW R1200GS Adventure

Velocity
– 2006 BMW F800ST
– 2006 BMW F800S
– 2006 BMW F800S Stunt
– 2006 BMW K1200S
– 2006 BMW K1200R
– 2006 BMW R1200S


Travel
– 2006 BMW K1200GT


Freedom
– TBA (to be announced)

Behind the Scenes
– Industry News, Rumors, Spy Shots and information
– Manufacturer websites worldwide


 
– Industry News, Rumors, Spy Shots and information
Total Motorcycle is constantly on the look out for new 2006 and 2007 motorcycle model information, industry rumors and spy shots. As we hear, conduct interviews and find the latest information we will post it here for you to read, share and enjoy.
Don't forget to check out our Huge Motorcycle Photo Gallery with thousands of photos for you to enjoy!
– Manufacturer Websites

BMW Motorcycle Global Site
BMW Motorcycle Canada Site
BMW Motorcycle USA Site
BMW Motorcycle UK Site
BMW Motorcycle Germany Site
BMW Motorcycle Japan Site