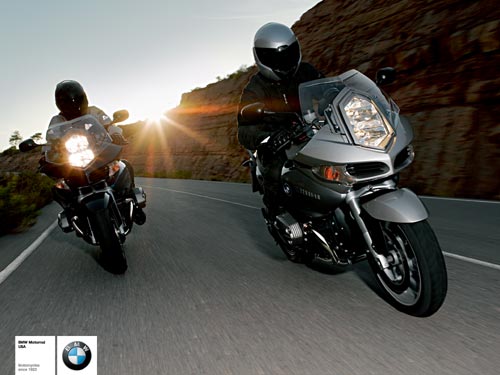 Back to 2007 BMW Motorcycle Index Page
Click photos to enlarge for detail.
They make great desktop images.
– 2007 BMW R1200ST

2007 BMW R1200ST
A Marathoner's Endurance.
Put enough miles on and you come to appreciate comfort and reliability over the long haul. But when a nice ribbon of asphalt opens up, it's time to test the tachometer. As the high-octane offspring of BMW's best sport and touring concepts, the R 1200 ST offers both premium comfort and plenty of power.
The BMW R1200ST is the perfect combination of sportsbike performance and touring comfort. Its 110 bhp of power and 115 Nm of torque deliver responsive acceleration and smooth cruising, making it perfect for long and short journeys alike. Ergonomic design and excellent protection from the elements mean you can ride in comfort all day long, and it's equally at home on twisting mountain roads as it is flying down the highway. This is a motorcycle designed for riders who know what they want – and who want something different every day.


MSRP*: $19,500.00 Canada
MSRP: $14,500 USA
*Freight, retailer preparation & taxes extra.
Standard Equipment
Adjustable Handbrake and Clutch Levers

Diagnostic Interface

Adjustable Handlebars

Hazard Warning Flashers

Info Flat Screen

Closed Loop 3 Way Catalytic Converter

Adjustable Rider's Seat

Power Socket

Single Key Locks

Electronic Immobilizer

Tool Kit

Side Stand with Starter Inhibition


Specifications USA

Engine
Type Air-cooled/oil-cooled Boxer twin-cylinder
Bore x Stroke 101.0 mm x 73.0 mm
Displacement 1170 cc
Horsepower 110 bhp @ 7500 rpm
Torque 85 lb/ft @ 6000 rpm
Compression Ratio 12.0 :1
Valve Gear HC, chain-driven
Valves 2.0 x 36.0 mm intake / 2.0 x 31.0 mm exhaust
Valves / Cylinder Four
Engine Oil Capacity 4.2 quarts
Engine Management BMW Engine Controller – BMS K
Fuel Requirement Premium Unleaded
Fuel Tank HDPE, internal pump and internal filter
Fuel Capacity 5.5 U.S. gallons including 1 gallon reserve
Charging System 720 Watts @ 14 Volts
Battery 12 Volts 14 Amps/hour low maintenance
Cooling System Air and thermostatically controlled oil cooling
Drivetrain
Primary Drive 1:1.882
Clutch 180 mm dry, single plate with hydraulic actuation
1st Gear Ratio 2.28:1
2nd Gear Ratio 1.58:1
3rd Gear Ratio 1.26:1
4th Gear Ratio 1.03:1
5th Gear Ratio 0.90:1
6th Gear Ratio 0.81:1
Final Drive System Enclosed driveshaft with two universal joints
Final Drive Ratio 2.62:1
Frame and Suspension
Frame Three-part, engine/cast aluminum/tubular steel
Front Suspension BMW Telelever
Front Travel 4.3 inches
Rear Suspension BMW Paralever
Rear Travel 5.5 inches
Brakes
Brake System BMW EVO
Front Brakes Two, four-piston fixed calipers
Front Rotor 12.6 inch dual floating rotors
Rear Brake Single, two-piston fixed caliper
Rear Rotor 10.4 inch single, fixed rotor
Actuation Method Hydraulic, DOT 4 fluid type
Wheels and Tires
Front Wheel 3.50 x 17 cast alloy, five double-spoke
Rear Wheel 5.00 x 17 cast alloy, five double-spoke
Front Tire 120/70 x 17 tubeless
Rear Tire 180/55 x 17 tubeless
Dimensions
Overall Length 85.2 inches
Overall Width 35.0 inches
Wheelbase 59.1 inches
Ground Clearance N/A
Seat Height 31.9 inches
Steering Angle 63.0 degrees
Front Wheel Trail 4.4 inches
Weight – Dry 452 lbs. excluding options & accessories
Weight – Wet 505 lbs. excluding options & accessories
Maximum Load 1014 lbs. GVWR
Standard Colors
Code  Price Description
716     N / C Night Black
764     N / C Titan Silver Metallic
Standard Equipment
Available Equipment
350     $135 Chrome Exhaust Pipe
416     $800 Electronic Suspension Adjustment (ESA)
519     $235 Heated Hand Grips
530     $260 Tire Pressure Monitoring (TPM)
539     $275 On Board Computer (incl. Oil Level Warning)
603     $235 Anti-Theft Alarm
630     $1040.00 Integral ABS II
636     $120.00 Center Stand
650     $365.00 ASC
665     $135.00 Luggage Grid
764     $40.00 Accessory Socket
776     N / C Seat – Low (30.7 inches)
Specifications Canada:
BMW R1200ST

Engine
Type . . . . . . . . . . . . . . . . . . . . . . . . Air/oil-cooled flat twin ('Boxer')
4-stroke, one camshaft and four
valves per cylinder, central balancer
shaft
Bore / stroke . . . . . . . . . . . . . . . . . . 101 mm x 73 mm
Capacity . . . . . . . . . . . . . . . . . . . . . 1,170 cc
Rated output . . . . . . . . . . . . . . . . . 81 kW (110 hp) at 7,500 rpm
Max. torque . . . . . . . . . . . . . . . . . . 115 Nm at 6,000 rpm
Compression ratio . . . . . . . . . . . . . 12.0 : 1
Fuel / engine management. . . . . . . Electronic intake pipe injection/
BMS-K digital engine management
with overrun fuel cut-off, twin-spark
ignition
Emission control . . . . . . . . . . . . . . Closed-loop 3-way catalytic
converter, emission standard EU-3
Performance / fuel consumption
Maximum speed . . . . . . . . . . . . . . . Over 200 km/h
Fuel consumption per 100 km
at constant 90 km/h . . . . . . . . . . . . 3.7 l
at constant 120 km/h . . . . . . . . . . . 5.1 l
Fuel type . . . . . . . . . . . . . . . . . . . . Unleaded premium, minimum octane
rating 98 (RON), automatic knock
control permits operation with minimum
octane number 95 (RON).
Electrical system
Alternator . . . . . . . . . . . . . . . . . . . . three-phase alternator 720 W
Battery . . . . . . . . . . . . . . . . . . . . . . 12 V / 14 Ah, maintenance-free
Power transmission
Clutch . . . . . . . . . . . . . . . . . . . . . . . Single dry plate clutch, hydraulically
operated
Gearbox . . . . . . . . . . . . . . . . . . . . . Constant mesh 6-speed gearbox
with helical gear teeth
Drive . . . . . . . . . . . . . . . . . . . . . . . . Shaft drive
Chassis / brakes
Frame . . . . . . . . . . . . . . . . . . . . . . Two-section frame consisting of
front and rear sections, load-bearing
engine-gearbox unit
Front suspension . . . . . . . . . . . . . . BMW Motorrad Telelever; stanchion
diameter 41 mm, central spring strut
The BMW R 1200 ST is the perfect combination of sportsbike performance and touring comfort. Its 81 kW/110 bhp of
power and 115 Nm of torque deliver responsive acceleration and smooth cruising, making it perfect for long and short
journeys alike. Ergonomic design and excellent protection from the elements mean you can ride in comfort all day long,
and it's equally at home on twisting mountain roads as it is flying down the highway. This is a motorcycle designed for
riders who know what they want – and who want something different every day.
Rear suspension . . . . . . . . . . . . . . . Cast aluminium single-sided swing
arm with BMW Motorrad Paralever;
WAD strut (travel-related damping),
hydraulic, handwheel-adjustable
(electronic with ESA1), infinitely variable
spring pretensioner, adjustable
rebound dampening (electronic with
ESA1)
ESA1 (Electronic Suspension
Adjustment) . . . . . . . . . . . . . . . . . . Shock absorber adjustment (rebound)
dependent on the pre-selected basic
spring setting (load condition), pushbutton
adjustment
Travel front / rear . . . . . . . . . . . . . . 110 mm / 140 mm
Wheelbase2 . . . . . . . . . . . . . . . . . . 1,495 mm
Castor2 . . . . . . . . . . . . . . . . . . . . . . 104 mm
Steering head angle2 . . . . . . . . . . . 64.3°
Wheels . . . . . . . . . . . . . . . . . . . . . . Cast aluminium
Rim, front . . . . . . . . . . . . . . . . . . . . 3.50 x 17″
Rim, rear . . . . . . . . . . . . . . . . . . . . . 5.50 x 17″
Tyre, front . . . . . . . . . . . . . . . . . . . 120/70 ZR 17
Tyre, rear. . . . . . . . . . . . . . . . . . . . . 180/55 ZR 17
Brake, front. . . . . . . . . . . . . . . . . . . Twin disc, floating brake discs,
ø 320 mm, four-piston fixed calipers
Brake, rear . . . . . . . . . . . . . . . . . . . Single disc, ø 265 mm, doublepiston
floating caliper
ABS1 . . . . . . . . . . . . . . . . . . . . . . . . BMW Motorrad Integral ABS
(part-integral)
Dimensions / weights
Seat height . . . . . . . . . . . . . . . . . . . 810 / 830 mm
(low seat: 780 / 800 mm)
Inner leg curve . . . . . . . . . . . . . . . . 1,810 / 1,850 mm
(low seat: 1,750 / 1,790 mm)
Unladen weight, road ready3 . . . . . 229 kg
Dry weight4 . . . . . . . . . . . . . . . . . . . 205 kg
Permitted total weight . . . . . . . . . . 460 kg
Payload (with standard equipment) 231 kg
Usable tank volume . . . . . . . . . . . . 21 l
Reserve . . . . . . . . . . . . . . . . . . . . . approx. 4 l
Length . . . . . . . . . . . . . . . . . . . . . . 2,165 mm
Height (excl. mirrors) . . . . . . . . . . . 1,220 mm
Width (incl. mirrors) . . . . . . . . . . . . 890 mm

Specifications and features are subject to change