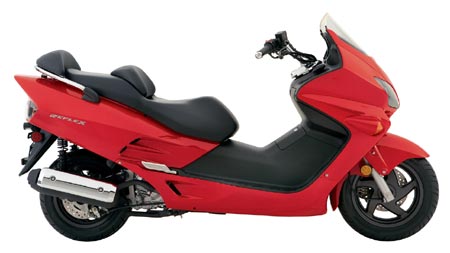 You are here: Home — New 2007 Models — 2007 Honda Motorcycle Models
2007 Honda Reflex ABS/Reflex/Reflex Sport ABS/Reflex Sport
Back to 2007 Honda Motorcycle Index Page
Click photos to enlarge.
They make great desktop images.

 
– 2007 Honda Reflex ABS/Reflex/Reflex Sport ABS/Reflex Sport

2007 Honda Reflex ABS/Reflex/Reflex Sport ABS/Reflex Sport
How many ways can you have your Reflex? Just about every way you can imagine, including the Sport edition that boasts a slick windshield and plenty more unique features.
Features & Benefits
New for 2006
– Reflex® and Reflex ABS are available in Candy Blue.
– Reflex Sport and Reflex Sport ABS are available in Yellow.
Engine/Drivetrain
– Powerful 249cc liquid-cooled four-stroke engine produces impressive power for quick takeoffs and passing.
– Aluminum cylinder head features a 10.5:1 compression ratio. Its design is optimized for maximum intake velocity, providing immediate response at low- to mid-range speeds, and excellent cruising and passing power at highway speeds.
– 30mm CV carburetor offers superb throttle response and excellent fuel mileage.
– Maintenance-free fully transistorized ignition assures immediate and reliable power.
– Auto-enriching system eliminates the need for a manual choke.
– Air injection system ensures efficient combustion of exhaust gases and reduces exhaust emissions.
– Fan-cooled radiator assures consistent engine operating temperatures and long engine life. The radiator is located in the base of the frame, maximizing storage bin capacity.
– Push-button electric starter provides quick, effortless starting.
– Lightweight and quiet exhaust system.
– Honda V-Matic belt drive system provides sophisticated three-stage operation, matching the engine's strong low- and mid-range power to a wide range of operating conditions. Stage One delivers efficient, quiet power for around-town cruising; Stage Two provides increased power for moderate acceleration; and Stage Three provides maximum power for full acceleration and top speed.
Chassis/Suspension
– Durable steel frame is lightweight yet strong, providing an optimum combination of rigidity and flexibility for superb road handling.
– Stout, 33mm hydraulic front fork with 3.9 inches of suspension travel provides a plush, well-controlled ride.
– Dual rear shocks have 4.7 inches of travel and seven-position spring preload adjustability for a smooth, comfortable ride. Rearward mounting of the rear shocks allows a large-capacity underseat storage compartment.
– Hydraulic 240mm front disc brake and lightweight, 220mm rear disc brake offer excellent stopping power.
– The Reflex's Combined Brake System features a three-piston front caliper and a single-piston rear caliper. Rider application of the front brake lever activates the two outer pistons of the front caliper. Application of the rear brake lever, mounted on the left handlebar, activates the single piston of the rear caliper and the center piston of the front caliper. When only the rear brake lever is used, an inline delay valve smooths application of the front caliper piston.
– Optionally equipped Anti-Lock Brake System (ABS with Combined Brake System) model features an electric-motor-driven modulator which provides rapid and precise braking-pressure adjustments, resulting in smooth ABS operation. The system incorporates an integrated electronic control unit (ECU) into a simple one-piece design, self-diagnostics with an interactive ECU test function, and automatic protection against system failure.
– Stylish five-spoke cast aluminum wheels are lightweight and strong.
– Large, 13-inch 110/90 and 12-inch 130/70 tires provide excellent traction.
Additional Features
– Reflex Sport edition includes short sport-style Windshield, Chrome Grabrail with Integrated Backrest, one-piece Chrome Handlebar and Cover, Chrome Sidestand and Handlebar Caps.
– Wind-tunnel-developed full-coverage bodywork and windshield are both beautiful and functional, protecting the rider from the elements while reducing wind noise.
– Large air vent mounted in the front cowl feeds air behind the windscreen to minimize low-pressure turbulence around the rider.
– Integrated floorboards angle upward in the front for optimum rider foot placement when riding. Floorboards narrow below the seat to allow the rider to place both feet on the ground easily.
– Folding, cast aluminum passenger footrests are integrated into the Reflex's supersport styling.
– Fully integrated four-meter instrument display features analog displays for tachometer with 8300-rpm redline, speedometer, fuel level and coolant temperature. An easy-to-read LCD clock is mounted in the tachometer face; LCD readouts are also provided for odometer and tripmeter. Indicator lights display turn-signal and high-beam operation and parking brake application.
– Flush-mounted dual headlight design features computer-designed multi-reflectors with one left-side-mounted 55-watt H7 low beam and one right-side-mounted 55-watt H7 high beam; the asymmetrical low-beam mode is complemented by the operation of both lights in high-beam mode for superb lighting in nighttime riding conditions.
– Integrated S2000-style rear taillights complement the Reflex's sporty appearance.
– Painted aluminum rear spoiler complements the Reflex's aerodynamic profile and features passenger handgrips.
– Handlebar-mounted rear view mirrors utilize sporty housings.
– Wide, low, padded seat has an adjustable six-position rider backrest that adjusts over a 2-inch range. The long, wide passenger seat is very comfortable for all-day, two-up riding. The spring-loaded locking seat opens to the side, allowing easy loading of the storage compartment.
– Large-volume, lockable 33-liter underseat storage compartment is large enough to store a briefcase or helmet. A convenience lamp illuminates the storage compartment in low-light conditions.
– Lockable 7-liter front storage cabinet features two cup trays built into the door.
– Convenient left-side panel storage pocket.
– Large, 3.2-gallon fuel tank offers extended cruising range. The fuel door is located behind a locking cover in the frame well between the floorboards.
– Convenient cable-operated parking brake is engaged by pulling a large handle on the upper-right panel. Pressing down on the handle releases the brake.
– Auto-adjusting rear parking brake.
– Powerful 12-volt electrical system and maintenance-free battery offer superb reliability.
– Ignition switch/steering lock helps keep the Reflex secure when parked.
– Sidestand switch allows starting only if the sidestand has been retracted and the rear brake lever is applied.
– Handlebar switches and controls use internationally approved ISO graphic symbols.
– Transferable one-year, unlimited-mileage limited warranty; extended coverage available with a Honda Protection Plan.
– Ownership includes one-year complimentary membership for an individual in the Honda Rider's Club of America™ (HRCA®). Benefits include: discounts, travel benefits, roadside assistance, one year of Honda Red Rider™ magazine, access to HRCA Clubhouse Web site (www.hrca.honda.com) and access online to Honda Common Service Manual. For HRCA details, call 1-800-847-HRCA. For dealers only, please call (310) 783-3958.
Available accessories
– Rear Trunk.
– Fairing Air Deflectors.
– Heated Grips.
Specifications
Model:
NSS250A (with ABS) / NSS250
NSS250AS (Sport with ABS) / NSS250S (Sport)
Engine Type: 249cc liquid-cooled single-cylinder four-stroke
Bore and Stroke: 72.7mm x 60mm
Compression Ratio: 10.5:1
Valve Train: SOHC; two valves per cylinder
Carburetion: 30mm CV with auto-enricher
Ignition: Fully transistorized
Transmission: Automatic V-Matic belt drive
Suspension
Front: 33mm hydraulic fork; 3.9 inches travel
Rear: Single-side swingarm with dual hydraulic shocks with seven-position spring preload adjustability; 4.7 inches travel
Brakes
Front: Single 240mm disc with CBS three-piston caliper
Rear: Single 220mm disc with CBS single-piston caliper
NSS250A / NSS250AS: Optional ABS
Tires
Front: 110/90-13
Rear: 130/70-12
Wheelbase: 60.8 inches
Seat Height: 28.3 inches
Dry Weight
NSS250A: 379 pounds
NSS250: 375 pounds
NSS250AS: 379 pounds
NSS250S: 373 pounds
Fuel Capacity: 3.2 gallons
Colors
NSS250A / NSS250: Candy Blue
NSS250AS / NSS250S: Yellow
Meets current CARB and EPA standards.

2007 Honda Reflex Pricing
 
Name

2007 Model
("L" designates
California version)

Color

Suggested Retail Price

Reflex
NSS2507
Light Silver Metallic
$5,549.00
Reflex ABS
NSS250A7
Light Silver Metallic
$6,049.00
Reflex Sport
NSS250S7
Red
$5,549.00
Reflex Sport ABS
NSS250AS7
Red
$6,049.00
Prices are subject to change without notice