You are here: Home — New 2008 Models — 2008 Benelli Motorcycle Models
2008 Benelli Tre 1130 K (Tre-K Amazonas)
Back to 2008 Benelli Motorcycle Index Page
Click photos to enlarge for detail.
They make great desktop images.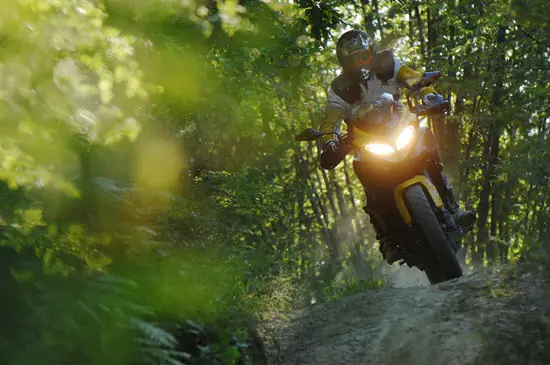 2008 Benelli Tre 1130 K (Tre-K Amazonas)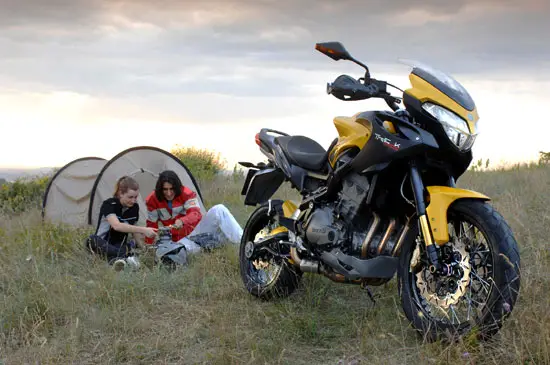 2008 Benelli Tre 1130 K (Tre-K Amazonas)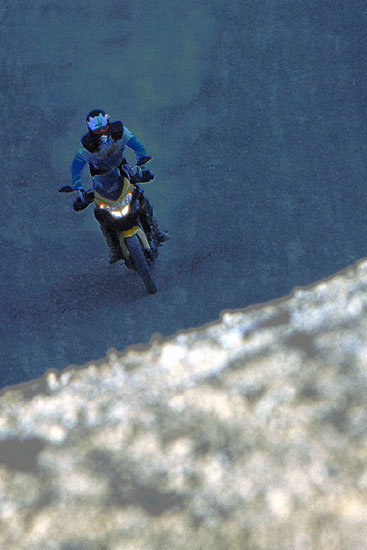 2008 Benelli Tre 1130 K (Tre-K Amazonas)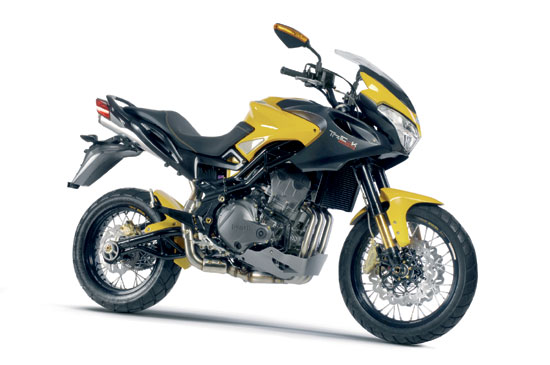 2008 Benelli Tre 1130 K (Tre-K Amazonas)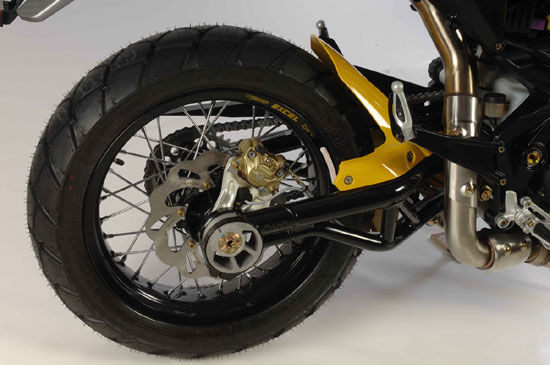 2008 Benelli Tre 1130 K (Tre-K Amazonas)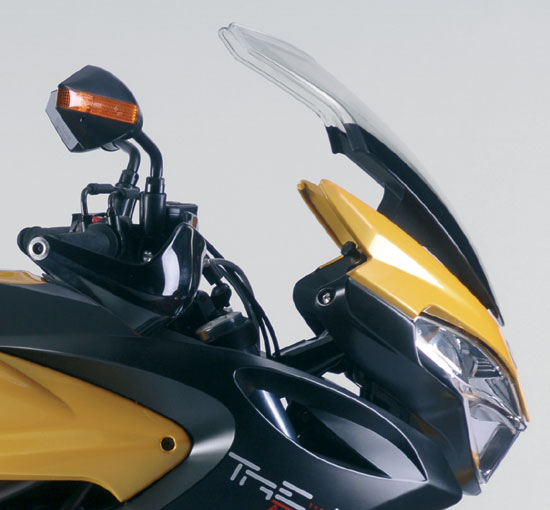 2008 Benelli Tre 1130 K (Tre-K Amazonas)
– 2008 Benelli Tre 1130 K (Tre-K Amazonas)

2008 Benelli Tre 1130 K (Tre-K Amazonas)
As at home off road as it is on road. The Amazonas provides agility and ability in abundance giving the rider total confidence and maximum enjoyment.
"Outside the known limits…"
A fully new bike for a new way of ride from the research and development dept. A new product for exclusive adventures.

FRAME
The frame is designed to resist every shock in any situation. An easy ride and sensitivity to reactions were the targets of Benelli's technicians during the project. New geometry for new adventures.
FRONT RADIATOR
The new position of the radiator allows high thermal exchanges at low speed and during off road use. All made to improve reliability. The new frame is suited to the new requirements. The new shape guarantees an easy ride and a ride neutrality, both being unique features for a bike in this class.
REAR SUSPENSION
The rear end is designed to guarantee the best stability and the easiest way to ride without loosing comfort or suspension reaction. The TRE 1130 K is safe to ride in any conditions.
US SPECIFICATIONS: 2008 Benelli Tre 1130 K (Tre-K Amazonas)
Price $15,699 MSRP
Colors Yellow
Engine Type Liquid cooled in line triple, valve arrangement dohc 12 valve
Bore x Stroke 88 x 62 mm
Displacement 1130cc
Compression Ratio 11.9 to 1
Transmission 6 speed cassette type
Final Drive 525 x-ring chain, engine sprocket Z-16, chain sprocket Z-38.
Chassis weight dry 451lbs, weight wet 486lbs
Rake 25.0 degrees, trail 4.21 inches
Wheel Base 55.87 inches
Seat Height 30.70 inches
Fuel Capacity 6.07 gallons

Brakes Brembo
Front 320mm dual floating disc with 4 piston Brembo calipers.
Rear 240mm fixed disc with 2 piston Brembo caliper.

Suspension
Front 50mm inverted Marzocchi forks, w/5.8 inches travel
Rear Extreme Technology single shock with adjustable rebound damping and
adjustable spring pre-load w/5.9 inches travel

Performance
Horsepower [email protected],250rpm
Torque 84.8ft/[email protected],750rpm. Quarter mile,11.55 sec., 0-60mph 3.88 sec.,
0-100mph 6.52 sec.,0-120mph 11.76 sec
Fuel Mileage 35.5 mpg city / 40.50 highway.



Canada SPECIFICATIONS: 2008 Benelli Tre 1130 K (Tre-K Amazonas)

ENGINE
TYPE 3 cylinders, 4 stroke, liquid cooled, 12 Valves,
DOHC(double overhead camshaft)
CYLINDER CAPACITY 1131 cc
BORE X STROKE 88 X 62
COMPRESSION RATIO 11, 9:1
MAXIMUM POWER 125hp
MAXIMUM NET TORQUE / RPM 83ftlb
FIRING ORDER 1 > 3 > 2
INTAKE VALVE DIAMETER 33 mm
EXHAUST VALVE DIAMETER 29 mm
INTAKE ENGINE TIMING 12°BTDC44° ATDC
EXHAUST ENGINE TIMING 36°BTDC20° ATDC
MAXIMUM VALVE LIFT Int.7,5 exh.7,5
THROTTLE BODY,DIAMETER 53 mm
LUBRICATION SYSTEM Wet sump
FUEL SYSTEM Injection EURO 3
CLUTCH Wet clucth 11 discs
IGNITION Digital – inductive type via electronic engine management
STARTING Electric
GEARBOX 6 – speed
TRANSMISSION 525 chain type
PRIMARY RATIO 44 / 79
FINAL RATIO 16 / 34
GEAR RATIOS (SECONDARY) 1°14 / 39
2°18 / 35
3°21 / 32
4°23 / 30
5°24 / 28
6°25 / 26

CYCLE PARTS
FRAME ASD steel tube trellis, with boxed section
FRONT SUSPENSION "Upside down" fork Ø50 mm
FRONT TRAVEL 180 mm
REAR SUSPENSION ASD steel tube trellis swingarm,preload adjuster
REAR TRAVEL 180 mm
RAKE 25°
TRAIL 127 mm
OFFSET 33 mm
FRONT BRAKE DIAMETER Ø320 mm with radial caliper
REAR BRAKE DIAMETER Ø225 mm
FRONT TYRE 110-80-/19
REAR TYRE 150-70/17

SIZES
LENGHT 2255 mm
WIDTH 790 mm
HEIGHT 1362 mm
SEAT HEIGHT 840 mm
WHEELBASE 1531 mm
DRY WEIGHT 208 kg
FUEL TANK CAPACITY 22l
FUEL RESERVE 4l


EUROPE SPECIFICATIONS: 2008 Benelli Tre 1130 K (Tre-K Amazonas)

ENGINE
TYPE In line 3 cylinders, 4-stroke, liquid cooled , 4 valves per cylinder double overhead camshaft, with balancer shaft
DISPLACEMENT 1131 cc
BORE x STROKE 88 x 62 mm
COMPRESSION RATIO 11.6:1
RATED OUTPUT 92 kW (123 cv) @ 9000 rpm
MAX. TORQUE 112 Nm (11.4 kgm) @ 5000 rpm
FUEL SUPPLY Electronic injection with three throttle bodies ø53 mm
EXHAUST SYSTEM With catalytic converter and oxigen sensor
CERTIFICATION Euro 3
CLUTCH Wet clutch
GEARBOX 6 speed
FINAL DRIVE Chain drive, ratio 16:37

CHASSIS
FRAME Decomposable, front steel trestle, rear aluminium alloy casting
FRONT SUSPENSION Ø48 mm upside-down fork, with hydraulic extension / compression and spring preload adjustments
FRONT SUSPENSION STROKE 175 mm
REAR SUSPENSION Steel trestle swingarm, progressive rear dumper with hydraulic extension and spring preload adjustments
REAR SUSPENSION STROKE 180 mm
FRONT BRAKE Twin floating disk ø320 mm with 4 piston calipers
REAR BRAKE Single disk ø255 mm with double piston caliper
FRONT RIM 3.00"x19"
REAR RIM 4.25"x17"
FRONT TYRE 110/80 – R19
REAR TYRE 150/70 – R17

SIZES
LENGHT 2200 mm
WIDHT EXCLUDING MIRRORS 865 mm
HEIGHT EXCLUDING MIRRORS 1370 mm
SEAT HEIGHT 840 mm
WHEELBASE 1530 mm
UNLADEN WEIGHT* 215 kg
ROAD READY WEIGHT** 240 kg
PERMITTED TOTAL WEIGHT 440 kg
USABLE TANK VOLUME 22 lt
RESERVE 4 lt
* without fluids
** According to guideline 93/93/CEE with all fluids, fuelled with at least 90% of usable tank volume

(Benelli Q.J. reserves the right to change technical specifications, equipment, set ups, and colours without prior notice.)


Media Press Release:
None to date.