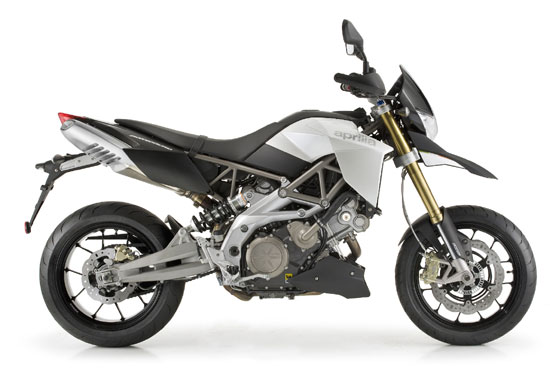 You are here: Home — 2009 Models — 2009 Aprilia Motorcycle Models
2009 Aprilia Dorsoduro 750 ABS
Back to 2009 Aprilia Motorcycle Index Page
Click photos to enlarge.
They make great desktop images.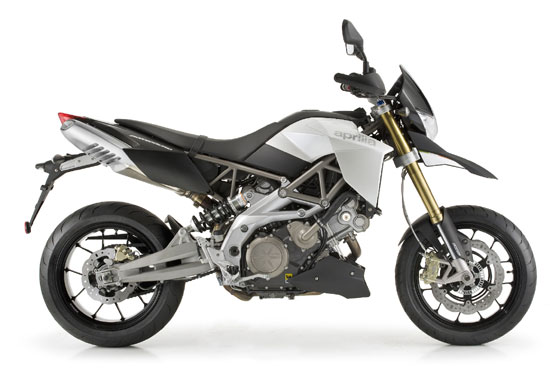 2009 Aprilia Dorsoduro 750 ABS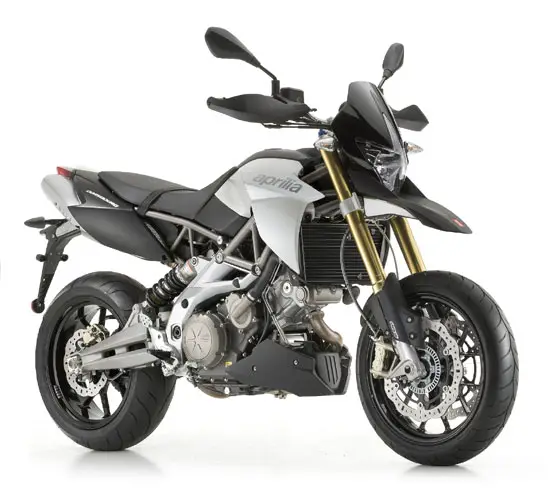 2009 Aprilia Dorsoduro 750 ABS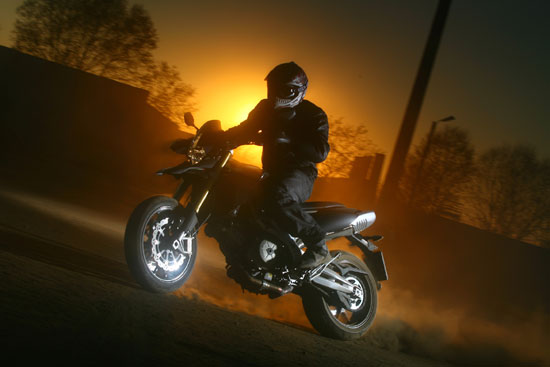 2009 Aprilia Dorsoduro 750 Non-ABS Version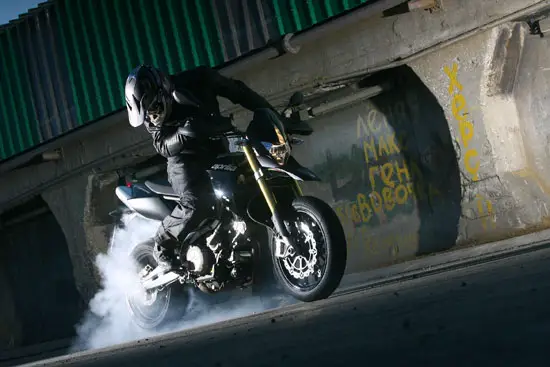 2009 Aprilia Dorsoduro 750 Non-ABS Version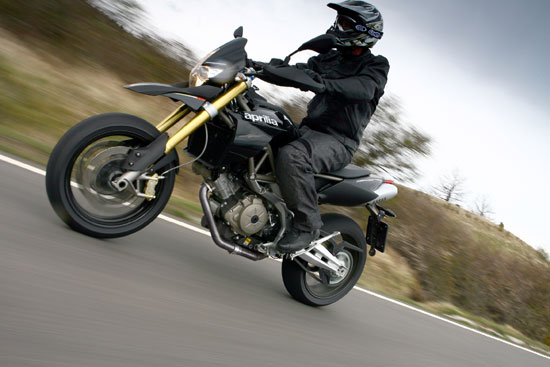 2009 Aprilia Dorsoduro 750 Non-ABS Version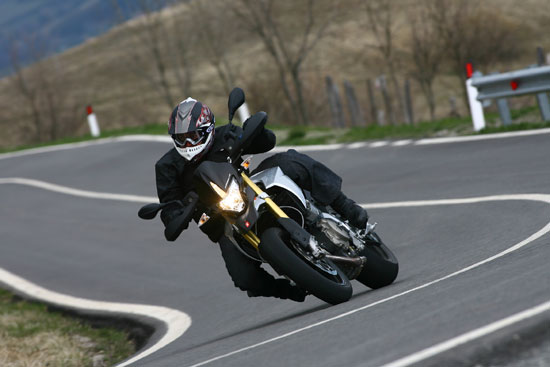 2009 Aprilia Dorsoduro 750 Non-ABS Version
– 2009 Aprilia Dorsoduro 750 ABS

2009 Aprilia Dorsoduro 750 ABS
THE UNIQUE AND DISTINCTIVE DORSODURO 750 ABS APPLIES APRILIA'S VAST RACING EXPERIENCE TO JUST ONE MISSION: TO OFFER PURE RIDING ENJOYMENT. 92 HP AND EXCLUSIVE TRI-MAP RIDE-BY-WIRE TECHNOLOGY MEAN THAT THIS LIGHTWEIGHT AND POWERFUL MOTORCYCLE CAN SATISFY EVEN THE MOST EXPERT RIDERS IN SEARCH OF A STATE-OF-THE-ART MOTORCYCLE.
Aprilia Dorsoduro ABS

The unique and distinctive Dorsoduro applies Aprilia's vast racing experience to just one mission: to offer pure riding enjoyment. A 92 bhp, 750 cc engine with Aprilia's exclusive Tri Map ride by wire technology means that this high performance lightweight is perfect even for experienced riders. Stunning to look at, fun to ride and safe too, the Aprilia Dorsoduro is now also available with ABS.
Developed in close collaboration with Aprilia Racing (the department of Aprilia responsible for thirty-seven world titles), the Dorsoduro 750 ABS combines the best technology from the worlds of supersports and racing supermotards. The result is a distillation of performance and technology, a special, extreme, and elite motorcycle that is capable of elevating its rider to motorcycling excellence.

The lightweight, agile, and powerful Dorsoduro 750 ABS is driven by a new generation of engine incorporating the most advanced technical solutions found on any bike of its kind. Thanks to advanced electronic engine management, Aprilia's compact 90° V twin delivers superb performance, well beyond the reach of its rivals. Specific power is 122.6 HP/litre and maximum torque is 82 Nm at only 4,500 rpm.
As you would expect from Aprilia, the chassis is unique in the supermotard segment. Having achieved amazing results on the super-specialist SXV, Aprilia's mixed trellis and aluminium frame is now one of the most distinctive features of the Dorsoduro, giving it the sort of directional control, responsiveness and precision the competition cannot hope to achieve.

Despite its essential design, the Aprilia Dorsoduro boasts the highest level of components, technical equipment and finish. Four piston radial calipers, wave discs, a hydraulic wet clutch, adjustable front and rear suspension, Tri-Map ride-by-wire engine management and a Matrix instrument display with on-board computer are just some of the many items that make the Dorsoduro unique.

Let's look at the features of the Aprilia Dorsoduro 750 ABS in greater detail:
" 90° V twin engine with four-valve heads, double overhead cam and liquid cooling;
" tri-Map second generation ride-by-wire technology;
" electronic fuel injection with the latest generation injectors;
" mixed gear and chain timing drive;
" modular steel trellis and aluminium alloy frame for extremely light weight and high torsional rigidity;
" aluminium alloy swingarm with laterally offset monoshock;
" fully adjustable 43 mm upside down fork;
" radial front brake calipers combined with 320 mm wave discs
" also available in a restricted 25 kW version
" latest generation Continental two channel ABS

DESIGN: CONCEIVED TO THRILL
The minimal and aggressive bodywork of the Aprilia Dorsoduro 750 ABS adds the perfect finishing touches to the advanced motorcycle technology that forms the basis of its design. The Dorsoduro 750 ABS is built around the rider. That is why, on this radical, daring and sporting machine everything contributes effectively to maximum riding pleasure. Plastic body panels have been reduced to a minimum for this very reason. As with top competition machines, anything that does not improve performance has been eliminated. Only the place for a number has been left to emphasis the bike's close ties with the world of racing.

The middle of the bike, the area most important to rider movement under competitive riding conditions, shows just how compact this design really is. The Aprilia Dorsoduro 750 ABS is incredibly slender and agile and enters into instant symbiosis with its rider. Only a few metres on this amazing machine are enough to feel completely at one with it. Aprilia's design team have achieved this impressive result by giving the Dorsoduro a long, flat seat, derived directly from the world of racing, allowing the rider to find the most effective position at all times.

The sleek, compact tail houses a twinned exhaust, a solution that not only gives the bike a mean, aggressive look but also achieves perfect symmetry and ideal weight distribution. The hand guards are derived from those of the SXV supermotard and, despite their streamlined look, offer effective protection against accidental impacts with the control levers.
ENGINE: A STATE-OF-THE-ART TWIN
Numerous improvements have been made to the Aprilia 750 cc, 90° V twin engine, which now features mapping specially developed to bring out the Dorsoduro's aggressive character.

Improvements have been made to various areas of the 749.9 cc engine with its bore and stroke of 92 x 56.4 mm. As a result the electronic and mechanical content of this V twin engine sets new standards not only for engines of this size but for many far larger units too.

The electronic engine management on the Dorsoduro 750's engine leads the field in technology and performance. The Dorsoduro features a second generation electronic throttle with Tri-Map selectable triple mapping.

Three performance modes, Sport, Touring and Rain, can be selected from a switch on the handlebars (with the throttle closed for safety reasons). The Dorsoduro changes its character radically, depending on what mode you select. Sport mode gives you aggressive instant power; Touring mode gives you a smoother action, better suited to relaxed long distance riding; and Rain mode gives you ultimate safety slippery surfaces.

The Tri-Map electronic throttle also means smoother, more consistent power thanks to more accurate and precise throttle control based on parameters including engine speed, gear selection, air flow, throttle position and temperature.

Whatever mapping you select, the engine is always ready to deliver the best possible performance in terms of acceleration and rev range, giving you an amazingly satisfying and entertaining ride.

The exhaust is made entirely from stainless steel. The collector pipes meet in a single silencer under the seat before splitting again into two tail pipes. The large volume of the exhaust system also aids engine breathing and boosts efficiency.

Thanks to its advanced electronic and mechanical technology, the Aprilia V twin engine develops 92 HP at 8,750 rpm and a maximum torque of 82 Nm at 4,500 rpm. These figures enable the Dorsoduro to compete directly with motorcycles powered by far bigger engines.
The Aprilia Dorsoduro 750 ABS is also available, right from its introduction, in a restricted 25 kW version. The use of a ride-by-wire electronic throttle has allowed Aprilia to avoid cutting power right across the range, as happens with less advanced restricted versions. Instead, the power curve of the restricted Dorsoduro is identical to that of its full-power sister right up to the point where the permitted power limit is reached. The 25 kW Dorsoduro 750 therefore delivers far superior acceleration to the equivalent models of the competition, to the benefit of riding satisfaction and pleasure.
FRAME: PERFECT BALANCE
Aprilia motorcycles have always been acclaimed for the excellent chassis designs. The Dorsoduro 750 ABS is no exception, thanks to a chassis that makes it the best balanced and most effective bike of its type. The new Dorsoduro is easy and intuitive to ride despite its blistering performance. It is designed to be ridden at the limit under all conditions, to perform extreme power slides, and to blast out of bends under full power. The secret lies in an ultra-responsive chassis, whose ergonomics suit riders of all statures and allow you to "take it to the limit" and enjoy the thrills of a motorcycle built for pure entertainment.
The frame incorporates all of Aprilia's vast racing experience, and makes full use of the latest mixed steel and aluminium designs derived from the world of Supermotard World Championship racing. The top half of the frame is a tubular steel trellis. This is secured to generous aluminium side members by special high strength bolts. The resulting structure is extremely rigid and lightweight, and provides the best possible means of harnessing the exuberant power of the Aprilia V90 engine while still communicating a strong impression of lightness, high technology and Italian style.
Continuous co-operation between engine and frame designers has led to the perfection of high-tech, performance-oriented solutions and to total integration between engine and frame. The intelligent design solutions applied to Aprilia's V twin engine have made it shorter than ever, permitting the development of a rational and efficient frame and a superbly agile and incredibly responsive motorcycle.
The lateral position and acute angle of the rear monoshock has freed up the space needed to ensure optimum exhaust geometry without any increase in the bike's overall length, and without subjecting the monoshock to thermal stress. The aluminium swingarm is robust enough to withstand the asymmetric stresses generated by the lateral positioning of the rear suspension. The swingarm has been specially developed to satisfy the needs of a supermotard like the Dorsoduro 750 ABS , and combines excellent torsional rigidity with the elasticity needed for precision under acceleration and intuitive control under changing conditions.
SUSPENSION: EFFECTIVE ON ALL SURFACES
Optimum suspension setup has always been one of the strong points of the Aprilia design and testing team. The 43 mm upside down fork features shell-cast bottom outers with radial calipers mountings, and offers adjustments for spring preload and rebound damping. This sophisticated fork offers a superb sliding action and a wheel travel of 160 mm in line with the latest trends in supermotard racing. Both yokes are forged, and the top yoke is also anodised to match the Dorsoduro's high level of finish.
The laterally offset monoshock pivots directly on the swingarm in a cantilever configuration, and is also adjustable in spring preload and rebound damping. Rear wheel travel is 160 mm, again in keeping the requirements of a top level supermotard, on which effective, controlled long stroke suspension is a must.
BRAKES: RACING TECHNOLOGY
The Aprilia Dorsoduro 750 is equipped with the best braking technology currently available. The front brakes feature 4-piston radial calipers, state-of-the-art for the motard market. The lightweight, 320 mm wave discs ensure shorter than ever stopping distances. The bike's aggressive stopping power is emphasised by the mean look of the braking system, in keeping with the Dorsoduro's overall styling.
The rear brakes incorporate another wave disc, 240 mm in diameter this time, plus a single piston caliper. Both the front and rear brakes are fitted with aeronautical type metal braided brake lines to eliminate the sponginess associated with conventional rubber hoses and to deliver maximum braking precision.
A sophisticated two channel Continental ABS system provides maximum active safety on the Dorsoduro 750 ABS. The ABS controller is specially calibrated to make full use of the Dorsoduro's impressive braking power and tyre grip on dry surfaces. Riders can therefore still enjoy this amazing "fun bike" to the full.
COMPONENTS
Supermotards are always no-frills machines, and sometimes quite spartan. This, however, does not mean having to do without top quality components and attention to detail. Here too Aprilia stands apart from the competition by adopting a level of equipment worthy of a true market leader:
" Matrix instrumentation. The mixed analog/digital instrument cluster receives data over a CAN line and incorporates a memory that forms an integral part of the diagnostics system. The ultra-compact instruments feature a modern design and are extremely light in weight. All functions can be accessed and controlled from the handlebars. The LED backlighting is white in the analog area and red in the digital area, and can be adjusted to three levels of brightness;
" Dual taper anodised aluminium handlebars exactly like those fitted to Aprilia's racing supermotards. This super-lightweight component is specially designed for optimum dynamic control;
" Hydraulically operated clutch for a consistently precise action and exceptional smoothness. The clutch is also self-adjusting and completely maintenance free.

2009 Aprilia Dorsoduro 750 ABS – Press Release Specifications

Engine
Aprilia V90 four stroke longitudinal 90° V twin. Liquid cooling. Double overhead camshaft with mixed gear/chain drive; four valves per cylinder.
Fuel Unleaded petrol.
Bore x stroke 92 x 56.4 mm.
Total displacement 749.9 cc.
Compression ratio 11 : 1.
Maximum power at the crank 67.3 kW (92 HP) at 8750 rpm.
Maximum torque at the crank 8.4 kgm (82 Nm) at 4500 rpm.
Fuel system Integrated engine management system. Electronic fuel injection with ride-by-wire electronic throttle control.

Ignition Digital electronic, integrated in the fuel injection system.
Starting Electric.
Exhaust Two in one system in 100% stainless steel with three-way catalytic converter and Lambda probe.
Alternator 450 W at 6000 rpm.
Lubrication Wet sump.

Gearbox Six speed.
Transmission ratios:
1st 14/36 (2.57)
2nd 17/32 (1.88)
3rd 20/30 (1.5)
4th 22/28 (1.27)
5th 23/26 (1.13)
6th 24/25 (1.04)
Clutch Hydraulically operated multi-plate wet clutch.
Primary drive Spur gears. Transmission ratio 38/71 (1.87).
Final drive Chain. Transmission ratio 16/46.

Frame
Modular steel trellis secured to aluminium side plates by high strength bolts. Detachable rear frame.
Front suspension 43 mm upside-down fork. 160 mm wheel travel.
Rear suspension Aluminium alloy swingarm.
Hydraulic shock absorber adjustable in spring preload and rebound damping. Wheel travel: 160 mm.

Brakes
Front: Double stainless steel floating disc (Ø 320 mm). Four-piston radial calipers.
Metal braided brake line.
Rear: Stainless steel disc ( 240 mm) with single piston caliper. Metal braided brake line.
2-channel Continental ABS system (ABS version)

Wheels Aluminium alloy.
Front: 3.50 x 17″.
Rear: 6.00 x 17″.
Tyres Radial tubeless.
Front: 120/70 ZR 17.
Rear: 180/55 ZR 17.

Dimensions
Overall length: 2,216 mm
Overall width: 905 mm (at handlebars)
Overall height: 1,185 mm (at instruments)
Seat height: 870 mm
Wheelbase: 1,505 mm
Trail: 108 mm
Rake angle: 26°
Weight: 186 kg
Tank capacity 12 litres (autonomy > 200 km)



2009 Aprilia Dorsoduro 750 ABS – USA Specifications
MSRP: $TBD USD


TBA


2009 Aprilia Dorsoduro 750 ABS – Canada Specifications
MSRP $TBD CDN
TBA
2009 Aprilia Dorsoduro 750 ABS – UK Specifications
MSRP: £TBD
TBA