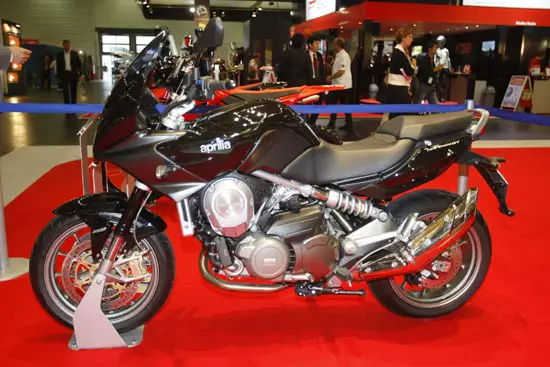 You are here: Home — 2009 Models — 2009 Aprilia Motorcycle Models
2009 Aprilia Mana 850 GT
Back to 2009 Aprilia Motorcycle Index Page
Click photos to enlarge.
They make great desktop images.
– 2009 Aprilia Mana 850 GT

2009 Aprilia Mana 850 GT
VERSATILE AND MULTIFORM, THE APRILIA MANA 850 GT IS THE MOST COMPLETE MOTORCYCLE ON THE MARKET. COMFORTABLE, INTELLIGENT, INNOVATIVE, WITH A UNIQUE ON-THE-ROAD FEEL THANKS TO THE SPORTGEAR TRANSMISSION, IT OFFERS ALL OF THE ADVANTAGES OF MANA, WITH AN EXTENDED RANGE OF USE.
APRILIA MANA 850 GT
A completely new approach to motorcycling, a new way to ride a bike. This is the Mana 850, the bike that has taken the world by storm, the result of Aprilia's futuristic technological competence and our courage to believe in innovation. Sequential/automatic transmission, radial brake calipers, helmet compartment, upside down forks. The Aprilia Mana combines the best of the biking world, also that of the sports bike, with a matchless functional character. A real one-of-a-kind in the motorcycling world, which couldn't remain the only one of its kind for long. Aprilia is proud to announce the launch of the Mana 850 GT, a bike that increases the range of use of the versatile Aprilia Mana.
The Mana 850 GT follows the evolution of a market which becomes more and more demanding by the minute, with new requirements in terms of mobility dictating the need for means of transport able to meet these requirements, and also make daily use and long trips as pleasurable as possible.
The Mana 850 GT is designed to do just this: with an elegant half-fairing perfectly integrated in the lines of the bike to protect the rider and passenger on long journeys making the bike ideal for tourism. The adjustable windshield lets you adjust the level of protection to suit your own particular needs.
Let's look at the features of the Aprilia Mana 850 GT in greater detail:
" half-fairing with adjustable windshield;
" 90° V twin engine with four valves per cylinder, Euro 3 homologated;
" sportgear transmission: electronically controlled sequential gearshift offering two shift modes: seven speed manual or Autodrive with three mappings: Touring, Sport, and Rain;
" storage compartment with non-scratch lining, large enough for a full-face helmet, with mobile phone holder, toolkit & document holder, and 12V power socket ;
" under-seat fuel tank;
" brakes with radial calipers;
" 43 mm upside down fork;
" offset monoshock with spring preload and rebound adjustments;
" steel trellis frame with single piece aluminium swingarm;
" electronic fuel injection with single throttle body;
" latest generation two channel ABS system.
Thanks to these characteristics, the Mana 850 GT is the most functional and complete bike on the market.
The half-fairing, in fact, makes the Mana 850 GT unique, and lets you get the very best out of the dynamic qualities of the V2 850 engine with Sportgear transmission. A two-cylinder engine producing 76 HP with a very flat torque curve giving you excellent performance both in acceleration and at speed, the perfect match for the on-the-road tourism soul of the Mana 850 GT.
A bike that offers infinite possibilities, at the press of a button on the handlebars the rider can change from the sequential mode (seven gears controlled from the handlebars or using the gear change pedal) to autodrive mode. In this way, the Mana 850 GT adapts perfectly to any type of route and riding style of the owner, whether this is relaxed cruising or high-performance road racing. What's more the Rain mapping, with an extremely smooth power delivery, provides excellent assistance on wet and slippery roads.
The Mana 850 GT has the same technical base as the Mana as well as the practical lit helmet compartment in place of the traditional fuel tank. This solution is possible thanks to the under-seat fuel tank which, as well as lowering the centre of gravity, improving the handling, offers a spacious compartment where a traditional fuel tank normally goes. Only the Mana comes with this sort of storage capacity.
The sophisticated chassis of the Aprilia Mana 850 GT makes the handling safe and relaxing on any road surface. The robust steel tube trellis frame has a single piece aluminium swingarm damped directly by a monoshock, which can be adjusted both in preload and extension. The spring preload on the Mana 850 GT can be adjusted with an external knob, perfect for precise quick-and-easy adjustments to adapt to your own particular riding style and bike's load.
The 43 mm upside down fork has a superb sliding action and the suspension setup is optimized for the new weight distribution, ideal also for sports handling. A wheel travel of 120 mm lets you tackle any type of road without worries.
The most versatile bike on the market with the most complete range of technical equipment.
But above all, the Mana 850 GT comes with a complete safety system:
– high-performance brakes with 320 mm front discs and radial calipers, the only setup of its kind in this category;
– 2-channel Continental ABS system of the latest generation (standard) to increase braking safety on difficult road surfaces, and avoid locking up the brakes while also improving braking performance. In fact, on the Mana 850 GT ABS riders can use all the bike's generous braking power in perfect safety, also on slippery roads both on the straight or in a curve;
– Autodrive transmission for No-stress riding even in the rush hour;
– an agile bike quick to get away from the lights, responsive and fast to get you out of any kind of emergency;
– Rain mapping to help avoid wheel spins on wet roads

2009 Aprilia Mana 850 GT – Press Release Specifications

Engine
Aprilia 90° longitudinal V twin four stroke. Liquid cooled. Single overhead cam with chain drive, four valves per cylinder.
Fuel Unleaded petrol.
Bore x stroke 88 x 69 mm
Total displacement 839,3 cc
Compression ratio 10:1
Maximum power at crank 56 kW (76.1 HP) at 8,000 rpm.
Maximum torque at crank 7.45 kgm (73 Nm) at 5,000 rpm.
Fuel system Integrated engine management system. Weber Marelli electronic fuel injection with one 38 mm throttle body.

Ignition
Digital electronic ignition, with two spark plugs per cylinder, integrated with fuel injection system.
Starting Electric.

Exhaust Two in one system in 100% stainless steel with three-way catalytic converter and Lambda probe.
Generator 450 W at 6000 rpm.
Lubrication Dry sump with separate oil reservoir.

Gearbox
Sequential with manual or automatic mode selectable by the user.
7 ratios in manual mode.
3 mappings (Touring, Sport, Rain) in Autodrive mode.
Gear change by pedal or handlebar control.
The user can switch from automatic to sequential mode at any moment.
Clutch Automatic.
Primary drive Belt.
Final drive Chain.

Frame
High strength steel trellis.
Front suspension 43 mm upside-down fork. Wheel travel: 120 mm.
Rear suspension Aluminium alloy single-piece swingarm.
Hydraulic shock absorber adjustable in spring preload and rebound damping. Wheel travel 125 mm.
Brakes Front: double stainless steel floating disc ( 320 mm). Radial calipers with four pistons.
Rear: stainless steel disc ( 260 mm). Single piston caliper.
2-channel Continental ABS system

Wheels
Aluminium alloy.
Front: 3.50 x 17″.
Rear: 6.00 x 17″.
Tyres Radial tubeless.
Front: 120/70 ZR 17.
Rear: 180/55 ZR 17.

Dimensions
Overall length: 2080 mm
Overall width: 800 mm (at handlebars)
Overal height 1,270 mm (1,320 mm at rear-view mirrors)
Seat height: 800 mm
Wheelbase: 1,463 mm
Trail: 103 mm
Rake angle: 24°
Tank capacity 16 litres.


2009 Aprilia Mana 850 GT – USA Specifications
MSRP: $TBD USD

TBA


2009 Aprilia Mana 850 GT – Canada Specifications
MSRP $TBD CDN
TBA
2009 Aprilia Mana 850 GT – UK Specifications
MSRP: £TBD
TBA