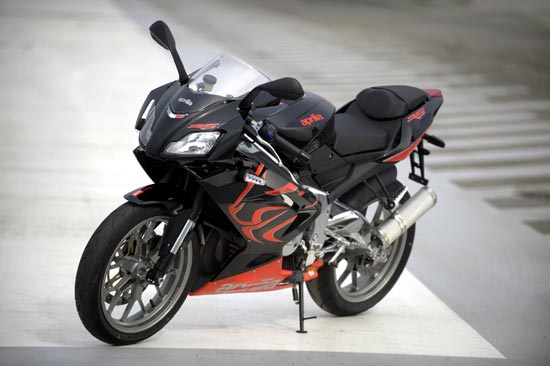 You are here: Home — 2009 Models — 2009 Aprilia Motorcycle Models
2009 Aprilia RS125
Back to 2009 Aprilia Motorcycle Index Page
Click photos to enlarge.
They make great desktop images.
– 2009 Aprilia RS125

2009 Aprilia RS125
APRILIA PUTS ENTHUSIASTS ON TRACK WITH NEW RS 125
Lap for lap, dollar for dollar, this GP-bred track bike outclasses larger displacement alternatives. With the debut of Aprilia's track-only RS 125 two-stroke single, outsmarting the big bore boys has just become a sport in itself. The Italian manufacturer's major-thrills track bike with the amazingly low price point is an all-new option for enthusiasts who want the speed, agility and superior handling that only a super-light-weight motorcycle can deliver. Add an Aprilia Racing-inspired, world-championship-bred 125cc engine, superb brakes, spot-on gearing, sizzling Italian styling and the low MSRP of just $5499 and the Aprilia RS 125 becomes the stealth track bike of choice.
As the leading manufacturer in 125cc and 250cc MotoGP competition, Aprilia has perfected the art of engineering championship-winning smaller-displacement race bikes. That expertise, along with Aprilia's characteristically high level of premium components, makes the new RS 125 the best possible value for enthusiasts who take their track time serious – but who don't want to sacrifice fun.
As increasing numbers of motorcycle enthusiasts discover the challenge and thrill of honing riding skills on a closed circuit during a group track day or weekend, today's 600 to 1000cc sport bikes with their huge horsepower and top speed numbers aren't always the best choice. A smaller displacement machine actually helps to create a better, more confident rider because it requires more input and concentration to score good lap times. At the same time, it allows the rider to really push it to the limit while big displacement bikes often don't inspire the same level of confidence.
Engineered for the Ultimate On-Tack Experience
At the heart of the RS 125 is a sophisticated single-cylinder two-stroke, liquid-cooled engine, based on the same race-proven technology that has resulted in a continuous string of competition victories for Aprilia Racing. Able to reach triple digit speeds, the powerplant is packed with technical advancements including a crankcase reed valve intake, anti-vibration balancer shaft and an automatic fuel-oil mixing system. A robust 6-speed transmission delivers the power to the rear wheel with ratios designed to suit a variety of race track configurations.
The RS 125 is fitted with high-performance, race-style, upside-down front forks and a hydraulic rear monoshock mounted in a rising rate linkage, designed to work in concert to deliver the highest degree of race track compliance.
Torsional rigidity is excellent, again thanks to the bike's development on the world's toughest race tracks. The RS 125's lightweight polished cast aluminium twin spar frame is reinforced with cross ribbing for additional strength while the advanced chassis is mated to a box section, aluminium alloy swingarm.
Styled after its championship-winning GP racing siblings, the RS 125 features a distinctive fairing and tail section that has been wind tunnel tested to deliver minimum drag. Riders benefit from improved top speed when tucked in behind the windscreen on long straights. The sleekly aerodynamic bodywork signals that the RS 125 would rather be in motion than standing still.
Fully Loaded for Action
Like all Aprilias, the RS 125 is chock-full of premium components, selected for their quality and competition integrity. Standard equipment includes distinctive, aluminium alloy wheels, radial mount brake calliper, and rear-set style racing footpegs. The track only bike is available with racing livery looks of the 2006 and 2007 world championship 250 Moto GP bike, the exclusive Replica Spain's N.1.
A Winner for Beginners and a Thriller for Experts
The Aprilia RS 125 is an ideal learning platform for new and beginning riders, as well as a solid base for experienced enthusiasts. Whether an aspiring GP star, club racer or weekend warrior, the RS 125 delivers a thoroughly rewarding experience lap after lap, simply because it allows riders to focus on improving their riding skills. Best of all, maximum grins on the track have never been so cost-efficient.
RS 125, THE CHAMPION-MAKER

The RS 125 is the undisputed leader among 125 cc supersports. Aprilia has always led the field in lightweight sports bikes, pioneering new concepts and advanced solutions, and developing technology that others have had to struggle to follow. Like all Aprilia sports motorcycles, the RS 125 has benefited from the sophisticated technology that has been developed over years of success in GP racing, and quickly transferred into production. Over the years, the RS 125 has forged a reputation as the standard setter for sports 125's. Sales success has come naturally too, with the RS 125 topping the sales tables on all European markets. The RS 125 is the inevitable choice of riders entering Sport Production racing. And rightly so, because when the competition gets tough, there is simply no other bike like the Aprilia RS 125.
The 2007 Aprilia RS 125 is designed and built for technical supremacy and has the looks to match. Its graphics are totally new and based entirely on those of the bike that dominated the 2006 250 GP world championship.
The Aprilia RS 125 gives young riders the best the market has to offer in terms of components and equipment, with a concentration of technical refinements that are not found on many superbikes.
The following are just some of the main features of the MY 2007 Aprilia RS 125.
· Tried and tested yet extremely sophisticated Rotax two stroke engine.
· Super-rigid aluminium frame and swingarm derived from Aprilia's vast GP experience.
· Upside down fork.
· Front brake with radial caliper and four opposed pistons.
· RSV 1000 R style fairing, windshield and tail.
· RSV Factory style, crossed spoke wheels.
· Analog/digital instrument panel with multi-functional computer.
· RSV Factory style, forged steering yoke.
· Oval section racing silencer with riveted end plates.
STYLE
The mean, cutting edge look of the new RS 125 tells you that this is a professional racing machine. The styling of the RS is based on that of the RSV 1000 R and, as with all Aprilia sports bikes, is the result of painstaking aerodynamic research. The fairing, for example, was perfected by extensive wind tunnel testing, to guarantee GP class wind protection and minimum drag for maximum racetrack efficiency. The fairing, windshield and tail not only look mean and aggressive, but allow the RS 125 to reach a blistering top speed, eliminating all turbulence around the rider. Man and machine really can become one when the machine in question is an Aprilia RS 125.
The latest generation twin halogen headlight also adds to the mean look of the new RS 125, and delivers a high power light beam for enhanced visibility and safety at night.
The sleek tail looks exactly like the tail of a GP racer. Thanks to the effort put into the design of the RS 125's tail, not even the passenger seat disturbs the bike's impeccable lines.
The crossed spoke wheels are not only lighter and more stylish, but safer and more reliable too.
ENGINE
The powerful but reliable, single cylinder, two stroke, Rotax-Aprilia engine needs no introduction. Over the years it has won a reputation for being unbeatable on the track and dependable on the road. Still today, this engine boasts technical solutions that are state-of-the-art for two strokes, including a crankcase reed valve intake, liquid cooling, an anti-vibration balancer shaft, and an automatic mixing system. The RS 125's engine has been constantly updated over the years to keep in line with the latest emission control legislation without penalising performance. A catalytic converter and precision carburation has won Aprilia's single cylinder two stroke homologation to Euro 3 standards. And the amazing thing is that this has been achieved without losing out on performance: the Aprilia RS 125 engine remains the reference point for all 125 cc powerplants.
CHASSIS
Without a doubt, the most advanced single component on the RS 125 is its frame. Developed from Aprilia's vast experience in GP 125 racing, the RS 125 frame is made from cast aluminium alloy with cross-ribbing reinforcement. Despite its extremely light weight, this advanced structure achieves amazing torsional rigidity, setting the standards for Aprilia's competitors.
The box section, aluminium alloy swingarm has the highest torsional rigidity of all production 125 cc swingarms. Differential side members enable the exhaust to follow a path that maximises engine performance and enables more acute angles of lean to be achieved on bends without risking dangerous contact with the asphalt.
The suspension too plays a fundamental role in ensuring not only the RS 125's performance, but its safety and comfort too. The 2007 RS 125 can rely on an upside-down fork that has been optimised for maximum performance on the racetrack while also delivering a more satisfying ride on public roads.
The rear suspension features rising rate linkages based on Aprilia's 125 GP racing technology, for excellent traction and superb comfort even over uneven road surfaces. The hydraulic monoshock that provides the damping for the swingarm is also adjustable in spring preload.
BRAKES
Like any self-respecting supersport motorcycle, the RS 125 has to have the best when it comes to components. The braking system is brand new, and designed for maximum efficiency under competitive riding conditions. The front brake is a genuine state-of-the-art, high performance system with a radial caliper and four opposed pistons. In addition to the 320 mm front disc, the system also incorporates a radial master cylinder and aeronautical hoses for maximum precision and unrivalled braking power. The rear disc is 220 mm in diameter and is also equipped with metal braided hoses for perfectly balanced, high performance braking.
EQUIPMENT
The world's top racing 125 obviously deserves top quality equipment. In addition to a high-tech chassis, the Aprilia RS 125 benefits from the most prestigious components available. The compact and lightweight, latest generation instruments are derived from those of the RSV 1000 R and include an analog rev counter and a multifunctional digital display incorporating an on-board computer that can be operated directly from the handlebars. To keep everything under control, the instrumentation includes a speedometer, rev counter, coolant temperature gauge and a racing chronometer. The system even has provision for interfacing with the optical finishing line devices found at many racetracks.
COLOUR SCHEMES
The latest colour schemes have been chosen to enhance the Aprilia RS 125's aggressive styling. The classical Aprilia Black and Aprilia White colour schemes have been joined for 2007 by an exclusive Spain's N.1.
POWER KIT
A power kit, designed exclusively for racetrack use, is also available as an optional accessory to achieve the full potential of this amazing two-stroke engine.
The kit includes:
· racing expansion chamber exhaust
· complete racing exhaust valve
· control unit and solenoid for racing exhaust valve
· needle, main jet and atomiser for full power carburation
· racing spark plug
RS 125: STAR OF THE JUNIOR GP RACING DREAM
Aprilia has always been intent on helping young riders develop their skills. In the past, this involvement led to the RS 125 Challenge, one of the most prestigious single marque trophies, and the competition in which most of the Italian riders now competing at world championship level learned their trade.
In 2007 Aprilia will again be taking the lead in promoting motorcycling among the younger generation of riders. Aprilia is organising a prestigious new competition to give youngsters the chance to show their true colours with a minimum of expenditure. The protagonist, of course, will be the Aprilia RS 125, specially prepared for track use, the perfect machine for developing the talents of tomorrow's champions.
Junior GP Racing Dream is an initiative of Aprilia in conjunction with FMI (the Italian Motorcycling Federation), and weekly motor sports magazine Motosprint. The competition's primary objective is to select a number of promising young riders and offer them the chance to enter the world of GP racing. Aprilia's aim is clear: to keep alive the great racing tradition that has led to Italian riders dominating the world GP scene.
The competition is dedicated to boys and girls between the ages of 13 and 16 who dream of a career in motorcycle racing and who accept to take part in the selection process that leads up to the competition.
Main stages of the competition:
– Initial selection for the 2007 season will begin in September, and will be free of charge for all those who enter by filling in the application form published in Motosprint.
– The single marque challenge trophy will be held in 2007, using "Junior GP" version Aprilia RS 125s. Participation will be restricted to the 30 riders picked during initial selection.
– The winner of the single marque trophy will be entered free of charge in the 2008 Italian GP Championship as a member of a team racing Aprilia 125 GPs.
The basic requirements for the Junior GP Racing Dream competition are as follows:
– The competition is open to boys and girls born in the years 1994, 1993, 1992, and 1991.
– The 2007 single marque challenge will be spread over 5 races.
– A junior GP class FMI licence is required to participate in the 2007 challenge.
– Selected riders will be issued with an FMI licence free of charge.
– The entry fee for the Junior GP is € 6,000.
For this fee, selected riders will receive:
– An Aprilia 125 RS "Junior GP" for use in official trials, the warm-up, and the race itself. The bike will be supplied by Aprilia before the race and must be returned to Aprilia after the race.
Lots will be drawn before each race to determine the allocation of individual motorcycles to individual riders.
– Race preparation and assistance.
– Transport of the motorcycle to and from the circuit.
– Spare parts, tyres, fuel and oil.
– Leathers, helmet, gloves, and boots (participants must wear the protective clothing provided by the organisers).
At the end of the season, all material in use at the time (including the motorcycle used for the last race), will become the property of the rider.
The RS 125 can now be ordered at select U.S. Aprilia dealerships.
2009 Aprilia RS125 – USA Specifications
MSRP: $5,499* USD

Engine: Liquid cooled, single cylinder two stroke. Aluminium cylinder with Nikasil coated liner. Read valve intake. Separate lubrication. 32.5 hp.
Fuel: Dell'Orto VHST 28
Bore x Stroke: 54 x 54,5 mm
Total displacement: 124,8 cc
Compression ratio: 12,5 ± 0,5:1
Fuel system: Dell'Orto VHST 28.
Ignition: Electronic CDI ignition.
Starting: Electric
Generator: 12V – 180 W
Lubrication: Separate mixing with variable displacement, volumetric pump.
Gear box: 6 speed. 1st 10/30 (0.33) 2nd 14/29 (0.48) 3rd 17/27 (0.63) 4th 19/25 (0.76) 5th 21/24 (0.87) 6th 22/23 (0.67)
Clutch: Multi-plate in oil bath.
Primary drive: Gearbox: 63/19 (3.31).
Final drive: Chain: 17/40 (2.35).
Frame: Sloping twin-spar frame in thin wall box section cast aluminium, with reinforcement cross-ribbing.
Front suspension: Upside down hydraulic fork, Ø 40 mm. Wheel travel 120 mm.
Rear suspension: Swingarm with asymmetric members in thin wall box section cast aluminium. Hydraulic monoshock with adjustable spring preload. Wheel travel 120 mm.
Brakes: Front: Floating Ø 320 mm disc. Radial caliper with four differential diameter pistons, Ø 32 mm – Ø 27 mm. Rear: Single Ø 220 mm disc. Caliper with two Ø 30 mm pistons.
Wheels: Aluminium alloy. Front 3.00 x 17"; rear 4,00 x 17".
Tyres: Tubeless radial. Front 110/70 17"; rear 150/60 17".
Dimensions: Overall length 76.9 inches. Overall width (at handlebars) 28.3 inches. Overall height (at windshield) 43.3 inches. Seat height 31.6 inches. Wheelbase 52.9 inches.
Dry Weight: 280lbs.
Fuel tank capacity: 3.7 gallons (.92 gallon reserve).

2009 Aprilia RS125 – Canada Specifications
MSRP $0 CDN
Model not available in Canada
2009 Aprilia RS125 – UK Specifications
MSRP: £TBD
Engine: Liquid cooled, single cylinder two stroke. Aluminium cylinder with Gilnisil coated liner. Read valve intake and exhaust port valve. Separate lubrication. Homologated to Euro 2 standards
Bore by stroke: 54 x 54.5 mm
Displacement: 124.8 cc
Compression ratio: 12.5 ± 0.5:1
Carburettor: Dell'Orto PHBH 28
Ignition: Electronic CDI ignition
Starting: Electric
Alternator: 12 V – 180 W
Lubrication: Separate mixing with variable displacement, volumetric pump
Gearbox: 6 speed
1st 10/30 (0.33)
2nd 14/29 (0.48)
3rd 17/27 (0.63)
4th 19/25 (0.76)
5th 21/24 (0.87)
6th 22/23 (0.67)
Primary drive: Gearbox: 63/19 (3.31)
Final drive: Chain: 40/17 (2.35)
Clutch: Multi-disc in oil bath
Frame: Cast aluminium, reinforced box section, sloping twin-spar frame
Front suspension: Upside down hydraulic fork, Ø 40 mm. Wheel travel 120 mm.
Rear suspension: Cast aluminium box section swingarm with asymmetric members. Hydraulic monoshock with adjustable spring preload. Wheel travel 120 mm.
Brakes:
Front: Floating Ø 320 mm disc. Radial caliper with four different diameter pistons, Ø 32 mm – Ø 27 mm.
Rear: Single Ø 220 mm disc. Caliper with two Ø 30 mm pistons.
Wheels: Aluminium alloy. Front 3.00 x 17"; rear 4,00 x 17"
Tyres: Tubeless radial. Front 110/70 17"; rear 150/60 17".
Dimensions:
Overall length 1955 mm
Overall width (at handlebars) 720 mm
Overall height (at windshield) 1100 mm
Seat height 805 mm
Wheelbase 1345 mm
Tank: 14 litres (3.5 litre reserve)

Colors, specifications and technical data may be subject to change without prior notice.
*All prices shown are MSRP (Manufacturer's Suggested Retail Price).
Freight/destination, tax, license, title, or other dealer charges and optional or regionally required equipment (e.g., helmet) are excluded. Pricing, standard features, specifications and available equipment are those in effect when the page on which the information appears was produced and are subject to change without notice. Some images may reflect European models. Obey local traffic safety laws and always wear a helmet, appropriate eyewear and proper apparel.
PRESS RELEASE:
EUROPE'S TOP SPORTS 125: WORLD CHAMPIONSHIP TECHNOLOGY IN A PRODUCTION MOTORCYCLE.
APRILIA RS 125
Aggressive, decisive, and with plenty of character to express its dynamic, lightweight nature in a personal, unique style that typifies Italian passion for motorcycle racing. For years the RS 125 has been unbeaten on the 125 Sport Production racing circuit.

The RS 125 comes in two versions, GP-One Replica and SBK Replica, both destined to reinforce the market leadership of the RS 125, Europe's best selling road sports bike.

The Aprilia RS 125 brings the under 18 rider the best the European motorcycle market has to offer in terms of equipment and technology.

The sporty lines of this bike are the result of painstaking design and advanced aerodynamic research. Fruit of extensive wind tunnel testing, the aerodynamic form ensures total protection and minimum air resistance, giving a whole series of advantages including reduced fuel consumption and optimised performance under all conditions.

The aerodynamic fairing and windshield, with integrated hand guards to eliminate all turbulence, allow the rider to really make the most of the incredible speed and performance of this bike. The styling of the front mudguard matches the rest of the bodywork. The RS 125 is proof that perfect aerodynamics mean stability and safety at high speed.

The headlight cluster features a multi-focal double lamp unit and gives the bike an original, eye-catching appearance. Naturally, as well as looking good, the headlight cluster also adds to active safety during night-time riding and guarantees instant visibility in the day.

The tail not only improves aerodynamic penetration but also incorporates a spacious lockable storage compartment to house items like locks and rainproofs.

The passenger seat is integrated in the tail to avoid spoiling the clean, streamlined lines of the bike. The tail is mounted on an extremely lightweight rear frame.

The fuel tank has a capacity of 14 litres, and gives exceptional autonomy. Not only, but its perfect shape allows the rider to hug the bike like a leech.

The five spoke wheels look sporty but are also lightweight, reliable and safe. The competition standard braking system features a 320 mm front disk with a four piston calliper, and a 220 mm diameter rear disk.

The suspensions play a fundamental role in ensuring top level performance, safety and comfort. The Aprilia RS 125 is equipped with a 40 mm Ø upside down hydraulic action telescopic fork, with adjustable spring preload and wheel travel of 120 mm. The front fork is one of the winning cards taken from the Aprilia 125 Challenge Trophy.

The rear suspension's hydraulic monoshock has also been developed on the basis of racing experience and features adjustable preload too.

The aluminium alloy swing-arm gives the RS 125 the best torsional rigidity of all production 125 cc bikes. Differential member design permits the swing-arm to pass close to the bike's body. This permits bends to be tackled at greater angles without the risk of dangerous grounding.

The aluminium alloy perimeter beam frame gives exceptional torsional rigidity and light weight. Its design is the reference point for all our competitors. Here again, the transfer of knowledge and technology from the track to the road is typical of Aprilia's approach to quality, technology and safety.
Extensive wind tunnel testing has led to a globally improved CX for this already aerodynamic motorcycle, and has optimised even further the performance of its 125 cc two stroke engine. This advanced power unit features water cooling, balancing countershaft, exhaust control valve and reed intake for riding pleasure and constant power.

The aluminium silencer complements the bike's styling and is highly efficient in maximising engine power and minimising noise.

RS 125 is equipped with a catalytic exhaust in compliance with EURO 1 specifications.
This sporting Aprilia is available in two versions: the RS 125 for newly licensed riders with power limited to 11 kW and the RS 125 kat Euro 1 full power. A conversion kit can be fitted to the 11 kW version to convert it to full power at a later stage.

The side stand safety system is another extremely important feature. A safety switch prevents the bike being started up and ridden off with the stand down.

The racing style instruments not only look good but are also easy to read. The dashboard includes speedometer, rev counter and coolant temperature gauge to allow the rider to keep all important parameters under control. The speedometer can be removed quickly and easily for track use.

APRILIA RS 125 SPECIFICATIONS
Engine type Single cylinder two-stroke, liquid cooled. Aluminium cylinder with Gilnisil coating on barrel. Reed intake and exhaust port control valve. Separate lubrication.
Bore and stroke 54 x 54.5 mm
Displacement 124.8 cc
Compression ratio 12.5 ± 0.5:1
Carburettor Dell'Orto PHBH 28 BD
Ignition CDI capacitor discharge electronic
Starting Electric starter
Generator 12V – 180 W
Lubrication Separate mixing with variable displacement volumetric pump
Gear box Six speed
Primary drive Gear
Final drive Chain
Clutch
Multiple disk in oil bath
Frame
Cast aluminium sloping twin-spar with thin walled structural shell and cross rib reinforcement
Front suspension Upside-down hydraulic action telescopic fork, 40 mm Ø inners, wheel travel 120 mm
Rear suspension Cast aluminium swing-arm with asymmetrical members, thin walled structural shell, single hydraulic monoshock, adjustable spring preload, wheel travel 120 mm
Brakes Front: floating calliper, disk Ø 320 mm, four parallel pistons, 32 mm diameter
Rear: single disk, Ø 220 mm, twin piston calliper, piston diameter 32 mm
Wheels Five spoke aluminium alloy, front 3.00 x 17″, rear 4.00 x 17″
Tyres Tubeless radials, front. 110/70 ZR 17″, rear 150/60 ZR 17″
Dimensions Maximum length 1,950 mm
Maximum width at handlebars 720 mm
Maximum height at windshield 1,135 mm
Seat height 805 mm
Wheelbase 1,345 mm
Tank capacity 14 litres (3.5 litre reserve)
Colours SBK Replica, GP-1 Replica