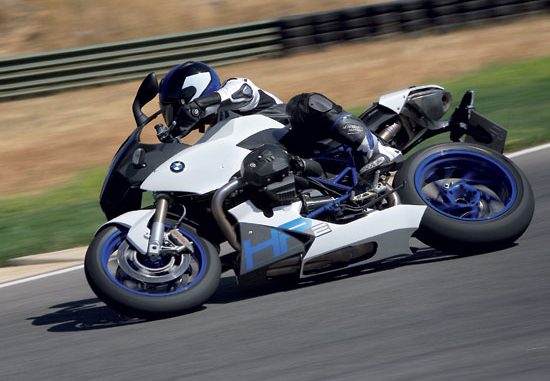 You are here: Home — 2009 Models — 2009 BMW Motorcycle Models
2009 BMW HP2 Sport
Back to 2009 BMW Motorcycle Index Page
Click photos to enlarge.
They make great desktop images.
– 2009 BMW HP2 Sport

2009 BMW HP2 Sport
Based on the R 1200 S Sports Boxer, with a racing pedigree that has been honed on circuits around
the world, the new HP2 Sport is the most powerful, lightest and advanced Boxer-twin yet, and the
first production Double Overhead Camshaft (DOHC) Boxer in BMW history.

Achieving130hp at 8750rpm and 85 ft-lb of torque at 6000rpm, the engine is truly formidable. With
a dry weight of just 178kg, the bike's power to weight ratio guarantees impressive performance.

The HP2 Sport has been designed with racing components originally developed for its extensive racing program:
· The frame, derived from the R1200S, has been adapted and strengthened to racing
standards.
· The six-speed close-ratio gearbox is equipped with a quickshifter, enabling split-second
clutchless gear changes without easing off the throttle – the first production motorcycle to
be so equipped.
· A lightweight carbon fibre fairing, including a self-supporting seat unit.
· MotoGP-style dashboard
· Forged aluminum wheels
· Brembo brakes with radially mounted calipers
· Specially developed Öhlins front and rear suspension units.
· Stainless-steel two-into-one exhaust system mounted under the sump to optimize lean
angles
· Fully adjustable footrests, brake and gear levers
In essence, the HP2 Sport is "track-ready" but fully compatible with street riding. Although racing
potential is clearly at the forefront of the design of the HP2 Sport, this does not mean forgoing
safety design features such as ABS. Available as an option, this sophisticated anti-lock system has
been designed specifically for the model, and has been configured to be switched off for track use.
Its racing pedigree has already been established in Canada with the BMW Motorrad Racing Team,
featuring factory riders Michael Ferreira and Paul Glenn, having debuted the HP2 Sport race bike at
the Canadian Thunder Series of the 2008 Parts Canada Superbike Championship.

An uncompromising riding machine for those with supersports intentions, the 2009 HP2 Sport will
be an irresistible choices for the hard-core performance rider
BMW HP2 Sport

Outstanding race results are inexorably linked with BMW Motorrad's flat twin "Boxer" models. So it is an obvious step to build a high-end version! The result is the BMW HP2 Sport: the uncompromising realisation of the 24-Hour Endurance racer as a road machine. 100 per cent motor racing genes, licensed for the road. An exclusive sports machine by BMW Motorrad for motor racing connoisseurs and 2-cylinder enthusiasts which puts racing expertise into serial production – with power and authenticity. With an incredible air/oil-cooled 133 bhp and 115 Nm – a unique performance for a serial production "Boxer"!
BMW HP2 Sport – uncompromisingly athletic.

For ambitious sports riders, the BMW HP2 Sport is the non plus ultra: consistent lightweight construction, excusive details and top-class materials give it truly unique quality. The self-supporting front and rear sections in carbon, even lighter forged wheels and filigree components reduce the dry weight to an impressive 178 kg. Exclusive motor racing features to be found in serial production for the first time such as the shift assistant which allows shifting without accelerator release and clutch disengagement, and the DOHC cylinder head with its four radially arranged valves. A maximum engine speed of 9500 rpm provides pure Grand Prix feeling! Speed fans can enjoy complete banking freedom since the aerodynamic high-quality steel exhaust system has been moved under the engine and seat and ends in an attractive rear silencer in the single-section rear. The large-volume silencer provides an inimitable "Boxer" sound – an acoustic thrill for racers. The 2D GP dashboard derived from Moto-GP racing provides all information to the cockpit. The chassis, ergonomics and vehicle geometry are individually adjustable, guaranteeing excellent handling. This orientation to the rider's personality is highlighted by the use of carbon: due the consistency of this material the trim is made almost entirely by hand, making every BMW HP2 Sport a unique specimen.
In short: the refinement of the BMW HP2 Sport combines impressively high riding performance and exclusive visual appearance to provide maximum riding pleasure as you have never experienced it on a flat twin "Boxer" before!
Throttle up. Blast off.

With a staggering 130 horsepower, the HP 2 Sport features the most powerful Boxer engine ever designed by BMW Motorrad. For the first time ever, double overhead camshafts are included in our famous opposed twin cylinder motor, kicking out even more revs. Making the HP2 Sport even more track-ready is new Quickshifter technology, which means faster gear changes without having to chop the throttle or use the clutch. Add a fully adjustable Ohlins sport front and rear suspension, Radial mounted Brembo Monobloc brakes, a lightweight carbon fiber aerodynamic fairing, not to mention forged racing wheels and tires and a MotoGP-inspired cockpit that computes lap times and other racing data, and the result is one of the most advanced sport bikes to ever scorch the tarmac.
2009 BMW HP2 Sport – USA Specifications
USA MSRP: $25,375 USD
Canada MSRP: $26,640.00 CDN
Engine
Type Air and oil cooled Boxer Twin
Displacement 1170 cc
Bore X Stroke 101mm x 73mm
Horsepower 130 bhp @ 8750 rpm
Torque 85 lb/ft @ 6000 rpm
Valve Gear DOHC chain driven
No of cylinders N/A
Compression Ratio 12.5 : 1
Engine Management BMW Engine Controller – BMS K
Valves per Cylinder Four
Valves 2 x 39mm intake / 2 x 33mm exhaust
Fuel Tank HDPE, internal pump and internal filter
Alternator W 480 Watts @ 12 Volts
Battery V/AH 12 Volts 12 Amps/hour
Engine Summary First DOHC parallel twin boxer

Drivetrain
Clutch 180mm dry, single plate with hydraulic actuation
Gear Box 6 speed gear box
Primary Transmission 1.734
Gear Ratios I: 2.176
II: 1.625
III: 1.296
IV: 1.065
V: 0.939
VI: 0.848

Final Drive System Enclosed driveshaft with universal joints
Final Drive Ratio 2.75

Frame & Suspension
Frame Tubular steel trellis frame with carbon rear subframe
Front wheel suspension BMW Telelever
Rear wheel suspension BMW Paralever
Spring Travel front/rear 4.1 inches / 4.7 inches
Ground Clearance N/A
Handlebar center point angle N/A

Brakes
Brake System Brembo
Front Brakes Radial mounted Brembo Monobloc
Front Rotor 12.6 inch Dual Rotors
Rear Brakes Brembo double sliding piston
Rear Rotor 10.4 inch single Rotor
Actuation Hydraulic, DOT 4 fluid type

Wheels & Tires
Front Wheel 3.5 x 17 forged aluminum wheel
Rear Wheel 6.0 x 17 forged aluminum wheel
Front Tire 120/70-17
Rear Tire 190/55-17

Dimensions
Overall Length 84.1 inches
Overall Width 29.5 inches
Wheelbase 58.5 inches
Seat height 32.7 inches
Weight – Dry 392 lbs.
Max permissible weight 726 lbs.
Fuel Capacity 4.2 gallons
Standard Equipment
Available Equipment
ABS (Disconnectable) $1000


2009 BMW HP2 Sport – Canada Specifications
MSRP: $26,640.00 CDN

See specifications above
2009 BMW HP2 Sport – UK Specifications

Engine

Type Air/oil-cooled 2-cylinder 4-stroke flat twin ('Boxer'), two camshafts, four valves per cylinder in radial arrangement, central balancer shaft

Bore x stroke 101 mm x 73 mm

Capacity 1,170 cc

Rated output over 98 kW (133 bhp) at 8,750 rpm

Max. torque 115 Nm at 6,000 rpm

Compression ratio 12.5 : 1

Mixture control / engine management Electronic intake pipe injection / BMS-K digital engine management with overrun fuel cut-off, single-spark ignition

Emission control Closed-loop 3-way catalytic converter, emission standard EU-3


Performance / fuel consumption

Maximum speed over 200 km/h

Fuel consumption per 100 km at constant 90 km/h tbd

Fuel consumption per 100 km at constant 120 km/h dbd

Fuel type Unleaded premium, octane number 98 (RON); automatic knock control permits operation with minimum octane number 95 (RON)


Electrical system

Alternator Three-phase alternator 480 W

Battery 12 V / 12 Ah, maintenance-free


Power transmission

Clutch Single dry plate clutch, hydraulically operated

Gearbox Constant mesh 6-speed gearbox with helical gear teeth

Drive Shaft drive


Chassis / brakes

Frame Tubular steel space frame, front and rear made of self-supporting carbon

Front wheel location / suspension Telelever, spring pre-load continuously variable, compression damping, rebound damping and vehicle height adjustable

Rear wheel location / suspension EVO Paralever, Öhlins central spring strut, spring pre-load continuously adjustable, rebound and compression damping adjustable, vehicle height adjustable

Suspension travel front / rear 105 mm / 120 mm

Wheelbase 1,485 mm

Castor 86 mm

Steering head angle 66 °

Wheels Milled cast aluminium wheels

Rim, front 3.50 x 17″

Rim, rear 6 x 17″

Tyres, front 120/70 ZR 17

Tyres, rear 190/55 ZR 17

Brake, front Dual disc brake, floating brake discs, 320 mm diameter, Brembo monobloc 4-piston caliper

Brake, rear Single disc brake, diameter 265 mm, double-piston floating caliper

ABS BMW Motorrad ABS as optional extra, deactivation function, with brake pressure detection

Dimensions / weights

Length 2,135 mm

Width (incl. mirrors) 750 mm

Height (excl. mirrors) 1,163 mm

Seat height, unladen weight 830 mm

Inner leg curve, unladen weight 1810 mm

Unladen weight, road ready, fully fuelled 1) 199 kg

Dry weight 2) 178 kg

Permitted total weight 330 kg

Payload (with standard equipment) 131 kg

Usable tank volume 16 litres

Reserve approx. 3 litres


1) According to guideline 93/93/EWG with all fluids, fuelled with at least 90% of usable tank volume
2) Unladen weight without fluids