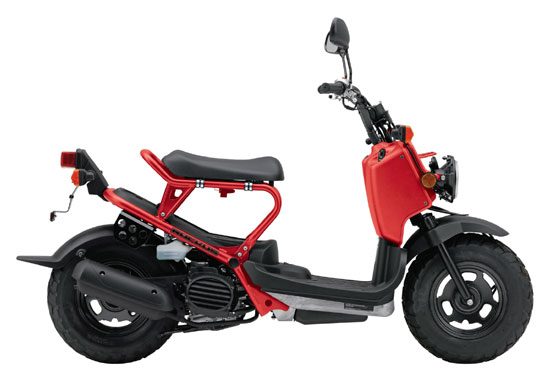 You are here: Home — 2009 Models — 2009 Honda Motorcycle Models
2009 Honda Ruckus NPS50
Back to 2009 Honda Motorcycle Index Page
Click photos to enlarge.
They make great desktop images.
– 2009 Honda Ruckus NPS50

2009 Honda Ruckus NPS50
What the Metropolitan does for stylish chic, the Ruckus does for urban attitude. Utilitarian bare-boned, stripped-down badness, to be more precise. Check out its tubular industrial steel frame, oversized twin headlights, and beefy tires. Fire up its feisty 49cc engine. Add cool graphics and even cooler colors, including the all-new Red and Matte Gray Metallic. And what you see is two-wheeled proof that 'tude and style can co-exist.
What could be cooler than an economical scooter? How about one with an extra dose of attitude. Call it the Ruckus®, Honda's bare-knuckle scooter that sets a new standard for cool.

Features & Benefits
New for 2009
New colors include Red and Matte Gray Metallic.

Engine/Drivetrain

– Lightweight 49cc four-stroke OHC liquid-cooled single-cylinder engine provides ample power for in-town riding.

– Fuel-sipping constant-velocity (CV) carburetor with automatic choke.

– Maintenance-free ignition system.

– Starter system utilizes the engine's brushless alternator (ACG) for starting, eliminating the need for a separate starter motor. This simple design requires no maintenance and further reduces overall weight for even better fuel economy.

– Electronic Control Unit (ECU) provides control for ignition timing, alternator regulator, ACG starter, electric fuel pump and automatic choke.

– Lightweight, maintenance-free, magnetically driven water pump eliminates the need for mechanical seals.

– Compact, engine-mounted radiator has aluminum fins for optimal cooling in all riding conditions.

– Electromagnetic fuel pump is located adjacent to the fuel tank under the floorboard of the Ruckus.

– Ultra-quiet exhaust system.

– Automatic Honda V-Matic belt-drive transmission provides spirited acceleration and smooth operation.

Chassis/Suspension

– Two-piece, die-cast aluminum front frame with upper steel rear frame.

– Twin-downtube-fork front suspension provides 2.2 inches of plush travel for a well-controlled ride.

– Single-side aluminum swingarm with single-shock rear suspension has 2.6 inches of travel for a compliant, comfortable ride.

– Front and rear drum brakes offer predictable stopping.

– Oversize tires offer a secure grip on the road.

Additional Features

– Well-padded seat boasts a low 28.9-inch seat height for added confidence at stops.

– Instrumentation includes analog speedometer, odometer and indicator lights for fuel, coolant temperature and low/high beams. Fuel-indicator light comes on with 0.3 gallon remaining.

– Audible turn-signal indicator.

– Parking brake.

– Helmet holder locks helmet into place under seat.

– Backup kickstart lever.

– Dual headlights with two 35-watt bulbs. Low/high beams provide ample nighttime illumination.

– Maintenance-free battery.

– Transferable one-year, unlimited-mileage limited warranty; extended coverage available with a Honda Protection Plan.

When you buy a new Honda Powersports Product, you may be eligible to receive a complimentary one year membership in the Honda Riders Club of America®, which includes an exclusive Members-only magazine, rider training benefits, access to the Members-only Clubhouse Web site and much more. Some limitations apply. For more information on the HRCA®, log on to hrca.honda.com.

2009 Honda Ruckus NPS50 – USA Specifications

MSRP: 2,149 USD
Model: NPS50
Engine Type: 49cc liquid-cooled single-cylinder four-stroke
Induction: 15mm CV carburetor with automatic choke
Ignition: CD
Transmission: Automatic V-Matic belt drive
Suspension Front: Twin-downtube fork; 2.2 inches travel
Rear: Single shock; 2.6 inches travel
Brakes Front: Drum
Rear: Drum
Tires Front: 120/90-10
Rear: 130/90-10
Wheelbase: 49.8 inches
Seat Height: 28.9 inches
Fuel Capacity: 1.3 gallons
Color: Red, Matte Gray Metallic
Curb Weight*: 194 pounds
One year Transferable, unlimited-mileage limited warranty; extended coverage available with a Honda Protection Plan.

*Includes all standard equipment, required fluids and full tank of fuel – ready to ride.
Meets current CARB and EPA standards.




2009 Honda Ruckus NPS50 – Canada Specifications
TBD