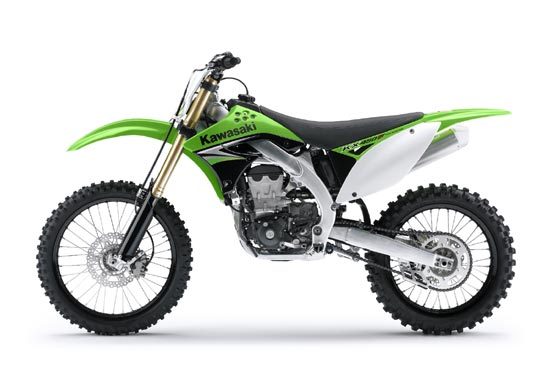 You are here: Home — 2009 Models — 2009 Kawasaki Motorcycle Models
2009 Kawasaki KX450F
Back to 2009 Kawasaki Motorcycle Index Page
Click photos to enlarge.
They make great desktop images.
– 2009 Kawasaki KX450F

2009 Kawasaki KX450F
A leaner, stronger and EFI equipped racing thoroughbred
Comprehensively re-designed with a new fuel-injected engine, chassis, bodywork and extensive durability enhancements, the 2009 Kawasaki KX™450F motocrosser is sleeker, faster and more high-tech than ever. Although it has undergone the biggest makeover since its original 2006 debut, the new KX450F still shares a clear bloodline with its championship-winning predecessors.
The upgrade to Electronic Fuel Injection (EFI) eliminates the need to adjust engine settings to suit track and climate conditions and offers stable fuel-metering even in tough motocross conditions –without sacrificing the hard-hitting character of its predecessor. The new EFI system includes a compact lightweight ECU, a 43mm throttle body, a newly designed lightweight aluminum in-tank fuel pump and an ultra-fine atomizing injector. Set at a 45° angle for ideal mid-range power, the 12-hole injector sprays precise 60 micron fuel particles for smooth power delivery and improved engine response at partial throttle.
Designed specifically for motocross, the KX450F's lightweight EFI system doesn't require a battery –the engine can be started within three rotations of the crankshaft, using only the electricity generated through the kickstarter. Kawasaki engineers achieved single-kick start capability by having the ECU power-up at the initial movement of the kickstarter. The system delivers electricity in the following order: ECU, fuel pump, and then injector.
The EFI system's increased electrical needs are handled by a new larger AC generator rotor that also increases the engine's rotational inertia. A reshaped and lighter crankshaft, with its rotational inertia unchanged, balances out the bigger ACG rotor. A wedge-shaped crank web increases the offsetting moment to help achieve a crankshaft balance factor of close to 60 percent. This is on par with Kawasaki's factory racers. The end result of these changes is reduced engine vibration, smoother power delivery and a noticeable improvement in low rpm throttle response.
The new engine is more compact and lighter, with a 5mm shorter cylinder head that also features revised intake and exhaust ports for improved engine performance through the entire rpm range. A new piston with a reshaped top surface raises the engine's compression ratio from 12.0 to 12.5:1 and works in conjunction with a new one-piece titanium exhaust pipe to provide improved low-mid range performance. Rounding out the powertrain enhancements is a larger-volume silencer body that's able to meet future noise regulations. It uses long-fiber packing that lasts longer and extends service intervals.
Overall, the new KX450F's ample power is delivered in a smoother, more user-friendly manner with a linear low-rpm throttle response and torque delivery that reduces fatigue and allows riders to go faster for more laps.
Design of the aluminum frame, suspension components and settings was focused on translating this broad powerband and responsive throttle into better drive off the corners. Other goals of the '09 revisions were lighter handling and a slimmer chassis with an optimized rigidity balance. To achieve these aims, every part was examined or revised. The cross-sections of the main spars were shrunk, the head pipe is slimmer and a new process was used to form the down tube, while the reshaped sub-frame is narrower yet stronger.
A blend of forged, extruded and cast parts, the revised chassis dimensions, parts reduction and gussets of the new frame equal a 1.8 pounds weight savings and an increase in stability and traction, thanks to improved rigidity balance.
Working in conjunction with the frame revisions is a new aluminum swingarm now pivoting from a 3mm higher position on the frame. The swingarm features a more tapered design with a "D" profile and new cross bracket. A longer rear suspension stroke, and thus more precise rear suspension tuning, was achieved by mounting the arm of the Uni-Trak® rear suspension linkage below the swingarm.
Complementing the chassis balance with settings optimized for experienced racers, the KX450F's suspension offers a host of new features for better cornering and sharper handling. The Kayaba Air-Oil-Separate (AOS) fork has a new Diamond-Like Carbon (DLC) coating on the outer surface of the inner fork tubes which offers a 15 percent reduction in stiction when the fork is exposed to lateral forces that hamper slide action. The result is improved fork response, especially during cornering. The overall suspension action is even smoother due to the friction-reducing Kashima Coat treatment on the inside surfaces of the outer fork tubes and the rear shock reservoir.
Increasing the rigidity in the reshaped upper triple clamp and decreasing it in the new outer fork tubes optimized the rigidity balance of the front end. Adjusting the race-oriented suspension settings and reducing the fork offset from 24 to 23mm further enhanced the new KX450F's lighter handling and increased its front wheel traction. Enlarged, wrap around black fork tube guards provide greater protection for the inner tubes.
Matching the smooth action of the fork, the Kayaba rear shock received a new body design and a larger 50 mm piston (previously 46 mm). Its improved response, damping and bottoming performance equate to a better ride and increased maneuvering precision. It also features a Kashima Coat treatment on the shock internals. Its easily accessible dual compression adjustability – allowing high-speed and low-speed damping to be tuned separately – gives mechanics and riders the ability to fine-tune for difficult track conditions.
Durability enhancements are not limited to internal components on the new KX450F. The larger, resin skid plate and narrower, longer lasting chain guide both offer better protection without increased weight and are examples of the race-oriented durability improvements that abound on the new KX450F.
In addition to giving the '09 KX450F a stunning new look, the bodywork was completely revised with the main focus on rider comfort and ergonomics. Offering the rider an even slimmer interface with a natural positioning makes it easier for racers to relax and go fast. Included in the sleek new bodywork styling are one-piece dual injected, two-tone green and white plastic shrouds and side number plates. This new bodywork translates into less time hassling with backgrounds and graphics and more time collecting trophies.
A slimmer new seat design with firmer urethane, a non-slip top surface and smooth sides provides good seated grip and excellent rider mobility. The frame echoes the slim profile at the top, but widens at the lower end by the ankles to provide the rider with better feel and control. Completing the rider interface improvements are wider 50mm footpegs that offer increased grip and a more comfortable platform.
The 2009 KX450F will be available in Kawasaki Lime Green, with black alumite-coated rims and aggressive graphics for a factory appearance.
Racers who ride their KX450F at designated events are eligible to receive support from Team Green™, Kawasaki's amateur racing support program. Each year, Team Green provides regional support vehicles and highly trained technicians at more than 100 events, offering technical information and assistance to those who race Kawasaki products. Kawasaki also offers a comprehensive contingency program for amateur and professional riders who place well at designated events.




Features
2009 KX™450F Product Features
All-New Fuel Injection
– Self adjusts to atmospheric changes for easier starting, sharper throttle response and optimized power, and power stability when jumping/landing
– Ultra-fine atomizing injector with 12 holes sprays particles with a droplet size of 60µ for smooth power deliver and improved engine at partial throttle
– 43mm throttle body uses a progressive throttle linkage to deliver airflow in much the same way as an FCR carburetor. Using two linked shafts, the throttle body opens more quickly after reaching the 3/8 open position
– Lightweight throttle body is approximately half the weight of a FCR carburetor, saving over one pound in weight
– Fast-idle knob on the throttle body allows riders to increase engine speed when starting a cold engine
Optimized Injector Angle
– Injector set at 45°, the optimum angle for improved mid-range power, which corresponds to the intake ports of the new head design and is an improved position compared to competing products
New ECU
– No battery needed, saving weight; the engine can be started with only three rotations of the crankshaft using the electricity generated by a single kick of the starter
– The system delivers electricity to FI system in sequence for quick starting: first the ECU, then the fuel pump, and finally the injector
– The compact, lightweight ECU, located on the front of the steering head behind the number plate, was designed specifically for motocross use. The fuel pump relay is built in to the ECU to help cope with the shocks and vibrations of motocross riding
New Lightweight Aluminum Fuel Pump
– Located in the fuel tank
– Features a rubber fuel filter cover that wraps around the inlet port and acts as a fuel trap to help ensure a stable fuel supply during vigorous motocross riding
– Fuel return hose from the pressure regulator helps ensure there is always fuel in the inlet port, preventing stalls due to fuel splashing and enabling riders to use all the fuel
– New 1.8 gallon fuel tank is lighter and formed using a rotational molding process
Improved Engine Performance
– 449cc liquid-cooled, DOHC, four-stroke single
– New piston with reshaped head increases compression ratio from 12.0 to 12.5:1 for improved low and mid range performance
– Low-friction coating on the piston skirt reduces mechanical loss
– Revised piston jet injects oil at a new angle for improved piston cooling
– Piston jet nozzle opening was improved to minimize oil gathering for a better contribution to piston cooling
– A forward lean angle of 3° puts the engine in the ideal position for maximum traction
– Tuned for a broad powerband with the torque curve set just under the wheel spin threshold
– High-acceleration cams help the engine rev quickly
– Equipped with an automatic compression release (ACR) system for quick and easy starting. The dual-weight centrifugal decompression system is fitted to the exhaust cam
– Maintenance free screw-type automatic cam chain adjuster
– Larger flap inside the airbox helps prevent the ingress of mud and water
New Top End
– Revised intake and exhaust ports for improved engine performance at all rpm
– Reduced cylinder head height from 105 to 100mm for a more compact, lighter engine
– Titanium 36mm intake and 31mm exhaust valves with aluminum spring retainers reduce reciprocating weight and cylinder height and help ensure reliable valve control at high rpm
– New high-strength material with finer metal grain for intake valves offers about a 50 percent greater resistance to fatigue
– Double valve springs allow a short cylinder head height and help ensure stable valve operation
– Dual overhead, lightweight camshafts lobes and tappet surfaces feature a soft-nitride surface treatment for long wear and high-rpm reliability
– Asymmetrical high-acceleration cams and the special coating on the intake ports yield high intake efficiency at all rpm
New Crankshaft Design
– Improved traction with increased rotational inertia via a larger diameter AC Generator rotor
– Crankshaft was reshaped with its rotational inertia unchanged to enable the balance factor to remain the same with bigger ACG rotor and provide weight savings
– Wedge-shaped crank web increases offsetting moment for high crankshaft balance factor of 60 percent – on par with Kawasaki's factory racers
– New crankshaft large bearing with an increased load capacity, 2mm longer bearing rollers and a 40 percent improvement in durability
– Crankshaft and connecting rod received a carburizing and quenching treatment for additional rigidity
– End result is reduced engine vibration, smoother power delivery and increased performance, with a noticeably snappier response at low rpm
Easier Starting
– Greater electrical output from the bigger ACG rotor provides the necessary electrical power that allows a battery-less FI system with kick starting and provides smoother engine performance
– New ACR with increased lift from 0.5 to 1.0mm, reduces kicking power necessary to start
Better Cooling
– Very slim, high-capacity Denso radiators feature tightly packed cores and a fin design that delivers superior cooling efficiency
– Radiator louvers increased from three to four and decreased in size and angle for less overlap and higher air flow
– Brace bar reinforces the radiator bracket and adds to the KX450F's durability
Smooth-Shifting, Close-Ratio 5-Speed Transmission
– 5-Speed transmission and low-rpm engine response combination offers riders more gear options for traversing rough sections or getting into the rhythm of a course easily so they can focus more on racing
– Sprocket-style chain drive roller reduces the effect of driveline lash, helping smooth engine braking and facilitating additional corner entry control
New Titanium Exhaust Pipe
– One-piece titanium exhaust pipe with revised length and diameter improves low-mid range performance as well as contributing to improved ergonomics
– New silencer body has increased volume to meet future noise regulations – currently 99dB

Lighter, slimmer chassis
– New main spars with a smaller cross-section down from 70mm tall and 27mm wide to 68mm and 24mm, respectively for a slimmer overall width main spars shape – narrowing near the bend below the seat for a riding position, then widening at the ankles to offer better grip
– Slimmer head pipe, new cross section and a down tube that is formed with a swaging (squeezing and hammering) process and has a smaller cast bracket add up to more weight savings
– Parts revisions combine for about a 1.8 pound lighter new aluminum perimeter frame that offers increased riding stability and traction through a better rigidity balance
– Revised chassis dimensions contribute to improved handling
– Swingarm pivot is located 3mm higher in the frame for improved rear wheel traction
– New sub-frame is lighter via larger diameter tubing with thinner walls, yet still provides a secure mounting for the new silencer
New Aluminum Swingarm
– New tapered "D" shape, vice rectangle design that is 5mm taller at the front (74 to 79mm) and 2mm shorter at the rear (60 to 58mm)
– New cross bracket design for enhanced rigidity
– Alloy swingarm uses a cast front section, tapered hydroformed spars and forged chain adjusters
– New swingarm design is approximately 0.4 lbs lighter and improves stability, rigidity and rear wheel traction
– Uni-Trak® rear suspension system with the suspension arm mounted below the swingarm, allowing a longer rear suspension stroke and more precise tuning
New Front Fork
– Kayaba Air-Oil-Separate (AOS) fork keeps oil and air in separate chambers for stable damping performance during long motos. Low-friction fork seals contribute to smooth action
– New Diamond-Like Carbon (DLC) coating on the outer surface of the inner fork tubes offers a 15 percent reduction in stiction from '08 KX450F when the fork is exposed to lateral forces that would usually hamper slide action. The result is improved fork response, especially during cornering
– Friction-reducing Kashima Coat on the inside of the fork outer tubes contributes to smoother suspension action (especially at the initial part of the stroke) and a better ride feel
– Revising the frame's rigidity balance, amending the suspension settings, and reducing the fork offset from 24mm to 23mm gives the KX450F lighter handling and increased front wheel traction
– Optimized rigidity balance via increased rigidity in the reshaped upper triple clamp and decreased rigidity in the new outer fork tubes
– Enlarged, wrap around black fork tube guards provide greater protection for the inner tubes
– Revised race-oriented suspension settings offer improved over-all performance
New Rear Shock
– Kayaba rear shock has a new cylinder body design and a larger 50mm piston (previously 46mm)
– Improved response, damping and bottoming performance result in better ride feel and terrain following capability
– Rear shock features dual compression adjustability, allowing high-speed and low-speed damping to be tuned separately
– Also features Kashima Coat treatment on the cylinder for reduced friction and smoother suspension action
– Easier accessibility for tuning
– Revised rear suspension settings and ideal linkage ratios derived from extensive rider testing produce an over-all improved and race-oriented performance
Improved Rider Interface and Styling
– All-new body work and graphics
– New dual injected 2-tone, one-piece plastic shrouds and side number plates
– Right side panel has an added passageway to aid in cooling the silencer
– Black plastic covers, triple clamps, engine covers, and black alumite coated rims – just like the factory racers
– Foot peg width (front to rear) increased from 46mm on previous model to 50mm for improved feel
– New seat design that's slimmer with firmer urethane for improved ergonomics and feel
– Seat has a slip-resistant top surface for good grip when seated and smooth sides for excellent rider mobility
New Chain Guide
– Slimmer and compact, down from 42.7 to 34mm wide, with 2mm thicker wear pad
– Reduced weight and longer wear
Additional Features
– New skid plate made of resin material offers greater protection without a weight increase
– Larger front brake lever boot offers increased protection against dust
– Clutch cable boot features a large quick adjuster, for easy clutch cable play adjustment on the fly
– Throttle grip has a one-piece collar that provides additional stability during throttle operation
– Lightweight short-length grips feature a pattern designed to provide excellent grip
– Rear caliper guard protects the caliper from damage
– Ribless rear hub and butted spokes reduced unsprung weight
Optional ECU Setting Tool Available
– Allows racers to reprogram the ECU's data maps for volume of fuel injected and ignition timing to alter engine characteristics to suit rider preference
– The tool can also be used as a data logger, recording up to six hours of data for engine rpm, angle of throttle opening, etc.
2009 Kawasaki KX450F – USA Specifications
Engine: Liquid-cooled, four-stroke single with DOHC and four valve cylinder head
Displacement: 449cc
Bore x stroke: 96.0 x 62.1mm
Compression ratio: 12.5:1
Fuel Injection: 43mm Keihin Throttle body
Ignition: Digital DC-CDI
Transmission: Five-speed
Rake / trail: 26.7 degrees / 4.6 in.
Front suspension / wheel travel: 48mm inverted, Kayaba AOS with DLC coated sliders, 22-position compression and 20-position rebound dampening adjustment / 12.4 in.
Rear suspension / wheel travel: UNI-TRAK® linkage system and Kayaba shock with 22-position low-speed and stepless high-speed compression dampening, 22-position rebound dampening and fully adjustable spring preload / 12.4 in.
Front tire: 90/100-21
Rear tire: 120/80-19
Front brake: Single semi-floating 250mm petal disc with dual piston caliper
Rear brake: Single 240mm petal disc with single-piston caliper
Overall length: 86.0 in.
Overall width: 32.3 in.
Overall height: 50.4 in.
Wheelbase: 58.3 in.
Ground clearance: 13.4 in.
Seat height: 38.0 in.
Curb weight: 247.2 lbs.
Fuel capacity: 1.8 gal.
Color: Lime Green
MSRP: $7,549
Wholesale distributor: Kawasaki Motors Corp., U.S.A.
9950 Jeronimo Road
Irvine, California 92618
(949) 770-0400
www.kawasaki.com
2009 Kawasaki KX450F – Canada Specifications
ENGINE
Type Liquid-cooled, 4-stroke Single
Displacement 449 cc
Bore and Stroke 96.0 x 62.1 mm
Compression Ratio 12.5:1
Valve System DOHC, 4 valves
Fuel System Fuel Injection: ø 43 mm x 1 (Keihin)
Ignition Digital DC-CDI
Starting Primary Kick
Lubrication Forced lubrication, Semi-dry sump

DRIVETRAIN
Transmission 5-speed, return
Final Drive Chain
Primary Reduction Ratio 2.727 (60/22)
Gear Ratios: 1st 1.750 (28/16)
2nd 1.412 (24/17)
3rd 1.188 (19/16)
4th 1.000 (19/19)
5th 0.875 (21/24)
Final Reduction Ratio 3.846 (50/13)
Clutch Wet multi-disc, manual

FRAME
Type Perimeter, Aluminium
Wheel Travel, Front/Rear 315mm, 315mm
Tires, Front/Rear 90/100-21 57M, 120/80-19 63M
Caster (Rake) 26.7°
Trail 116 mm
Steering Angle, Left/Right 42°/42°

SUSPENSION
Front TBA
Type 48 mm upside-down AOS-type telescopic fork
Compression damping 22-way
Rebound damping 20-way
Rear TBA
Type New Uni-Trak
Compression damping 22-way (low-speed), 2-turns or more (high-speed)
Rebound damping 22-way
Spring Preload Fully Adjustable

BRAKES
Front TBA
Rear TBA
Type Single 240 mm petal disc
Type Single semi-floacting, 250 mm petal disc
Caliper Single-piston
Caliper Dual-piston

DIMENSIONS
Overall Length 2185 mm
Overall Width 820 mm
Overall Height 1280 mm
Wheelbase 1480 mm
Ground Clearance 340 mm
Seat Height 965 mm
Dry Weight 112.1 kg
Fuel Capacity 7 litres

DETAILS
Colour Lime Green
MSRP TBA


*Prices and specifications subject to change without notice.