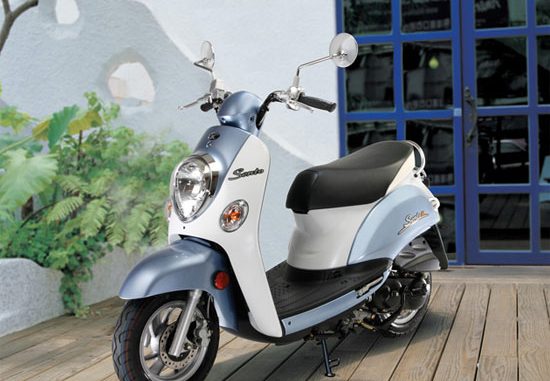 You are here: Home — 2009 Models — 2009 Kymco Motorcycle Models
2009 Kymco Sento 50
Back to 2009 Kymco Motorcycle Index Page
Click photos to enlarge.
They make great desktop images.
– 2009 Kymco Sento 50

2009 Kymco Sento 50
The Sento 50 is a retro-style value leader with traditional 10-inch wheels and a choice of three two-tone color schemes: rose/white, light blue/white, and light brown/white. And while the styling and analog instrumentation may be retro, up-to-date features include electric start, CVT transmission and a front disc brake.

The Sento 50 is an environmentally friendly alternative to getting around a congested city. This retro styled, small framed scooter is the perfect companion for running all of your errands. It features a 5 in 1 security ignition system, an analogue speedometer with fuel indicator, a wire control fuel cap system, under seat storage, as well as foldable rear foot pegs if you're bringing a friend along for the ride.
Warranty: All KYMCO Scooters come with a 2 year limited warranty

Features:
2 retro colour choices, folding passenger pegs, under seat storage, center hook, analogue instrument cluster, built in under seat ignition interlock system, silver clad aluminum rims, low seat height, lightweight for extra manoeuvrability.

49cc, SOHC Air-Cooled Engine
Speedometer Odometer and Fuel
Storage in Front of and Under the Seat
Helmet Hook
KYMCO Gas Pass Estimated 87 MPG
Two Year Limited Factory Warranty


Accessories Available:
Scooter Cover / Wireless 3rd Brake Light



2009 Kymco Sento 50 – USA Specifications
MSRP $1,899 USD
Engine Type 4-stroke air-cooled SOHC
Displacement 49cc
Bore/Stroke 39×41.4mm
Cooling System Forced air
Ignition Electric w/kickstart back up
Gearbox Automatic CVT
Chassis Steel
Front Suspension Telescopic forks
Rear Suspension Single shock
Front Brake Disc
Rear Brake Drum
Front Wheel/Tire 90/90-10
Rear Wheel/Tire 90/90-10
Seat Height 29.1 in.
Wheelbase 46.4 in.
Fuel Capacity/MPG 1.3 gals./ Estimated 87
Weight 183 lbs.
Available Colors Rose/white, Lt blue/white, Lt brown/white
MSRP $1,899
Features analog speedometer, odometer and fuel gauge. Plenty of under seat storage and a 2 Year Factory Warranty.

*Note: MSRP does not reflect destination or other dealer vehicle preparation charges.
Warning: KYMCO vehicles meet all applicable Federal Motor Vehicle Safety and EPA standards. Always wear a helmet, eye protection and protective clothing. Avoid excessive speed. Never engage in stunt riding. Never ride under the influence of alcohol or drugs. Take a riding skills course. For the course nearest you, call the Motorcycle Safety Foundation at 1-800-446-9227
KYMCO USA makes every effort to present the most current specifications and model features. Changes in equipment, colors, availability and specifications may change without notice or obligation. Some models are shown with optional equipment. MSRP does not reflect destination or other dealer vehicle preparation charges.
2009 Kymco Sento 50 – Canada Specifications
MSRP $2,600 CDN
displacement (cc) 49.5
engine type 4 stroke
cooling system air
weight (kg) 89
transmission CVT
front brakes disk
rear brakes drum
fuel capacity (L) 5

Available colours: Light blue, Black