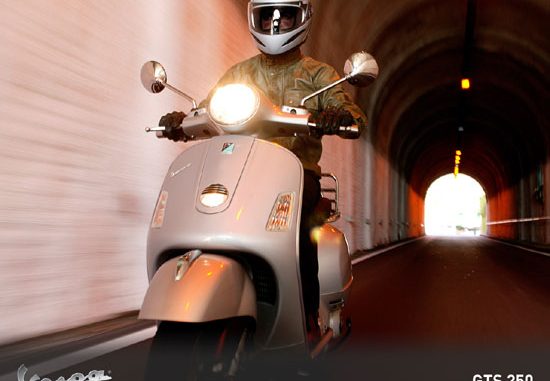 You are here: Home — 2009 Models — 2009 Vespa Scooter Models
2009 Vespa GTS250
Back to 2009 Vespa Motorcycle Index Page
Click photos to enlarge.
They make great desktop images.
– 2009 Vespa GTS250

2009 Vespa GTS250
Fifty years ago, Piaggio shook up the scooter world with its Vespa GS (Gran Sport), at the time the fastest Vespa, the first to reach speeds of more than 60 mph and the first Vespa model with 10-inch wheels. Today, Vespa makes history again by renewing the GS blend of speed and style in the Vespa GTS 250, an uncompromising fusion of breathtaking performance, technical superiority and classic Vespa design, to become the most exciting model to date. The GTS 250 has 12 inch alloy wheels, front and rear disc brakes and a liquid cooled engine with electronic fuel injection.
Performance
With a powerful 250cc, four-stroke, four-valve engine, the GTS has the largest displacement in the Vespa range. Advanced technology, including a liquid-cooled engine and electronic injection system with three-way catalytic converter, allows for reduced emissions and fuel consumption as well as progressive acceleration and responsive handling. Redesigned machinery, such as the exhaust, cylinder and piston, provide a smoother and quieter ride that suits the stylishly racy GTS without affecting performance.
Like every other Vespa, the GTS has the trademark single shell steel structure which provides rigidity for optimal comfort and strength to control road vibration. The frame is supported with excellent parts including 12″ wheels, dual-disc braking system, a front suspension with hydraulic shock absorber, and an adjustable rear suspension that provides ideal support and riding comfort for driver and passenger alike.

Style
A few design changes have been made to add fluidity and dynamism to the look of the GTS, combining the Vespa's classic, exclusive look and maneuverability with the performance and technological prowess of big touring scooters. From the front, the Vespa GTS is instantly recognizable by the position of the headlight placed midway down the shield next to the horn, reminiscent of 1950s Vespas, which had a small lamp on the mudguard. The impeccably finished, double-stitched saddle adds a racy touch while improving the comfort of the ride.
The GTS also features a combination digital/analog dashboard-simple and stylish, the LCD display includes a fuel gauge, a rev counter bar, full and partial mileage, a digital clock with the date, an outside air temperature gauge and a coolant temperature gauge. Analog instruments include a speedometer and a comprehensive set of warning lights: turn signals, position and high beam lights, oil pressure, fuel reserve, the immobilizer LED light and the injection control LED light.
While its natural riding position and ergonomics have always made the Vespa comfortable, the seat on the GTS has a new shape and material for an even better ride. Carrying some bags? A rear luggage rack comes standard, and the underseat storage opens with the press of a button, making those spontaneous trips out of town convenient and hard to resist.

2009 Vespa GTS250 – Specifications
MSRP: $5,999 USD

ENGINE TYPE Single cylinder, four-stroke, four-valve, electronic injection, catalytic QUASAR
CYLINDER CAPACITY 244cc
BORE x STROKE 72 mm x 60 mm
MAX POWER AT SHAFT 16.2 kW at 8,250 rpm (22 CV)
MAX TORQUE 20.2 Nm at 6,500 rpm
MAX SPEED 76 mph
FUEL / TANK CAPACITY Unleaded 2.4 gallons (9 litres)
GAS MILEAGE 65-70 mpg
DISTRIBUTION Chain driven SOHC (single overhead camshaft)
COOLING SYSTEM Liquid
LUBRICATION Wet sump, chain-driven lobe pump, filtration during aspiration and discharge
INGINTION Electronic (with inductive discharge, variable spark advance and three-dimensional mapping)
GEARS CVT (Continuously Variable Transmission) transformer with torque server
CLUTCH Automatic centrifugal dry clutch with dampers
CHASSIS Load-bearing sheet steel chassis with welded structural supports
FRONT SUSPENSION Single-sided trailing arm with dual chamber hydraulic shock absorber with coaxial spring
REAR SUSPENSION Helical spring with adjustable four-position pre-load and two dual effect hydraulic shock absorbers
FRONT BREAK ø 220 mm disc
REAR BREAK ø 220 mm disc
FRONT TIRE Tubeless 120 / 70-12″
REAR TIRE Tubeless 130 / 70-12″
LENGTH 76.4″ (1941 mm)
WIDTH 29.7″ (755 mm)
WHEELBASE 54.9″ (1394 mm)
SEAT HEIGHT 31.1″ (790 mm)
DRY WEIGHT 326 lbs (148 kg)
TYPE APPROVAL EPA and CARB
AVAILABLE COLORS Dragon Red, Cortina Gray, Midnight Blue, Shiny Black