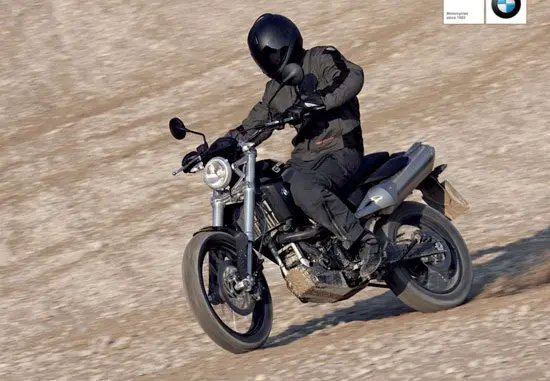 You are here: Index — 2009 Models — 2009 BMW Motorcycle Models
2009 BMW G650X Country
Back to 2009 BMW Motorcycle Index Page
Click photos to enlarge.
They make great desktop images.
• 2009 BMW G650X Country

2009 BMW G650X Country
See a Road. Eat a Road.

The most versatile member of BMW Motorrad's fresh new G series line up, the G 650 Xcountry is the classic scrambler concept topped off with a few modern features unique to BMW, like a zippy 53 hp single cylinder engine, and a high performance lightweight design. With a round head lamp, round side panels and black, anodized wheels, the look of the Xcountry is edgy and totally striking. Add Marzocchi telescopic forks and Magura aluminum handlebars and you can attack any road you want, from dusty gravel tracks to asphalt sweepers. On-road or off-road, the Xcountry is one scrambler that's will have your heart revving as fast as your tachometer.
Refined, generous chassis components surround a high-performance single-cylinder engine which has what it takes. Reliable, powerful and thanks to Euro 3 catalytic converter and state-of-the-art engine management with the very lowest fuel consumption and exhaust emission levels: this bike will put many larger machines behind it. And that applies to asphalt and off-road. The BMW G650X Country is a genuine scrambler. As well as being a BMW through and through: high-quality, durable, suitable for everyday use, with long maintenance intervals and the reliability which distinguishes the brand. The best of both worlds makes this BMW G650X Country unique.
All eyes are on you as you race away from the lights. Not for long though – you've soon disappeared into the distance. But the rider who's got it all can afford to be generous, so why not cruise round the block again, and give them another look at what they're missing?
The G 650 Xcountry is an all-purpose, go-anywhere bike for the 21st century. Compact, lightweight and responsive, it's a star performer on any kind of road, while the optional BMW Motorrad ABS ensures it's just as impressive stopping as starting.
Standard Equipment:
White Turn Indicators
Available Equipment:
ABS Brakes
2009 BMW G650X Country – Specifications
MSRP: $7,500
Engine
Type Liquid-cooled single-cylinder
Displacement 652 cc
Bore X Stroke 100.0 mm x 83.0 mm
Horsepower 53 bhp @ 7000 rpm
Torque 44 lb/ft @ 5250 rpm
Valve Gear DOHC, chain-driven with bucket tappets
No of cylinders N/A
Compression Ratio 11.5 :1
Engine Management BMW Motor Controller – Compact (BMS-C II)
Valves per Cylinder Four
Valves 2 x 36 mm intake / 2 x 31 mm exhaust
Fuel Tank HDPE, internal pump and external filter
Alternator W 280 Watts @ 14 Volts
Battery V/AH 12 Volts 10 Amps/hour maintenance-free
Engine Summary N/A

Drivetrain
Clutch Multiple plate in oil bath
Gear Box N/A
Primary Transmission 1:1.946
Gear Ratios I: 2.75:1
II: 1.75:1
III: 1.31:1
IV: 1.05:1
V: 0.84:1
VI: N/A

Final Drive System Chain
Final Drive Ratio 2.937:1

Frame & Suspension
Frame Steel bridge tubular frame
Front wheel suspension UPSD fork 45 mm
Rear wheel suspension Aluminum two unit cast swing arm, air damping
Spring Travel front/rear 9.4 inches / 8.3 inches
Ground Clearance N/A
Handlebar center point angle N/A

Brakes
Brake System Front and rear disc with optional ABS
Front Brakes One two piston caliper
Front Rotor 11.8 inch fixed rotor
Rear Brakes One, single-piston floating caliper
Rear Rotor 9.5 inch fixed rotor
Actuation Hydraulic, DOT 4 fluid type

Wheels & Tires
Front Wheel 2.50 x 19 wire-spoke
Rear Wheel 3.00 x 17 wire-spoke
Front Tire 100/90 x 19 tube-type
Rear Tire 130/80 x 17 tube-type

Dimensions
Overall Length 86.0 inches
Overall Width 35.7 inches
Wheelbase 59.0 inches
Seat height 33.1 inches
Weight – Dry 326 lbs.
Max permissible weight 739 lbs.
Fuel Capacity 2.5 U.S. gallons including one gallon reserve

Standard Equipment
LED Tail Light $N/C
Chain Rear Wheel Drive $N/C
Clear Turn Signal Lenses $N/C
(from Feb. 07 based on LED technology) $N/C
Closed Loop Catalytic Converter $N/C
Conified Aluminum Handlebar $N/C
Digital Engine Management (BMS C II) $N/C
with Twin Spark Ignition $N/C
Fuel Tank Located Under Seat $N/C
Redesigned Single Cylinder Engine (53 hp) $N/C
Removable License Plate Holder $N/C
Spoke Wheels $N/C
Complete Stainless Steel Exhaust System $N/C
Up Side Down Front Fork (45 mm) $N/C
Available Equipment
ABS $890.00

2009 BMW G650X Country – Canada Specifications
MSRP*: $8,200.00
Engine
Type Water-cooled 4-stroke, single-cylinder engine, four valves, twin overhead camshaft, dry sump
lubrication
Bore x stroke 100 mm x 83 mm
Capacity 652 cm3
Output 53 hp (39 kW) at 7,000 rpm
Max. torque 60 Nm at 5,250 rpm
Compression ratio 11.5:1
Fuel/engine management Electronic intake pipe injection/BMW
engine management, twin-spark ignition
Emission control Regulated 3-way catalytic converter, compliant with EU3 emissions standard

Performance/fuel consumption
Maximum speed 170 km/h
Fuel consumption – 100 km
at a constant 90 km/h 3.4 litres
Fuel consumption – 100 km
at a constant 120 km/h 4.8 litres
Fuel type Premium unleaded, minimum 95 octane (RON)

Electrics
Alternator 280-W generator
Battery 12 V/10 Ah, maintenance-free

Transmission
Clutch Multidisc clutch in oil bath, mechanically operated
Gears Synchromesh 5-speed gearbox, built into engine housing
Drive Endless O-ring chain

Chassis/brakes
Frame Bridge-type steel tube frame with bolted die-cast aluminium side sections and aluminium rear frame
Suspension, front Upside-down telescopic fork, 45-mm diameter
Suspension, rear Die-cast aluminium twin swinging arm; height-adjustable hydraulic strut, manually adjustable spring pre-load and rear damping
Travel front/rear 240 mm/210 mm
Wheelbase (unladen as per DIN standard) 1,498 mm
Castor (unladen as per DIN standard) 116 mm
Steering head angle (unladen as per DIN standard) 61.5°
Wheels Wire spoke wheels
Rim dimensions, front 2.50 x 19"
Rim dimensions, rear 3.00 x 17"
Tyre, front 100/90 S 19
Tyre, rear 130/80 S 17
Brakes, front Single disc brake, 300-mm diameter, double-piston . oating caliper
Brakes, rear Single disc brake, 240-mm diameter, single-piston . oating caliper
ABS BMW Motorrad ABS (disconnectable) available as an option

Dimensions/weight
Seat height, unladen 840 – 870 mm
Rider step length, unladen 1,880 –1,940 mm
Unladen weight, fully fuelled/road-ready* 160 kg
Dry weight** 148 kg
Max. permitted weight 335 kg
Max load (with standard equipment) 175 kg
Usable tank volume 9.5 litres
Of which reserve 2.0 litres
Length 2,185 mm
Height (not inc. mirrors) 1,205 mm
Width (inc. mirrors) 907 mm
Relevant . gures refer to the DIN standard de. nition of an unladen bike.
* As de. ned in EU directive 93/93/EEC, . lled with all operating . uids, fuelled to at least
90% of usable tank capacity.
** Unladen weight without operating . uids.

Media/Press Release
None as of yet.