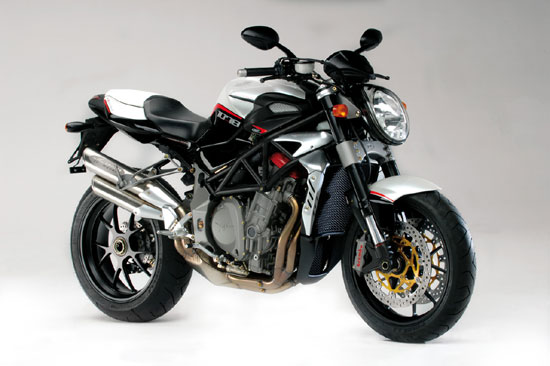 You are here: Index — 2009 Models — 2009 MV Agusta Motorcycle Models
2009 MV Agusta BRUTALE 1078 RR
Back to 2009 MV Agusta Motorcycle Index Page
Click photos to enlarge.
They make great desktop images.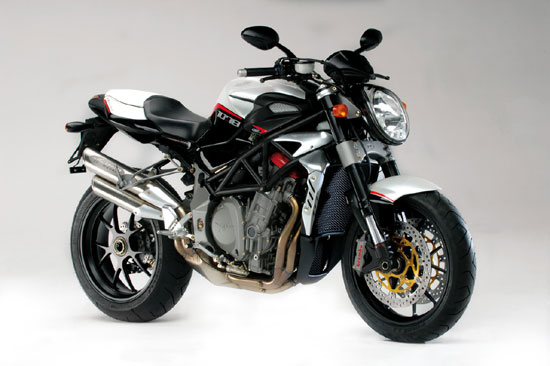 2009 MV Agusta BRUTALE 1078 RR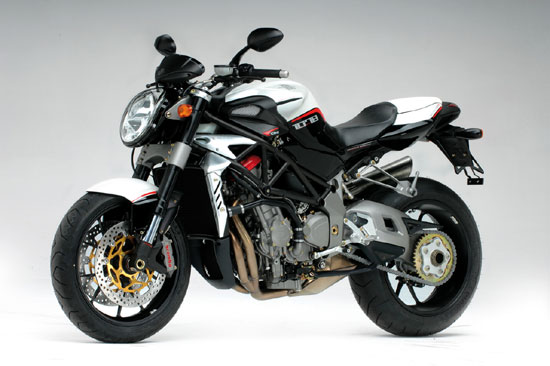 2009 MV Agusta BRUTALE 1078 RR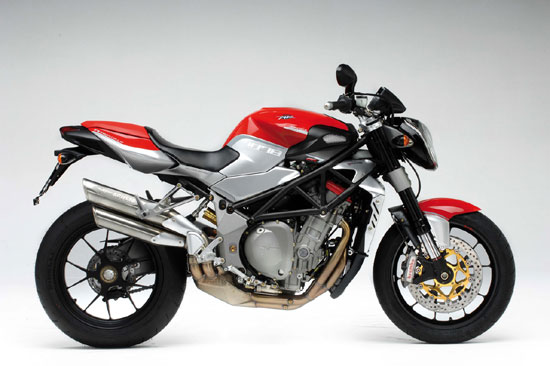 2009 MV Agusta BRUTALE 1078 RR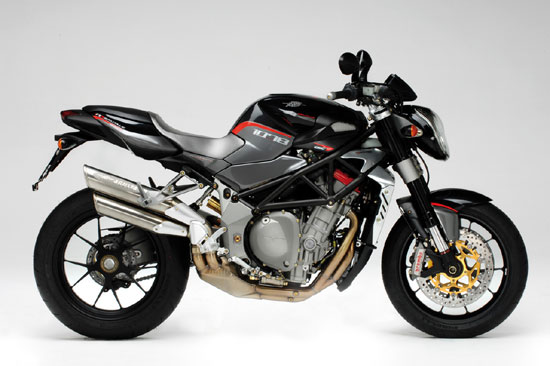 2009 MV Agusta BRUTALE 1078 RR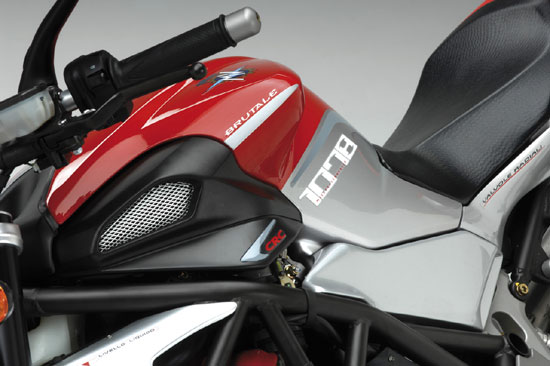 2009 MV Agusta BRUTALE 1078 RR


• 2009 MV Agusta BRUTALE 1078 RR

2009 MV Agusta BRUTALE 1078 RR
BRUTALE 1078 RR: SHEER POWER
The Brutale looks so wicked that it almost cries out for even more performance. Going that bit faster is what every rider craves. Power is addictive. It had to be even more "brutal". MV Agusta's response was this: the 1078RR. Now with a new engine and other "technical" components dedicated to performance, the top of the range Brutale leads the way in the sport naked sector while proudly flying the 'Made in Italy' flag.
The 100% MV Agusta engine is only for the select few who can manage the 150 HP and more that the new four-cylinder unit puts out. The decidedly muscular appearance of the new Brutale says it all and gives the rider an adrenalin rush before he even turns the key that kicks the mighty engine into life. Just looking at the Brutale starts you dreaming, listening to one sets your pulse racing, and riding one makes you fall in love. The 1078RR is not just a motorbike; it is an incarnation of a true rider's personality. Others want to be such a person. They want the same type of courage that will let them take a machine to its limits, that will let them choose a real machine and not just something "normal".
There is nothing is normal about the 1078RR: Life is faster, more colorful, more vivid. This is what a Brutale is about. The new engine size now asks even more from the suspension and brakes. They need to be stronger and more efficient to redress the balance and give the bike that sure-footedness and superb rideability that typifies MV Agustas. There can be no doubt that the 1078RR will be the utmost naked.
DESIGN
1078RR means simply the best; the Brutale at its peak. This includes looks that stand out. Apart from the new instrument panel, the new color schemes express grit and determination; they include pearl white/black, anthracite black and silver/red. The latter is obviously based on MV's long tradition of racing. The "skin" of the Brutale 1078RR lets us see the components that have been changed in all their beauty: The new brakes, the new fork components and especially all the little details that finish off this work of art. They make all the difference not just to the rider but also to an observer. It is the same as looking at a masterpiece in an art gallery.
EQUIPMENT: 10% MORE POWER
Transition from the 910R to the 1078RR involved the introduction of some new components that have given the Brutale RR 15 more HP and 2 kilos more of torque. A breakdown of the changes includes:
Decals and color schemes
Instrument panel graphics
Revised suspension calibration
1078 cc engine
Slipper clutch
Resized catalysers
Brembo monoblock (one-piece) brakes.
The main focus has been on finding the right balance between the new components.
POWER AND TRACTABILITY HAND IN HAND
The new Brutale has inherited the very best of MV Agusta technology. With its new 1078 cc engine based on the racing F4 RR 312, the new Brutale is a sure winner. The aim wasn't so much about seeking maximum performance as of taming four cylinders to work together to offer a perfectly balanced ride. This is no easy feat when you're dealing with 154 HP shoe-horned into a compact frame like the one on the Brutale. The bore and stroke have been increased to 79 and 55 mm from the original 76 and 50.1mm. The compression ratio has been kept high despite the significant increase in capacity from 909 to 1078.37cc. Maximum power output has increased by 15 HP thus setting a new record for the sports naked with 154 HP at 10,700 rpm. Torque has also been improved going up from 96 Nm (70.7 Ft/lb) at 8,000 rpm to 117 Nm (86.2 Ft/lb) at 8,100 rpm. The removable gearbox remains exclusive to this segment of the market and the speed and precision with which it changes allows the bike to reach its maximum speed of 166.04 mph in next to no time. Such performance is due to a large extent to the adoption of new 46 mm throttle bodies taken from the F4 1000 R (as opposed to the 48 mm units on the F4 R 312). These units also dictated the choice of a longer final drive ratio (two less teeth on the crown wheel) thus moving from 15/43 to 15/41. The EBS (Engine Brake System) was replaced with the slipper clutch used on the F4 sports version. It is a mechanical slipper clutch system with ramps and roller bearings. In seeking to offer a "softer" response to the throttle, MV engineers fitted a new larger exhaust catalyser that meant more room to maneuver with emissions in seeking to meet Euro 3 requirements and this allowed a richer mix. The end result is more flexible, smoother engine even under hard acceleration.
A TUBULAR FRAME AS PER MV TRADITON
Retaining the chrome-molybdenum trellis frame was a simple choice for MV. The trellis frame is more than merely aesthetically pleasing, it capably handles the reconfigured engine power output and last of all, is easy to work on when so required. In the first 750 version of the Brutale, the frame was designed to bear theoretical torsion and flexing parameters greater than those it would in fact have to handle. This was because we knew that eventually we would arrive where we are today. Therefore – no changes needed. The geometry is the same as are the other settings as proof of the fact that we knew right from the start where we would end. The rake is 101.5 mm (3.99 in), the wheelbase measures 1,410 mm (55.51 in) and the maximum overall length is 2,020 mm (79.52 in) for an overall weight of 185 kilos (407.8 lb).. The classic single rear swingarm sets the scene and is a symbol of technology and originality. It is simply a work of motorcycling art, but its compactness and maneuverability are both down to MV Agusta's racing experience.
CHANGES TO THE FORKS
Due to the introduction of new brakes and the increased power output of the 1078 cc engine, the forks have been modified. The ends now have lugs to carry the calipers while internal calibration has been modified to handle the increased loads the suspension will have to deal with. Great care has been taken to ensure that none of the comfort that a bike like the Brutale 1078RR provides its rider is lost. One small change regards the travel that has been increased to 130 mm (5.11 in). The type of forks remains unchanged and the Brutale boasts a pair of upside down 50 mm Marzocchis to keep the front end glued to the road when the rider is using the machine with a certain degree of zest. The rear shock absorber remains unchanged and the suspension has been calibrated to handle the power output. The suspension system keeps the back end in line under the hard acceleration on exiting bends that the 154 CV engine encourages. Rebound, compression and spring pre-load can all be adjusted on the Sachs monoshock unit.
NEW BREMBO BRAKES
The Brutale 1078RR now features the most powerful and exclusive brakes available. The system features race-bred monoblock or one-piece radial calipers like those fitted to the F4. The aim of the new system is to increase stopping power and reduce braking distances but at the same time decrease the amount of pressure needed on the brake lever and thus tire the rider less. The Brutale 1078RR can brake later than the competition and is already set up for the track with its new monoblock radial calipers. With the Brembo system this Brutale is now Italian from head to toe. The highly original forged aluminum five-spoke star-shaped wheels are also Brembo and measure 3.50" x 17" at the front and 6.00" x 17" at the rear with 120/70 ZR 17 and 190/55 ZR 17 tires.

AVAILABLE COLOR OPTIONS:
Pearl White / Gloss Black


Racing Red / Silver


Black / Anthracite Gray

2009 MV Agusta BRUTALE 1078 RR – Specifications
MSRP $TBA Coming Fall 2008


ENGINE
Type Four cylinder, 4 stroke, 16 valve
Timing system "D.O.H.C", radial valve
Total displacement 1078.37 cm3 (65.78 cu. in.)
Compression ratio 13:1
Starting Electric
Bore x stroke 79 mm x 55 mm (3.1 in. x 2.2 in. )
Max. horse power – r.p.m. (at the crankshaft) 113 Kw (154 HP) at 10700 – Lim. 11650 r.p.m.
Max. torque – r.p.m. 117 Nm (11.7 Kgm) at 8100 r.p.m.
Cooling system Cooling with separated liquid and oil radiators
Engine management system "Weber Marelli" 5SM ignition – injection integrated system; induction discharge electronic ignition; sequential timed "Multipoint" electronic injection
Clutch Wet, multi – disc with mechanical anti-surging device
Gear Box Cassette gearbox; six speed, constant mesh
Primary drive 50/79
Gear ratio
First gear: Speed* 13/38 110.6 Km/h (68.7 mph) at 11650 r.p.m.
Second gear: Speed* 16/34 152.2 Km/h (94.5 mph) at 11650 r.p.m.
Third gear: Speed* 18/32 181.9 Km/h (113.0 mph) at 11650 r.p.m.
Fourth gear: Speed* 20/30 215.6 Km/h (133.9 mph) at 11650 r.p.m.
Fifth gear: Speed* 22/29 245.3 Km/h (152.3 mph) at 11650 r.p.m.
Sixth gear: Speed* 19/23 267.2 Km/h (165.9 mph) at 11650 r.p.m.
Final velocity ratio 15×41

ELECTRICAL EQUIPMENT
Voltage 12 V
Alternator 650 W at 5000 r.p.m.
Battery 12 V – 9 Ah

DIMENSIONS AND WEIGHT
Wheelbase 1410 mm (55.55 in.)
Overall lenght 2020 mm (79.59 in.)
Overall width 760 mm (29.94 in.)
Saddle height 805 mm (31.72 in.)
Min. ground clearance 135 mm (5.32 in.)
Trail 101,5 mm (4.00 in.)
Dry weight 185 Kg (407.9 lbs)
Fuel tank capacity 19 l (5.02 U.S. gal.) – reserve fuel: 4 l (1. 05 U.S. gal. )

PERFORMANCE
Maximum speed* 267.2 Km/h (165.9 mph)

FRAME
Type CrMo Steel tubular trellis (TIG welded)
Rear swing arm pivot plates: material Aluminium alloy

FRONT SUSPENSION
Type "UPSIDE – DOWN" telescopic hydraulic fork with rebound-compression damping and spring preload external and separate adjustment
Rod dia. 50 mm (1.97 in.)
Travel on leg axis 130 mm (5.11 in.)

REAR SUSPENSION
Type Progressive, single shock absorber with rebound and compression (High speed / Low speed) damping and spring preload adjustment
Single sided swing arm: materiale Aluminium alloy
Wheel travel 120 mm (4.72 in.)

BRAKE
Front brake Double floating disc with Ø 320 mm (Ø 12.6 in.) diameter, with steel braking band and aluminium flange
Front brake caliper Radial-type, single-piece with 4 pistons – Ø 34 mm (Ø 1.34 in.)
Rear brake Single steel disc with Ø 210 mm (Ø 8.27 in.) diameter
Rear brake caliper With 4 pistons – Ø 25,4 mm (Ø 1.00 in.)

RIM
Front: Material / size Forged aluminium alloy 3.50 " x 17 "
Rear: Material / size Forged aluminium alloy 6.00 " x 17 "

TIRES
Front 120/70 – ZR 17 (58 W)
Rear 190/55 – ZR 17 (75 W)

FAIRING
Material Thermoplastic
MV Agusta is committed to the constant improvement of our products. Therefore the information and technical characteristics of the vehicles are subject to change without notice.