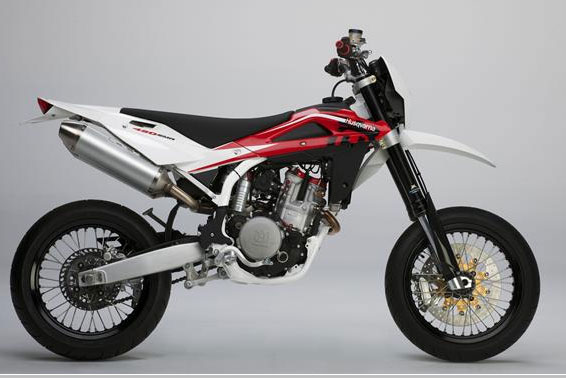 Back to 2010 Husqvarna Motorcycle Index Page
Click photos to enlarge.
They make great desktop images.
– 2010 Husqvarna SM450

2010 Husqvarna SM450
The Husqvarna SM 450 R and SM 510 R have seen some quite radical changes reflecting the experience gained from wins on world championship supermotard tracks.
Husqvarna engineers concentrated on the frame to make both models even lighter and easier to handle. To achieve this, the frame is of a completely new design with new levels of rigidity and settings for dealing with power that optimise handling and give the rider a much better feel for the bike. The frame is also one kilo lighter than before. All the new body panels have IPD (in–mould plastic decoration) graphics and are made of stronger, more flexible plastic. The front and rear lights are more powerful. The rear cluster houses LED lights and an integrated dual purpose number plate holder that can carry either a homologation or a racing number without the owner having to buy additional parts. The front mudguard is also new. The new look of the bike is both eye-catching and different. Still on the subject of looks, the wheels are black anodised Excel rims and the new plastic engine protectors on both sides are also black. The newly designed side stand is made of aluminium. All the 2010 Husqvarna twin-cam engines now feature new radiator hoses and more powerful water pumps so as to improve cooling and performance. The engine has a new over-pressure valve in the oil circuit, a new needle cage lubrication bearing and a new oil filter. The exhaust valves are made of steel to ensure longer life and reliability. The gearbox has been renewed to offer improved gear change speed and accuracy. Gearbox design has seen changes in terms of: gear change linkage, lever and selector mechanisms. The 450 and 510 engines have also benefited from a new timing gear chain tensioner that was introduced to improve chain tension and reduce contact pressure. The exhaust system has twin aluminium silencers that create a very special sound, reduce overall noise levels and improve performance.
2010 Husqvarna SM450 – Specifications
MSRP: $TBA USD

MITO EV
CARATTERISTICHE TECNICHE / Technical data
Tab. 1218 (10/09)
SM 450 R-ie
CARATTERISTICHE GENERALI
General features
DIMENSIONI, PESO, CAPACITÀ/
Dimensions, weight, capacities
INTERASSE / Wheelbase ………………………. mm/in. 1445 / 56.89
LUNGHEZZA TOTALE / Overall lenght ……. mm/in. 2163 / 85.16
LARGHEZZA MAX. / Overall width ………… mm/in. 820 / 32.28
ALTEZZA MAX. / Overall height …………….. mm/in. 1250 / 49.21
ALTEZZA SELLA / Saddle height …………… mm/in. 920 / 36.22
ALTEZZA MIN.DA TERRA /
Min. ground clearance …………………………… mm/in. 245 / 9.64
AVANCORSA / Trail ……………………………… mm/in. 83 / 3.27
PESO IN ORDINE DI MARCIA, SENZA CARBURANTE/
Kerb weight, without fuel ……………………… Kg/lb. 120,5 / 265.7
CAPACITÀ SERBATOIO CARBURANTE /
Fuel tank capacity ………………………………… l 7,2
U.S. Gallons 1.9
Imp. Gallons 1.6
Q.TA' OLIO NEL BASAMENTO
Transmission oil ……………………………………. l 1,7
U.S. Quarts 1.8
Imp. Quarts 1.5
MOTORE / Engine
CARATTERISTICHE / Characteristics
TIPO / Type
MONOCILINDRICO 4 TEMPI / Single cylinder, four stroke
ALESAGGIO / Bore ………………………………. mm/in. 97 / 3.81
CORSA / Stroke ……………………………………. mm/in. 60,76 / 2.39
CILINDRATA / Displacement …………………… cm3/cu.in. 449 / 27.39
RAPPORTO DI COMPRESSIONE /
Compression ratio ……………………………………………………………….. 12,9:1
(*) AVVIAMENTO / Starting ……………………. ELETTRICO (CON
ALZAVALVOLE AUTOMATICO) / Electric (with automatic
decompressor)
RAFFREDDAMENTO / Cooling ………………… A LIQUIDO / By liquid
RADIATORI ACQUA / Water radiator ………. N°/No 2
(CON ELETTROVENTOLA / With electric fan)
DISTRIBUZIONE / Timing system
TIPO / Type
DOPPIO ALBERO A CAMME IN TESTA, 4 VALVOLE
/ "DOHC", 4 valve
LUBRIFICAZIONE / Lubrication
TIPO / Type
A CARTER SECCO CON DUE POMPE A LOBI E FILTRO A CARTUCCIA /
Dry sump with two oil pump rotor and cartridge filter
ACCENSIONE / Ignition
TIPO / Type
ELETTRONICA A SCARICA INDUTTIVA CON ANTICIPO VARIABILE A
CONTROLLO DIGITALE / Electronic, inductive discharge, with
adjustable advance (digital control)
TIPO CANDELA / Spark plug type …………… "NGK" CR 8EB
DISTANZA ELETTRODI / Spark plug gap mm/in 0,7 / 0.0275
ALIMENTAZIONE/ Fuel system
TIPO / Type ……………………………………………… ad iniezione elettronica /
electronic injection feed
CORPO FARFALLATO/Throttle body ………. MIKUNI D42
FRIZIONE / Clutch
TIPO / Type
MULTIDISCO IN BAGNO D'OLIO CON COMANDO IDRAULICO / Wet,
multiplate type; hydraulic control
N° DISCHI CONDUTTORI / Driving disc no ………………………………………. 8
N° DISCHI CONDOTTI / Driven disc no …………………………………………… 7
TRASMISSIONE PRIMARIA / Primary drive
PIGNONE MOTORE / Engine sprocket ……… Z/Teeth 23
CORONA FRIZIONE / Clutch gear ……………. Z/Teeth 63
RAPPORTO DI TRASMISSIONE / Transmission ratio 2.739
CAMBIO VELOCITÀ/ Transmission
TIPO / Type
CON INGRANAGGI SEMPRE IN PRESA / Constant mesh gear type
N° MARCE / Speed gears no ………………………………………………………… 6
RAPPORTI DI TRASMISSIONE / Internal ratios
…………………………………………………………… 1ª/1st 2,000 (28/14)
…………………………………………………………… 2ª/2nd 1,611 (29/18)
…………………………………………………………… 3ª/3rd 1,333 (24/18)
…………………………………………………………… 4ª/4th 1,086 (25/23)
…………………………………………………………… 5ª/5th 0,920 (23/25)
…………………………………………………………… 6ª/6th 0,814 (22/27)
TRASMISSIONE SECONDARIA / Secondary drive
PIGNONE USCITA CAMBIO /
Transmission sprocket ………………………….. Z/Teeth 15
CORONA POSTERIORE /
Rear wheel sprocket …………………………….. Z/Teeth 42
RAPPORTO DI TRASMISSIONE /
Transmission ratio ……………………………………………………………….. 2,800
CATENA DI TRASMISSIONE / Driving chain
MARCA E TIPO / Manufacturer and type "D.I.D." 520 V6/ "REGINA" 135
ORN (5/8″x1/4″)
RAPPORTI TOTALI DI TRASMISSIONE / Overall ratios
…………………………………………………………… 1ª/1st 15,339
…………………………………………………………… 2ª/2nd 12,356
…………………………………………………………… 3ª/3rd 10,226
…………………………………………………………… 4ª/4th 8,336
…………………………………………………………… 5ª/5th 7,056
…………………………………………………………… 6ª/6th 6,249
(*) : DISPONIBILE KIT AVVIAMENTO A PEDALE/ Available "Kick start"
KIT
MITO EV
CARATTERISTICHE TECNICHE / Technical data
Tab. 1218 (10/09)
SM 450 R-ie
MOTOTELAIO / Chassis
TELAIO / Frame
TIPO / Type
MONOTRAVE IN ACCIAIO IN TUBI A SEZIONE CIRCOLARE, RETTANGOLARE
ED ELLISSOIDALE; TELAIETTO POSTERIORE IN LEGA
LEGGERA / Steel single tube cradle (round, rectangular and ellipsoidal
tubes); rear frame in light alloy
SOSPENSIONE ANTERIORE / Front suspension
TIPO / Type
FORCELLA TELEIDRAULICA A STELI ROVESCIATI E PERNO AVANZATO;
REGOLAZIONE FRENO IDRAULICO IN COMPRESSIONE ED
ESTENSIONE / "Upside-Down" telescopic hydraulic fork with
advanced axle; compression and rebound stroke adjustment
Ø STELI / Fork legs dia. …………………………. mm/in. 50 /1.97
CORSA SULL'ASSE GAMBE /
Travel on legs axis ……………………………….. mm/in. 250 / 9.84
MARCA FORCELLA /
Front fork manufacturer …………………………………………… "MARZOCCHI"
SOSPENSIONE POSTERIORE / Rear suspension
TIPO / Type
PROGRESSIVA "SOFT DAMP" CON MONOAMMORTIZZATORE
IDRAULICO; REGOLAZIONE DEL PRECARICO DELLA MOLLA E DEL
FRENO IDRAULICO IN COMPRESSIONE (DOPPIA) ED ESTENSIONE /
Progressive "Soft Damp" type with single hydraulic shock absorber;
spring preload adjustment, compression and rebound adjustment
(compression stroke: double adjustment)
CORSA RUOTA / Wheel travel ……………….. mm/in. 290 / 11.42
MARCA AMMORTIZZATORE /
Shock absorber manufacturer ………………………………………….. "SACHS"
FRENO ANTERIORE / Front brake
TIPO / Type
A DISCO FLOTTANTE, TIPO "WAVE", CON COMANDO IDRAULICO E
PINZA RADIALE / Floating disc, "Wave" type, with hydraulic control
and radial caliper
Ø DISCO / Disc dia. ……………………………….. mm/in 320 / 12.6
FRENO POSTERIORE / Rear brake
TIPO / Type
A DISCO FLOTTANTE, TIPO "WAVE", CON COMANDO IDRAULICO E
PINZA FLOTTANTE / Floating disc, "Wave" type, with hydraulic control
and floating caliper
Ø DISCO / Disc dia. ……………………………….. mm/in 240 / 9.45
CERCHIO ANTERIORE / Front rim
MATERIALE / Material…………………………. LEGA LEGGERA / Light alloy
DIMENSIONI / Size …………………………………. 3,50"x17"
CERCHIO POSTERIORE / Rear rim
MATERIALE / Material…………………………. LEGA LEGGERA / Light alloy
DIMENSIONI / Size …………………………………. 4,25"x17"
PNEUMATICO ANTERIORE / Front tire
TIPO / Type …………………………………….. "PIRELLI" MTR 21 Dragon-EVO
/"DUNLOP"
DIMENSIONI / Size …………………………………………………………. 120/70-17″
PNEUMATICO POSTERIORE / Rear tire
TIPO / Type …………………………………….. "PIRELLI" MTR 22 Dragon-EVO
/"DUNLOP"
DIMENSIONI / Size …………………………………………………………. 150/60-17″
IMPIANTO ELETTRICO / Electrical equipment
TENSIONE IMPIANTO / Voltage ………………………………………………… 12 V
POTENZA LAMPADE / Lamps wattage
FANALE ANTERIORE / Head light ……………………………………… 35 / 35 W
LUCE DI POSIZIONE / Pilot light …………………………………………………..5 W
FANALE POSTERIORE / Tail light…………..DEL TIPO A "LED"/ "LED" type
LUCE STOP / Stop light ………………………………………………………….. 21 W
INDICATORI DIREZIONE / Turn signals …………………………………….. 10 W
BATTERIA / Battery ……………………………………………………….. 12 V-6Ah