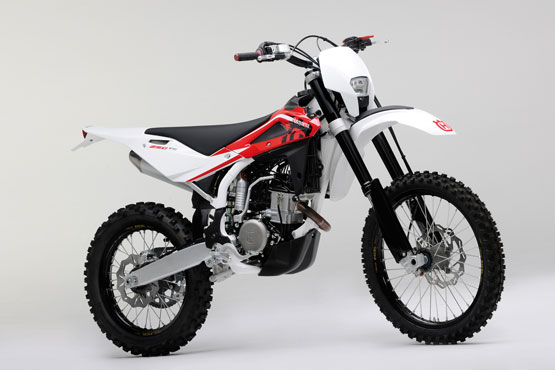 Back to 2010 Husqvarna Motorcycle Index Page
Click photos to enlarge.
They make great desktop images.
– 2010 Husqvarna TE250

2010 Husqvarna TE250


Antoine Meo and Matti Seistola have tested and ridden to victory the TE250 in the first part of the world enduro championship . Now it is ready to meet the wider public in the showrooms and at enduro races throughout the world. The TE250 is without doubt the best performing and most wanted 250 cc four-stroke enduro of the moment.

For the enduro version the most important changes concern chassis parts , as the 2010 version engine already had a Mikuni fuel injection system.

The chassis has been redesigned and reinforced at the specific request of the official Ch Racing team, with a streamlined area below the cradle preventing knocks from uneven surfaces. The area around the footrest connections and rear brake pump connections has been improved to reduce contact with the heel and to facilitate movement by the rider on the pedals. A single plate covers the footrest and rear brake pump/pedal connections.

The suspension has been optimized, with a dedicated setting for enduro racing, both for the Kayaba forks and the Sachs shock absorber.

In order to better facing the longest and most extreme enduro trials the fuel tank capacity has been increased to 8.5 litres.

The tank has a new pump which enables 100% exploitation of fuel available.

The air box has been redesigned to better hold the filter sponge and improve resistance to water.
The engine guards are made of a new material, providing better protection against knocks.

The mirror-finish aluminium hubs are new, now with standard perforations.

The bodywork has new graphics on the tank side panels, with In Mould Plastic Decoration which is incorporated in the actual material, not applied afterwards.

The design and look of handguards included in the kit are also new.

The engine has been redesigned, improving power at low revs thanks to the ability to choose between 2 different CDI maps configuration through handlebar switch – for hard or soft ground, depending on the style of riding and condition of the track.

The layout of radiator hoses is new, as well as the position of the exhaust silencer now with new db killer and heat protection



PRINCIPAL CHANGES TO TE250, TE310 AND TC250 MODELS
NEW CHASSIS, REDESIGNED AND REINFORCED
NEW HUBS
NEW GRAPHICS
NEW ENGINE GUARDS
WATERPROOF SPARK PLUG COVER
NEW EXHAUST PIPE HEAT PROTECTOR
ENGINE CRANK-CASE WITH STEEL CHASSIS SOCKETS


2010 Husqvarna TE250 – Specifications
MSRP: $TBA USD

TDA. See Husqvarna.