Back to 2010 Moto Guzzi Motorcycle Index Page
Click photos to enlarge.
They make great desktop images.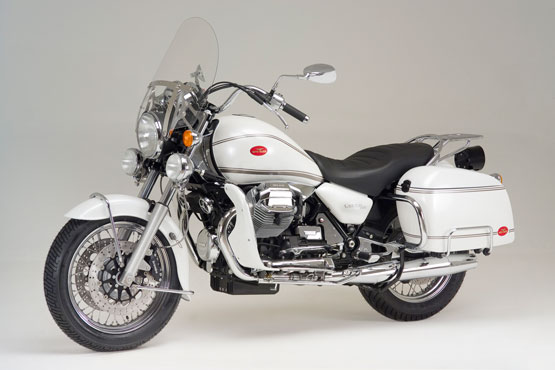 2010 Moto Guzzi California Vintage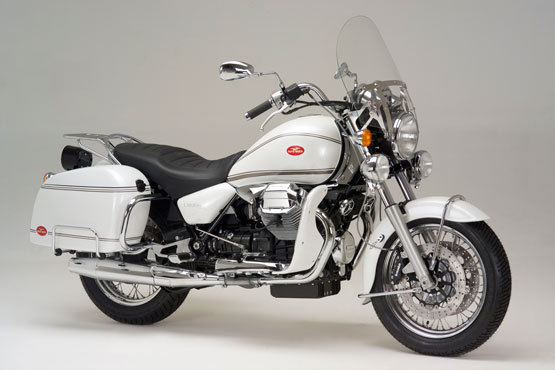 2010 Moto Guzzi California Vintage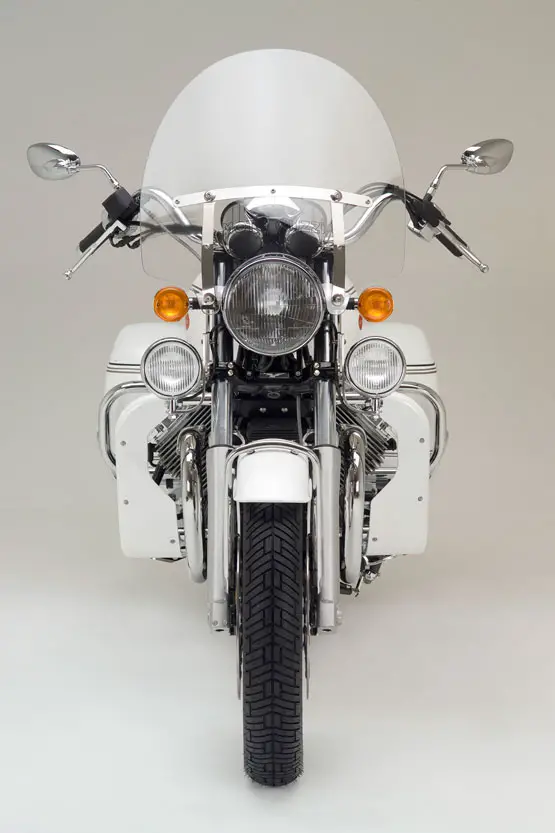 2010 Moto Guzzi California Vintage
– 2010 Moto Guzzi California Vintage

2010 Moto Guzzi California Vintage
Over thirty-five years have gone by since its introduction, but the Moto Guzzi California continues to play a leading role in the collective imagination of motorcyclists all over the world. When the California was first introduced back in 1971, the market for customs was split between original motorcycles and Japanese imitations. But then Moto Guzzi introduced a machine with a powerful personality, based on the tried and tested frame of the V7 Special and the legendary 90° V twin engine, with a capacity of 757 cc. This frame/engine combination proved such a tremendous international success that it was eagerly adopted by the L.A.P.D. (Los Angeles Police Department), and later by police departments in other American States. The rest is history – and legend. A familiar protagonist in films and advertisements, the California has every right to be considered as one of the few objects of industrial design that have left a permanent mark. The California's wheels have never stopped, and neither has its development. Year after year, the bike's looks and technology have been updated without altering its original character and spirit. Now, 35 years after its introduction, Moto Guzzi has decided to pay tribute to the amazing California by creating an exclusive Vintage version, dedicated to modern riders who want to continue the dream. The styling is obviously retro, as you can see from the stunning spoked wheels, redesigned steel mudguards, new Brembo front calipers, supplementary fog lights controlled from the right hand switch block, windshield with stainless steel trim, shiny chrome handlebars and two-tone seat. The fixed panniers are a further sign of distinction. Made from rotational nylon, they are fully waterproof with inner linings, and are protected against impact by robust chromed steel tube of the same type used for the luggage rack.



2010 Moto Guzzi California Vintage – American Specifications
MSRP: See Dealer


CALIFORNIA VINTAGE

Technical Specifications ENGINE
Type : 90° V-Twin, 4 stroke
Cooling system : air cooled
Displacement : 1,064 cc
Bore and stroke : 92 x 80 mm
Compression ratio : 9.8 : 1
Timing system : 2 overhead valves moved by light alloy push-rod sand rocker arm with mechanical tappets
Valve timing : intake open 24° B.T.D.C.
intake close 52° A.B.D.C.
exhaust open 54° B.B.D.C.
exhaust close 22° A.T.D.C.
Maximum power : 54 kW at 6,400 rpm
Maximum torque : 94 Nm at 5,000 rpm
Fuel system : Magneti Marelli IAW alfa-n system Multipoint phased sequential fuel; 2 throttle bodies of 40 mm with injectors Weber IW 031
Starting system : electric
Ignition : Magneti Marelli IAW 15RC electronic digital ignition, twin spark
Exhaust system : steel, 2 tubes connected to an expansion room, that is connected to 2 steel mufflers; three-way catalyzer with Lambda sensor (Euro 3)
Homologation Euro 3
Lubrication : with lobes pump and pressure regulator

TRANSMISSION
Gearbox : 5 speed, costant mesh gears with built-in cush drive
Internal ratios : 1° 14/28 = 1:2
: 2° 18/25 = 1:1.389
: 3° 21/22 = 1:1.048
: 4° 23/20 = 1:0.870
: 5° 28/21 = 1:0.750
Primary drive : by helical gears, ratio 17/21 = 1: 1.235
Secondary drive : shaft drive, ratio 8/33 = 1:4.125
Clutch : dual disc dry with mechanical control

CHASSIS
Frame : detachable tubular duplex cradle in special high-strengh steel
2010 Moto Guzzi California Vintage – Canadian Specifications
MSRP: $NA CDN

Model not available in Canada