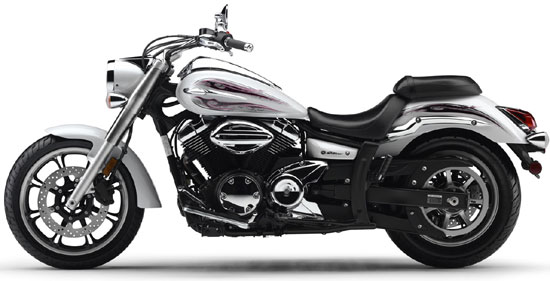 Back to 2010 Yamaha Motorcycle Index Page
Click photos to enlarge.
They make great desktop images.
– 2010 Yamaha V-Star 950

2010 Yamaha V-Star 950
Long low neostreamline style in scaled down package.
The 2010 Yamaha V-Star 950 offers middleweight performance in user friendly, confidence inspiring package that will appeal to entry level riders right through to seasoned veterans. The 2010 V-Star 950 offers an exciting combination of excellent engine performance and character with plenty of power for longer highway adventures combined with the styling and all the cruiser amenities that demanding customers have come to expect.
Right bike. Right time. Right now.
The Yamaha 2010 V-Star 950 – a bike with the Roadliner's long and low neo-streamline style and stance, scaled down to a more manageable size and price range.
Looking for a new generation cruiser that is fun to ride and easy to operate?
A cruiser that features a full size chassis, high quality fit and finish plus a super low seat height. The V-Star 950 offers class leading performance and plenty of cruiser character so you can discover your free spirit in comfort, style and confidence.
Highlights:
Fuel Consumption * 20kpl/57mpg(Imp)
Air-cooled, 942cc, SOHC, 4-valve, V-Twin power plant
Long, low, agile chassis with user friendly 675mm (26.6″) seat height
Features and Benefits (USA):
Key Features:

" The V Star 950 won the prestigious "Metric of the Year" award in 2009 from V-Twin® Magazine.

" V Star 950 is the benchmark in the middleweight cruiser class, appealing to seasoned riders as well as those looking for a friendly entry-level cruiser. The air-cooled V-twin delivers plenty of distinctive, big-cruiser character and pulsing torque feel. Seat height is an extra-low 26.5 inches. The full-sized chassis has a long, low look and provides spacious comfort. Handling is sporty and responsive, great for curvy back roads and commuting around town as well as open-highway cruising.

" The 942cc 60° V-twin engine is both simple and sophisticated. Sure, there's no-fuss air cooling for traditional looks. But inside you'll find the reason for the surprisingly spirited performance: four-valve cylinder heads, ceramic-composite-lined cylinders, forged aluminum pistons, and fuel injection. The meticulously tuned 2-into-1 exhaust system has a throaty exhaust note, and also 3-way catalyst technology to reduce air pollution.

" The carefully designed chassis contributes to an exceptionally light feeling riders are sure to appreciate. The double-cradle steel main frame offers an ideal rigidity balance in the longitudinal, lateral, and torsional directions, using the engine as a stressed member. With the engine mounting position slightly forward for optimum front-rear weight distribution and its large, 18-inch front wheel, V Star 950 has outstanding handling performance.

" We call the V Star 950's streamlined styling "New Style Classic." Designers used the influence of a single, horizontal line along the entire body, almost as if the wind has sculpted the machine. The long, low look is accentuated by the headlight and low-profile fuel tank, and the openness around the engine and front wheel highlight the bike's light appearance.

Engine:

" The 57.5 cubic inch (942 cc) engine is an air-cooled SOHC 60° V twin. With four valves per cylinder, a pent-roof shaped combustion chamber, and 9.0:1 compression ratio, this engine has been carefully designed to produce excellent power characteristics – and best-in-class acceleration.

" To keep friction loss to a minimum and help the engine achieve the ideal performance characteristics, special compact roller-type rocker arms with needle bearings are used. These also reduce top-end wieght for excellent mass centralization.

" The combustion chamber shape was precisely engineered to direct the fuel air charge into the center of the piston for faster combustion and maximum power. Ceramic-composite plated cylinders provide excellent heat dissipation and reduced oil consumption.

" High-quality forged aluminum pistons have a lightweight, high strength compact design that contributes to reduce vibration.

" The designers realized that the engine's V twin character was so pleasing on its own that a counterbalancer was unnecessary. This also contributes to simplicity and less operating noise.

" Sophisticated fuel injection is used on the V Star 950. The injectors are four-hole, two-directional types with spray aimed at the valve surfaces. That produces good fuel atomization for faster and more complete combustion which contributes to excellent drivability. The fuel injection system also adopts an ISC (Idling Speed Control) valve for outstanding idling stability.

" Lubrication is provided by a simple, reliable wet sump system.

" The 5-speed transmission is all new, with a smooth shifting feeling, and gear ratios spaced to let the rider take full advantage of the engine's torque characteristics and enjoy comfortable cruising at highway speeds. Naturally, power is efficiently transferred to the rear wheel using simple, quiet belt drive.

" The engine's look is highly detailed, with polished cylinder fins and beautifully chrome-plated cylinder head covers, for an exceptional appearance sure to be noticed.

" The V Star 950 achieves fuel economy up to an estimated 47 mpg* with a fuel tank that holds 4.4 gallons of gas.

Chassis/Suspension:

" The steel double-cradle frame is long and low, contributing to the bike's spacious 95.9-inch (2435mm) overall length and 66.3-inch wheelbase. That means a great ride to go along with the great looks.

" The seat height a mere 26.5 inches off the pavement, one of the lowest around, and a fuel tank that's made as narrow as possible where it meets the seat, it is easy for most riders to put both feet firmly on the ground.

" Fenders are real steel, front and rear. That adds to the quality look and feel, and makes customization easier.

" The big 18-inch front wheel helps deliver this cruiser motorcycle's sporty handling characteristics and "Sport Classic" cruiser looks. The low-profile 130/70-18 tire is mounted on an 8-spoke lightweight aluminum wheel. The 170/70-16 bias ply rear tire adds a beefy look and helps transfer all that torque and power to the pavement.

" Large 320mm front and 298mm rear discs provide strong braking capacity with excellent feel.

" Front forks feature big 41mm tubes, and rear suspension is a bottom-link-type monocross shock. Settings are calibrated to deliver a plush ride that is increasingly firm as the suspension is compressed for good handling and comfort over bigger bumps in the road.

" The V Star 950 has a wonderfully light feel. Surprisingly, even though it has a full-size chassis, the bike weighs just 612 pounds wet, with a full tank of gas and all fluids.

Additional Features:

" The large-diameter meter is mounted on the fuel tank for a traditional look. Meter functions include speedometer, fuel level warning light, oil level warning light, and odometer with two trip meter functions, fuel trip meter, and clock display. The LCD display illumination can be adjusted using a right side handlebar switch.
Features and Benefits (Canada)
Engine:
" 942cc, air-cooled, SOHC, 4-valves per cylinder, 60° V-twin produces outstanding low- and mid-range torque – maximum torque is reached at only 3,000 rpm – for exceptional cruising performance.

" One-piece cylinder heads feature 4-valves per cylinder to provide optimum volumetric or filling efficiency for maximum power output. More fuel / air mixture entering the combustion chamber means increased power output. Two smaller intake valves allow more air flow than a single large valve. Two smaller valves (lighter) also allow for higher rpms before valve float.

" Pent roof type combustion with optimized squish area forces the fuel / air mixture toward the centre of the combustion chamber (and the centrally located long reach spark plug) for faster, more complete combustion and hence improved power and reduced emissions.

" Cylinder heads feature buff polished fins for a quality appearance, while the cylinder head covers are chromed.

" The SOHC valve train features 31.5mm intake and 28mm exhaust valves with single valve springs which reduce friction and power losses. Specially designed "Y" shaped roller rocker arms activate the valves. The roller rocker system with a needle bearing surface rotating against the camshaft allows the lift of 2 valves at the same time without producing excessive camshaft wear and friction.

" Auto adjusting cam chain tensioners are used to reduce mechanical engine noise and maintenance

" Die-cast, lightweight aluminium cylinders feature ceramic composite plating for superior heat dissipation for excellent cooling, less friction, reduced weight and longer engine life.

" Single pin style crankshaft is used to enhance engine character and exhaust note.

" Flat top, forged, lightweight aluminium pistons provide excellent durability while reducing reciprocating mass for fast throttle response.

" Wet sump oil delivery system features an easy access spin-on type oil filter. A traditional dipstick is used to check oil level.

" Classic side mounted, large capacity, 3 litre air box houses an easy access, high-flow viscous paper-type filter. Its design highlights and compliments the V-twin engine appearance. The outer cover is chromed.

" Dual bore, 35mm throttle body fuel injection system with TPS (Throttle Position Sensor) and ISC (Idle Speed Control). This is a "closed loop" system that utilizes a heated oxygen sensor. The oxygen sensor feeds back info to the ECU which in turn adjusts the fuel/air mixture for maximum power with minimum emissions. The oxygen sensor is located before the mufflers, so the use of aftermarket slip-on mufflers will not affect this system.

" 4-hole, 2-directional spray, Denso fuel injectors are used for excellent fuel atomization and more complete combustion chamber filling. There is one injector per cylinder.

" Fuel injection benefits include improved fuel economy; choke-less operation, reduced emissions, and smoother drivability. The XVS950 has been tuned to provide a very "linear" throttle response for easy riding.

" Powerful 32 bit ECU controls the ignition and fuel injection process

" Stylish 2 into 1 exhaust system features a 3-way honeycomb-type catalyser at the entry point to the muffler. The catalyser reduces harmful exhaust emissions, while the "dual stage type" muffler produces a low, throaty V-Twin exhaust note.

" One-way clutch-type electric starter decreases mechanical noise during starting.

" Multi-plate "outer pull type'" wet clutch is used. Lever pull is light and easy.

" 5-speed transmission features optimized gear ratios for excellent city and highway drivability. Transmission gears use "straight cut dogs" for smooth, positive shifting. 5th gear delivers outstanding cruising performance and reduced rpms at highway speed

" Transistorized coil ignition provides a hot spark for sure starts and is maintenance-free.

" Clean, quiet belt drive system is extremely low maintenance and simplifies customization. The belt is similar to the XVS1300 and features "Aramid" cords for excellent strength and reduced stretching.

" Air Induction System (A.I.S.) reduces harmful CO and HC exhaust emissions.

" One piece classic heel-and-toe shifter adds versatility and enhances the overall cruising experience.

" Numerous chromed engine parts reinforce this motorcycle's quality image.


Chassis/Suspension:

" Double cradle steel frame offers roomy ergonomics, great handling and a low seat height. This frame utilizes a 4-point rigid engine mounting system to optimize the overall rigidity balance for superior handling. The engine is a stressed member of the frame. Rake is 32 degrees. The engine is mounted low in the chassis to provide a low center of gravity for a light, easy handling feel.

" "Box section" steel swingarm compliments the frame.

" The V-Star 950 features one of the lowest seat heights in its class (675mm / 26.6″), making it very easy for most riders to place both feet flat on the ground, an important benefit for novice or shorter riders.

" The long (1685mm / 66″) wheelbase provides very stable and precise handling at all speeds. Both of these benefits will help instil confidence in novice riders.

" "New Style Classic" body design concept is based on a single streamline running along the entire body surface. This stylish design highlights a new low, lean, and lighter image than conventional old style cruisers. The long, low design means spacious ergonomics with lots of leg room, which maximizes both rider and passenger comfort.

" Beefy 41mm front fork features stylish large-diameter brushed-finished fork covers. Wheel travel is 135mm (5.3″) for a smooth, comfortable ride.

" Monocross style, single-shock, bottom link rear suspension centralizes mass for light, agile handling. The linkage system provides a rising rate or progressive effect that provides excellent compliance on small bumps then increases in firmness for large bumps.

" Spring preload adjustable rear shock is vertically mounted behind the engine and is tucked out of sight for that classic, hard tail look. Rear wheel travel is 110mm (4.3″). The adjustable spring preload allows the rider to tailor spring preload to suit rider weight, load and road conditions.

" Single, large 320mm front disc brake features a pin slide-type caliper with twin pistons for strong, confidence-inspiring stopping power.

" 298 mm rear disc brake is squeezed by single piston caliper mounted to the underside of the swingarm. This design not only helps to hide the caliper but also lowers the center of gravity for great handling. New design brake pedal is used.

" 1 inch diameter, pull back handlebars are easy to reach and enhance the riding position for excellent rider comfort. Chromed bar end weights reduce vibration for excellent rider comfort.

" 16.7 litre teardrop shaped fuel tank compliments the long, low "New Style Classic" body lines. The reserve portion of the tank is 3.7 litres.

" Separate rider and passenger seats offers excellent comfort and support for all day riding comfort. Rider seat height is only 675mm or 26.6 inches off the ground. The front portion of the rider seat is narrow to make it even easier to touch the ground. The passenger portion of the seat can easily be removed if desired.

" Front and rear fenders are made of steel for easy customization and demonstrate the quality of build.

" Full-size, "floating-type" rider floorboards are roomy and comfortably positioned while also helping reduce vibration. There is a replaceable "scraper" area on the lower edge of the board.

" Lightweight 8-spoke cast aluminium wheels are fitted wide tubeless tires. These stylish wheels feature a "split" spoke design. Front wheel is 3.50 inches wide fitted with a 130/70x 18 bias tires, while the rear is 4.5 inches wide fitted with a 170/70x 16 bias tires.

" Stylish fuel tank mounted instrument features an analog speedometer, digital odometer, dual tripmeters, low fuel tripmeter, clock and low fuel warning light. The instrument illumination can adjusted to suit the rider's preference via the RHS switch gear.

" Handlebar switch gear allows the operator to change instrument meter functions via buttons on the RHS handlebar switch, thereby eliminating the need to take your hands off the bars to "tab through" the main instrument functions.

" 60/55 watt high intensity halogen headlight emphasizes the "New Style Classic" body styling. The headlight is adjustable up and down plus left and right.

" "New Style Classic" taillight design.


Details:

" Industry-leading Star family fit and finish features rich, lustrous paint and extensive chrome accents creating a machine as stunning as it is powerful.

" Extra wide brushed aluminium front brake and clutch levers provide a quality feel.

" High output 460 watt generator

" Electric fuel pump

" Low-maintenance, lightweight, compact, sealed battery ensures fuss-free, dependable starting.

" Steering lock is integrated into the main ignition switch for extra convenience.

" Self-cancelling turn signals

" Excessive lean angle sensor will stop the engine in the event of a tip over

" Convenient under seat helmet holder bracket

" Upper & lower belt covers help prevent debris from entering the belt and pulley areas

" Stylish clear signal lenses.

" Convenient pre-wired accessory plug for passing lamps inside the headlight shell.
2010 Yamaha V-Star 950 – USA Specifications
MSRP* $8,290 (Raven) Available from September 2009
$8,290 (Pearl White) Available from September 2009
$8,090 (Candy Red) Available from September 2009


Engine
Type 942cc air-cooled 4-stroke, V-twin, SOHC, 4-valve

Bore x Stroke 85.0mm x 83.0mm

Compression Ratio 9.0:1

Fuel Delivery Fuel injection

Ignition TCI: Transistor Controlled Ignition

Transmission 5-speed; multiplate wet clutch

Final Drive Belt


Chassis
Suspension/Front Telescopic fork, 5.3-in.travel

Suspension/Rear Single shock, 4.3-in travel

Brakes/Front Hydraulic disc, 320mm

Brakes/Rear Hydraulic disc, 298mm

Tires/Front 130/70-18M/C 63H

Tires/Rear 170/70-16 M/C 75H

Wheels 8-spoke cast


Dimensions
Length 95.9 in

Width 39.4 in

Height 42.5 in

Seat Height 26.5 in

Wheelbase 66.3 in

Rake (Caster Angle) 32.0°

Trail 5.7 in

Fuel Capacity 4.4 gal

Fuel Economy** 47 mpg

Wet Weight 612 lb


Other
Warranty 1 Year (Limited Factory Warranty)




2010 Yamaha V-Star 950 – Canada Specifications
MSRP: $10,099 CDN
Engine 4-stroke, air-cooled, SOHC, 8-valve, 60 degree, V-twin
Displacement 942cc
Bore and Stroke 85 x 83mm
Compression Ratio 9:1
Maximum Torque 8 kg-m (57.9 ft-lb) @ 3,000rpm
Fuel Delivery 35mm dual bore throttle body fuel injection
Estimated Fuel Consumption* 20kpl / 57mpg (Imp.)
Lubrication Wet Sump / 4 litres
Ignition / Starting TCI / Electric
Transmission 5 speed
Final Drive Belt

Suspension (Front) 41mm fork
Suspension (Rear) Monocross
Brakes (Front) 320mm disc
Brakes (Rear) 298mm disc
Tires (Front) 130/70 x 18
Tires (Rear) 170/70 x 16

Length 2,435mm (95.9″)
Width 1,000mm (39.4″)
Height 1,080mm (42.5)
Wheelbase 1,685mm (66.3″)
Ground Clearance 145mm (5.7″)
Seat Height 675mm (26.6″)
Fuel Capacity 16.7 litres (3.7 Imp. gal.)
Wet Weight 278kg (611.6lb)

Colour(s)
Deep Metallic Red
Bluish White
Metallic Black

* Fuel economy estimates are based on US EPA exhaust emission certification data obtained by Yamaha and converted into Canadian measurements. Your actual mileage will vary depending on road condition, how you ride, maintain your vehicle, accessories, cargo and operator/passenger weight.

Specifications, appearance, and price of product are subject to change without notice.
* MSRP does not include freight, PDI (Pre Delivery Inspection), pre-rigging (boats), or taxes. Dealer may sell for less.