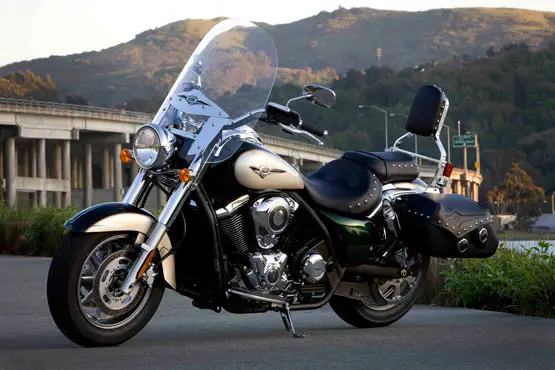 Back to 2011 Kawasaki Motorcycle Index Page
Click photos to enlarge.
They make great desktop images.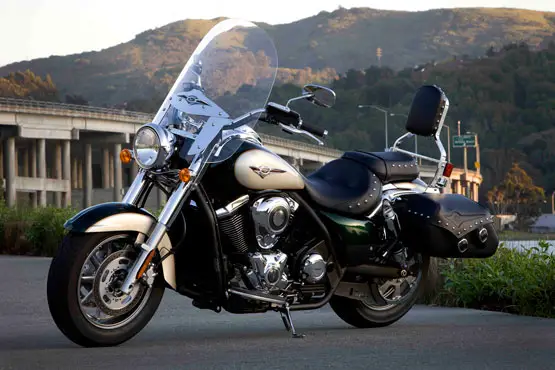 2011 Kawasaki Vulcan 1700 Classic LT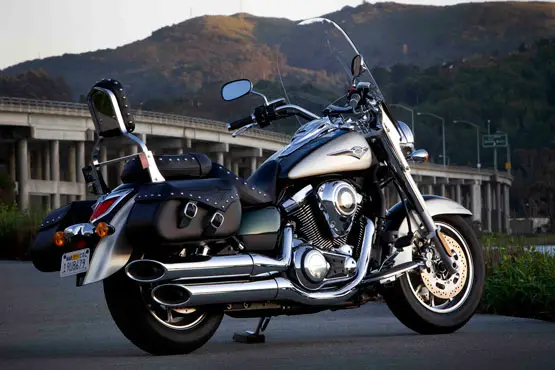 2011 Kawasaki Vulcan 1700 Classic LT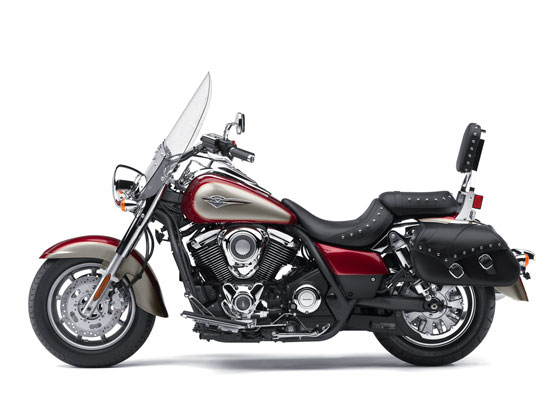 2011 Kawasaki Vulcan 1700 Classic LT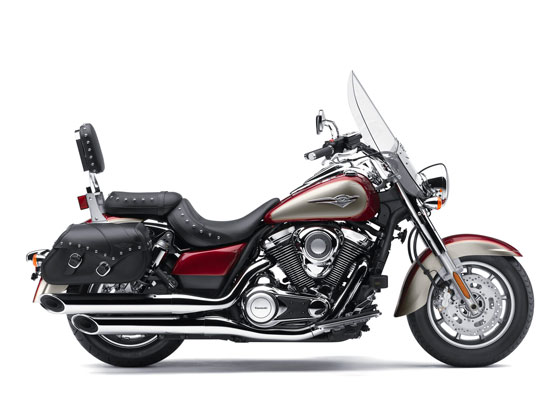 2011 Kawasaki Vulcan 1700 Classic LT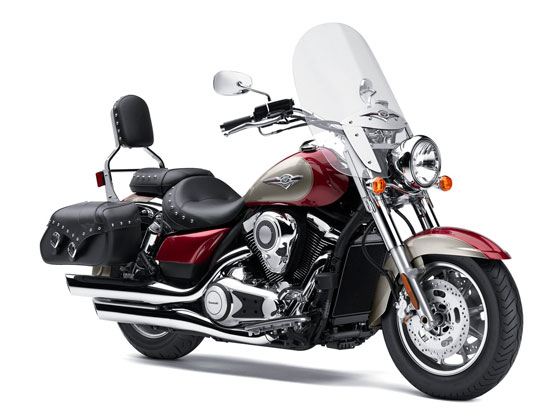 2011 Kawasaki Vulcan 1700 Classic LT

– 2011 Kawasaki Vulcan 1700 Classic LT

2011 Kawasaki Vulcan 1700 Classic LT
Saddle up and hit the road, the Classic LT is ready to rumble.
Behind every good man there's a strong woman. Or vice versa? Let's just say the Vulcan® 1700 Classic is built with two-up cruising in mind, with just the right mix of features – a large windscreen, leather saddlebags and a passenger backrest – to make any road trip an offer your significant other just won't want to refuse, no matter who's in control.

A pair of top-grain, reinforced cowhide saddlebags are at the core of the Classic LT's touring package, with leather carefully selected to minimize flaws and deep-dyed to help protect its finish from minor scrapes. These ideally-sized bags feature a slant-top opening held shut by two 1.5-inch wide leather straps, fitted with chrome buckles and concealed quick-release fasteners. Rolled and riveted lid tops along with metal reinforced upper edges maintain the bags' shape and help keep unwanted moisture away from your cargo.

Comfortable rider and passenger seats are a must on a cruiser able to tackle anything from daily commuting to day trips with a partner, and the Classic LT's got them, along with a classic-style backrest to keep the passenger relaxed and smiling as the miles tick by. Detailed with chrome plated brass studs to match the bags, the classically styled seat and backrest blend attractive visual appeal with practical comfort.

A large, optically correct, acrylic windshield rounds out the additional 1700 Classic LT features. It offers adjustable height and delivers serious wind protection for the rider and passenger.
The Classic LT V-twin uses a single overhead cam in each cylinder head, rather than a push-rod overhead-valve arrangement, to boost efficiency and provide quick acceleration and superior passing performance. The engine's long-stroke design, high compression and big displacement produce massive amounts of quick-revving horsepower, all of it delivered with a distinct V-twin character.

A fully electronic throttle valve system feeds that big V-twin exactly what it needs. Working with a powerful ECU and the rest of the fuel injection system, the electronic throttle valve enhances response without detracting from its distinctive V-twin feel—delivering ultra-precise intake flow to the engine under nearly any conditions.

The system utilizes an Accelerator Position Sensor (APS) and a Throttle Position Sensor (TPS). Both units feed data to the ECU, which adjusts the throttle plates to tailor intake airflow accordingly. The system offers a natural throttle feel, because the APS is activated by a throttle body pulley that's connected by cables to the throttle grip. Like the systems in use on the Ninja® 650R and Vulcan 900 motorcycles, the Classic LT's fuel injection uses one sensor in place of the usual three, for less complexity and weight. Besides the obvious FI advantages like improved fuel economy and automatic adjustment for altitude changes, the system also permits easy hands-off warm-up and idle speed control. This cruising-oriented machine features FI and exhaust system tuning that has been optimized to deliver peak torque at a lower rpm – ideal for urban and back road environments.

Mated to that rumbling V-twin engine, a six-speed transmission featuring overdriven fifth and sixth gears contributes to a relaxed ride and better fuel economy at highway speeds. The Classic LT transfers torque from the transmission to the rear wheel through a thin and light carbon fiber final drive belt that's just 28mm wide. Thanks to its carbon fiber construction, the belt offers 40-percent higher tensile strength than a Kevlar unit of the same width.

Designed to be as light and slim as possible, the Classic LT's single backbone double cradle frame offers a short seat-to-steering head distance, with a correspondingly short wheelbase. Those easy-reach handlebars facilitate slow-speed maneuvering and help maximize rider confidence. Adding to the light and easy handling are suspension components that match the Vulcan 1700 Classic LT's intended usage. An elegantly simple rear swingarm with twin air-assisted shocks provides 3.1 inches of rear suspension travel, and features air spring preload and four-way rebound adjustment. Up front, a large 43mm fork offers precise steering feedback and 5.5 inches of travel.

The LT rolls on nine-spoke cast wheels, which use tubeless tires and complement its open-road character. A 130/90 front and a 170/70 rear are mounted on those attractive wheels. Dual 300mm front disc brakes with twin-piston calipers and a 300mm rear disc brake with a two-piston caliper help bring this stylish machine to sure, powerful stops.

The Vulcan 1700 Classic LT also features a liquid-cooled alternator with rare-earth metals that produces a staggering 46.8 amps of electrical output, providing the 1700 Classic LT with more than enough current to power additional accessories.

Technologically modern though it may be, the Vulcan 1700 Classic LT is still infused with all the charm and visual appeal that's expected from a Kawasaki cruiser. Careful attention to detail and exquisite craftsmanship of the engine covers, bodywork and those beautiful saddlebags add up to a motorcycle that turns heads whether it's parked in your garage or cruising down the highway.
Authentic Kawasaki Accessories are available through Kawasaki dealers.

2011 Kawasaki Vulcan 1700 Classic LT motorcycle model Features
Details & Features

New for 2010
– Improved exhaust pipe heat shielding reduces radiant heat felt by the rider
– Improved radiator ducting helps keep heat away from the rider's right leg
– A 5mm shorter coolant pipe makes it possible to remove the pipe without removing the alternator cover, simplifying oil-screen maintenance

Adjustable Windscreen
– Adjustable handlebar-mounted optically correct windscreen is shaped for optimum airflow management without compromising the Vulcan 1700 Classic LT's cruiser styling
– Strong chrome plated steel supports
– Two-position height adjustability accommodates different sized riders

Studded Seats and Passenger Backrest
– Studded rider and passenger seats feature a sculpted shape that complements the rich visual tone of the bodywork
– Detailed with ½-inch diameter chrome plated brass studs
– Passenger backrest has strong chrome plated steel supports for a secure feeling and traditional cruiser styling

Saddlebags
– Made of reinforced top grain cowhide carefully selected with minimal flaws and deep dyed to resist finish damage due to minor scrapes
– Slant top opening lid, secured with two 1.5-inch wide leather straps with chrome buckles and concealed quick release fasteners
– Dual panel lid construction with embossed Vulcan logo detail
– Metal reinforced upper edge help bags hold their shape
– Rolled and riveted top lid minimizes water intrusion
– Chrome plated brass stud accents match the seats

Powerful 1700cc V-Twin engine
– Liquid cooled, 4-valve per cylinder, fuel-injected 1700cc 52° V-twin engine
– Long-stroke 102 x 104mm bore and stroke helps deliver massive torque, distinctive V-twin feel
– Valve system uses a single overhead cam arrangement instead of pushrods, for quick revability and enhanced mid-high rpm power
– Semi-dry sump allows a low crankshaft placement and a long piston stroke without increasing engine height
– Single-pin crank accentuates the engine's V-twin character by providing strong power-pulses
– Large capacity airbox is located on both sides of the engine
– Small-diameter iridium sparkplugs reach deep into the combustion chamber for high combustion efficiency, especially during low-load operation
– Dual staggered mufflers offer a rich sound and stylish appearance
– Engine tuning offers superior acceleration in the 50-70mph range
– Even in overdrive, the engine pulls strongly, facilitating overtaking at highway speeds

Next Generation FI
– Based on the systems used by the Ninja 650R and Vulcan 900 motorcycles
– Utilizes one sensor in place of the usual three, for simplicity and light weight
– The Vulcan 1700 takes advantage of FI and exhaust tuning optimized for maximum performance in the low-mid-rpm range, giving it plenty of grunt on the boulevard

Electronic Throttle Valve System
– Fully electronic throttle actuation system enables the ECU to control the volume of intake air (via throttle valve angle) and fuel (via fuel injector timing) delivered to the engine
– Optimized fuel injector timing and throttle valve position results in accurate, powerful engine response
– Control of both fuel injection and airflow provides easy starting and precise cold-engine idle speed control
– From the rider's perspective, the ETV works like a standard cable-operated throttle
– the throttle grip is still connected to cables, so the feel at the grip is the same
– Twisting the throttle turns a pulley on the throttle body which triggers the Accelerator Position Sensor (APS) to send a signal to the ECU, which then modulates the throttle valves via a DC motor
– Accurate throttle position is relayed to the ECU by a Throttle Position Sensor (TPS)
– APS and TPS send two sets of signals to the ECU for system redundancy in the unlikely event of a sensor failure

On Board Diagnostics
– Diagnostic system allows self testing of the electronic systems on the Vulcan 1700
– Displays codes on the instrumentation, which can be read by owner from the accessory manual

Six-Speed Transmission / Final Drive
– 5th and 6th are overdrive gears, contributing to stress-free riding and excellent fuel economy when cruising at highway speeds
– 28mm carbon fiber final drive belt offers a 40 percent increase in tensile strength compared to current Kevlar belts, allowing use of a belt only 2mm wider than the Kevlar belt on Vulcan 900
– Belt drive system is quiet, efficient and offers reduced maintenance compared to a chain

Light Handling Chassis
– Compact frame features a short wheelbase, and short distance between the seat and steering head, for great ergonomics and easy maneuverability
– Light and slim as possible, the frame minimizes the number of forged parts and trims any unnecessary metal. The only forged parts are areas that require additional strength
– the down-tube joint, engine brackets, side-stand bracket, and rear fender/shock absorber bracket
– The compact design contributes to light handling and facilitates handling at low speeds, especially when executing precise slow-speed maneuvers like parking or making U-turns

43mm Telescopic Fork
– Provides superb steering feedback
– 5.5 inches of travel for excellent ride quality

Dual Adjustable Rear Air-Shocks
– Air adjustable spring preload can be tuned to match varying rider and passenger loads
– 4-way rebound damping adjustments help the shocks compensate for changes in spring pressure
– Chromed shock covers contribute to the bike's luxurious finish

9-Spoke Cast Wheels
– Allow the use of tubeless tires and complement the Vulcan 1700's muscular styling
– 130/90 front and 170/70 rear radial tires
– Tire choice and suspension settings selected to augment the chassis' light handling characteristics

Brakes
– Dual 300mm front and a single 300mm rear disc are squeezed by twin-piston calipers. This braking system is tuned to provide sure, powerful stops

Classic V-twin Appeal
– The line created by the top of the airbox and the cylinder heads forms a curved shape that continues to flow through the bike
– Deeply chromed engine covers have curved upper surfaces. Their three-dimensional form adds volume and gives a high quality appearance
– The edges of the cooling fins receive a special NC treatment that makes them gleam in sunlight
– All the non-chromed parts of the engine have a matte black finish that further accentuates the gleaming chrome

Bodywork
– The fuel tank's hand-sculpted contours employ a constantly varying radius, giving the bike a dynamic flowing style which is pleasing both to the eye and to the touch
– Its lines flowing through the rest of the bike, the elegantly shaped fuel tank contributes to the Vulcan 1700's curvaceous figure
– LED taillight offers elegant design and excellent long-term durability

Instrumentation
– Ignition switch allows on-position key removal; preventing key bunches from scratching the instrument cluster or tank while the bike is in operation
– Turning the ignition switch collar to the "OFF" position turns the engine off and necessitates re-insertion of the key to restart
– Multi-function LCD displays on the tank-mounted instrument cluster are controlled by switches on the right handlebar. Features include a gear position indicator, fuel gauge, clock, odometer, dual trip meters, remaining range and average fuel consumption
– Liberal use of chrome on the engine, fender brackets, light stays, and rear shock covers contrast nicely with the bodywork's deep, lustrous paint
– The sculpted shape of the seat complements the rich visual tone of the bodywork



2011 Kawasaki Vulcan 1700 Classic LT – USA Specifications
MSRP: $14,199 USD
Engine: Four-stroke, liquid-cooled, SOHC, four valve per cylinder, 52° V-twin
Displacement: 1,700cc / 103.7ci
Bore x Stroke: 102 x 104mm
Compression Ratio: 9.5:1
Maximum Torque: 108 lb-ft @ 2,250 rpm
Cooling: Liquid, plus cooling fins
Induction: Digital fuel injection, dual 42mm throttle bodies
Ignition: TCBI with Digital Advance
Transmission: Six-speed with overdrive
Final drive: Belt
Frame: Steel, double-cradle with box-section single-tube backbone
Rake / Trail: 30° / 6.7 in.
Suspension, Front / Wheel Travel: 43mm hydraulic fork / 5.5 in.
Suspension, Rear / Wheel Travel: Swingarm with twin air-assisted shocks, with 4-way rebound damping / 3.1in.
Front Tire: 130/90×16
Rear Tire: 170/70×16
Brakes, Front – Dual 300 mm discs, dual twin-piston calipers
Brakes, Rear: Single 300 mm disc, twin-piston caliper
Overall Length: 98.4 in.
Overall Width: 40.4 in.
Overall Height: 57.7 in.
Ground Clearance: 5.1 in.
Seat Height: 28.3 in.
Wheelbase: 65.6 in.
Curb Weight: 798 lbs.**
Fuel Capacity: 5.3 gal.
Colors: Metallic Imperial Red/Metallic Titanium
MSRP: $14,199
Warranty: 24 Months



2011 Kawasaki Vulcan 1700 Classic LT – Canada Specifications
MSRP: $TBA CDN

Model not available in Canada

* The Manufacturer's Suggested Retail Price does not include freight, pre-delivery inspection or applicable taxes. The final price is at the discretion of the dealer. Prices and Specifications are subject to change without prior notice.
The specifications mentioned here apply to and have been achieved by production models under standard operating conditions. We intend only to give a fair description of the vehicle and its performance capabilities but these specifications may not apply to every machine supplied for sale. Kawasaki Heavy Industries, Ltd. reserves the right to alter specifications without prior notice. Equipment illustrated and specifications may vary to meet individual markets. Available colours may vary by market.