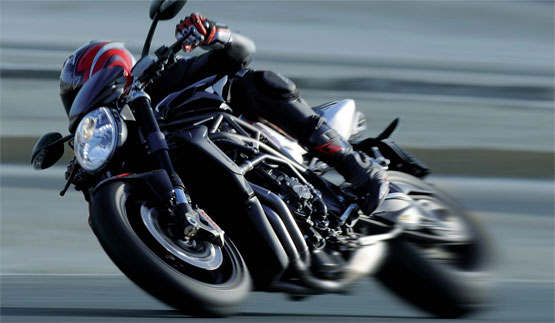 Back to 2011 MV Agusta Motorcycle Index Page
Click photos to enlarge.
They make great desktop images.
– 2011 MV Agusta Brutale 1090RR

2011 MV Agusta Brutale 1090RR
The top model in the new Brutale range is the 1090RR, an extreme motorcycle with racing components that satisfies those who seek high performance in a fascinating and elegant motorcycle. 38 Rider Word titles and 37 Constructor championships in MV Agusta's history are reflected in this project, designed without compromise and above all the new Brutale follows the new "Made in MV" philosophy which stands for total quality in a project entirely designed and developed internally.

The 1090RR is even more powerful, even more Brutale. A distillation of technology that launches you into a turbine of emotions. The Brutale 1090RR is the most Brutale of them all…

It is impossible not to notice it, impossible not to be bewitched. In the Brutale 1090RR, beauty and aggression have reached their heights. Extremely light and sophisticated, the Brutale 1090RR makes use of superlight materials and the ultimate racing technology to be quite simply the best sports naked ever, on the road and on the track.

Perfection is not an option. Racing technology, uncompromising style and an attention to detail never seen before.
The 1090RR is the most powerful and fastest Brutale ever.
The 1090RR version comes in two color formats:
– Pearl white/pastel black
– Pastel red/metallic silver
– Pastel black/graphite grey
2011 MV Agusta Brutale 1090RR Features
Aesthetics

The headlight retains the same drop profile and the same dimensions, but introduces a fresh design with the introduction of a new polyellipsoidal element and a system of 8 LEDs that create a "light strip" effect, like that found on cars. The direction indicators are now incorporated into the rear mirror assembly that is larger for greater visibility. The instrument cluster has been completely redesigned and now operates on a high speed CAN line with extra functions. There are indicators showing which gear is engaged, fuel level, speed, hazard button, water temperature, chronometer function and traction control settings. The handlebar and footrests have a flexible fitting to improve comfort and reduce vibration levels. The new steering head has a new steering damper on the handlebar. The radiator protectors are no longer made of metal or integrated with the mechanical components, but are now part of the bodywork. Another distinctive element that differentiates the 1090RR model are the air ducts of the air box, painted in the same colour as the tank, they become an integral part of it, and as a result, the design is even more aggressive. The valve cover is painted red to underline the extreme power of this engine. The most evolved part of the motorcycle is the rear, thanks to a thinner, more modern tail, which makes sitting more comfortable. The LED taillight is integrated into the tail, which is no longer in plastic, but is pressure die-cast in aluminum, and is an entirely new design element. The two beautiful exhausts, which flow along the right side of the motorcycle, have been enhanced, eliminating the welding at the tips of the silencers and, above all, featuring an even more inclined and thinner cut that matches the lines of the bodywork.

Engine

1078cc for 144 hp: the new in-line four cylinder engine rises to the top of the naked motorcycle class.
It derived from the base engine featured on the 990R therefore there are no variations in layout but it has been reconfigured for smoother more progressive throttle response, more solid, and harmonious than before, especially when opening-closing and when accelerating. The same 46 mm Mikuni throttle body assembly is used, with the installation of a non-return feed that is operated by Marelli 5SM electronics that feature a new 8 step traction control. As with the 990R, the engine crank case is 1.32 lbs lighter than the previous one, and is fitted with a counter-rotating balancing shaft to resist high-frequency secondary vibrations, which has been placed at the front of the engine and is driven directly by the primary transmission gear. The transmission ratios remain the same while the internal gearbox command mechanism is entirely new, redesigned to allow adopting a gear sensor, and to provide a smoother and more comfortable shift of the lever. The 1090RR also features a slipper clutch, which is an original MV design. The list of new components continues along the guidelines of the 990R: there is a new Mitsubishi, Neodymium-Iron-Boron generator that weighs a full 3.52 lbs less than the previous version; the lubrication circuit has also been entirely renewed, with a double rotor pump which is smaller and lighter (by 0.75 lb), but more efficient than the previous version. The circuit is no longer divided, as it was before, and the pump serves the radiator and the engine which are placed in series.
The water pump, too, has been completely redesigned, and although it is 0.13 lb lighter than the previous one, its cooling capacity is up to 65% greater at low revs.

Rolling chassis

The frame has the same design and structure as the 990R, therefore chromium molybdenum steel TIG welded trellis frame, but with a taller, lighter, and more rigid design than the previous 1078RR. The extension of the rear swingarm (which has been entirely redesigned and is 2.2 lb lighter) lengthens the wheelbase for greater precision in the ride, increasing the torsional rigidity and decreasing the weight.
The new wheelbase also reinforces the Brutale's signature stability. The 1090RR has adjustable foot rest supports that allow riders to find the ideal position for track use while the weight reduction in the wheels and swingarm provides improved suspension operation. The rear wheel features a cush-drive, plus a new hub and bearing, the purpose of which is to make the engine more resistant to stress and to improve comfort. The 1090RR features MV Agusta-designed forged rims, with extremely thin spokes. The front fork has a more rigid setting and is adjustable in clicks rather than number of turns as on the R. The rear shock absorber has a double compression adjustment for high and low speeds, and a separate expansion reservoir. The front wheel trail is 4.07 in (103.5 mm), the wheelbase is 56.61 in (1438 mm), while the seat height is 32.68 in (830 mm), and the rake is 25°. The brakes are 320 mm Brembo disks, with aluminum monoblock radial racing brake calipers, with 34 mm pistons.

Riding Impressions

Despite the extreme layout, the 1090RR has a comfortable and spacious riding position. The seat allows riders of all sizes to find their ideal position and to grasp a more ergonomically placed handlebar. The sensation is that of riding a motorcycle that has grown a couple of sizes, one that is more inviting. The sensitivity of an MV at low revs has been transformed into a strength. Riding a figure eight at a speed of little more than 1 mph, with two fingers on the handlebar, has become as easy as hurtling at 167 mph (270 km) per hour along a straight line. The notoriously fierce Brutale now demonstrates a new subtlety in its power. When a motorcycle is easy to use, it's also easier to push to its limits. The 1090RR, with its superior technology, achieves results that no other naked can approach – particularly on the track, where it becomes a beast with an insatiable drive. At the same time, it remains obedient to the entry level rider tackling his first curves. In its sensuously rounded power, the timeless Italian spirit emerges: never before has there been such a Brutale!
Power and lightness without limits.
Enter the world of original special parts and transform the Brutale 1090RR into an even more refined
production special, or into a "competition" motorcycle with almost 200 hp.
---
2011 MV Agusta Brutale 1090RR – International Specifications
USA MSRP – $18,000 USD
Canada MSRP – $18,995 CDN
ENGINE
Type Four cylinder, 4 stroke, 16 valve
Timing system "D.O.H.C", radial valve;
Total displacement 1078 cm3 (65.78 cu. in.)
Compression ratio 13:1
Starting Electric
Bore x stroke 79 mm x 55mm (3.1 in. x 2.2 in.)
Max. horse power – r.p.m. (at the crankshaft) 106 kW (144,2 HP) at 10300 r.p.m.
Lim. 11600 r.p.m.
Max. torque – r.p.m. 112 Nm (11.2 kgm) at 8100 r.p.m.
Cooling system Cooling with separated liquid and oil radiators
Engine management system Magneti Marelli 5SM ignition – injection integrated system with Mikuni throttle body; induction discharge electronic ignition; sequential timed "Multipoint" electronic injection
Clutch Wet, multi – disc with mechanical antisurging device
Gear Box Cassette gearbox; six speed, constant mesh
Primary drive 50/79
Gear ratio
First gear: Speed* 13/38 109.7 km/h (68.1 mph) at 11600 r.p.m.
Second gear: Speed* 16/34 150.8 km/h (93.6 mph) at 11600 r.p.m.
Third gear: Speed* 18/32 180.3 km/h (111.9 mph) at 11600 r.p.m.
Fourth gear: Speed* 20/30 213.7 km/h (132.7 mph) at 11600 r.p.m.
Fifth gear: Speed* 22/29 243.2 km/h (151.0 mph) at 11600 r.p.m.
Sixth gear: Speed* 19/23 265.0 km/h (164.5 mph) at 11600 r.p.m.
Final velocity ratio 15×41

ELECTRICAL EQUIPMENT
Voltage 12 V
Alternator 350 W at 5000 r.p.m.
Battery 12 V – 8.6 Ah

DIMENSIONS AND WEIGHT
Wheelbase 1438 mm (56.61 in.)
Overall lenght 2093 mm (82.36 in.)
Overall width 760 mm (29.92 in.)
Saddle height 830 mm (32.68 in.)
Min. ground clearance 150 mm (5.91 in.)
Trail 103,5 mm (4.07 in.)
Dry weight 190 Kg (418.9 lbs)
Fuel tank capacity 23 l (6.07 U.S. gal.)

PERFORMANCE
Maximum speed* 265 km/h (164.5 mph) )

FRAME
Type CrMo Steel tubular trellis (TIG welded)
Rear swing arm pivot plates: material Aluminium alloy

FRONT SUSPENSION
Type "UPSIDE – DOWN" telescopic hydraulic fork with rebound-compression damping and spring preload external and separate adjustment
Rod dia. 50 mm (1.97 in.)
Travel on leg axis 130 mm (5.11 in.)

REAR SUSPENSION
Type Progressive, single shock absorber with rebound and compression (High speed / Low speed) damping and spring preload adjustment
Single sided swing arm: material Aluminium alloy Wheel travel 120 mm (4.72 in.)

BRAKES
Front brake Double floating disc with Ø 320 mm (Ø 12.6 in.) diameter, with steel braking band and aluminium flange
Front brake caliper Radial-type, single-piece with 4 pistons Ø 34 mm (Ø 1.34 in.)
Rear brake Single steel disc with Ø 210 mm (Ø 8.27 in.) diameter
Rear brake caliper With 4 pistons – Ø 25,4 mm (Ø 1.00 in.)

WHEELS
Front: Material / size Forged aluminium alloy 3.50 " x 17 "
Rear: Material / size Forged aluminium alloy 6.00 " x 17 "

TIRES
Front 120/70 – ZR 17 M/C (58 W)
Rear 190/55 – ZR 17 M/C (75 W)

FAIRING
Material Thermoplastic

All specifications are subject to change without notice. The above price is the Manufacturer's Suggested Retail Price. Price excludes any applicable freight, dealer setup, tax, title, or licensing fees and is subject to change. Actual dealer prices may vary.