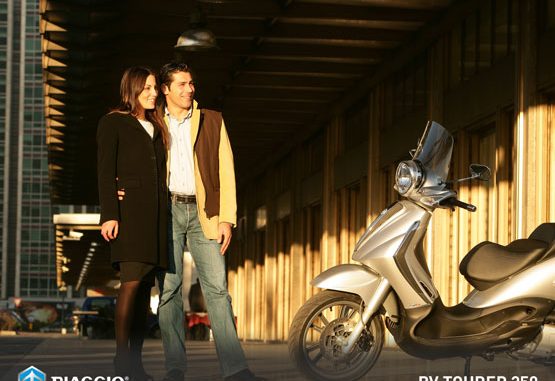 Back to 2011 Piaggio Scooter Index Page
Click photos to enlarge.
They make great desktop images.
– 2011 Piaggio BV Tourer 250

2011 Piaggio BV Tourer 250
BV TOURER 250 The stylish speedster.

The BV Tourer combines high wheels and a motorcycle-style ride with the comfort and practicality of a scooter to ensure a safe and precise ride.
Before you get in your car on Monday morning, ask yourself this: Are you looking forward to your commute? Get yourself a BV and you will. Twist the throttle and traffic disappears behind you. Powered by a Biaggio single cylinder, four stroke engine with an automatic transmission, the 2011 Piaggio BV Tourer 250 is the ideal vehicle for stop-and-go situations, while it's 16″ wheels and dual shock absorbers make for the smoothest ride in scootering.
Key 2011 Piaggio BV Tourer 250 Key Features
– Modern Piaggio four-valve, liquid cooled, fuel-injected engines
– Large, front windshield
– Dual hydraulic shock absorber, four-position spring pre-load
– 16" front and rear tires (BV Tourer 250) / 16" front and
14" rear tires (BV Tourer 500)
– Underseat and front compartment storage
Max Speed – 80 mph
Gas Milage – 65 – 70 mpg
Gas Tank: 2.6 gallons
Seat Height: 31″

---
2011 Piaggio BV Tourer 250 – American Specifications
USA MSRP – $4,899 USD
ENGINE TYPE Single cylinder, four-stroke catalytic Piaggio QUASAR
DISPLACEMENT 250cc
BORE x STROKE 75 mm x 63 mm
MAX POWER AT SHAFT 22 hp at 7,250 rpm
MAX TORQUE 23 Nm at 6,000 rpm
MAX SPEED 80 mph (129 km/h)
FUEL / TANK CAPACITY Unleaded 2.6 gallons (9.7 litres)
GAS MILEAGE 65-70 mpg
DISTRIBUTION Single overhead camshaft (SOHC) with four valves
COOLING SYSTEM Liquid
LUBRICATION Wet sump
INGINTION Electronic
GEARS CVT CVT automatic ratio variator (twist-and-go)
CLUTCH Dry automatic centrifugal type
CHASSIS Twin cradle tubes in high-tensile steel
FRONT SUSPENSION Telescopic fork, 35 mm shafts, 104 mm travel
REAR SUSPENSION Dual hydraulic shock absorber, four-position spring pre-load, 90 mm travel
FRONT BRAKE 260 mm disc, floating caliper with two pistons
REAR BRAKE 260 mm disc, floating caliper with opposed pistons
FRONT TIRE Tubeless 110/70, 16″
REAR TIRE Tubeless 140/70, 16″
LENGTH 83.1″ (2111 mm)
WIDTH 29.9″ (760 mm)
WHEELBASE 57.9″ (1471 mm)
SEAT HEIGHT 31″ (788 mm)
DRY WEIGHT 328 lbs (149 kg)
AVAILABLE COLORS Midnight Blue, Cortina Gray

2011 Piaggio BV Tourer 250 – Canadian Specifications
Canada MSRP – $TBA CDN
Engine Type
Cylinder Capacity
Bore x Stroke
Max Power at Shaft
Max Torque
Max Speed
Fuel / Tank Capacity
Fuel Supply
Distribution
Cooling System
Lubrication
Ignition
Gears
Clutch
Chassis
Front Suspension
Rear Suspension
Wheel Size
Front Brake
Rear Brake
Length / Width
Wheelbase
Seat Height
Dry Weight
Type-Approval

BV TOURER 250
Single cylinder, four-stroke Piaggio
QUASAR (QUArter liter Smooth Augmented
Range)
244cc
2.8" x 2.4" (72 mm x 60 mm)
22 hp at 8,250 rpm
20.2 Nm at 6,500 rpm
77 mph (125 km/h)
Unleaded / 2.6 gallons (10 liters)
Electronic Injection System
Single overhead camshaft (SOHC) with
four valves
Liquid
Wet sump
Electronic
CVT automatic ratio variator
(twist-and-go)
Dry automatic centrifugal type
Twin cradle tubes in high tensile steel
Telescopic fork, 35 mm shafts, 104
mm travel
Dual hydraulic shock absorber,
four-position spring preload,
90 mm travel
Front: 110 / 70, 16" Rear: 140 / 70, 16"
260 mm disc, floating caliper with two
pistons
260 mm disc, floating caliper with
opposed pistons
83.1" (2,110 mm) / 29.9" (760 mm)
57.9" (1,470 mm)
31" (790 mm)
328 lbs (149 kg)
EPA and CARB