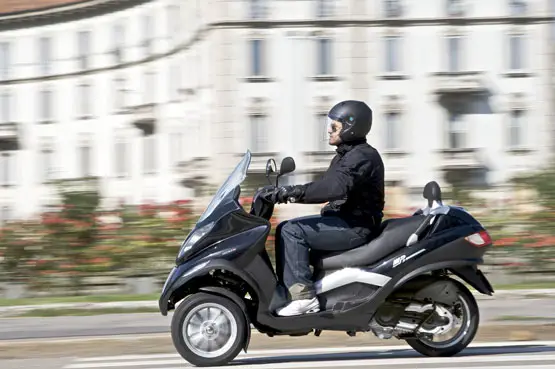 Back to 2011 Piaggio Scooter Index Page
Click photos to enlarge.
They make great desktop images.
– 2011 Piaggio MP3 400

2011 Piaggio MP3 400
MP3 400 The perfect commute.

The bike redefines the entire concept of ride stability. With three ground contact points and a shock absorber on each wheel, the MP3 swallows bumps with incredible efficiency.
Key 2011 Piaggio MP3 400 Key Features
– Single cylinder, four-stroke Piaggio Master engine
– Electro-hydraulic suspension locking system
– 40-degree lean angle for ultimate maneuverability
– Underseat storage that holds 2 helmets
– 3 disc brakes

Max Speed – 88 mph
Gas Milage – 57 – 59 mpg
Gas Tank: 3.2 gallons
Seat Height: 30.9″

---
2011 Piaggio MP3 400 – American Specifications
USA MSRP – $8,699 USD
ENGINE TYPE Single-cylinder MASTER, four-stroke, four-valve, electronic injection, catalysed
DISPLACEMENT 398.9cc
BORE x STROKE 85.8 mm x 69 mm
MAX POWER AT SHAFT 34 hp (25 kW) at 7,550 rpm
MAX TORQUE 37 Nm at 5,000 rpm
MAX SPEED 88 mph (142 km/h)
FUEL / TANK CAPACITY Unleaded 3.2 gallons (12 litres)
GAS MILEAGE 57-59 mpg
DISTRIBUTION Cam head single shaft-SOHC (2 valves)
COOLING SYSTEM Liquid
LUBRICATION Wet sump, 850cc capacity; chain-driven lobe pump; intake and delivery filters
INGINTION Electronic inductive discharge, integrated variable timing
GEARS CVT 'Twist and go' automatic CVT
CLUTCH Automatic dry centrifuge with damper buffers
CHASSIS Twin cradle made of high-strength steel tubes
FRONT SUSPENSION Parallelogram composed of four aluminum arms supporting two steering tubes, cantilevered suspension ? Travel: 85 mm. Electro-hydraulic suspension locking system. with four-position spring preload. Travel: 110 mm
REAR SUSPENSION Two dual effect hydraulic shocks, four-position spring preload. Travel: 110 mm
FRONT BRAKE Two stainless steel disks, 240 mm and floating caliper with two pistons, 30 mm
REAR BRAKE 240 mm stainless steel disk, large-piston floating caliper with two pistons 22 mm
FRONT TIRE Tubeless 120 / 70″ 12″
REAR TIRE Tubeless 140 / 70″ 14″
LENGTH 85″ (2159 mm)
WIDTH 29.3″ (745 mm)
WHEELBASE 61″ (1550 mm)
SEAT HEIGHT 30.9″ (785 mm)
DRY WEIGHT 538 lbs (244 kg)
AVAILABLE COLORS Orione Gray, Midnight Blue

2011 Piaggio MP3 400 – Canadian Specifications
Canada MSRP – $TBD CDN
Engine MASTER 4-stroke, 4-valve engine with electronic fuel injection and catalytic converter
Engine capacity 398.9 cc
Bore x stroke 85.8 mm / 69 mm
Max. power 34 hp at 7,500 rpm
Max. Torque 37.6 Nm at 5,500 rpm
Cooling Liquid
Starter Freewheel electric starter motor with torque limiter
Transmission Twist-and-go CVT with torque server
Chassis Double cradle in high strength tubular steel
Front suspension Articulated quadrilateral consisting of four aluminium arms sustaining two steering tubes, and pull rod suspension geometry with offset wheel axle – Wheel travel: 85 mm
Rear suspension Two dual action hydraulic shock absorbers with four adjustable spring preload settings – Travel: 110 mm
Front brake Two 240 mm discs
Rear brake 240 mm Ø disc
Front wheel rim Aluminium alloy 12″ x 3.00
Rear wheel rim Aluminium alloy 14″ x 4.50
Front tyre Tubeless 120/70-12″
Rear tyre Tubeless 140/70-14″
Length/Width 2,180 mm / 745 mm
Wheelbase 1,550 mm
Seat height 785 mm
Fuel tank capacity 12 litres (including 1.8 litre reserve)
2011 Piaggio MP3 400 Press Release:
PIAGGIO MP3 300 ie and 400 ie
A unique, innovative three-wheeled design with two front wheels. Experience levels of safety and roadholding that would be impossible with a two-wheeler, matched with power and verve: pure fun for maximum riding enjoyment. A new concept of mobility that transcends the purely technical aspect of transport to revolutionise the city streets.
For 2010, the Mp3 range has been updated in both style and technical content: the medium engine size has now grown to 300 cc to deliver more low-end torque and improve fuel economy.
Launched in 2006, the Piaggio Mp3 astonished the world with its two independently sprung, tilting front wheels: an absolutely innovative technological solution that redefined the very concept of dynamic stability.
For 2010, the mid-sized engine variant of the Mp3 has grown to 300 cc. The larger new engine capacity offers significant benefits in terms of both performance, with more low-end urge, and fuel consumption. Across the range, new front and rear light clusters emphasise the sleekness of the forms and add a touch of elegance to the unmistakable silhouette of the new Mp3 family.
The mid-sized engine variant of the Piaggio Mp3 has grown from 250 to 300 cc.
The new 300 cc engine with electronic fuel injection delivers 22.5 hp at 6,500 rpm, and produces a maximum torque of 23,2 Nm at 6,500 rpm: values that are better than the output offered by the 250 unit replaced by the new engine. These figures translate to greater responsiveness and even more sparkling performance, making the Piaggio Mp3 300 ie capable of long range commuting in complete comfort.
The 300 cc version of the Mp3 introduces a groundbreaking technological first for its class: state of the art Ride by Wire technology for electronic throttle control. On the new Piaggio Mp3 300 ie, there is in fact no mechanical connection between the throttle grip and the throttle valve located in the intake duct, which modulates the amount of air mixed with the fuel. The result of the electronic control is an optimised air/fuel mixture, which turns into smoother power delivery and therefore into enhanced riding comfort.
Piaggio Mp3 40 ie is driven by the powerful and reliable, 4-stroke, 4-valve, liquid cooled and electronically fuel injected 400 cc engine, topping the Mp3 range with an impressive 34 hp at 7,500 rpm and a maximum torque of 37.6 Nm at 5,500 rpm.
Piaggio Mp3 300 ie and Mp3 400 ie boast elegant styling and premium equipment for class beating comfort. The elegant looks are emphasised by a car-like grille, premium trim, a blue-tinted windscreen and the practical rear grab-handle with incorporated passenger backrest.
The new headlights, now with silver backing, and the new taillight emphasise the sleek forms of the Mp3, as well as ensuring optimum visibility in both daylight and night conditions.
Comfort is guaranteed by the wide, ergonomic saddle, designed to ensure the maximum space for both rider and passenger, as well as the large windshield that provides excellent protection against wind and rain. Last but not least, the helmet compartment, accessible from both the saddle and the rear hatch, offers unbeatable space, with an incredible 65 litre capacity for carrying objects up to a metre in length.
Piaggio Mp3: out of this world.
Riding the Piaggio Mp3 is an experience that revolutionises the very concept of mobility, with the dual wheeled front suspension system ensuring levels of stability in curves far superior to any normal scooter. At speed, even when riding behind other vehicles, the Piaggio Mp3 remains glued to the road and always delivers maximum performance in total safety. The benefits of the three wheel revolution can be felt particularly on wet roads and in other riding conditions that are critical for conventional two-wheelers.
On city and urban streets, Piaggio Mp3 is unrivalled in terms of safety: cobblestones, poor surfaces, tramlines and manhole covers are dispatched with previously unattainable ease and stability.
Measuring no more that a maxi scooter and boasting incredible agility, the Piaggio Mp3 is completely at home in the city centre. It is also safe remarkably easy to park, as the electrohydraulic front suspension hold system means that it remains upright even without using the stand.
The revolutionary Piaggio Mp3 boasts incredibly short braking distances unmatched by anything else in the scooter world: even when just using the front brake, the powerful triple disc brake system and incredible grip of the front end ensure stopping distances 20% shorter than the best performing scooter.
When the road leaves the town behind, the Piaggio Mp3 really shows what it is made of. Road holding, cornering safety and lean angle unattainable for conventional scooters guarantee immense riding satisfaction on fast country roads.
Piaggio Mp3 300 ie – Technical specifications
Engine Piaggio QUASAR, single cylinder 4 stroke
Engine capacity 278 cc
Bore x stroke 75 mm / 63 mm
Power 22.4 hp at 7,500 rpm
Torque 23.2 Nm at 6,500 rpm
Timing system Single overhead camshaft (SOHC) – 4 valves
Fuel system Electronic fuel injection with Ride By Wire throttle control
Cooling Liquid
Lubrication Wet sump
Starting Electric
Transmission Twist-and-go CVT with torque server
Clutch Automatic, centrifugal dry clutch
Frame Double cradle in high strength tubular steel
Front Suspension Articulated quadrilateral consisting of four aluminium arms sustaining two steering tubes, and pull rod suspension geometry with offset wheel axle – Wheel travel: 85 mm
Rear suspension Double dual action hydraulic shock absorbers – Travel: 110 mm
Front brake Two 240 mm discs
Rear brake 240 mm Ø disc
Front wheel rim Aluminium alloy 12″ x 3.00
Rear wheel rim Aluminium alloy 14″ x 3.75
Front tyre Tubeless 120/70-12″
Rear tyre Tubeless 140/60-14″
Length/Width 2,130 mm / 745 mm
Wheelbase 1,490 mm
Seat height 780 mm
Fuel tank capacity 12 litres
Emissions compliance EURO 3
Piaggio Mp3 400 ie: Technical specifications
Engine MASTER 4-stroke, 4-valve engine with electronic fuel injection and catalytic converter
Engine capacity 398.9 cc
Bore x stroke 85.8 mm / 69 mm
Max. power 34 hp at 7,500 rpm
Max. Torque 37.6 Nm at 5,500 rpm
Cooling Liquid
Starter Freewheel electric starter motor with torque limiter
Transmission Twist-and-go CVT with torque server
Chassis Double cradle in high strength tubular steel
Front suspension Articulated quadrilateral consisting of four aluminium arms sustaining two steering tubes, and pull rod suspension geometry with offset wheel axle – Wheel travel: 85 mm
Rear suspension Two dual action hydraulic shock absorbers with four adjustable spring preload settings – Travel: 110 mm
Front brake Two 240 mm discs
Rear brake 240 mm Ø disc
Front wheel rim Aluminium alloy 12″ x 3.00
Rear wheel rim Aluminium alloy 14″ x 4.50
Front tyre Tubeless 120/70-12″
Rear tyre Tubeless 140/70-14″
Length/Width 2,180 mm / 745 mm
Wheelbase 1,550 mm
Seat height 785 mm
Fuel tank capacity 12 litres (including 1.8 litre reserve)
Emissions compliance EURO 3